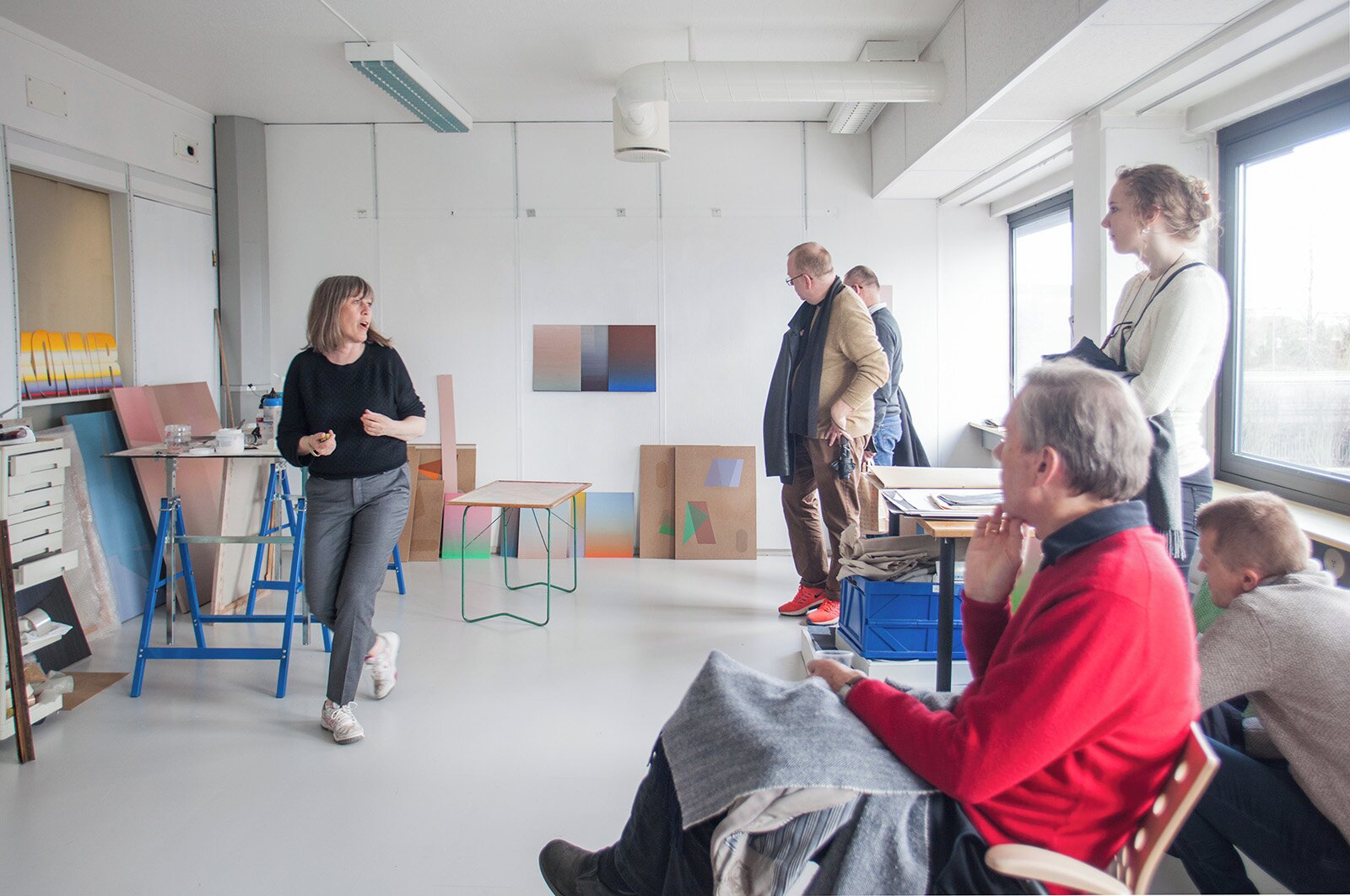 Studio Visits Broadcasted Live on Instagram
Ragnhild Brochmann (writer of the popular column Estetikeren in Morgenbladet), Marie Saxeide (art mediator/ content marketing manager at Atelier, a new Norwegian platform that enables artists to sell their art directly from the studio), Marianne Hurum (Oslo-based painter with several years of engagement working for artists' rights) and Marthe Elise Stramrud (artist and director of Oslo Open) step into the role of reporters and let you tag along for informal and fun meetings in artist's studios around the city.
The program will be broadcasted every half an hour on Oslo Open's Instagram profile which allows viewers to engage in real time. Don't hesitate to comment and ask questions! The stage is set for personal and casual meetings between the artists and the audience.
Saturday 17th of April:
12:00     Ingrid Lønningdal
12:30     Ivan Galuzin
13:00     John K. Raustein
13:30     Katja Høst
14:00     Mikael Hegnar
14:30     Heidi Marie Wien
15:00     Munan Øverlid
15:30     Malin Bülow
16:00     Muralverkstedet v/ Irma Salo Jæger
16:30     Nina Bang & Per Hess
17:00     Tina Jonsbu
17:30     Terje Nicolaisen
Sunday 18th of April:
12:00     Julia Boracco
12:30     Erik Bromö
13:00     Love Terins
13:30     Christina Bruland
14:00     Martine Linge
14:30     Andreas Olavssønn Rongen
15:00     Roghieh A. Torvund
15:30     Siren Elise Dversnes Dahle
16:00     Sigrid Espelien
16:30     Lena Trydal
17:00     Runa Sandnes
17:30     Victoria Günzler & Anette Krogstad



Premiere of «Atelierbesøk med Oslo Open»
– a series of artist portraits in video format
What is a good studio, and what is its importance for the work that an artist creates? And what is the driving force behind the choices an artist makes? Oslo Open meets twelve artists in their workspace: the artist studio!
This spring Oslo Open has produced a series of twelve artist portraits in video format. The series will premiere on Saturday 17th of April at 11:00 to mark that this year's studio weekend has started. A new episode will be aired every Saturday throughout the spring and summer.
We have portrayed twelve artists from the fields of visual arts and contemporary crafts, ranging from well established to recent graduates.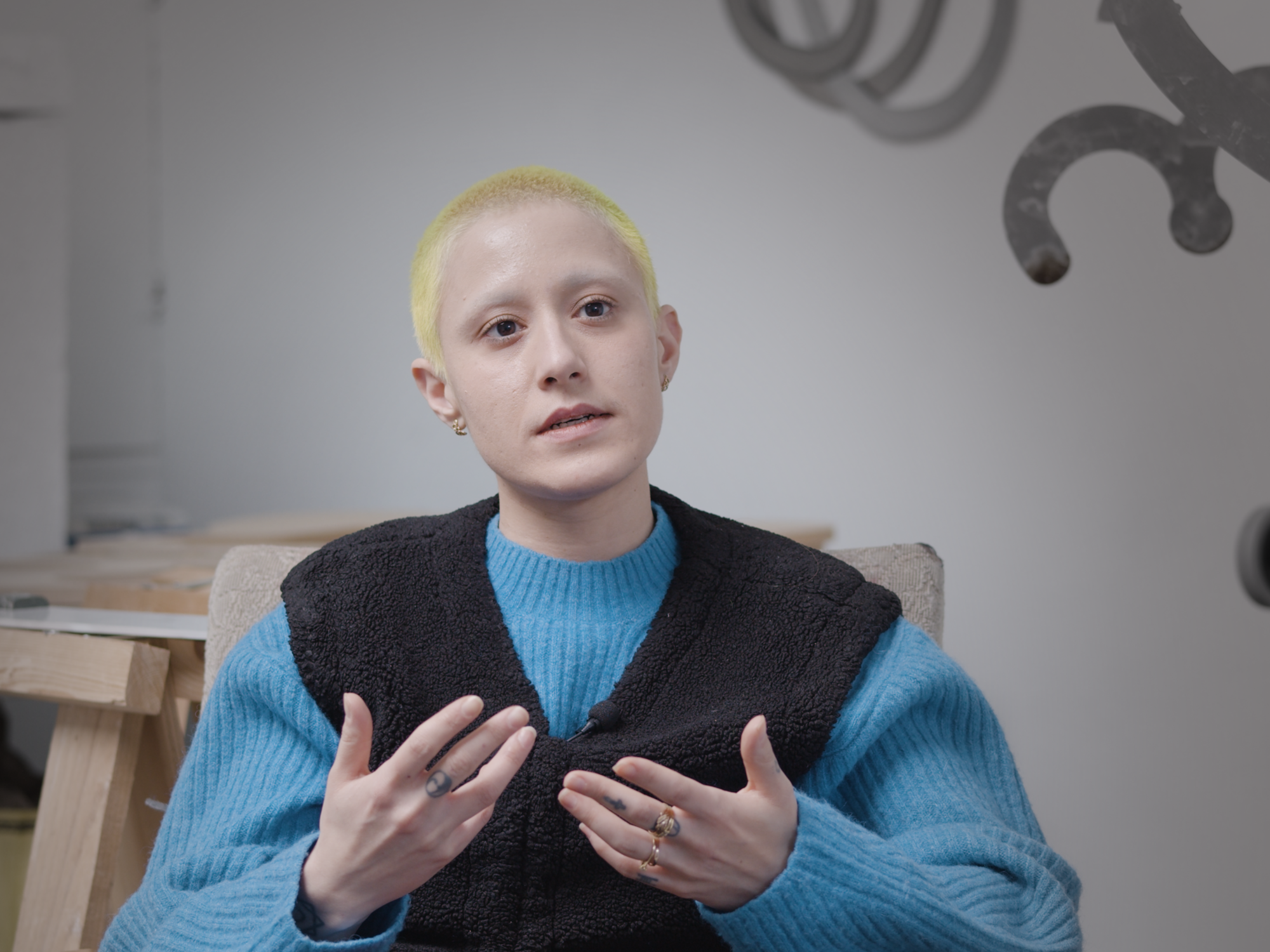 Guided Studio Tours for Small Groups
Every year Oslo Open organizes guided tours to the artist's studios – a simple and fun way to get to know some of the artists and their practises. The tours last between 1,5 to 2,5 hours and take place in various parts of the city. Let our skilful and nice guides show you the way!
Due to the extended ban on events in Oslo, the guided tours have unfortunately been cancelled.
BOO

! for Children and Youth

BOO! is Oslo Open's program directed towards children and teenagers between 0 and 18 years. We arrange workshops planned and run by participating artists. They give you a unique chance for diverse and fun encounters with art, adapted to suit different age groups.

Unfortunately we have to cancel this years BOO! Due to high infection rates and out of consideration for the artists' preparations, we have chosen not to carry out the workshops. But do not despair, we will come back stronger next year!
Atelier – Buy Art Directly From Artists
Oslo Open has an ongoing collaboration with the mobile application Atelier. Through Atelier you can already now come in contact with many of the artists who participate in Oslo Open. In the application you can explore thousands of art works and buy art directly from artists.
When you buy art through Atelier you support local artists and contribute to better conditions for the production of art in Norway. Download the Atelier iOS app here or visit atelier.as


Coast Contemporary Prize
Oslo Open has a collaboration with the art platform Coast Contemporary who gives out an annual award to honor an artist who opens their studio during Oslo Open.
The prize is awarded after the Oslo Open weekend and the prize winner will be highlighted among the artists participating in Coast Contemporary later the same year. Read more about the prize and previous years' winners here: here


Oslo Open's Honorary Award
Oslo Open gave out their first own award in 2019. The purpose of the prize is to honor a recipient who has made an impact for artists' work situation – for studios, production and/or working conditions. The prizewinner can be a person, a group, an institution, or an organization that has made an important contribution to better artists' working conditions.
The winner of Oslo Opens Honorary Prize 2021 will be announced on 17th of April. The prize is awarded at the discretion of the board of Oslo Open.