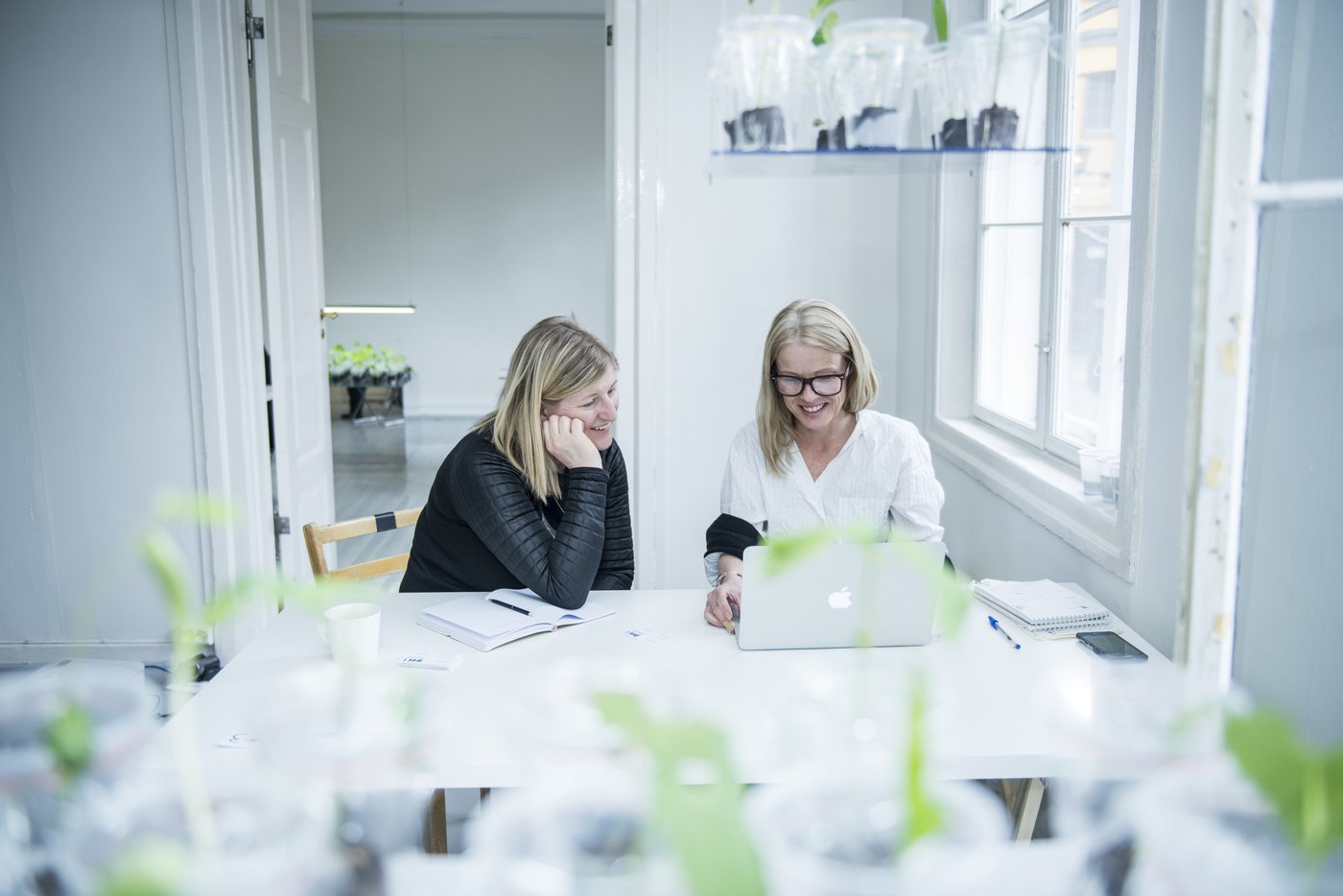 Curators, writers and gallerists come from all over the world to explore Oslo's art scene.
Through the international visitor program we invite prominent curators, gallerists and writers to Oslo to strengthen the network between Oslo-based artists and the international art scene. The international guests visit artists of their own choice at their individual studios. We have also organised juried portfolio viewings as a speed-dating session where the artists do portfolio presentations one-to-one with our international guests. The goal of the program is increased internationalisation of Oslo's art field.
The program took place for the first time in 2014 and is financed by the Ministry of Foreign Affairs. The program is organised in collaboration with Norwegian Crafts and OCA.
2023
Ana Elena Mallet, Independent curator, Mexico City
Àngels Miralda, Independent curator, Amsterdam/Barcelona
Brett Shulz, Material Fair, Mexico City
Caroline Nymark Zachariassen, Kunsten, Aalborg
Cathrine Hovdahl Vik, K-U-K Kjøpmannsgata Ung Kunst, Trondheim
Elisabeth Høsflot Klæbo, K-U-K Kjøpmannsgata Ung Kunst, Trondheim
Errol van de Werdt, Textiel Museum, Tilburg
Hilde Tørdal, Telemark kunstsenter, Skien
Isabella Hemmersbach, pro tempore.art, Copenhagen
Julie Quottrup Silbermann,

CHART

art fair, Copenhagen
Julija Mockutė, Kunstinstituut Melly, Rotterdam
Katrine Elise Agpalza Pedersen, Kunsthall Trondheim, Trondheim
Kristina Ketola Bore, Kunsthall Stavanger, Stavanger
Kristoffer Dolmen, Nordlandsmuseet/Independent curator, Bodø
María Alejandra Gatti, Independent curator, Madrid/Buenos Aires
Marie Nerland, Volt, Bergen
Milena Högsberg, Wanås Konst/The Wanås Foundation, Knislinge
Monica Holmen, Nitja Kunstsenter, Lillestrøm
Owen Martin, Astrup Fearnley Museet, Oslo
Rami Maktabi, Den Kulturelle Skolesekken Viken, Fredrikstad
Ruth Estévez, Amant, New York
Sarah Lookovsky, Kunstnernes Hus, Oslo
Silja Leifsdottir, Bergen Kunsthall, Bergen
Solfrid Otterholm, Jugendsenteret and

KUBE

, Ålesund
Solveig Lønmo, Nordenfjeldske kunstindustrimuseum, Trondheim
Yukako Yamashita, Art Collaboration Kyoto, Kyoto
2022:
Benedikt Fahrnschon, Sprengel Museum Hannover, Hannover
Debika Ray, Crafts Magazine, London
Frida Marie Edlund, Kunstmuseet Nordtrøndelag, Namsos
Giovanna Esposito Yussif, Museum of impossible forms, Helsinki
Helga Nyman, Stavanger Kunstmuseum, Stavanger
Hanne Beate Ueland, Stavanger Kuntsmuseum, Stavanger
Jasmina Kemura, Buskerud kunstsenter, Drammen
Ki Nurmenniemi, independent curator, Helsinki
Kirsti van Hoegee,

KRAFT

Bergen, Bergen
Malin Barth, Kunsthalle 3,14, Bergen
Nomaduma Rosa Masilela, independent curator, Berlin
Pii Anttila, Kunsthalle Seinäjoki, Seinäjoki
Sara Cornelia Greiff, Kunstmuseet Nordtrøndelag, Namsos
Torill Østby Haaland, Nordnorsk Kunstnersenter, Svolvær
Øyvind Kvarme, Trondheim Kunstmuseum, Trondheim
2020-2021:
Cancelled due to Covid-19
2019:
Ruth Aitken, Kurant, Tromsø
Iben Bach Elmstrøm,

CHART

, Copenhagen
Dana Bergmann, Kunsthalle Dusseldorf
Vilde Andrea Brun, Oppland kunstsenter, Lillehammer
Emily Butler, Whitechapel Gallery, London
Line Christiansen,

CHART

Curio, Milano
Lillian Davies, writer, critic and researcher, Paris
Mathijs van Geest, Hordaland kunstsenter, Bergen
Pietro Dello Giustina, Extensor art space in Clermont-Ferrand, Paris
Katja Hagelstam,

LOKAL

, Helsinki
Liya Han, Ullens Art Center, Beijing
Pierre Hourquet, Temple, Paris
Robert Julian B. Hvistendal, Kurant, Tromsø
Nanna Stjernholm Jepsen, freelance curator, Copenhagen
Nele Kaczmarek, Kunstverein Braunschweig
Keiko Kawashima, GalleryGallery, Kyoto
Joseph Kendra, The National Gallery, London
Maria Kuzmina (Katz), North Western branch of National Center of Contemporary Arts, Saint Petersburg
Søs Bech Ladefoged, The Art Museum in Tønder
Sissel Lillebostad, Kabuso, Øystese, Hardanger
Shixuan Luan, Ullens Art Center, Beijing
Rami Maktabi, No. 13 Contemporary, Fredrikstad
Kevin Malcolm, Vermilion Sands, Copenhagen
Anna Planas, Temple, Paris
Maija Rudovska Independent curator, researcher, art critic, Riga
Kristin Røed, Vestfold kunstsenter, Tønsberg
Randi Thommessen, Trondheim kunstmuseum, Trondheim
Numi Thorvarsson, Slakt Galleri/ Bergen Kjøtt, Bergen
Axel Wieder, Bergen Kunsthall, Bergen
Guo Xi, Ullens Art Center, Beijing
Derek Yu, Shanghai Art Museum
Caroline Nymark Zachariassen, Kunsten Museum of Modern Art, Aalborg
2018:
Bettina Steinbrügge, director Hamburger Kunstverein, Hamburg
Franziska Nori, director Frankfurter Kunstverein, Frankfurt
Henriette Bretton-Meyer, director of Kunsthal Charlottenborg, Copenhagen
Harry Thorne, editor frieze, Berlin
Carsten Seiffarth, freelance curator, Berlin
Claudia Buizza, curator and writer, Paris
Giulia Tognon, curator and project coordinator, Council, Paris
Ragnhild Greve-Isdahl, gallerist, new nordic gallery in Miami
Gabriel Mestre Arrioja freelance curator, Mexico City
iLiana Fokianaki, curator, writer and director of State of concept, Athen
Bas Hendrikx, freelance curator, Amsterdam
Mathias Kryger, writer and freelance curator, Copenhagen
Zuzanna Hadryś, gallerist Galeria Stereo, Warsaw
Jacek Sosnowski, curator and gallerist Propaganda gallery, Warszawa
Krzysztof Kościuczuk, contributing Frieze.de and curator at Muzeum Susch, Susch
Birta Guðjónsdóttir, chief curator at the National Gallery of Iceland, Reykjavik
João Laia, freelance curator, Lisbon and Brussels
Matylda Krzykowski, freelance curator, Berlin
Joern Lohmann, founder and creative director at J.Lohmann Gallery, New York
Jie Sun freelance curator, Shanghai
Natalie Melton, co-founder and the Managing Director of The New Craftsmen, London
Shin Kim, curator Korea Ceramic Foundation, Soeul
Markéta Stará Condeixa, curator, Lisbon
Stephanie Schuitemaker, curator and founder of

SCHUIT

, Amsterdam
Alex Ross, gallerist, Downs&Ross, New York
Maria Wettergren, gallerist Galerie Maria Wettergren, Paris
Christina Rauh Oxbøll, curator at

CLAY

Museum, Middelfart
Nanna Balslev Strøjer, director

CHART

Design, Copenhagen
Inger Blix Kvammen, curator, Pikene på Broen, Kirkenes
Kirsti van Hoegee, curator,

KRAFT

, Bergen
Ida Haugland, gallery leader, KHÅK kunsthall, Ålesund
Cecilie Skeide, artistic leader, Lillehammer Kunstmuseum, Lillehammer
Rikke Komissar, director, Akershus kunstsenter, Lillestrøm
Ina Johannesen, Managing director, Ekebergparken, Oslo
Stina Høgkvist, Curator contemporary art, The National Museum, Oslo
Ingvild Krogvig, Curator contemporary art, The National Museum, Oslo
Randi Godø, Curator contemporary art, The National Museum, Oslo
2017:
• 
Maria Arusoo, Director of the Center for Contemporary Arts Estonia, Tallin
• 
Andrew Berardini, Writer and curator based in Los Angeles
• 
Marina Bobyleva, Curator at Triumph Gallery, in Moscow
• 
Hyeyoung Cho, independent curator, teacher and writer, based in Seoul
• Sonia Dermience, Founding director of Komplot in Brussels
• Prajna Desai, Independent writer and curator based in Mumbai
• Ory Dessau, Independent writer and curator based in Berlin
• Alex Gilbert, Design Specialist at Artsy.net, New York

• Krzysztof Gutfrański, independent curator and researcher based in Torun and Belo Horizonte
• 
Daniel Ho, Editor-in-Chief at Randian Magazine
• Jean-Paul Jaquet, independent curator and member of Etablissement d'en face in Brussels
• Inga Lāce, curator at the Latvian Centre for Contemporary Art (LCCA), Riga
• 

Alvin Li, Editor at Ullens Centre for Contemporary Art, Beijing
• Hélène Meisel assistant curator, at the Centre Pompidou-Metz, France
• Daniel Muzyczuk, Head of Modern Art Department at the Muzeum Sztuki in Łódź, Poland
• 
Henriette Noermark, Independent Curator and writer in Copenhagen
• Patrick Parrish, editor MONDOBLOGO
• Audrius Pocius, curator and educator at Contemporary Art Centre in Vilnius.
• Susanne Prinz, Director of Kunstverein am Rosa–Luxemburg–Platz, Berlin
• Stanisław Ruksza, Director of TRAFO Center for Contemporary Art in Szczecin, Poland
• Suvi Saloniemi, Curator Design Museum Helsinki
• Shannon Stratton, Chief Curator, Museum of Arts and Design in New York
• Nanna Strøjer, Director of CHART DESIGN
• Sally Szwed, Director of the Creative Time Summit, New York
• Sabrina Tarasoff, independent curator and writer based in Los Angeles
• Nienke Vijlbrief, co-founder and artistic director of P/////AKT, Amsterdam
• Vlado Velkov, curator of Kunstverein Arnsberg, Germany
• Wendy Vogel, writer and independent curator based in Brooklyn, New York
• Robert Van de Werdt, co-founder and artistic director of P/////AKT, Amsterdam
• Hanne Mugaas, director and curator at Kunsthall Stavanger
• Tatiana Lozano, Curator at FELT galleri, Bergen
• Jannecke Meyer Utne, Conservator Lillehammer kunstmuseum        
• Carl Martin Furby, Curator Kunsthall Trondheim
• Hanne Gudrun Gulljord, Curator, Tromsø Kunstforening
• Ingrid Blekestad, Director Kunstbanken Hedemark, Hamar
• Anne Szefer Karlsen, Independent Curator and writer based in Bergen  
• Marie Nerland, founder and director of Volt, Bergen
• Julie Lillelien Porter, Artistic director Lydgalleriet, Bergen
2016:
• Agnieszka Knap, Project manager Konsthantverkscentrum, Stockholm
• Agnieszka Pindera, curator POLIN Museum of the History of Polish Jews, Warszaw
• Ahu Antmen, independent art critic and curator, Istanbul
• Aileesh Carew, Project Director Design and Crafts Council of Ireland, Kilkenny
• Alexandra Jelleberg, Ferrin Contemporary North Adams, USA
• Alison Britton, Artist, London
• Anna Frost, Founder and Director, PLANES; Co-Director, TOVES Copenhagen
• Anna Margrethe Pedersen, Artists and curator Years, Copenhagen
• Anthony Salvador, curator and founder of Frankfurt am Main, Berlin
• Antoine Levi, gallerist, Paris
• Antonio Grulli, Independent Curator, Bologna
• Benjamin Lignel, editor Art Jewelry Forum, Paris
• Christopher Kline, Artist and founding director Kinderhook & Caracas, Berlin
• Cynthia Reeves, Director Cynthia Reeves Galleries, North Adams, USA
• Emiliano Pistacchi, curator and founder of Frankfurt am Main, Berlin
• Jennifer Teets, independent curator and Writer, Paris
• Jennifer Zwilling, Curator of artistic programs The Clay Studio, Philadelphia
• Joanna Zielińska, Curator, Center of Contemporary Art – Ujazdowski Castle Warszawa
• Julij Rybakov, artist, human rights activist, member of Pusjkinskaja, 10, St. Petersburg
• Magdalena Komornicka, curator at Zachęta – National Gallery of Art, Warszaw
• Mareike Dittmer, Co-publisher frieze d/e & Publishing Consultant Frieze, Berlin
• Merete Vyff Slyngborg, Artists and curator Years, Copenhagen
• Dr. Michaela Braesel, Handwerkskammer für München und Oberbayern, München
• Michał Woliński, Curator, writer and gallerist Piktogram, Warszaw
• Olivia Gaultier, Assistant Curator Musée d'Art Moderne de la Ville de Paris, Paris
• Paul Clinton Assistant editor Frieze, London
• Renaud Proch, executive director Independent Curators International, New York
• Sergej Kovalskij, Director Pusjkinskaja, 10, St. Petersburg
• Sol Calero, Artist and founding co-director Kinderhook & Caracas, Berlin
• Dr. Stephen Knott, Teaching Fellow Kingston University, London
• Yuko Ikeda, Senior Curator The National Museum of Modern Art, Kyoto
2015:
• Alexandra Landré, independent Curator, Amsterdam, Netherlands.
• Amira Gad, Serpentine Gallery, London, UK.
• Andrew Mummery, Mummery+Schnelle, London, UK.
• Cecilia Andersson, Bildmuseet Umeå, Umeå, Sweden.
• Elena Gubanova, National Centre of Contemporary Art, St. Petersburg, Russia.
• Elena Yaichnikova, MMOMA, Moskva, Russia.
• Eva Gun Jensen, Luleå Konsthall, Luleå, Sweden.
• Helena Vilalta Contesa, Afterall, London, UK.
• Hutch Wilco, National Museum of NZ, New Zealand.
• Jakob Vengeberg Aevel, ARoS, Aarhus, Denmark.
• Jennifer Piejko, Flash Art, Performa, E- Flux, New York, USA.
• Liang Kengang, Yuan Art Museum, Beijing, China.
• Kit Leunbach, Den Frie Utstillingsbygning, Copenhagen, Denmark.
• Kristian Nammack, Pioneer Works, New York, USA.
• Lise Pennington, ARoS, Aarhus, Denmark.
• Marlene Ratcliffe, Den Frie Udstillingsbygning, Copenhagen, Denmark.
• Maria Gadegaard, Gl. Holtegaard, Holte, Denmark.
• Marie Kirkegaard, Marie Kirkegaard Gallery, Copenhagen, Danmark.
• Nicolas Audreau, independent Curator, Paris, France.
• Niekoolas J. Lekkerkerk, The Office for Curating, Rotterdam, Netherlands.
• Paul Clinton, FRIEZE, London, UK.
• Pernille Fonnesbech, Kunstmuseet Gl. Strand, Copenhagen, Denmark.
• Pooja Sood, independent Curator and Art Management Consultant, New Dehli, India.
• Rachel Withers, Artforum, Guardian, London, UK.
• Stefano Collicelli Cagol, independent Curator, Italy/London.
• Tina Zhang Ting, China Academy of Art, Shanghai, China.
• Valentin Diakonov, Kommersant, FRIEZE, Moscow, Russia.
• Živilė Etevičiūtė, The Nati, Vilnius, Lithuania.
2014:
• Alice Motard, Curator Spike Island, Bristol, UK.
• Anton Belov, Director The Garage Moscow, Russia.
• Astad Vaiciulyte, Curator CAC Vilnius, Lithuania.
• Birgitte Kirkoff, Director Soro Kunstmuseum, Denmark.
• Camilla Larsson, curator Bonniers Konsthall, Stockholm, Sweden.
• Christian Alan Dete, Curator, Paris, France.
• Henriette Bretton Meyer, Kunsthall Charlottenborg, Denmark.
• Jamie Stevens, Curator Cubitt, UK.
• Jean Marc Avrille, Curator, Paris, France.
• Johan Gustavsson, Curator from gallery 1646, Hague, Netherlands.
• Julia Geerlings, Curator Jeanine Hofland Contemporary Art, Amsterdam, Netherlands.
• Lucas Gehrmann, Curator Kunsthalle Wien, Austria.
• Nathalie Åhlbeck, Curator INDEX Stockholm, Sweden.
• Marianne Zamecznik, independent Curator, Oslo – Berlin.
• Robert Leckie, Director Gas Works, London, UK.
• Maria Fusco, Curator Edinburgh, UK.
• Magda Lipska, Curator Museum of Contemporary Art, Wasaw, Poland.
• Ula Tornau, Curator, Vilnius, Lithuania.
• Sam Thorne, Curator TATE, UK.
• Verena Platzgummer, Curator Kunstwerk Institute for Contemporary Art, Berlin, Germany.
• Vanessa Boni, Curator Liverpool Biennal, UK.