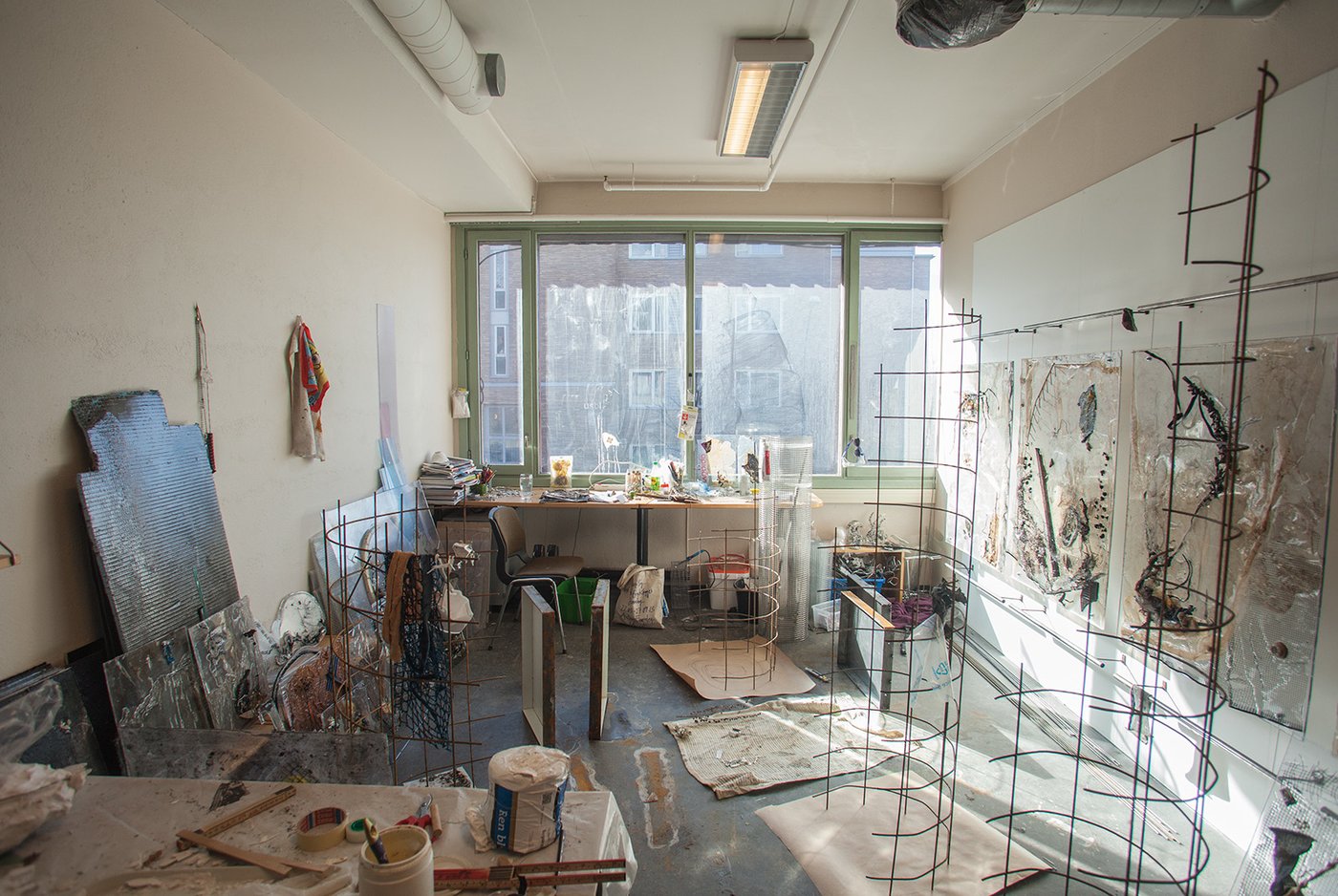 The 14 key art institutions behind Oslo Open constitute Oslo Open's reference group. The group is represented in the board of directors and contribute with knowledge, input to the program and partial financial support to the festival. Oslo Open is an independent non-profit that has been organised eleven times since its inception in year 2000. The idea behind Oslo Open was introduced by Gavin Jantjes in 1998 and today we find similar projects in other Norwegian cities, such as Bergen (B-Open), Trondheim (Trondheim Open), Tromsø (Tromsø Open) and Stavanger (R-Open).
The aim of the event is to establish new points of contact between art and the public. The Studio is the artists' daily workplace, usually an exclusive place, inaccessible to people outside the professional art world. Oslo Open provides the public with a glimpse "behind the scenes" into the processes that lead to a finished work of art. Oslo Open is thus a non-curated event that offers a unique and informal meeting between artists and the public in a varied selection of artists' studios.
"Now, in its tenth year Since 1999, Oslo Open continues to provide an opportunity for artists to open the doors to what are usually somewhat off-limits studios. Conventionally, the atelier is a semi-private space, housing ideas at their embryonic development – but for two days during Oslo Open, they become dialectic playgrounds where the ideas and ambitions of the artists can be explored by the outside world."
Institute of Equilateral Thoughts, 16 April 2016
Each participant at Oslo Open is required to show an online presentation of their work, consisting of either images, text or video, that best represent their work. We are spoilt for variety and choice here; some showing extensive and thoughtfully considered selections, other sparse, improvisational or incomplete – all of them put together reflect the variety of studios you choose to visit in Oslo, during the third weekend of April each year.
Oslo Open Board
Trond Hugo Haugen, visual artist (Chairman)
Tora Endestad Bjørkheim, visual artist
Therese Möllenhoff, curator Astrup Fearnley Museum
Eline Mugaas, visual artist
Lars Sture, curator Norwegian Crafts
Ida Lykken Ghosh, director Atelier Nord (alternate)
Are Mokkelbost, visual artist (alternate)
Liilian Saksi, visual artist (alternate)
Oslo Open jury 2020
Ragnhild Aamås, visual artist
John K. Raustein, visual artist
Henriette Stensland, director Kunstplass 5
Oslo Open's Reference Group
Astrup Fearnley Museum of Modern Art
Atelier Nord
Billedkunstnerne i Oslo og Akershus
Ekebergparken
Fotogalleriet / Forbundet Frie Fotografer
Fellesverkstedet
Kunstnernes Hus
Nasjonalmuseet for kunst, arkitektur og design
Norsk Billedhoggerforening
Norske Kunsthåndverkere
Norsk senter for teknologi i musikk og kunst
Norwegian Textile Artists and Soft
The Norwegian Drawing 
Association
Young Artists' Society
Partners:
Norwegian Crafts
Atelier
B-Open
OCA
Oslo Biennale
Supported by:
Arts Council Norway
City of Oslo, Agency for Cultural Affairs
The Norwegian Ministry of Foreign Affairs
Visiting and postal address:
Oslo Open
Rådhusgt 19
0158 Oslo
Want to be our friend?
Now you can join Oslo Opens Friends!
Support our beloved festival and help us to preserve it as a free event for the city's population. Mark your gift "Oslo Open Friends" and pay to this account number: 96803588365 Send your name and address to info@osloopen.no marked Oslo Opens Friends and you will hear from us! We would love to publish the names of supporters on our homepage. (You can of course remain anonymous if you wish).
Thank you very much!
…..
Design and development of the website Anyone