About Oslo Open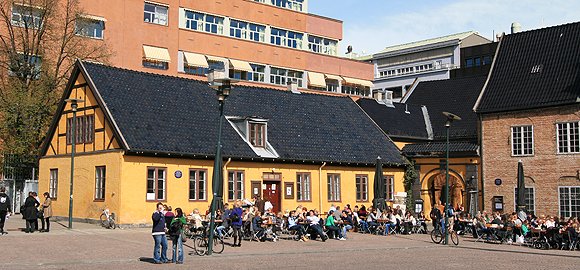 Oslo Open is an artist-run festival that was established in year 2000 by a number of artists and major art institutions in Oslo with the aim to give artists an alternative venue to show their work, and an opportunity to be discovered outside of the established art institutions. Somewhere between 350-400 professional artists open their studios in Oslo each year to give the public a unmediated meeting with their art.
The 13 key art institutions behind Oslo Open constitute Oslo Open's reference group. The group is represented in the board of directors and contribute with knowledge, input to the program and some of the financial support to the festival. Oslo Open is an independent non-profit association that has been organised nine times since its inception in year 2000. The idea behind Oslo Open was introduced by Gavin Jantjes in 1998. Today we find similar projects in other Norwegian cities, such as Bergen (B-Open), Trondheim (Trondheim Open), Tromsø (Tromsø Open) and Stavanger (R-Open).
The aim of the event is to establish new points of contact between art and the public. The Studio is the artists' daily workplace, usually an exclusive place, inaccessible to people outside the professional field of art. Oslo Open provides the public with a glimpse "behind the scenes", into the process behind the finished work of art. Oslo Open is thus a non-curated event that offers a unique and informal meeting between artists and the public at the artists' own workplace, the studio.
"Now in its 16th year since its incarnation in 2000 Oslo Open describes itself as an 'non-curated event', an opportunity for artists to open what are usual parcically closed doors to their studios. These spaces usually house ideas still in embryonic development yet for two days become open dialetic playgrounds in which to share these ideas, ambitions and dreams.
Each participant at Oslo Open is required to show an online presentation of their work online, consisting options to supply images, text, video, that presents an overview of their work. We are spoilt for choice; some extensive and considered, other sparse or incomplete; rather like that of the studios you may visit."
Institute of Equilateral Thoughts, 16 April 2016
Oslo Open Team
Director
Marianne Zamecznik
+47 411 27 601
marianne.zamecznik@osloopen.no
Project Coordinator
Lona Hansen
+47 414 09 099
lona.hansen@osloopen.no
Project Coordinator
Julia Kidder
+47 465 48 632
julia.kidder@osloopen.no
Oslo Open Board
Trond Hugo Haugen, BOA (Chairman)
Therese Möllenhoff, The reference group
Tito Frey, BOA
Tonje Sørli Høydahl, NKOA
Heidi Sand, NKOA
Ivar Smedstad, The reference group (vara)
Maria Sundby, BOA (vara)
Cathrine Maske, NK (vara)
Oslo Open jury 2017
Solveig Lønseth, artist, Oslo
Jan Christensen, artist, Oslo/Berlin
Tora Endestad Bjørkheim, artist and editor of Grafters Quarterly, Oslo
Oslo Open's Reference Group
Astrup Fearnley Museet for Moderne Kunst
Atelier Nord
Billedkunstnerne i Oslo og Akershus
Fotogalleriet / Forbundet Frie Fotografer
Fellesverkstedet
Kunstnernes Hus
Nasjonalmuseet for kunst, arkitektur og design
Norsk Billedhoggerforening
Norske Kunsthåndverkere
Norsk senter for teknologi i musikk og kunst
Visiting and postal address:
Oslo Open
Rådhusgt 19
0158 Oslo
Want to be our friend?
Now you can join Oslo Opens Friends!
Support our beloved festival and help us to preserve it as a free event for the city's population. Mark your gift "Oslo Open Friends" and pay to this account number: 96803588365 Send your name and address to info@osloopen.no marked Oslo Opens Friends and you will hear from us! We would love to publish the names of supporters on our homepage. (You can of course remain anonymous if you wish).
Thank you very much!
…..
Design and development of the website Kord AS
Illustration: Sunniva Sunde Krogseth