Guided Tours 2017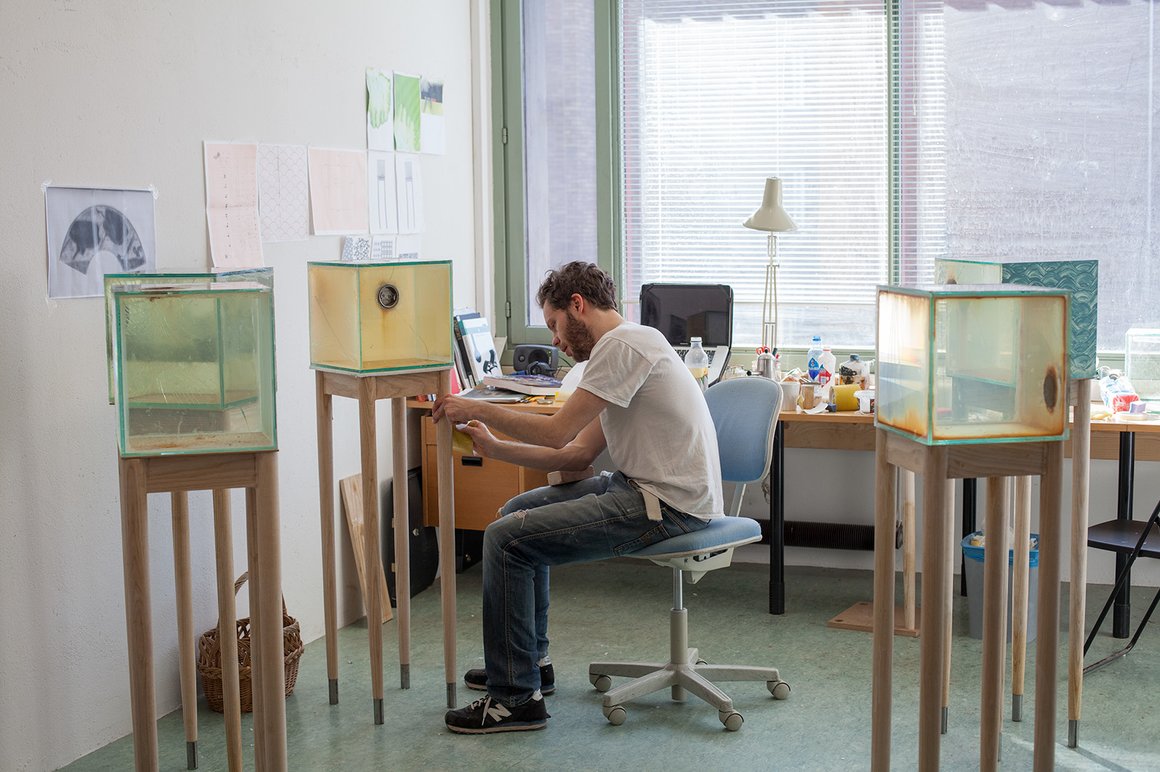 Stian Eide Kluge in his studio at Malerhaugen, Ensjø. Photo: Audar Kantun.
Join one of our knowledgeable art guides from studio to studio. Our guides are art historians, journalists, artists and others who have an above average interest in the arts and the art world.
The guided tours are free.



KUNSTNERNES
HUS
CA 2 HOURS
Meeting point: Kunstnernes Hus
Date: 22. april
Time: 12:00, 14:00, 16:00
Kunstnernes Hus, Wergelandsveien 17
Nora Joung
Jessica MacMillan
Annika Daniell
Ask Brean
Istvan Virag
Marius Presterud
Anna Daniell




CITY

CENTER

/HOVEDØYA

CA 2,5 HOURS
Meeting point: Rådhusplassen

Date: 22. april
Time: 12:00, 15:00

Rådhuset
Apichaya Wanthiang
Ann Iren Buan
Sven Påhlsson

Hovedøya, Lavetthuset
Inger Johanne Rasmussen
Jan Trygve Fløysvik
Anne Karin Jortveit
Nils Olav Bøe
Kari Steihaug




CITY

CENTER

/

STORGATA

CA 1,5 HOURS
Meeting point: Gaasa, Storgata 36

Date: 22. april
Time: 12:00, 14:00, 16:00

Storgata 36B&D
Haikw/
Franz Schmidt

Prindsen kunstnerkollektiv:
Svartjord
Siren Elise Dversnes Dahle
Kristine Marie Aasvang
Christine Malnes
Helen Tolaas Coward
Kjersti Lande
Signe Løvaas
Solveig Ane Kirkaune Øksendal
Yola Maria Tsolis

Storgata 19
Helle Siljeholm
Anahita Alebouyeh
Fadlabi
Michael Rahbek
Karin Erixon
Lars Cuzner
Leo Shumba




SAGENE
CA 1,5 HOURS
Meeting point: Sagene Kirke
Date: 22. april
Time: 12:00, 14:00, 16:00
Drøbakgata 1
Kristin Sæterdal
Camilla Dahl
Alf Christian Hvaring
Greger Stolt Nilsen
Torild Rødland
Randi Annie Strand
Ingebjørg Vatne
Maria Vagle
Ellen Christensen
Elin Mack
Dannevigsveien 5
Guri Sandvik
Mette Strøm
Kjersti Lunde
Dannevigsveien 18A
Gro Mukta Holter




URANIENBORG
CA 1,5 HOURS
Meeting point: Riddervolds plass
Date: 22. april
Time: 12:00, 14:00, 16:00
Riddervolds gate 9
Emilie de Rohan Birkeland
Melanie Kitti
Haxthausensgate 7
Mimi Swang
Arild Berg
Linda Jansson Lothe




CITY

CENTER

/

DUMPA

CA 2 HOURS
Meeting point: Hausmania

Date: 22. april
Time 12:00, 14:30, 16:30

Hausmania, Hausmannsgate 34
Ragnhild Aamås
Aleksandra Misztur
Christian Hennie
Karen Gimle

Maridalsveien 3
Siri Austeen
Stefan Schröder
Janine Magelssen
Ebba Moi
Anna Carin Hedberg
Helen Germain Eriksen Ngoma

Entrance R:
Lillian Tørlen




ØKERN
CA 2,5 HOURS
Meeting point: Økern T
Date: 23. april
Time: 12:00, 15:00
Økern Torgvei 1
Ingri Haraldsen
Monica Flakk
Trond Hugo Haugen
Ellen S. Holtskog
Øyvind Mellbye
Solveig Syversen
Kabelgaten 19 & 1B
Anne-Liis Kogan
Rebecca Onstad
Andrea Wikhammer Heir
Frido Evers
Fredrick Arnøy
Marius Moldvær




FRYSJA
CA 2 HOURS
Meeting point: Frysja Kunstnersenter
Date: 23. april
Time: 12:00, 14:00, 16:00
Kjelsåsveien 145 & 143A
Ingrid Lønningdal
Margret Reykdal
Birgitte Sigmundstad
Johan Knoff
Hanne Grieg Hermansen
Ellen Grieg
Pål Roland Janssen
Inge Lise Hansen
Bente Sætrang
Hilde Mæhlum




RODELØKKA
CA 2 HOURS
Meeting point: Carl Berner /Narvesen
Date: 23. april
Time: 12:00, 14:30, 17:00
Dælenenggata 4
Erlend Grytbakk Wold
Anny Langer
Merete Sæther
Fjellgata 13
Gabriella Göransson




SINSEN
CA 2,5 HOURS
Meeting point: Løren t-bane
Date: 23. april
Time: 12:00, 15:00
Sinsenveien 51
Tine Aamodt
Alexander Rishaug
Lise Bjørne Linnert
Heidi Øiseth
Marianne Brekke
Kari Mette Wik
Ewa Jacobsson
Gelawesh Waledkhani
Hasleveien 38
HC Gilje
Pierre Lionel Matte
Stein Koksvik
Marianne Blankenberg
Sinsenveien 11
Frithjof Hoel
Ingvild Fagerli
Hanne Ekkeren
Heidi Marie Wien
Hanne Lydia Opøien Figenschou




TØYEN
TRAFO

&

OMEGN

CA 2 HOURS
Meeting point: Tøyen t-bane

Date: 23. april
Time: 12:00, 14:30, 16:30

Hovinveien 1
Christine Aspelund
Else Marie Hagen
Eline Mugaas
Per Hess
Nina Bang
Christina Peel
Ingrid Askeland
Elin Aasheim
Hanne Sletten
Brynhild Slaatto
Trine Mauritz
Mattias Härenstam
Ane Hjort Guttu
Marit Krogh
Kathleen Lotherington
Josefine Lyche
Trine Mauritz
Ragnhild Monsen
Trude Westby Nordmark
Sigrid Øyrhagen
Fredrik Raddum
Eva Skaar

Hovinveien 10

Vandaler forening:
Sara Rönnbäck
Hanan Benammar
Malin Bülow
Garry Williams
Daniel Slåttnes




ENSJØ
CA 2 HOURS
Meeting point: Ensjø t-bane
Date: 23. april
Time: 12:00, 24:00, 16:00
Stålverksveien 2
Ane Krogseth
Hanne Rivrud
Are Mokkelbost
Marianne Røthe Arnesen
Ensjøveien 8
Ebba Bring
Aron Li
Andrea Scholze
Ahmed Umar
Line Kolstad Yuen
Jon Benjamin Tallerås
Moa Håkansson
Marie Hepsø