Kross, Kirsty
Kirsty Kross is an Oslo based artist from Brisbane, Australia. Her work deals with the human condition, currently focusing largely on humans' relationship to the attention economy and growing ecological uncertainty. She holds a Bachelor's Degree in Art History from the University of Queensland and a Masters Degree of Art in Context from the Berlin University of the Arts. Kirsty Kross exhibited and performed at Bergen Assembly, Tenthaus, Østlandsutstillingen and PINK CUBE as well as Clockwork Gallery, Parkhaus Projects and Galerie Crystal Ball in Berlin. Kirsty Kross was awarded the Dusk till Dawn Art Prize by PNEK and Vandaler Forening in 2016.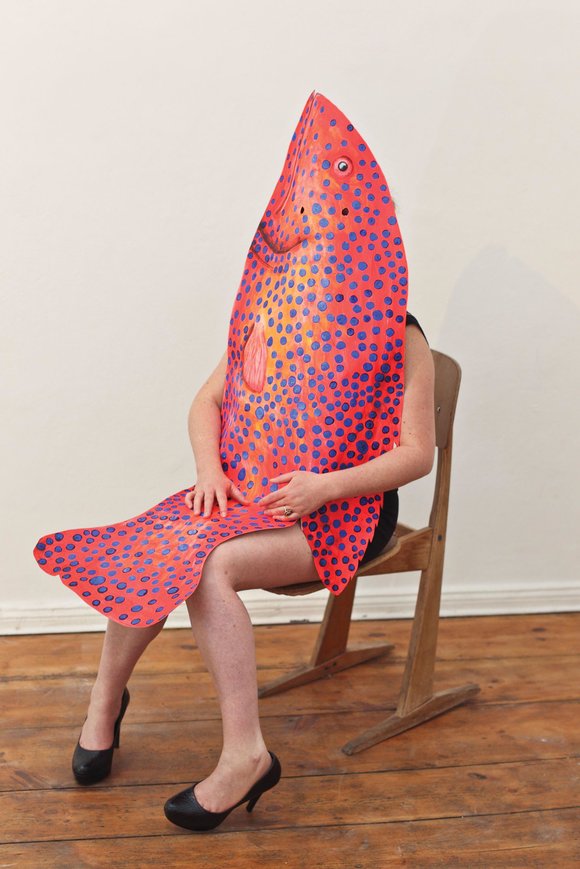 Coral Trout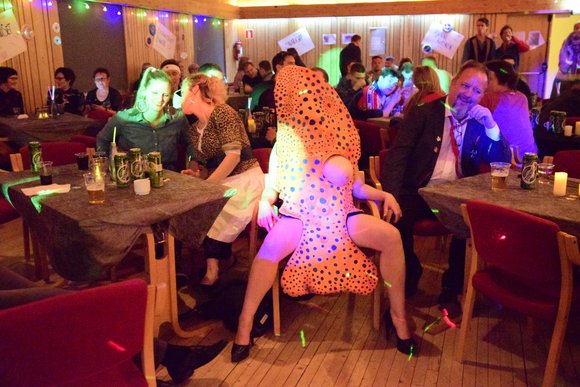 The Final Countdown, Berlevåg, 2017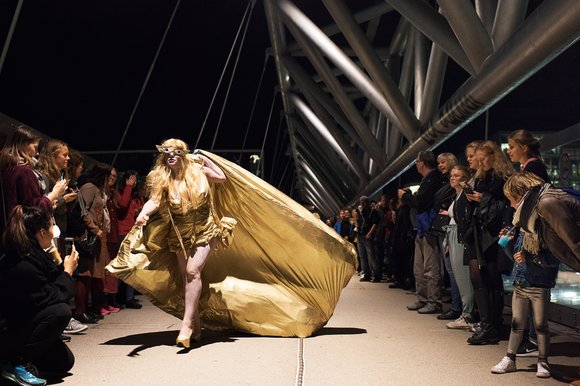 GOLDEN EXCHANGE, Oslo, 2017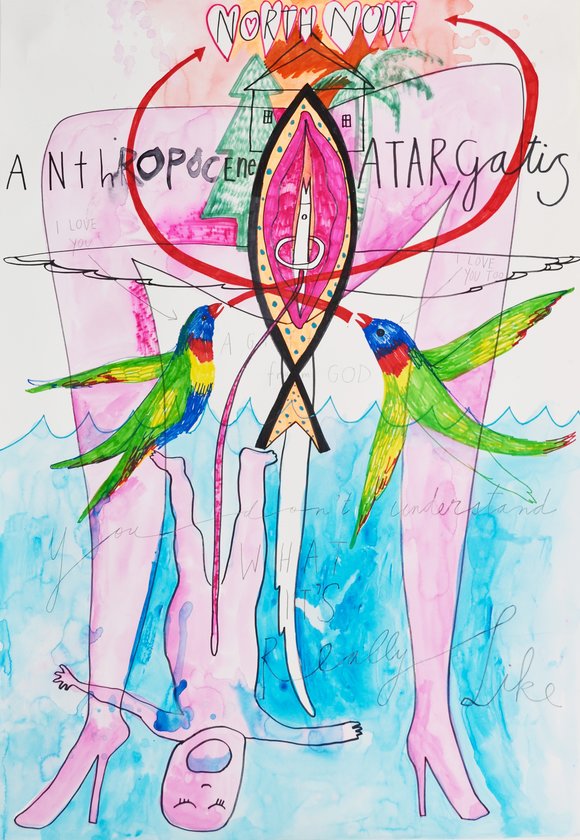 Anthropocene Atargatis, drawing, 2019, pen and watercolour, 59x84cm
Planlagte prosjekter og utstillinger
-2021 performance opening of New Norwegian National Museum
-June 2020 performance, Svor Museum, Hornindal
-August 2020 solo exhibition and performance Vadsø Kunstforening
CV
Kirsty Kross
Sannergata 28A, 0557, Oslo
T: +47 4546 3165
E: kirstykross@yahoo.com
W: www.kirstykross.com
Education:
2012- Masters of Art in Context
Universität der Künste, Berlin
1997- Graduate Diploma of Teaching
Subjects: Visual art and History
Queensland University of Technology
1994- Bachelor of Arts
Majors: Art History and History,
The University of Queensland
Exhibitions and Performances:
2021, Opening Group Exhibition, Installation and Performance,
Nytt Nasjonalmuseum, Oslo
August 2020, "Coral Trout in Vadsø", Installation and Performance,
Vadsø Kunstforening, Finnmark
January 2020, "Midtvintersblot", Music and Performance,
SALT, Oslo
December 2019, "Cocktails & Dreams", Installation,
in the group exhibition, "Best of Sessions", Tenthaus, Oslo
December 2019, "Ghost of Exes Past", Performance,
Kunsthall Oslo, Oslo
November 2019, "Green Fish Show", Performance
SALT, Oslo as part of the launch of the Oslo School of Environmental Humanities,
University of Oslo
October 2019, "Introducing Miss LIquidity", Performance and drawings,
FAEN, Atelier Nord, Oslo, Norway
September 2019, "How to Practise", Performance Lecture, UKS, Oslo
June 2019, "Anthropocene Punk Bitch", Music and Performance, FLINK: Ocean Apocalypse, SALT, Oslo, Norway
June 2019, "Gratulerer med Dagen", Event, Installation and Performance, FLINK: Ocean Apocalypse, SALT, Oslo, Norway
May 2019, "PAO Monumental", Performance and Curator,
for Performance Art Oslo, Oslo, Norway.
April 2019, "Grønske Landscape Experiment", Photograph from a Performance/Workshop,
in the group exhibition, "Karnevalet- feiring og protest", Interkulturelt Museum, Oslo.
March 2019, "Ilmenite, Titanium and something In-Between", Performance and Installation, Velferd Sokndals Scene for Samtidskunst, Sokndal, Norway
December 2018, "Dawn Service- #MeToo", Performance,
Woodford Folk Festival, Woodford, Australia
December 2018, "Coral Trout in Berlevåg Calendar Launch", Performance, Installation and Launch, Khartoum Contemporary, Oslo, Norway
December 2018, "Coral Trout Christmas Tableau", Performance and Installation,
USF Family Christmas Party, Bergen, Norway
November 2018, "Intervention on the Danskebåt", Performance and Installation
Cabin Economy Contemporary, Oslo, Norway
November 2018, "Birthday Cake", Performance,
Localise Festival, Potsdam, Germany
September 2018, "The Mysteries of the Meaning of the Fish and other Secrets of the Deep", Performance, PAB International Performance Art Festival, Bergen, Norway
July 2018, "Fisk og mer", Exhibition and performance,
Kvitbrakka, Berlevåg, Norway
August 2018, "Fiskhibitionist VS Bear Pervert VS Octopussy VS Superhuman VS Gaia", Performance, Hviitsten Salong, Hvitsten, Norway
July 2018, "Love Letter to a Stranger", drawings and performance, Kunst Vardø, Oslo
June 2018, "The Age of the Cephalopods is Nigh", for the launch of Tvergastein, Interdisciplinary Journal of the Environment, Bruket, Oslo
May 2018, "The Spirit", Kunstnerprekene, drawings and performance,
Sagene Kirke, curated by Liv Kristin Holmberg, Oslo
May 2018, "The Age of the Cephalopods is Nigh", installation and performance,
Dangerous Futures Conference, 5th Trondheim Biennale, Trondheim, Norway
April 2018, "The Coral Trout by Bonnie Hart and Lilly Towers", performance,
FKSGVN-40, Alchemix, Brisbane, Australia
December 2017, "STUFF", installation and performance,
Winter Solstice Festival, Vandaler Forening, Oslo
November 2017, "Nigella", installation and performance,
Vi see på Kunst, Magazine Launch, Sentralen Oslo
November 2017, "On Spirituality and the Possibility of Primavera in the Age of Post-capitalism", drawings, text, installation, performance
Pluss Pluss curated by Helle Siljeholm, Black Box Theatre, Oslo
November 2017, "Coral Trout in Berlevåg- The Final Countdown", installation and performance, Kvittbrakka, Berlevåg, Norway
October 2017, "On the Aesthetics of Imperfection and how it makes you Feel", lecture performance, "Sisters Academy #6", curated by Sisters Hope, Den Frie, Copenhagen, Denmark
September 2017, "Cocktails & Dreams", installation and performance,
Tenthaus Oslo in co-operation with Hersleb Videregående Skole, Oslo
September 2017, "GOLDEN EXCHANGE", installation and performance,
"SEXY BYDEL", curated by Sexy Boyfriends, Oslo
August 2017, "Sinking Tropical Paradise", documentation,
"Oslo Fjord Ecologies Experience", curated by Kristin Bergaust, RAM Galleri, Oslo
July 2017, "Sinking Tropical Paradise", installation and performance,
"Eco Echoes", PAO@Steilene, Nesodden
June 2017, "Grace Day", lecture performance and installation,
"Manifexpo: The Entrepreneurial Outcomes", as part of PRAKSIS Residency with Jeremy Bailey, Kunstnernes Hus, Oslo
March 2017, "Falling down the stairs in A# Major", performance,
Kunstnernes Hus, Oslo
January 2017, "Desperate Intervention", performance,
Klimafestivalen, Deichmanske Hovedbibliotek, Oslo
December 2017, "Blue Christmas Carol", performance,
Winter Solstice Festival organised by Vandaler Forening, Oslo
October 2016, "The Raquel Project: Copy of a Little Black Book", drawings and text,
as part of "Bedfellows: Sex Re-Education", workshop and installation,
TATE Modern, London
September 2016, "Mer eller mindre: Do 2 Litres of Water Make 2 Litres of Piss?", performance and installation,The Partisan Cafe, The Bergen Assembly, Bergen
September 2016, "Monumental Issues", lecture performance,
PAO@Kulturnatt, Oslo
August 2016, "Undine Spricht", performance and film,
with Ninotschka, Berlin
July 2016, "Aim High", installation and performance,
"Oily Tales", PAO@Steilene, Nesodden
April 2016, "Fish Tank Painting Machine", installation and performance,
Galleri Bokboden, Bergen
February 2016, "The Night of a Thousand Haircuts", music performance,
"FLINK: Performance+Party", Maksitaksi, Oslo
November 2015, "The Raquel Project—Performance Dinner Zürich" , installation and performance,curated by Lea Schleiffenbaum and Florian Christopher Seedorf, Lea und Florian laden ein, Zürich
September 2015, "Dance of the Dead", performance w/Helle Siljeholm & Liv Kristin Holmberg, Hamburger Bahnhof, Berlin
July 2015, "Vantage Point", performance,
PAO@Steilene, Nesodden
June 2015, "Lizzie Borden", theater performance,
in "Tödlichen Frauen" directed by Barbara Lubich, Elisabeth Wulff-Werthner & Olivia Pils,
Zentralwerk, Dresden and Schaubühne Lindenfels, Leipzig
June 2015, "Coral Trout Welcome Parade", performance,
Østlandsutstillingen, Oslo
May 2015, "Come Innn", installation and performance,
One Night Only, Kunstnernes Hus, Oslo
Mai 2015, "Dinner and a Show", installation and performance,
curated by Lea Schleiffenbaum and JL Murtaugh for Joint Venture 2, Gallery Weekend Berlin
April 2015, "Coral Trout Marathon, Stockholm" , installation and performance,
"Battle #18: Trollkrem VS Kirsty Kross", PINK CUBE, The Supermarket Art Fair, Stockholm
September 2014, "Public Toilet Show", performance,
PAO@Kulturnatt, Oslo
August 2013, "Coral Trout on a Column near a Clock and in a Canal, Berlin", performance,
Clockwork Gallery, Berlin
October 2012, "Lost and perhaps even possibly Found", Solo exhibition,
Gallerie Crystal Ball, Berlin
July 2012, "Between the Sheets: Marimekko, Ken Done und die Konstruktion von Identität", text, photo essay,performance and installation,
Masters exhibition, Institut für Kunst in Kontext, Universität der Künste, Berlin
July 2012, "Artefacts Pertaining to My Career in a Girl Band with a Boy in It", installation,
"The Inside Outside Show", Walden-Kunstausstellungen, Berlin
May 2012, "Coral Trout on Roller Skates in a Carpark, Berlin", performance,
curated by Michael Kutschbach, "At the Parkhaus", Parkhaus Projekts, Berlin
July 2011, "A Situation in Liechtenstein: The Medals", performance/happening,
Situation Simulation Society Ministry of Culture, Vaduz, Liechtenstein
June 2011, "In Search of the Australian Sublime", lecture performance,
Localize Festival, Potsdam, Germany
2001-2010, Team Plastique
- Performances throughout Europe and Australia. Concerts at The Big Day Out Festival, Australia 2003,
2004, Chicks On Speed Australia-tour 2003, Peaches Australia tour 2004, Berliner Volksbühne 2004,
Christopher Street Day Official Party Berlin 2006, Copenhagen Queer Festival 2006, Elevate Festival Graz
2008, Transmitter Festival Austria 2008, Feast Festival Australia 2008, Kunstsalon Berlin 2008, Gallerie
Daeppen, Basel 2008
Team Plastique Releases:
"Suck"
Team Plastique EP, Plastique Records, 2003
Brisbane, Australia
"This is the Shit"
Team Plastique LP, Fondue Records, 2006
Berlin, Deutschland
Record release as part of the closing party for Berlin Art Biennial, Rio Club
Relevant Work Experience:
2020- Event Organiser, Midtvintersblot, SALT, Oslo
2019 – Performer, "The Viewers" for Carole Douillard, Oslo Biennale
2016 – 2019- Event organiser, FLINK: Performance+Party, SALT, Oslo
2015 – 2020- Curator and Event organiser, Performance Art Oslo
2017 – 2019- Event organiser, Deichman Grünerløkka, Oslo
2018 – Art Teacher, Kongsskogen Videregående Skole, Oslo
2017 – Production Assistant, "No Place to Call Home", FEED Festival, Oslo
2017 – Writer, The Institute of Equilateral Thoughts, Oslo
2015 – Dancer, "A Song to…", Mia Habib Productions, Dansens Hus, Oslo
2011-2012 – Art Workshop creator and facilitator for youth, Schloss Trebnitz, Germany
2008 – 2016 – Director of art and performance camps, Berlitz, Germany
2008 – 2010 – Dancer, White Trash Fast Food, Berlin
2009 – Curator, "Urban Witches not Bitches", Galerie Neurotitan, Berlin
2008 – Curator, "The Secrets of the Berlin Supermuse", Galerie Neurotitan, Berlin
2001 – 2010 – Event organiser, Team Plastique
1998 – 2004 – Art teacher, Education Queensland, Australia
Awards, Grants, Residencies:
2017 and 2018- Residency, Kvittbrakka, Berlevågatelieene, Berlevåg
2017 – Residency, "Sisters Academy #6", Sisters Hope, Den Frie, Copenhagen
2017 – Grant from Tenthaus Oslo through Kulturrådet
2017 – Residency, PRAKSIS with Jeremy Bailey, Oslo
2017 – Prize, Dusk till Dawn Art Prize, PNEK and Vandaler Forening
2016 – Grant, Deutsche Medienbord for "Undine Spricht"
2015 – Grant, Amt für Kultur und Denkmalschutz, Dresden og Kulturstiftung des Freistaates Sachsen, project
support for "Tödlichen Frauen"
2012 – Grant, Institut für Kunst in Kontext, Berlin Universität der Künste, project support for "Between the
Sheets"
2008 – Grant, South Australia Arts Council, project support for Team Plastique @ Feast Festival, Adelaide
Text/Publications:
"Kirsty Kross: Art for the End Times", EE Journal #2, May 2017
"Sing your Life", Vi see på Kunst, September 2017
"Kunstnerpupp vakt oppsikt", Finnmarken, November 2017
"Korellenørret", Vårt Land, May 2018
"Selfies i den ytterste tides," 10TAL, May 2018
"A Fish out of Water", Tvergastein, Interdisciplinary Journal of the Environment, Issue 11, June 2018
"Hvitsten Salong 2018", Vestby Nytt, August 2018
"The Mysteries of the Meanings of the Fish", Professor Jennie Klein for PAB International Performance
Festival, September 2018