Hegnar, Mikael
Maleri
In ever finding new ways of applying paint to the canvas I seek to make myself a stranger to my own work. I brush, pour, push and print various pigmented pastes onto the canvas, and rework them with hand-made as well as traditional painting tools, including painting knives, scrapers, straight or notched edged trowels, sticks, cloths, rags and brushes.
This wide array of media, which includes encaustic wax painting as well as oils and raw pigments, allows chance compositions to appear as if out of nowhere. The hastily sketched figures and patterns that populate the landscapes owe their immediacy to a careful reconfiguring of the tools used to scratch and carve them, where oversized handles or serrated edges become a tool to any technical virtuosity.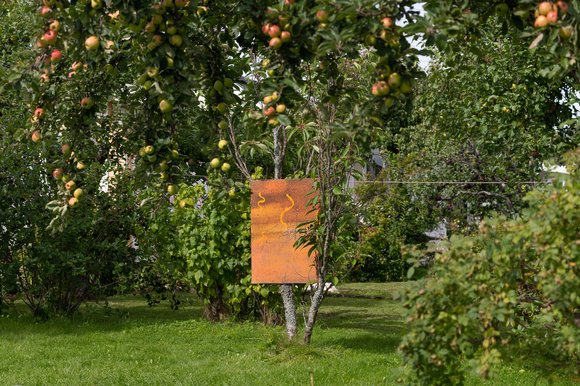 Mikael Øye Hegnar, Kokkoliner, (2019). Oil on board, 71 cm x 53 cm. From "On Graftage", 1857, Oslo.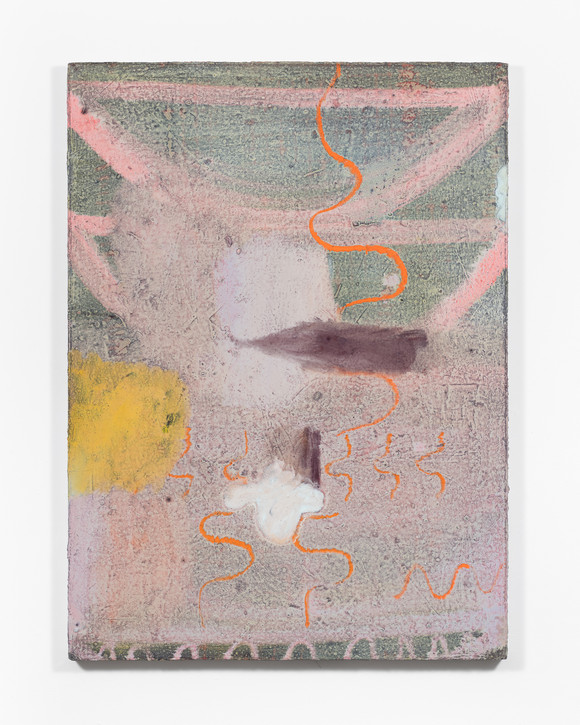 Mikael Øye Hegnar, Signal, (2019). Oil on canvas, 110 cm x 84 cm.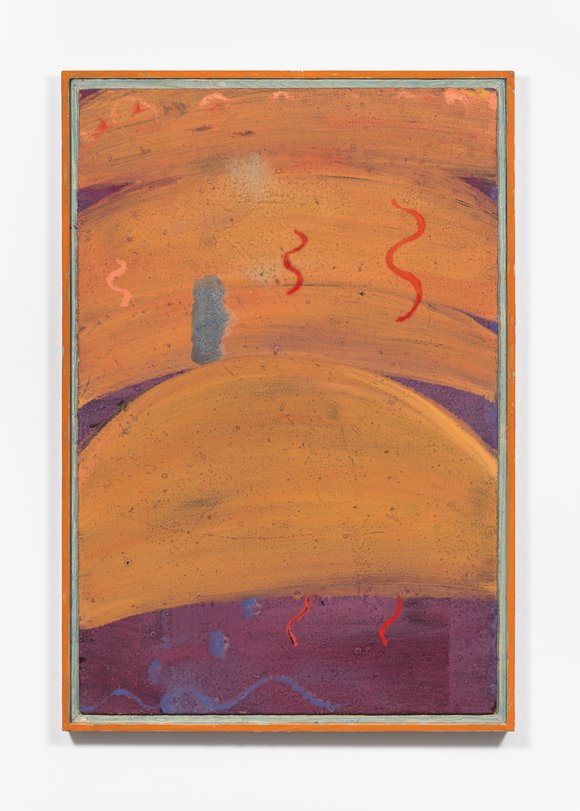 Mikael Øye Hegnar, Damp, (2019). Oil on plexi, 120 cm x 90 cm.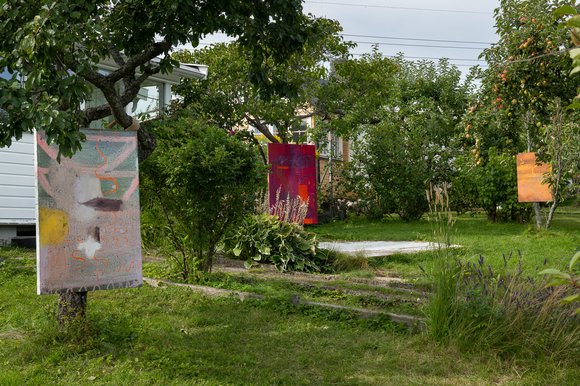 Mikael Øye Hegnar, Overview. "On Graftage", 1857, Oslo (2019)
Planlagte prosjekter og utstillinger
"Old Tree", Hordaland kunstsenter, Bergen (February 2020)
Solo presentation, Femtenesset, Oslo (spring 2021)
Groupshow, Femtenesset, Oslo (May 2020)
CV
CV MIKAEL ØYE HEGNAR
(f. 1984, Oslo)
Education:
MA, Academy of fine art, Oslo (2010)
BA, Art and Craft, Oslo (2008)
Solo presentations:
"On Graftage" , 1857, Oslo (2019)
"Independent Brussels", 1857, Brussels (2017)
"Garderoben", Kristiansand Kunsthall, Kristiansand (2017)
"MNikael ∞ benspenn", Kunstnerforbundet, Oslo (2017)
"Blotto", BOA, Oslo (2015)
"Øy", Elephant Kunsthall, Lillehammer (2014)
"Mikael Øye Hegnar", Galleri LNM, Oslo (2014)
"Mikael og Satan bygger Slott", Tegnerforbundet, Oslo (2013)
"Arbeider", Akershus kunstsenter, Lillestrøm (2010)
"In Limbo", Trafo Kunsthall, Asker (2008)
Selected groupshows:
"Selflessness", 1857, Kunstnerneshus (2019)
"Paris Internationale", 1857, Paris (2018)
"Hvitsten-Salong", Hvitsten (2018)
"Slutten", Kristiansand Kunsthall, Kristiansand (2017)
"Paris Internationale", 1857, Paris (2016)
"Neolithic Graffiti", QB Galleri, Oslo (2016)
"Tegnebiennalen 2016: SKISSEN", Oslo (2016)
"Skumringssoner", Sommerutstillinga 2016, Seljord (2016)
"Art Marbella", Elephant Kunsthall, Spania, Marbella (2015)
Grants:
Art Counsil Norway, Prosject support (2019)
BKV, project support (2019)
BKV, 1 year work grant (2019)
BKV, 1 year work grant (2018)
BKV, 3 year work grant (2015)
Arts Counsil Norway, 1 year work grant (2014)
Arts Counsil Norway, 1 year work grant (2013)
Arts Counsil Norway, 2 year work grant (2011)
BKH-grant (2009)
Residency:
Studio grant, Lilleborg, Oslo (2019- 2021)
Nordic Artist senter Dale, Dale (2019)
Ingrid Lindbäck Langaards Stiftelse: (Cité), Paris (2015)
CCA Antrax, Antrax, Mallorca, (2014)