Kjemphol, Lars
Alle teknikker og utrykksformer
Norsk Antikunstner basert på bislett. Driver Woodland skateboards, Sisyfos minigolfkulbb, lager musikk og jobber under en rekke pseudonymer.
Medlem av NBK, UKS, Norske Grafikere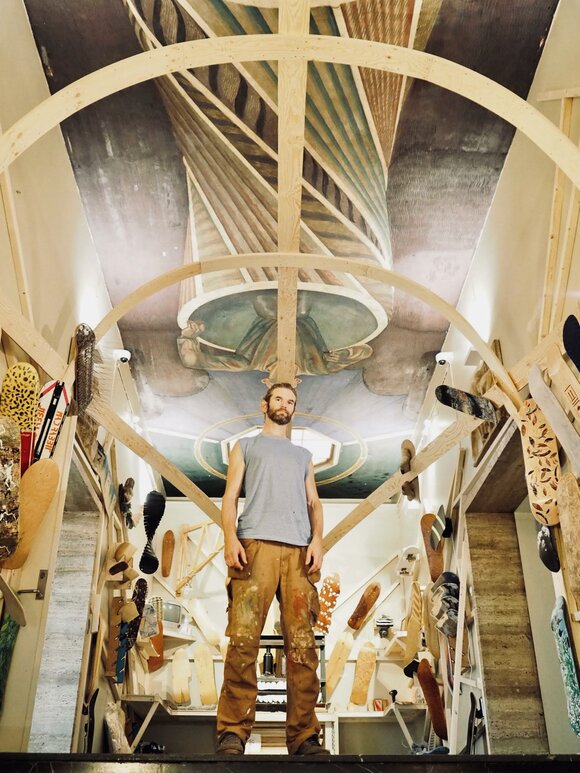 Høstutstillingen 2019
CV
CV (Short Version)
Lars Kjemphol
Born 25.07.80
Dalsbergstien 7b 0170 Oslo larskjem@gmail.com
Education:
2006- 2008 Master of fine art- Statens kunstakademi- Khio- Oslo 2002- 2006 Statens Kunstakademi- Khio- Oslo
Selected group shows:
2019 "Woodland 10 years" Høstutstillingen Kunstnernes hus 2013 «Woodland skateboards goes abroad.» The Roskilde festival: 2012 "Woodstock." An exhibition about wood. Vaxø Artcenter 2012 "WoodlandWoodshop" The ØyaFestival
2011 "Woodland lowtech" Gallery BOA

2009 "Woodland Woodshop" Oslo Galleri Maria Veie
2019 Norske Grafikere – 100 years exhibition 2019 Akershus kunstsenter "Fra objekt til subjekt" 2018 Sted Søker kunst – UT – Ski. Light installation. 2017 Open Video V, Atelier Nord ANX, Oslo
2019 Hvitsten Salong – Consert and installation

2019 IKM – Improvised music/spoken Word.

2019 Dans 5 : Improvised music for movement research

2018 Dans 5 : Improvised music for movement research .

2018 Sentralen: Kingwings: "Et bur uten gitter." Composed breakdance tour. 2018 Schaus Collective- Extended moving intaraction Contemporary dance show. 2018 Oslo Contact Impro Musician for Jam. 

2018 "Menneskedyret": Live improvised music for contemporary dance company
2016 "Sisyfos Street-style" Sentralen Oslo
2015 "Sisyfos farmers" at Norsk Antikunstsenter Stovner 2014 "Sisyfos at Jesperud": Public sculpture for poor kids at Stovner. 2013 "Sisyfos grenseland" Major Landart Work at Veitvet.
2012 "Sisyfos goes south" The Hove Festival Arendal

2013 "Sisyfos + Woodland" – Akershus Kunstsenter. 2012 "Sisyfos on the beach" UKRUTT Drangedal

2011 "Sisyfos minigolfklubb" Skåne Art center Malmø

2010 "The return of Sisyfos minigolfklubb." Gallery BOA Oslo

2008 "Sisyfos in Space." Gallery Brandstrup Oslo

2007 "Sisyfos minihell" Vestfossen kunstlaboratorium 2006 "Sisyfos Underground" Catacombs at The national Art Academy 2005 "Sisyfos Minigolfklubb"- Galleri 21.25
2013 Vestfossen kunstlaboratorium- En kunstner som samler kunst.
2012 Ålesunds kunstforening "Presentasjon"

2012 The National Museum of Art Norway "Multiples"

2011 Haugar art museum "Collaborism"
2011 Nes culture house "Kunst på vandring" "Collaborism 
2009 Youngstorget – Billedhugger Foreningen "Frontside Disaster." Oslo
2008 The Astrup-Fearnley museum "Lights on" young Norwegian art. Oslo 2008 The Stenersen museum "MA show – Statens kunstakademi"

2008 Gartenstudio Gallery Berlin "Don't judge a book by its cover" Berlin 2007 Akershus Art Center "Sky is the limit. There is no escape"
2007 Kunstnernes Hus "Høstutstillingen # 120" with Espen Henningsen.

2006 Kunstnernes Hus "Høstutstillingen # 119" with Hans Thorsen
Selected solo shows:
2017 Lillestrøm Torg: Urban Art gardening. 1
2017 Galleri Kunstkompressor: "Work in progress."
2016-17 Tettstedet Tretten: Maleri utsmykking og sitteskulptur.

2015 The Nordic House: Faeroe Islands – Representing Art from Norway in the Scandinavian festival
2015 One Night Only: Kunstnernes hus -Oslo 2009 Galleri Maria Veie "The times they are á changing."
Curator Work:
All 13 shows/workshops/arrangements at Norsk Antikunstsenter/ Øvre Fossum Gård.

In a period of five years, I curated a total of 13 big exhibitions and concerts, with over 350 Artists Examples:
2016 Norsk Antikunstsenter. Opening of the KHIO-student run Gallery in the Stabbur.

2016 Norsk Antikunstsenter. Launch of the new skate/art project "Granskæu rullefjæl"

2015 Norsk Antikunstsenter. The Worst Artshow ever-

2013 Norsk Antikunstsenter Housed the BA show for the art academy (KHIO)
Festivals:
2019 Lysvandring langs Alnaelva: Curating, programming +installations for the Grorud light festiaval.
2018 Lysvandring langs Alnaelva. all light and art installations at the yearly light festival in Grorud

2017 Lysvandring langs Alnaelva . All light-and art installations at the yearly light festival-Groruddalen

2016 Lysvandring langs Alnaelva. Curating, design and production of the light-festival in Groruddalen.
2015 "Light wandering along the Alna river"- All light installations for Grorud, Alna, and Stovner.
Teaching, workshops and public speaking: 2019 Mentoring young artists for Tekstlab Scratch- 2011-19 "Den kulturelle skolesekken" – Artist-meeting: Lars Kjemphol 2019 PrintWorkshop #2 at Kunstnernes hus.

2019 Print Workshop at Kunstnernes hus.

2019 Workshops with students at Turneorganisasjonen Hedemark .

2018 Analog collage-workshop at KHIO.

2008-12 Teacher- workshops in "Free form Art", at Einar Granum
2006 Teacher -Radio-Workshop at Momentum – Moss
Founding experience:
2016 Founded Gallery Stabburet-
2014 Founded Granskæv rullefjæl. (Daughter of WDLND) 2013 Founded "Norsk Antikunstsenter" culture center in Stovner- Groruddalen.

2011-14 Worked to get Fellesverkstedet in Oslo started.

2009 Founded Woodland skateboards-Art on wheels, -social sculpture.
2006 Founded "Idealistiske tider" , the first artradioshow exhibited at høstutstillingen. 2005 Co-founded the artist collective "Sisyfos minigolfklubb"
Selected Publications:
2020 Upcoming: Book: WDLND 10Years- Høstutstillingen special.

2019 Upcoming: CD/casette "Gaffaimprovisasjonene" – Abstract piano music. 2018 Book: "Up your art 2 "

2017 CD/Casette "Abortert Snutefoster- Gud er snut han Å!"

2016 Book "Up Your Art": (The Art of Art) : Norsk Antikunstforlag 2007 "Norwegian art-yearbook" PAX Forlag.
Selected Grants:
2019 Project support WDLND 10 year anniversary.

2017 BKH 3-years working grant.

2015 NBK Project support: Øvre Fossum Gård.

2014 NBK Prosjektstøtte – Norsk Antikunstsenter.

2013 Rom For kunst: Support for making Norsk Antikunstsenter at Stovner
2010 Kulturrådet projectsupport— Woodland Skateboards. 2009 Statens Kunstnerstipender: 3 years working grant.