Zolcinska, Izabela
Tegning, broderi, skulptur, installasjon, installasjon i offentlig rom
Mitt arbeidsmål fokuserer på å utvide en dypere forståelse til vår kropp. Jeg er interessert i «corporeality» som en forbindelse mellom organismer og uorganisk materiale.
I tidligere prosjekter har jeg tolket fenomenet «migrasjon av fluider», ved å introdusere
kapillær systemet som et visuelt språk. Flytteprosessen til Norge har forårsaket en fokus på båndet mellom oss og vannmiljø. Dette aktiviserte observasjon: At det søkes mye mer etter en redningsplan for menneskeheten i verdensrommet enn i forskning i havet på vår egen klode. Paralleller mellom «utenfor» vann og fluiditet i vår egen kropp ser ut til å være glemt.
Medlem av NBK, TF, UKS, VBK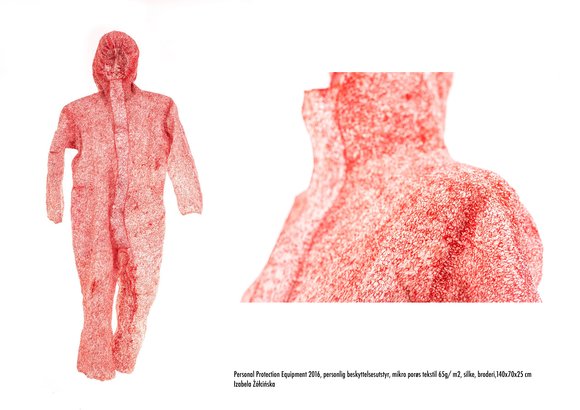 Personal Protection Equipment 2016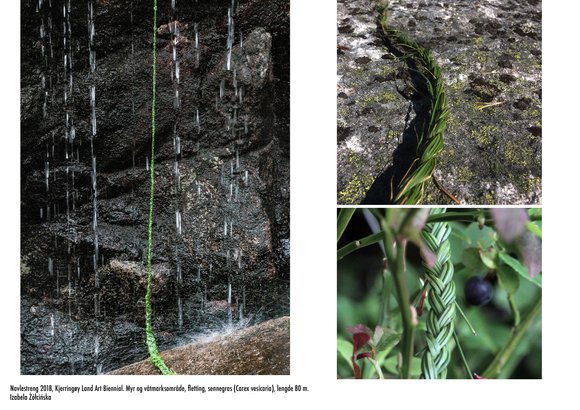 Navlestreng 2018, fletting, sennegras (Carex vesicaria), lengde 80 m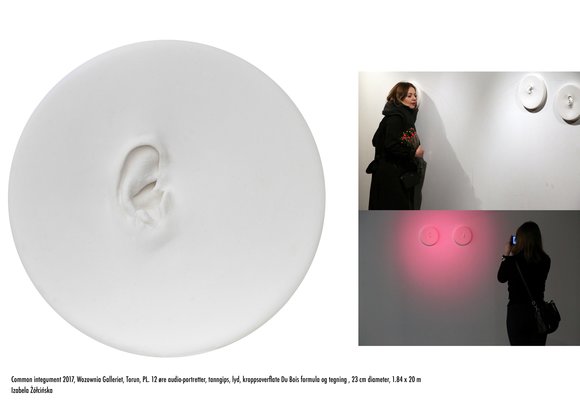 Common integument 2017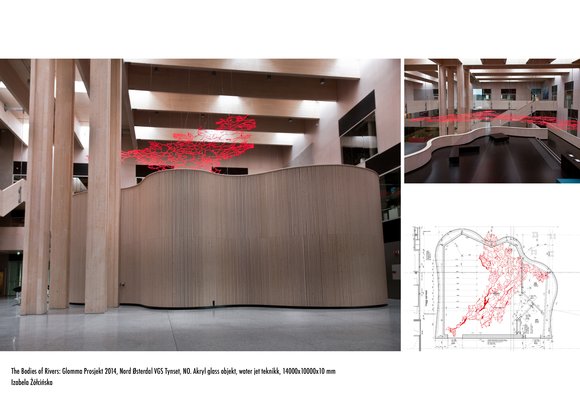 The Bodies of Rivers: Glomma Prosjekt
Planlagte prosjekter og utstillinger
2019 Vannvennlig kunst prosjekt basert på tverrfaglig forskning i samarbeid med Vannforskningsgruppen ved Universitetet i Sørøst-Norge.
2019 The Red List of Threatened Species prosjekt.
2019 Utstilling Muzalewska Galleriet, Poznan, Pl.
CV
UTDANNING
1999 – 2002 Kunstakademiet i Poznan, Polen, Masterutdannelse, malerkunst
1997 – 2001 Kunstakademiet i Poznan, Polen, Masterutdannelse, kunstudervisning billedkunst forming
RELEVANT ARBEIDSERFARING
2003 – 2011 The Gallery of Poster and Graphics, Warszawa, PL
2005 – 2007 The Modern Art Foundation In Situ, Warszawa, PL
WORKSHOP, KURS & FORSKNING
2017 Workshop: Personal Protection Emoji, Zolcinska&Mounter, SG London, GB
2017 Forskningsbesøk, Stentgrafts prosjekt, ved: Waterjet LAB, Ronneby, SE
2015 Forskningsbesøk: Water Jet Sweden AB, Kunsthall, Ronneby, SE
2011 Blekinge Tekniske Institutt, Art & Apparatus Workshop, Ronneby, SE
2007 Forskningsbesøk ved: 52nd International Art Exhibition, Venezia, IT
12th Documenta, Kassel, DE/ 08th Sculpture Project, Münster, DE
2006 Skulptur symposium i offentlig rom, Sculpture Network, Graz, AT
UTVALGTE SEPARATUTSTILLINGER
2018 Hydroanatomi, Kunsthall Ronneby, SE
2017 Skin, Wozownia Gallery, Torun, PL
2015 The Red List of Threatened Species, Teatergalleriet, Kalmar, SE
2014 Oslo Open, Oslo, NO
2013 The Bodies of Rivers/The Oder, The Contemporary Art Gallery, Opole, PL
2012 Biophilia, Muzalewska Gallery, Poznan, PL
2011/ 2012 EXIT Prize, Promocyjna Gallery, Warszawa, PL
2010 – 2011 The Wall of Warmth, The Modern Art Foundation In Situ, Warszawa, PL
2010 The Water Tank, CCA Ujazdowski Castle, Warszawa, PL
2009 Capillary Drawings, Simonis Gallery, Warszawa, PL
2008 REM Phase, Ego Gallery, Poznan, PL
2008 Plus minus, Pienkow Art Gallery, Knoxville, USA
2007 REM Phase, CCA Ujazdowski Castle, Warszawa, PL
2007 Omnia Vidit, The Centre of Polish Sculpture, Oronsko, PL
UTVALGTE KOLLEKTIVUTSTILLINGER
2018 Kjerringøy Land Art Biennial, K Lab, Kjerringøy, NO
2017 Blood: Life Uncut, SG Gallery, London, GB
2017 Blood: Attract & Repel, SG Gallery, Melbourne, AU
2017 Body Language, Berlin Blue Gallery, Berlin, D
2016 inSPIRACJE International Festival, Szczecin, PL
2014 Høyblokka Revisited, 0047 Gallery, Arkitektur N, Oslo, NO
2014 Cielesne kontinuum, 13 Muz Gallery, Szczecin, PL
2014 Logographers, The Contemporary Art Gallery, Opole,
2014 Imprint – Kulisiewicz International Graphic Arts Triennial, Warszawa, PL
2013 Tegnerforbundet , Oslo, No
2013 Art & New Technologies, EL Gallery, Elblag, PL, Art Line, Ronneby SE
2009 Icons of Victory-TransFORM, Humboldt Umspannwerk, Berlin, D
2007/2008 Random in Radom, Museum of Contemporary Art, Radom, PL
2006 Lodz Biennal 2006, Lodz Art Center, Łódź, PL
PROSJEKTER I OFFENTLIGE ROM
2018 Den Beskytede Arten, Åsane VGS og Kulturhus, Bergen, No
2018 Samling – The Red List of Protected Species, Sand, NO
2017 Water 4 cast, Pottholmen Prosjekt, Karlskrona, SE
2016 Erythrocyte, 13 Muz Gallery, Szczecin, PL (invitasjonog forslag)
2014 The Glomma, Tynset Videregående skole, Tynset, NO (realisert)
2010 – 2011 The Wall of Warmth, Hoza 42 gate, Warszawa, PL (realisert)
2010 The Water Tank, Ujazdowski CCA, Warszawa, PL (realisert)
STIPENDER & PRISER
2017 Diversestipend, Statens Kunstnerstipend, Kulturrådet
2016, 2015 Mobility Grant, Kulturkontakt Nord
2014 Billedkunstnernes Vederlagsfonds stipend 2014
2010 EXIT Kunst Pris for 2010
2002/ 2007/ 2009 Polen Kultur Departement, Ett års arbeidsstipend
PUBLIKASJONER
2018
Kjerringøy Art Land Biennial
2017
Blood: Attract & Repel, Utstillingskatalog, Science Gallery Melbourne
Izabela Zolcinska, Skin.Utstillingskatalog, Wozownia Gallery, Torun,PL
Inga Walton: A Bloody Business – Blood: Attract & Repel, Trouble Magazine, No. 149, Australia, https://issuu.com/troublemag/docs/0_isn149_sep17issuu
2016
Elin Thornberg: En hell sjo ska in i Kunsthallen, Blekinge Läns Tidning, 20.04.16, p. 30-31
Oksydan. Utstillingskatalog, 13 Muz, 2016, s.50-53
2015
Dejana Pasic: En utrotningshotad art har blivit konst, östra småland 18.03.2015,s.22
Karin Asmundsson: Vill skydda hotade byggnader. Kalmar läns tidning 19.03.2015,s.19
Gunilla Petri: Tunna linjespel som viskar om svåra frågor. Barometern 21.03.2015, s.43
Lena Wicherkiewicz: Corporal aspect of The Bodies of Rivers. Format Nr 70/2015, s. 80
2014
Leif Houck: De riktige grepene. Architecture Magazin: Arkitektur N, No. 5-2014, s. 31
Ingerid Helsing Almaas, Markus Richter: Open Call – Høyblokka Revisited.
Architecture Magazin: Arkitektur N, No. 4-2014, s. 30-33
Open Call – Regjeringskvartalet, Arkitektur N, No. 4-2014, s.30-33
Marit Arnesen: Med kjærlighet for vann, Østlendingen, No.167, s. 14
Art Line – a Baltic Collaboration, http://www.artlinecatalogue.eu/
Lena Wicherkiewicz: Cielesne kontinuum, Utstillingskatalog,Wozownia, Torun, PL
2012
Biofilia utstillingskatalog, Muzalewska Gallery, Poznan 2012, s. 10 – 27
Agnieszka Dela: About visual transfusions pumping warmth.Art Punkt; No. 12, 03. 2012
2011
Magdalena Wicherkiewicz: Female part of the decade, female part of art 2001 – 2012, Format Nr 61/2011, s. 20
2010
Magdalena Wicherkiewicz: Red Trials. EXIT New art in Poland, No. 4 (84)2010, s. 5594
Anna Brzezinska: Eye on the architecture, Rzeczpospolita (avis) 27.08.2010
Blood will flow on Hoza, Gazeta Wyborcza (avis) 27.08.2010
2009
Magdalena Wicherkiewicz: The Capillary, EXIT, No. 2(78)2009, s. 5138
2008
Kazimierz Piotrowski: SIEGesIKONen in Berlin, http://www.obieg.pl/recenzje/13923
Gabriela Jarzebowska: In the name of Jerzy Busza, http://www.obieg.pl/recenzje/5592
Izabela Zolcinska: Art survival outside of …" . Oronsko – Kwartalnik Rzezby; 3-4/2007
2007
Agnieszka Okrzeja: Plus minus. Oronsko – Kwartalnik Rzezby; 3-4/2007, s.17-19
2006
Zolcinska Izabela: All what is red in me, Icon of Victory, Art Magazine: Tytuł Roboczy 2006.03/04-05/06 (012-013)
Katarzyna Bojarska: Cultural Phenomenon of Icon http://www.obieg.pl/wydarzenie/4464#1
Grzegorz Borkowski: The Icons of the 80's in Norblin http://www.obieg.pl/wydarzenie/4464#2