Paré, Gabrielle
Various - printmaking, publishing, film, painting
Through an interdisciplinary practice ranging from paper-based works to audio-visual installations to creative writing, I confront the borders of identity with the uncanny, the uncomfortable and the hybrid body. I make, take, and wear unfamiliar symbols. I use the language of traditional tattoo, which write stories of courage on some skins, yet sits as a cheap copy on my own. My own body is used performatively; both as tool and locus for the exploration of culture, filiation, and personal mythology.
Medlem av NBK, UKS, LNM (applied)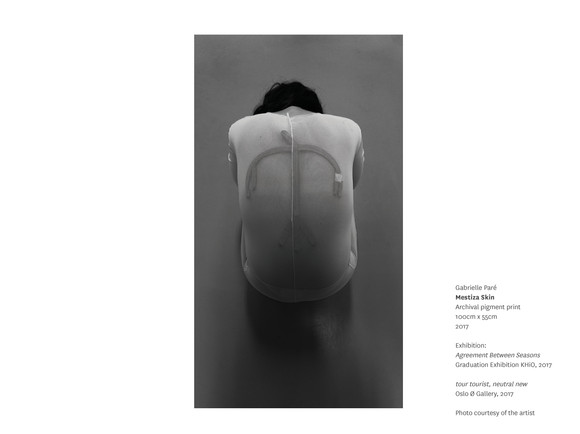 Mestiza Skin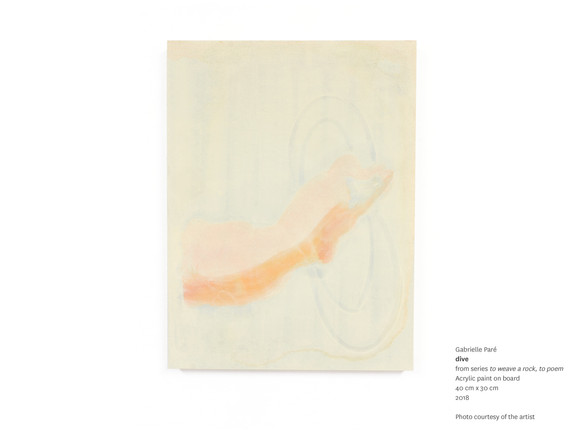 dive
blond wig, batwing, nondescript
Planlagte prosjekter og utstillinger
Exhibitions
(2018) I hear mariachi static on the radio, Slurpen, Oslo, Norway.
(2019) Vårutstillingen, Fotogalleriet, Oslo, Norway.
Residency:
(2019) 'Distributed Identities' thematic residency at Banff Centre for Arts and Creativity, Canada (applied)
Upcoming Projects:
"how to peel a mango"
I plan to develop a two-channel video-installation that I intend to exhibit in 2019. The work is called "how to peel a mango." A lenticular screen with its zig-zagging surface receives two different projections at once. The first channel will be a collage of filmed moments from a two-month research trip to the Philippines in 2016 (my grandfather's peeling of a mango, the flooding of a rice field, the tapping of a batok).The second channel documents my translation of these (often abstract) moments into bodily movements (invented sign language) and vocal gestures. My voice is clumsy as it recites, mimics, reaches toward a new language.
The experience of moving around the screen allows the visitor to slip from one projected narrative to another. What exists in between is a splintering, a weaving of the two.
"mestiza skin series"
In 2017 I produced a photograph titled "Mestiza Skin" where the motif of a ginawang (a tattoo symbol) protrudes from the thin membrane of a suit – trapped between two layers of skin. This photograph became the lynchpin of my master's project, depicting my body creating liminal space for hybridity. My back is not merely adorned with this symbol, but it also bears the weight of it: permanent, disposable, pained and un-pained.
I plan on producing a series of similar photographs and printing them in an edition.
CV
CV: EDUCATION AND RESIDENCIES
(2018) Novel, Apartment Project Berlin Residency, Berlin, Germany.
(2017) Publishing as a site of collectivization, PRAKSIS Residency, Oslo, Norway. (2017) Master of Fine Arts, Printmaking and Drawing, Oslo Academy of the Arts, Norway.
(2014) Druckvereinigung Residency, Kloster Bentlage, Rheine, Germany.
(2011) Bachelor of Fine Arts with Distinction, University of Alberta, Edmonton, Canada.
AWARDS, GRANTS, AND SCHOLARSHIPS
(2018) NKF Kunstnerassistentordningen with A K Dolven
(2017) SKS Stipend for nyutdannede kunstnere
(2014) Artists' Book Residency Grant Shortlist, Women's Studio Workshop, Rosendale, US. (2013) Alberta Foundation for the Arts Visual Arts & New Media Project Grant
(2013) Edmonton Arts Council Travel Grant
(2011) Florence Andison Friedman Award in Drawing and Painting
SELECTED EXHIBITIONS
(2019) Vårutstilling, Fotogalleriet, Oslo, Norway.
(2018) I hear Mariachi static on my radio, Slurpen, Oslo, Norway
(2018) SNAP Members Show, SNAP Gallery, Edmonton, Canada.
(2018) A Novel, Apartment Project Berlin, Berlin, Germany.
(2018) Første Vesentlige Vårslipp (VVF), Akademirommet, Kunstnernes Hus, Oslo, Norway. (2017) Don't rest, narrate, Guttormsgaard Arkiv, Blaker, Norway.
(2017) The Story So Far, SNAP Gallery, Edmonton, Canada.
(2017) tour tourist, neutral new, Oslo Ø, Oslo, Norway.
(2017) Agreement Between Seasons, Formrommet, Oslo, Norway 
(2017) Print Matters 2017, Norske Grafikere, Oslo, Norway.
(2016) The New Singers, Galleri Seilduken, Oslo, Norway (solo)
(2016) 8th International Douro Print Biennial, Alijo, Portugal.
(2016) Medium Rare, Black Box, Kunsthøgskolen i Oslo, Oslo, Norway.
(2015) Haptic & Optic, Yantai Modern Art Gallery, Yantai, China.
(2015) Haptic & Optic, IMPACT9 Print Conference, China Academy of Art, Hangzhou, China. (2015) Biennale Internationale d'estampe contemporaine, Trois-Rivieres, Canada
(2014) Grafikedition Bentlage, Rathaus Galerie, Kirn, Germany.
(2014) Ich Gehe In Den Wald, Kloster Bentlage, Rheine, Germany.
(2013) The Co-lab, The Mercer Warehouse Basement, Edmonton. Canada.
(2013) The News from Here: The 2013 Alberta Biennial of Contemporary Art, The AGA, Canada
(2012) Videophile: a fast & dirty screening of video art, Fast & Dirty, Edmonton, Canada.
(2012) Parka Patio, Latitude 53 Gallery, Edmonton, Canada.
(2011) Nextfest, Old Cycle Building, Edmonton, Canada.
(2011) Foray, SNAP Gallery, Edmonton, Canada.
FAIRS
(2017) Bergen Art Book Fair, Bergen, Norway.
(2017) Offprint London, The Tate Modern, London, UK.
(2013) Multiplied, Christie's, London, UK.
PROFESSIONAL EXPERIENCE
(2018) Project Manager, A K Dolven Public Art Proposal, Munchmuseet, Oslo, Norway.
(2018-) Studio Manager, A K Dolven Studio, Norway.
(2017-) Collections Assistant, Storebrand Kunstsamling, Oslo, Norway.
(2016) Exhibition Co-curator, We Need To Talk, Oslo, Norway.
(2013-2015) Workshop Assistant, Keystone Editions, Berlin, Germany.
(2014-2015) Studio Assistant, Studio Arturo Herrera, Berlin, Germany.
(2013) Internship with Master Bookbinder Esther Everding, Berlin, Germany.
BOOKS PROJECTS & PORTFOLIOS
(2018) Printmaker, Og så kom befrierne artist book re-edition with Kristine Jærn Pilgaard, Oslo (2018) Editor, Traust Exhibition Catalogue with Stefan Schroeder, Oslo, Norway.
(2015) Contributor, Haptic & Optic, IMPACT9 Portfolio, Beijing, China.
(2014) SNAP Newsletter Print-Artist, SNAP Gallery, Edmonton, Canada.
(2013) Assistant Bookbinder, Turbulent Chroma, with Liz Ingram and Bernd Hildebrandt, Berlin. (2013) Editor, The Untitled Forum, Vol I Issue I, Edmonton, Canada.
(2012) Contributor, The Littlest Print Exchange, portfolio print, Portland, United States.
(2011) Contributor, Untitled Print Portfolio, University of Alberta, Edmonton, Canada.
PRESS/BIBLIOGRAPHY
(2019) Torpedo Press "Don't Rest, Narrate: Vol. 2" 
(2017) PRAKSIS "don't rest, narrate. publishing, collaboration and artistic practice"
(2017) Uncertain States of Scandinavia, Issue 6. (2017) Billedkunst Magazine, No. 3 2017, "Begynnelser og helheter" (2013) Colour Magazine, Vol 11.1 "Show"
(2013) The Alberta Biennial 2013, Exhibition Essay "The News From Here"
(2012) Edmonton Journal, July 7. "Seven Locals Picked for Biennial"