Eriksen, Helen
Socially engaged art practice with installation and text production
My work orientates towards forms of collaboration that investigate the artists role in society and is typically post-studio practice in social contexts. I am part of the University of Agders research groups: Art and Social Relations and Art and Children; my PhD thesis focuses on ethics and aesthetic judgements in post studio art practice.
I have an ongoing collaboration in Tenthaus Artist Collective with Ebba Moi and Stefan Schröder in which investigate artists potential in the educational system, curate and run Tenthaus Oslo project space.
I also write, make installations and sculptures.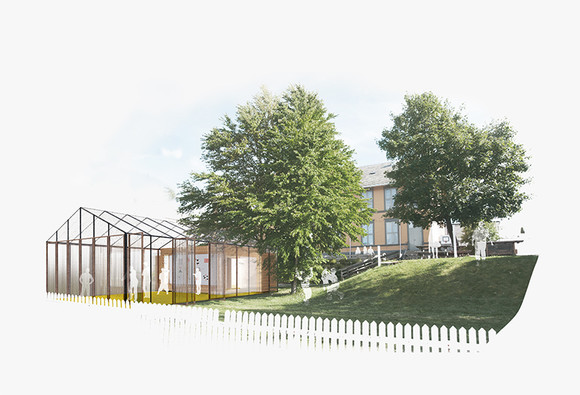 P1 (2018-19) - mobile studio for artistic production with school communities: Tenthaus Artist Collective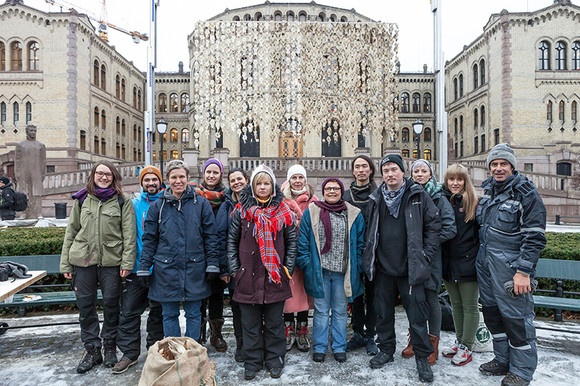 Tenthaus Artist Collective collaborating with Pile O Sapmí (2017) in protest at Norwegian Houses of Parliament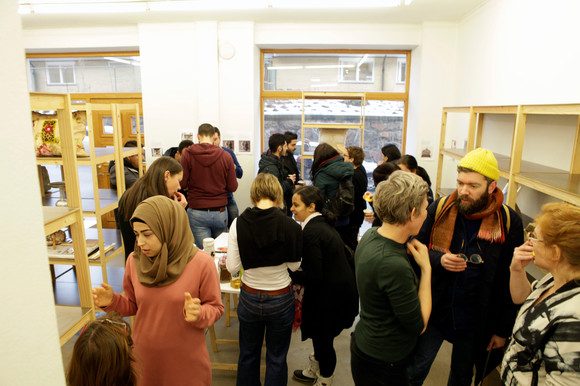 Tenthaus Artist Collective (2018) with participants at Galleri Box, Gothenburg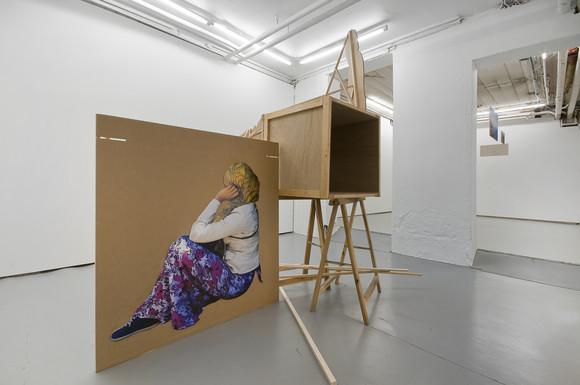 Transit (2014) Helen Eriksen og Germain Ngoma utstilling
Planlagte prosjekter og utstillinger
2017 – Park – Levanger, Norway
2018 – Club Solo Breda, Netherlands
2019 – Carnival Artist Collective Action, Oslo
CV
2018
P1 – Park – Levanger with Tenthaus Artist Collective
Club Solo – with Tenthaus Artist Collective
Winter Depot – Gallery Box, Gothenburg – with Tenthaus Artist Collective
Spring Depot- Tenthaus Oslo project room Oslo – with Tenthaus Artist Collective
2017
See with your own eyes – a celebration Lutherś protests in Oslo, Drammen, Kiel, and Sarpsborg
Lecture at Arts in Society Network Conference, Paris
Presentation – Museum of Contemporary Art, Oslo – Tenthaus Oslo
2016 Devlopment and design of a Toolbox for developing extended artist
practices in Norwegian Schools – Tenthaus Artist Collective
Østlandsutstilling in Oslo og Kiel (Germany – med Germain Ngoma
The Worst Artshow Ever – Øvre Fossum Gård – med Germain
Ngoma
2014 Closed competition entrance for Memorial Place of 22 July 2011 –
Trondheim Municipality
Open Forum – Tenthaus Oslo as Artist Educators in the Oslo School
– Tenthaus Artist Collective
Transit with Germain Ngoma, Tenthaus Oslo
2013 Bring Back My Bonnie in A Cool Wind Blows, NOoSpace, New York
The school is a factory: presentation at Henie Onstad Art Centre
2012 I want to tell you of great things with Stefan Schröder and Ebba Moi
v / Sculpture Arena East
MONDO Tromsø –Planka Trøms – Marie Nordby
2011 Dissent / Descent in Packed ! Tenthaus Oslo
Hersleb – relational art project with Hersleb school
http://www.kunstloftet.no/index02.php?filnavn=prosjekter09.p
Talks Fuck We forgot Tøien: Panel Participant, Culture Night Oslo at the
Norwegian Sculptors Assosiation.
Critical Thinking Through Practical Aesthetics – discovery at
Hersleb: conference Paper at Practical Aesthetic Creative Learning
Processes at Vestfold University College, Norway.
• An Advocate for Art Education, report on Ann Bamford in Visual Arts
Magazine
http://www.billedkunstmag.no/Content.aspx?contentId=2183
2010 The Unofficial Nobel Peace Prize: UKS, curated by Alejandra
Salinas and Aeron Bergman, for relational art project at Hersleb
school with Ebba Moi. www.nobelprize.no
Wanna Be, participatory photography project with 10th graders from
Hersleb school.
Last Production – Installation at Schweigaardsgt 33, Oslo with
• Who Wins by selling Hersleb School : Debate in Dagsavisen
2009 Bypass, participatory public art project in Alna district of Oslo
http://alnavandring.no/bypass
Public Art Consultancies
Tiller Park (2017) Trondheim – New Sculpture Park
The Roses (2015) – Oslo Municiple´s Memorial for victims of 22 July
Sagmoen Kindergarten (2013) Trondheim Municipality Brattås school,
Nøtterøy Koro (2015) (Annike Simonsson and Lars Erik Svensson)
World Square, (2015) Furuset, Oslo (Torgeir Husevaag)
Bangcork, Surasi Kulsolwong) CorkCaucus (2005), for National Sculpture
Factory, Ireland
Inspiritus group exhibitions at Oslo Cathedral and Leeds Cathedral
Prizes and Awards
Helen Eriksen has regulary received artist awards and project funding since she graduated from the State Academy of Fine Art in 1999.
2018 Trondheim Kommune – Adresseavisens Ut awards der Tiller øst ble kåret til årets trønderske utstilling
2017 State Artist Award