Kalantary, Farhad
Film, Video, Installation
Farhad Kalantary (Tabriz, 1962) is an Iranian/American visual artist and curator working with the moving image. He Studied at San Francisco Art Institute (MFA, 1996) and San Francisco State University (BA, 1992). He lives and works in Norway.
Kalantary's works are preoccupied with the poetics of everyday life as they explore the potentiality of the moving image. His main topics of research have been the History of Film & Video art in Norway, the relationship of sound and image, the link between place and perception.
His shows include a major solo exhibition at The Stenersen Museum in Oslo (2011) where he showed a 22-screen-video installation revisiting places from his childhood and family history, concurrent solo exhibitions at the City Museum of Oslo and Aria Gallery, Tehran (2015), a touring exhibition with The National Museum of Art, Architecture and Design – Norway (2013-16) and a broadcast of his film work through Arte TV in France & Germany (2011).
Kalantary's works are part of the collections of institutions such as Museum of modern art in Stockholm and The Arts Council of Norway. He was the founder of TopFloor: Centre for film/video/digital art in Trondheim (98-01), which later became Teks.no, and he was the co-founder and artistic leader of Atopia: film- & videokunst in Oslo (2003-2017).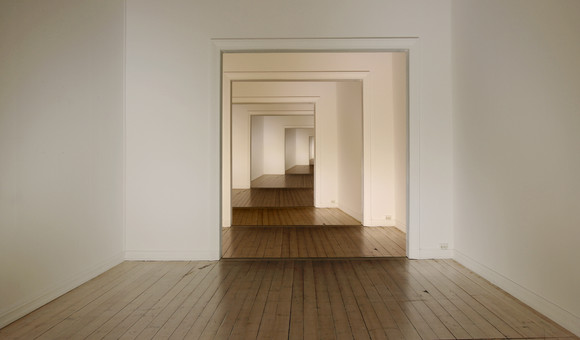 Places, 2015
CV
CV
EDUCATION
1996 MFA, Filmmaking, San Francisco Art Institute, SF, USA
1992 BA, Broadcast Communication Arts, San Francisco State University, SF, USA
SCREENINGS / EXHIBITIONS ( * = Separate) (C = Curator)
2016 * Media Theater I-Gong, Seoul, Republic of Korea
Allusive Moment, (Places), MIM gallery, Los Angeles, USA
*Going Back to, Grefsenveien30, Atopia, Oslo
Cities of the World, Haugesund Kunstforening, ©
Cities of the World, Heimdal Kunstforening, ©
Cities of the World, Vadsø Kunstforening, ©
I Nasjonalmuseets blindsone, The National Museum of Art, Architecture and Design, Touring exhibition, Norway
2015 *Corners and Places, Aria Gallery, Tehran
*In Silence, Begensgata2, Sagene, Oslo
Retrospective: Film & Video art – Norway, The 90's, Atopia, Oslo ©
*Places, Oslo Musem; Interkulturelt museum, Oslo
I Nasjonalmuseets blindsone, The National Museum of Art, Architecture and Design, Touring exhibition, Norway
2014
Retrospective: Film & Video art – Norway, The 90's, Atopia, Oslo ©
I Nasjonalmuseets blindsone, The National Museum of Art, Architecture and Design, Touring exhibition, Norway
A Review of a Decade of Video Art, Iranian Artists Forum, Tehran
Paragraf at Nils Aas Kunstverksted, Inderøy, Norway
Sazman-e-Ab Gallery, Tehran
2013 Høstutstillingen 2013, Kunstnernes Hus, Oslo
North 99, Form Against Background, Atopia, Oslo
A New Beginning, Book launch, Trap, Oslo
The Highlights, Babel Visningsrom for kunst, Trondheim, Norway ©
Underline, STILL LIVES & SELECTED ACTS, Dastan Gallery, Tehran, Iran
2012 Video Art festival Miden, Kalamta, Greece ©
What a mess Art Fair, Hyrogenfabrikken Kunsthall, Fredrikstad, Norway ©
The Highlights, MK Gallery, Milton Keynes, UK ©
Presentation of works, Bergen Academy of Art and Design, Norway
Presentation of works, Nordic Black Theater, Oslo
Presentation of works, Oslo Fotokunstskole, Norway
Kunstvlaai: Festival of Independents, Amsterdam
Vitrine, Atopia, Oslo ©
2011 Vitrine, Atopia, Oslo, Norway ©
Loss and Locality, Hå gamle prestegard, Nærbø, Norway
Retrospective: Film & Video art – Norway 1960-90, Stenersenmuseet, Oslo ©
The Day of Removal, (Public commission), Lørenskog hus, Norway
Parabola art film festival, Tensta, Sweden
Cities Re-imagined, KinoKino, Sandnes, Norway
New Screens Festival, New Castle, UK
Tea House, Arte TV, (Broadcast), Farnce-Germany
Migrations, Trafo Gallery, Asker, Norway
Farhad Kalantary (Film works), Greusslich Contemporary, Berlin, Germany
A New Begining, Stenersenmuseet, Olso, Norway
Iran via Video Current, Thomas Erben Gallery, NY, USA
2010 Høstutstillingen 2010, Kunstnernes Hus, Oslo
Nonalignment, Public Screens, i/o lab, Stavanger, Norway ©
Cinema Without Borders, Armenian Center for Contemporary Experimental Art, Yerevan, Armenia
A Video Serenade, Elisabeth Foundation of the Arts, NY, USA
Festivale Images Contre Nature, Marseille, France
Cities Re-imagined, Museum of Contemporary Art, Vojvodina, Serbia
ArtVideoExchange, Festival International de Film et Video de Creation, Lebanon
The Third season of Atopia's Vitrine Project, Oslo (curator)
Entangled Locations, Fengselet Gallery, Høneføss film festival, Norway
European Media Art Festival, Osnabrueck, Germany
2009 *Trails of Water Behind a Passing Boat, Gallery 3,14, Bergen, Norway
Trails of Water Behind a Passing Boat, Trøndelag Senter for Samtidskunst. Trondheim, Norway
Video Program, Bureau for Unstable Urbanism, Kjubh Kunstverein, Köln, Germany
Høstutstillingen 2009, Kunstnernes Hus, Oslo
Winter, Public art project, Atopia's Vitrine, Oslo
Norway Video Art, namaTRE.ba project, Trebinje, Bosna i Hercegovina
Raulandutstillinga 2009, Rauland kunstforening, Norway
Made in Norway, V.I.P. Art Gallery, Belgrade, Serbia
Visions of Atopia, D21 & Prager Frühling, Leipzig, Germany
The Second season of Atopia's Vitrine Project, Oslo ©
2008 Independent Exposure 2008, San Francisco, CA, USA
2Move / Migratory Aesthetics, StenersenMuseet, Olso, & Belfast Exposed, Ireland
Life is Elsewhere, Public art project, Atopia, Oslo, Norway
Trøndelagsutstillingen 2008, (as invited artist) Dora, Trondheim, Norway
*Another September, Skanstull , Commission at the Stockholm underground Station
Orebro International Videoart Festival 2008, Sweden
Høstutstillingen 2008, Kunstnernes hus, Oslo
Independent Film Show, Foundation Morra, Naples, Italy
Videoworks, Kultur Hus, Tromsø, Norway
2007 Oslo Open 2007, Video Program, (curator)
Constructions of Nature, Art Museum of Uppsala city, Sweden
Sound of Mu, Oslo, Norway
Supermarket, Stockholm, Sweden
Mecal Int. Short Film Festval, Barcelona, Spain
Norwydeo, Vaxhuset, Västerås, Sweden
Ave Festival 2007, Landmark, Bergen Kunsthall
Pro Arte Institute, St. Petersburg, Russia
LIBRARY, Platform Garanti, Istanbul, Turkey
2006 *Galleri Brandsrup, Oslo
Norske Bilder 2006, Rådhuset, Oslo
Høsutstillingen2006
Fresh Air, Kunstverein INGAN, Berlin
European Media Art Festival, Osnabrueck, Germany
Norwedeo, Laznia, Contemporary Art Center, Gdansk, Poland
Babal Gallery, Trondheim, Norway
2005 Transposition, Bjørvika – Oslo, Norway
GrenseLøs ( Boundless), Stenersenmuseet, Oslo, (touring exhib.) Norway
*Film works, Atopia, Oslo
the 16th Nordisk Panorama – 5 Cities Film Festival
Atopic, Akershus kunstnersenter, Lillestrøm, Norway
Film & Video programme at Norwegian Embassy & Kino Arsenal, Berlin
Nemo film festival, Forum des Images, Paris
Cinema LUX, Caen, France
Ankara Int. Film Festival, Turkey
La Rochelle International Film Festival, France
X-FilmFestival for experimental film, video and new media, Sofia, Bulgaria
The 4th Tunel Street Art Festival, Istanbul, Turkey
Images film Festival, Toronto, Canada
Barcelona international film festival, Spain
Exile film festival, Gotebrg, Sweden
Europa festival Scandinavia+, Rotterdam, nl.
Media Art Friesland, nl
2004 Bomuldsfabriken Kunsthall, Arendal, Norway
Rotterdam Intenational Film Festival, Nederlands
European Media Art Festival, Osnabrueck, Germany
VIDEOEX Experimental film & Video Festival, Zurich, Switzerland
Aye Aye International Film Festival, Nancy, France (Honorary prize for the poetry of the film, Tea House)
Salon of Experimental Film & Video, Atopia, Oslo, Norway
Media Art Festival in Friesland, Netherlands
Midt-Nordisk Filmfestival, Trondheim, Norway
The 15th. Nordisk Panorama, Reykjavík Art Museum, Iceland
Festival of nouveau cinema – Montréal
UN-SASÀ 2004 – INTERNATIONAL FILM AWARD in Rome-Barcelona-Berlin-New York
Viper International Festival for Film,Video and New Media, Basel, Switzerland
Høstutstillingen 2004, Kunstnernes Hus, Oslo Norway
Rencontres Internationales Paris/Berlin
2003 Unge Kunstneres Samfund, (UKS Gallery) Oslo, Norway
Norwegian Short Film Festival, Grimstad, Norway
Trøndelagsutstillingen, Trøndelag Senter for Samtidskunst, Norway
Summer Exhibition, Trøndelag Senter for Samtidskunst, Norway
2002 Art costs more than sausages, Moderna Museet, Stockholm
European Media Art festival's world Tour 2001/2002
norden@world – world texture, Frederik Bastion Gallery, Copenhagen
Trans//Form, Narvas Kunstmuseum, Narva, Estonia
Kunstnerforbundets Galleri, Riga, Latvia
Kulturas Center, Daugavpils, Latvia
Rokiskis Kunst og Kultur Center, Rokiskis, Lithuania
Trøndelagsutstillingen, Trøndelag Senter for Samtidskunst, Norway
2001 *New Langton Arts Gallery, San Francisco, USA
Efterårsudstillingen 2001, Charlottenborg-Fonden, Copenhagen, Denmark
European Media Art Festival, Osnabrueck, Germany
Trans//Form: Konstnärshuset, Stockholm, and Overgaden, Copenhagen and
Stenersenmuseet, Oslo, Norway
Festival of New Films, Split, Croatia
Sea-Side Symposium, Palanga, Lithuania
FIKE, International Short Film Festival of Évora, Portugal
Trans-Art Gallery, Trondheim, Norway
Norwegian Short Film Festival, Grimstad, Norway
Mikrokino Festival, Belgrade, Yugoslavia
2000 TBK´s Jubileumsutstilling,, Trøndelag Senter for Samtidskunst, Norway
Lademoen by light, LKV, Trondheim, Norway
1999 Loose End, Trondheim Kunstforening & Filmhuset Rosendal, Norway
Blick, Moderna Museet, Stockholm, Sweden
Street Gallery, Harringay, London, UK
Glokal kunst i Norge, IKM, Oslo, Norway
1998 *Gallery GUN, Oslo, Norway
Norwegian Short Film Festival, Grimstad, Norway
Trøndelagsutstillingen, Trondheim's Kunsntersenter, Norway
1997 Incarceration Project,Shortage Town Hall, London, UK
Pacific Film Archives, Berkeley, CA, USA
*Deigo Rivera Gallery, San Francisco, USA
New Perfomance Art Gallery, San Francisco, USA
Women's Building, Film Art Foundation's Festival, San Francisco, USA
Walter and McBean Galleries, San Francisco, USA
AWARDS & STIPENDS
2016 OCA International Support, The Office for Contemporary Art Norway (OCA)
2015 Prosjektstøtte, Norsk Kulturråd
Billedkunstnernes Vederlagsfonds prosjektstøtte, Norske billedkunstnere
2013 Billedkunstnernes Vederlagsfonds prosjektstøtte, Norske billedkunstnere
Prosjektstøtte, Norsk Kulturråd
Prosjektstøtte, Fritt Ord
2011 Billedkunstnernes Vederlagsfonds prosjektstøtte, Norske billedkunstnere
Prosjektstøtte, Norsk Kulturråd
Prosjektstøtte, Fritt Ord
2010 Statens garantiinntekt for kunstnere, Norway
2009 Billedkunstnernes Vederlagsfonds prosjektstøtte, Norske billedkunstnere
Billedkunstnernes Vederlagsfond, Norske billedkunstnere
2008 Statens Utstillinsstipend, Norsk Kulturråd
2007 Fond for Lyd og Bilde, film project: "Balistan"
2005 Artist Residency grant in Paltform Garanti Istanbul, OCA, Norway
2004-6 Statens Kunstnerstipend 2004 – Arbeidsstipend 3 år
2003 Prosjektstøtte, Norsk Kulturråd
2002 Kulturelle Endringsprosesser i Samtidskunst, Norsk Kulturråd, film: "Opacity"
Fond for Lyd og Bilde, film: "Opacity"
Billedkunstnernes Vederlagsfond, Norske billedkunstnere
99-01 Aspirantordning for billedkunstner, TopFloor-LKV, Norsk Kulturråd
2000 Billedkunstnernes Vederlagsfond, Norske billedkunstnere
1999 Allmenne kulturformål, Trondheim kommune, film: "North 99"
Loose End exhibition, Norsk kulturråd & Trondheim kommune
1998 Statens arbeidsstipend for yngre kunstnere, Norges Kunstnerråd
1997 Incarceration project, The Art Council of England, film: "Unforgetting"
Street Gallery Project, The Art Council of England
1996 Spring Show Award, Film Installation "And", SFAI, San Francisco
Kodak Product Grant, SFAI, San Francisco
COLLECTIONS
- Moderna Museet, Stockholm, Sweden:
Unforgetting, (16mm Film) 1999
- Art Council Norway
Tea House, (Super8 film) 2003
Frozen Mirrors, (Photo Installation) 2003
Massive Waves of Independence, (Video Installation) 2006
- Lørenskog kommune, (Lørenskog hus)
The Day of Removal, (video) 2010
CURATORIAL WORK
2011- Cities of the World, Atopia, Norway
2009-13Retrospective Exhibition of Experimental film & Video art – Norway, Atopia, Oslo
2011-13The Highlights, film- & video art, Norway, 1960-90, Touring exhibition
2010 Public screens, Stavanger, Norway
2010 Entangled Locations, Fengselet gallery, Høneføss film festival, Norway
08-12 Vitrine, Atopia's public art project, Oslo
2008 Workshops on Eurocentrism & Whiteness, TotalGlobal Festival, Oslo,
2007 The Video Programs: Facing Differnces, OsloOpen2007, Oslo
2003-16Atopia, (Ongoing events and projects) (www.atopia.no) Oslo
2000 Short Circuits, A program of experimental films concerned with modes of editing and the use of sound, Minimalen film festival, Trondheim
1999 Loose End, An exhibition of films, video installations and fotography, with 12 international artists at Trondheim Kunstforening and Rosendal Cinema
1999 Street Gallery, A billboard project for international artists in Harringay, London, UK
OTHER RELEVANT ACTIVITIES/PROJECTS
2015 Co-founder of the project: Bergensgata2, A laboratory for art in public space, Oslo
2013- Video Encounters, Ongoing Research on the Norwegian art scene in the 1990's
13-14 Member of stipend committee, FFF
2003- Co-founder & Leader of Atopia: film- & videokunst, Oslo, Norway
2006-7 Member of stipend committee, NBK
2006 Tutor with MA students, The Oslo National Academy of the Arts
98-01 Founder and Co-ordinator of TopFloor: a place for film, video and digital art, Trondheim, Norway
95-16 Teaching film and video workshops in Mission Highschool, San Francisco, San Francisco Art Institue, Nordland kunst og film skole, Kabelvåg, and Lademoen Kunstnerverksteder, Trondheim, (through Etterutdanning for kunstnere)
along with lectures and presentations at KHIB, KHIO, Oslo Fotokunst skole and Konstfack in Stockholm
DISTRIBUTION
Norwegian Film Institute, (www.nfi.no)
WEBSITES
www.farhad.no
www.atopia.no