Gunnes, Mai Hofstad
Videoinstallasjon Film Collage
Mai Hofstad Gunnes (født 1977, Lørenskog, Norge) arbeider med film, collage og installasjon. I sin kunstneriske praksis samarbeider hun ofte med skuespillere og dansere. Hofstad Gunnes har sin utdannelse fra Universität der Kunste, Berlin, Tysklang, CCA Kitakyushu, Japan og Kunstakademiet i Trondheim, MFA, 2004. Soloutstillinger inkluderer B. The Second Letter, Baltic 39, Gateshead/Newcastle, Storbrittania, 2016, Proverbs for Ouroboros, Trondheim Kunstmuseum, Trondheim, 2015, Bike and Bolex, WIELS Contemporary Art Centre, Brussels, 2012, og Baby Snakes Hatching, Ruins, Ruins, UKS, Oslo, 2012. Gruppeutstillinger inkluderer Når vi døde vågner, Munchmuseet i Bevegelse, Kunsthall Oslo, Hamskifte, Dokumentasjonsprosjektet E6, Oppland Kunstsenter, Lillehammer, (2017); Fakta, Fortellinger og Anekdoter, Kunsthall Stavanger, (2015); Words aren´t the thing, CAC, Vilnius, Litauen(2015), Momentum 7, Moss, (2013); In the house of Mr and Mrs X, Temporary Gallery, Køln, Tyskland, (2013); PARADOKS, Museet for Samtidskunst, Oslo, (2013).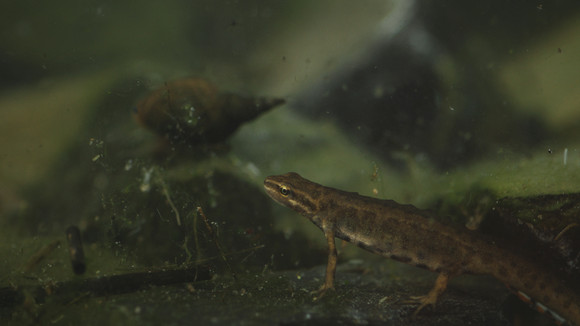 Mai Hofstad Gunnes, Wave Whip Fan, 2017, videostill
CV
MAI HOFSTAD GUNNES
Født 1977 i Lørenskog, Norge.
Bor og arbeider i Oslo.
Utdanning
2003-2004 Research Program in Contemporary Art, CCA (Center for Contemporary Art), Kitakyushu, Japan
MFA, Kunstakademiet i Trondheim, NTNU, Trondheim
Utveksling HdK Berlin, professor Katharina Sieverding, Berlin
Einar Granum Kunstskole, Oslo
Residency
2015 HIGH-NORTH, Tromsø Kunstforening, Tromsø Academy of Contemporary Art, CCA Glasgow, GSS, BALTIC Centre for Contemporary Art, NABROAD
2013/2012 W17, Kunstnernes Hus, Oslo
2011 OCA Office for Contemporary Art Norway / WIELS Contemporary Art Centre,
Brussel, Belgia
2010 Ingrid Lindbäck Langaard Stiftelse, La Cite International, Paris, Frankrike
2004 IASPIS, International Artist Studio Program in Sweden, Stockholm, Sverige
Soloutstillinger
2016 B. The Second Letter, Baltic 39, Gateshead/Newcastle, Storbrittania
2015 Proverbs for Ouroboros, Trondheim Kunstmuseum, Trondheim
2012 Baby Snakes Hatching. Ruins. Ruins, UKS, Oslo
Bike and Bolex, WIELS Contemporary Art Centre, Brussel, Belgia
Bike and Bolex, Souterrain, Berlin, Tyskland
2009 A shape of love you can never imagine, Oslo Kunstforening, Oslo
2006 Stolen Recorder, Areal 28, Berlin
2005 When Pigs Fly, (med Christine Rebet), Taka Ishii Gallery, Tokyo
2004 What do you Mean?, XpoSeptember, Stockholm Photo Festival, Fylkingen, Stockholm
Gruppeutstillinger / Prosjekter
2017 Hamskifte, Dokumentasjonsprosjektet E6, Oppland Kunstsenter, Lillehammer
Når vi døde vågner, Munchmuseet i Bevegelse, Kunsthall Oslo, Oslo
2015 Fakta, Fortellinger og Anekdoter, Kunsthall Stavanger, Stavanger
Imagining Commons, Galleri Volt, Bergen
Words aren´t the thing, CAC, Contemporary Art Centre, Vilnius, Lithuania
Walk Like a Giant, QBG, Oslo
2014 Museum of Contemporary Art, Banja Luka, Bosnia
2013 Momentum 7, Nordic Biennial for Contemporary Art, Moss
PARADOKS, Posisjoner innen norsk videokunst 1980 – 2010, Museet for Samtidskunst, Oslo
Åpne atelierer, W17, Kunstnernes Hus
In Case We Don´t Die, Torrance Art Museum, Los Angeles
In the House of Mr & Mrs X, Temporary Gallery, Cologne, Germany
Black & Vases, Komplot, Brussel
Passage pas sage, Passage des Gravilliers, Paris
2012 If you want it you can get it for the rest of your life, ISCP, New York
All in all, Ruth Phaneuf Fine Arts, New York
Celluloid Brushes, Isabella Bortolozzi Galerie, Berlin
Fragile, Hôtel de Gallifet, Aix-en-Provence, France
MK Gallery, Milton Keynes, UK
Lo Spacio, Galerie Magda Danysz, Paris, France
2011 Oh how time flies, No. 5, Bergen Kunsthall, Bergen
A Sounder Of (Wild) Boas, Sils Project Space, Rotterdam
Neuwegen, Galerie am Koernerpark, Berlin
Le choix du titre est un faux problème, Cneai de Paris, Paris
Metrospective 1.0, Program, Berlin
2010 Goddesses, Museet for Samtidskunst, Oslo, Norway
SL – Stockhom Public Transport, Skanstull, Stockholm, video screening utsmykning, (Des 2009-Nov 2010)
Cities re-imagined, Museum of Contemporary Art Vojvodina, Novi Sad, Serbia
What will the future bring, Grimm Museum, Berlin
Pyrrhic Fortune, Sils, Rotterdam
2009 Bunnies, It Must Be Bunnies, Lautom Contemporary, Oslo
Another Forest, Mercian Karuizawa Art Museum, Karuizawa, Japan
Sparebankstiftelsen DnB Stipendutstilling, Oslo Kunstforening, Oslo
Exotica, The Forgotten Bar Project, Berlin
Gerichtstrasse 52, Berlin
Lettre International, Berlin
2008 Holiday in Arcadia, Lydgalleriet, Bergen
Magiske Systemer, Tromsø Kunstforening, Tromsø
Ghost in the Machine, Kunstnernes Hus, Oslo
The intimate and extraordinary life of rocks, Program, Berlin
Icebreaker Festivalen, Kabelvåg, Norway
2007 Notes on Places, Kunsthalle Berlin Lichtenberg, Berlin
Jeg har en koffert i Berlin, Najonalbiblioteket, Oslo
Inter-Faces, SOROS Center for Contemporary Art, Almaty, Kazakhstan
AniMotion, Galleri F15, Moss
Summer Sushi, Gallery Yujiro, London
Stamp Inn Kino, Sørfinset (screening)
2006 Rio, Artnews Projectspace, Berlin
Domestic Affairs, Momentum, Moss
Domestic Affairs, Projekt 0047, Berlin
A to Z, (kuratert av Yoshitomo Nara og Hideki Toyoshima), Hirosaki, Japan
Norsk-Tysk Handelskammer, Oslo
No Longer the same place, Xposeptember, Cinemateket, Stockholm
Cold, Cold Heart, tank.tv, (webscreening) London
Temporary Art Museum Soi Sabai, Bangkok, Thailand
2005 On time, Fotogalleriet, Oslo
Talking Music, Flicker!, Projekt 0047, Berlin
Stilleben, Projekt0047, Berlin
The dj project, The Nord Land, Sørfinnset
Kunst ved fleire blikk, Rosendal
Up north, Casa del Mig, Barcelona
Past/Present/Forever, Buia Gallery, New York
Bring a friend, Nordiske Ambassaders Felleshus, Berlin
2004 All Moveable Wonders, IASPIS Gallery, Stockholm
VideoZone2, International Video Art Bienniale, Tel Aviv, Israel
Pictures came and broke my heart, Uppsala Int. Short Film Festival, Uppsala
Scandinavian Sparks, 798 Space, Beijing, China
Blick 04, New Nordic Film & Video, Moderna Museet, Stockholm
Open Studio, IASPIS, Stockholm
CCA Open Studio 2004, Kitakyushu, Japan
2003 CCA Open Night 2003, Enyen Gallery Cafe Bar, Tokyo, Japan
Maeda Studio, CCA Kitakyushu, Japan
Dissonanze, Festival di Musica Elettronica e Arte Digitale, Rome, Italy
Good Foot, Trondheim Kunstmuseum og Kunstnernes Hus, Oslo
The Thisted Bienniale, Thisted, Danmark
2002 Film Fylkingen, Fylkingen, Stockholm
Cmyk/Greyscale, Tramway, Glasgow
Videoworks, Kunstnernes Hus, Oslo
One Day Stand, ID:I Galleri, Stockholm
Falling on You, 38 Langham Street, London
Memory project, Rantakasarmi, Helsinki, Finland
Blick, New Nordic Film & Video, Moderna Museet, Stockholm
Stipender
2016 Statens Kunstnerstipend, 3-årig arbeidsstipend
2015 Prosjektstøtte, Fond for Lyd og Bilde
2014 BKV 2-årig arbeidsstipend
Billedkunstnernes Vederlagsfond Prosjektstøtte
2013 Billedkunstnernes Vederlagsfond Nok 75,000
Arbeidsstipend, Ingrid Lindbäck Langaard Stiftelse
2012 OCA International Support
Prosjektstøtte, Fond for Lyd og Bilde
2010 Billedkunstnernes Vederlagsfond Prosjektstøtte
BKH 3-årig arbeidsstipend
NKF Malongen, Stockholm
2009 Utstillingsstøtte til kunstnere i etableringsfasen, Norsk Kulturråd
2008 Reisestipend, Kiruna, Sverige, Kulturkontakt Nord
Reisestipend, Reykjavik, Island, Kulturkontakt Nord
2007 Statens Kunstnerstipend, 3-årig arbeidsstipend for yngre og nyetablerte kunstnere
Reisestipend, Kulturförvaltningen, Stockholm Stad, Sverige
OCA International Support
2006 OCA International Support
Billedkunstnernes Vederlagsfond Nok 100,000
2005 OCA International Support
2004 OCA International Support
Sleipnir Reisestipend x 2
Billedkunstnernes Vederlagsfond Nok 100,000
2003 Billedkunstnernes Vederlagsfond Nok 50,000
The Scandinavian-Japan Sasakawa Foundation
OCA International Support
Representert i samlinger
Hordaland Fylkeskommune, Bergen
Nasjonalmuseet for kunst, arkitektur og design, Oslo
Sparebankstiftelsen DnB NOR, Oslo
Tomio Koyama Gallery, Tokyo
Norsk Kulturråd
Trondheim Kommune
Alex Sainsbury Collection, London