Låker, Jannicke
Video/film
The films are characterized by an investigation of motion picture as a medium and its conditions. The works utilize the aesthetics of both documentaries and feature films. The lines between fiction and reality is blurred. Recurring themes are loneliness, isolation, power games and social vulnerability but simultaneously it reflects on a broad range of social topics, like racism, sexism, socio political relations and psychological processes.
I try to get closer to something that deals with being a human being. The focus can be the shame that is caused by improper behavior or a person's physical battle in a challenging situation.

Båten 2nd version (2018)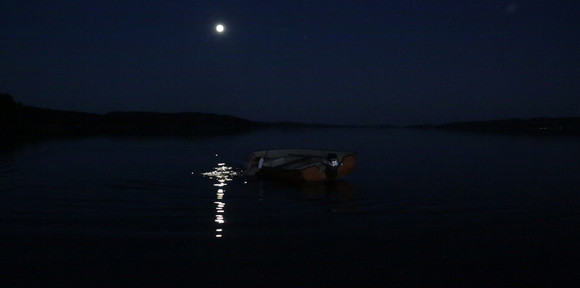 Båten 1st version (2017)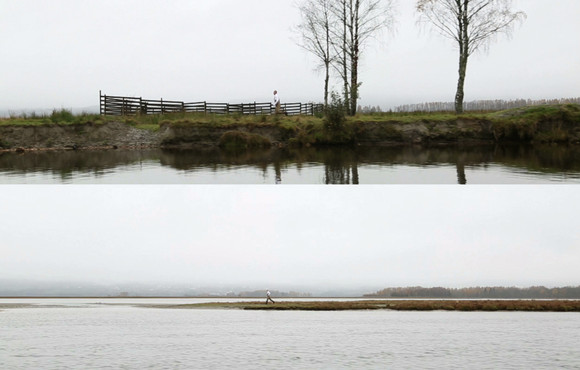 U.T. (2015)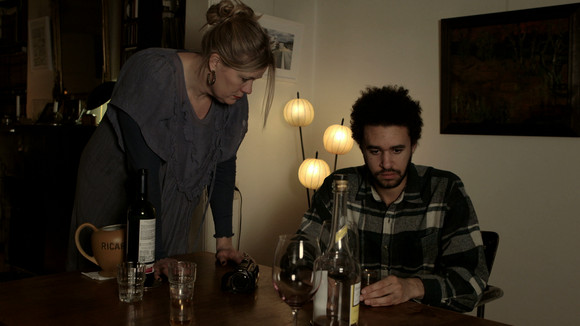 Boogie with You (2014)
CV
Jannicke Låker *1968 Drammen Norway. Lives and work in Berlin and Oslo.
Education
1993-97 The Academy of Fine Art Trondheim Norway
1997-98 The Royal Academy of Fine Art Video Dep. Stockholm Sweden
Exhibitions / Screenings (* solo / 2 man show)
2017 Gothenburg International Biennial for Contemporary Art, Sweden
2017 Punkt Ø, Galeri F15, Moss, Norway
2016-2017*Grenzsituastionen, curatert av Delfina Jalowik MOCAK, Museum of Contemporary Art Krakow, Polen
2015 Filmforum curated by M.Brynntrup HBK Braunschweig, Tyskland
2015 The Autumn Exhibition, Kunstnernes Hus, Oslo Norway
2015 Filmforum curated by M.Brynntrup HBK Braunschweig, Germany
2015 irony EUROPEAN MEDIA ART FESTIVAL Osnabruck, Germany
2015 Performance on Falling, choreography Ulf Nilseng, Dansens Hus Oslo Norway / Morelia, Michoacán, Mexico / St Luis Potosi, Mexico / Havana, Cuba
2015 EXITUS -Tot, Trauer und Melancholie Galerie im Körnerpark Berlin Germany
2014 *Jannicke Låker galleri 54, Gothenburg, Sweden
2014 Does Humor Belong in Art? ACC Galerie Weimar, Germany
2014 Feeling Queezy, Estonian Contemporary Art Museum, Tallinn, Estonia
2014 In a lonely place, Kunstmuseet KUBE, Ålesund Norway
2014 *Jannicke Låker, Kunstnerforbundet, Oslo Norway
2014 Does Humor Belong in Art? HALLE 14 – Center for Contemporary Art, Leipzig, Germany
2014 The beginning is always today, Västerås Konstmuseum, Sweden
2013 the biggest minority in the world Hydrogenfabrikken Kunsthall i Fredrikstad Norway
2013 *Oldiser Per Teljer & Jannicke Låker Anex Oslo Norway
2013 Feminist Art in Scandinavia from 1990 until today SKUM Sørlandets Kunstmuseum Norway
2013 *West Germany film premiere ABLAZE Berlin Germany
2013 *Film premiere HOCHPARTERRE Berlin Germany
2012 Desire Bergen Kunstmuseum Norway
2012 Under the pale moon META House Phnom Pehn Cambodia
2011 *Låker/Teljer Sverigepremiere Biografen Spegeln Malmö Sweden
2011 Nordic Panorama 2011 Århus Denmark
2011 between appropriation and interventions Christiansands Kunstforrening Norway
2011 Decisive Moments, Uncertain Times curator Kim Simon Gallery TPW Toronto Canada
2011 The 33rd Norwegian Short Film Festival Grimstad Norway
2011 Neuwegen Galerie im Koernerpark Berlin Germany
2011 BLACK .NO a Non-Profit Gallery NYC USA
2011 Lilith Performance Event 2011 Lilith Performance Studio Malmö Sweden
2011 Almost out of Sight Weld Stockholm Sweden
2011 Does it really matter? Small Projects Tromsø Norway
2010 Into the Eye of the Storm curator Chen Tamir Center for Digital Art in Holon, Israel
2010 *Jannicke Låker Gimle Oslo international Film Festival Oslo Norway
2010 FEMINA 2010 International Women's Film Festival Rio de Janeiro Brazil
2010 Euphorbia Serrata Slis Rotterdam, Nederland
2010 Art, Image, and Exploitation, International art conference Tallin Estonia
2010 Auto-Kino by Phil Collins Temporäre Kunsthalle Berlin Germany
2010 sexy things by Maike Höhne Lichtblik-Kino Berlin Germany
2009 ALCINE39 International Competition – Madrid International Film Festival Spain
2009 MADE IN NORWAY by Mona Bentzen V.I.P. Art Gallery Belgrad Serbia
2009 FiFF Femmina International Film Festival Norway
2009 International Competition Uppsala International Short Film Festival Sweden
2009 AVE -Raulandutstillinga 2009 by Mona Bentzen Norway
2009 Amsterdam Open Air Film Festival Nederland
2009 Bad Moon Rising 4 by Jan Van Woensel Galerie Sans Titre Brussels Belgium
2009 Rooftop Films Brooklyn by Dan Nuxoll New York US
2009 International Competition 25th Hamburg International Short Film Festival Hamburg Germany
Nominated for the Arte (TV) Shortfilm Award 2009
2009 *Ecstatic Truth by Ruba Katrib Dumbo Arts Centre Brooklyn NY USA
2009 International Competition South by SouthWest Austin Texas USA
2008 International Competition The 23rd Brest European Short Film Festival France
2008 VideoDumbo D.U.M.B.O. Brooklyn New York USA
2008 *Skånes Konst by Morgan Shagerberg Malmö Sweden
2008 Festival International de Film et Video de Creation by Per Platou Beirut Lebanon
2008 The 31st Norwegian Short Film Festival in Grimstad Norway
2008 The best from Grimstad: Cinematek Oslo Norway / Cinemateket Bergen Norway / Rockefeller Oslo NO
2008 International Competition Fair Play Film and Video Festival Lugano Italy
2008 *Per 3.30-7.30 sometime in March 1998 Lilith Performance Studio Malmö Sweden
2008 I have a suitcase in Berlin by Daniela Büchten Berlin National Library Oslo Norway
2007 *Black Hole Memories Langenhagen Kunstverrein Hannover Germany
2007 2.Fotofestival by Christoph Tannert Mannheim/Ludwigshafen/Heidelberg Heidelberg Kunstverrein DE
2007 *Running Woman Rom for Kunst and Arkitektur Oslo Norway
2007 *Underdager Hordaland Art Centre Bergen Norway
2007 Temporarily Disconnected by Ruba Katrib CCS Bards Hessel Museum of Art New York USA
2007 Women Filmmakers The Pinapple Videobar Supermarket Stockholm Sweden
2006 *Withered Kunstlerhaus Bethanien Berlin Germany
2006 Staring Into Space /artist film-video anthology as part of the The Temps
d'Images Festival by Heman Chong Trafó the House of Contemporary Arts, Hungary
2006 Fair Play Video Festival Play Gallery for still and motion pictures Berlin Germany
2006 Visible Invisible by Adina Popescu Galleri Jan Wentrup Berlin Germany
2006 The Peninsula M1 Singapore Fringe Festival Singapore
2005 Kunstlerhaus Bethanien Berlin Germany
2005 *Baltic Raw Hamburg Germany
2005 COURTisane Brussel, Belgium
2005 OffPopVision Berlin Germany
2005 Bring a friend: The House of the Nordic Embassys in Berlin Germany /
Cinema Arsenal Potsdam.Plz Berlin Germany / Landmark Bergen Norway
2004 Swedish Hearts by Magdalena Malm, Charlotte Bydler, Rodrigo M. Lira, Modern Museum in Stockholm SE
2004 Humane APT Gallery London UK
2004 Slip Role by Laura Bruce in Manchester/The Collective Galley Edinburgh/ BergstueblPROJEKTE Berlin Germany / Platform Garanti Contemporary Art Center Istambul
2004 Tangible expressions -Gallery Taipei Artist Village, Taiwan
2004 L'amour by Veronica Wiman 5th Encounters of Bamako Mali / MEO Art Foundation Budapest Hungary /
Raid Projects Los Angeles USA
2003 *Jannicke Låker Video Works 1997-2003 Stenersen Museum Oslo Norway
2003 American Effect ved Lawrence Rinder Whitney Museum of American Art New York USA
2003 Out of Berlin LABgallerie Strasbour France
2003 New Media Art Festival program by Michael Bruntrup CHIANGMAI
2003 BEKMÖRK by Per Platou Museum of Contemporary Art Belgrade
2002 Open Space By Marina Sorbello Palazzo dell´Arengaria Milan Italy
2002 Right About Now by Museum of Modern Art Stockholm): National Gallery of Art Bangkok Thailand / The Art Center of Academic Resources / Tadu Contemporary Art Gallery Bangkok Thailand / National Art Gallery Kuala Lumpur Malaysia / Petronas Gallery Kuala Lumpur Malaysia/ Valentine Willie Fine Art Kuala Lumpur Malaysia/ Fine Art Museum Shanghai People's Republic of China / Jin Wen Art Center Shanghai People's Repub lic of China / Magasin 3 Stockholm Konsthall Sweden
2002 Video Works by Christel Sverre Kunsternes Hus Oslo Norway
2002 Kino Arsenal program by Michael Bruntrup Berlin Germany
2001 7 stories about gender & identity by I.Blekastad Lillehammer Museum of Art/Trondeim Museum of Art NO
2001 Bangkok Video Festival program by Michael Bruntrup Thailand
2000 Satellite Z200 by Antje Weitzel Berlin Germany
2000 Shoot on tour by Strömbeck/Lindberg Living Art Museum Reykjavik IS/Kunstlerhaus Bethannien Berlin DE
2000 We want to believe by Lise Nelemann / Frederikke Nielsen Gallery Sparwasser Berlin Germany
2000 Paradiso Film Festival Amsterdam Holland
2000 *Jannicke Låker by Øystein Loge Drammen Museum Norway
2000 Vidarte Highlights Mexico -Carillo Gill Museum/Centro de la Image Mexico City
2000 FIM Festival Lisbon Portugal
2000 Highlights -99 Impact Festival Holland
2000 NEWS Baltic Biennial of Contemporary Art (by William Easton): Gotlands Museum of Fine Art Visby Sweden /
Gallery Noas Riga Latvia / Pomeranian Princes Castle Szczecin Poland (1999)
2000 Nordic Live Art -Gothenburg Sweden
2000 Shoot by Lisa Strömbeck/ Marit Lindberg -moving pictures by artists Malmö Konsthall Sweden
2000 *Jannicke Låker/Liv Strand UKS Oslo Norway
1999 Museum of Contemporary Art Oslo Norway
1999 Eclectic -Gallery Walden New York US
1999 Impact Festival Holland
1999 Magnetic North by Jeremy Welsh London UK
1998 Noise-nature is pervert by William Easton -Museum of Modern Art Stockholm Sweden
1998 Pandemonium Festival program by Margo Chapman at Lux London England
1998 Uppsala International Short Film Festival Sweden
1998 Media Art Festival Osnabruk Germany
1998 Fellessentralen -Kunstnernes Hus Oslo Norway
1997 Media Art Festival Osnabruk (1998 on tour)
1997 *Performance at Norwegian Broadcast Norway
1997 Screens -art media and technology by Jeremy Welsh Trondheim Norway
1997 Zoom Performance festival by Gallery m/balkong and Zoolounge Oslo Norway
1997 *Fix I.D. by Christel Sverre & Svein Flygari Johansen Zoolounge Oslo Norway
1997 *LoveSongs and ColdBallad Gallery Rotor Gothenburg Sweden
1997 Fylkingen Stockholm Sweden
1996 no Budget Hamburg Germany
1996 Trondheim 10 000 -Galleri m/ Balkong Oslo
1995 One Night Stand by Galleri Struts Kunstnernes Hus Oslo Norway
Awards / Artist in residency
2008 The Terje Vigen Award Norway
2008 The Film Critics Award Norway
2008 Lilith Performance Studio Malmö Sweden
2005/06 Kunstleraus Bethanien in Berlin (OCA Office for Contemporary Art Norway)
2004 Taipei Artist Village Taiwan (NIFCA Nordic Institute for Contemporary Art)
2000 Soumenlinna Helsinki Finland (NIFCA Nordic Institute for Contemporary Art Finland)
Grants
2016 Project support Billedkunstnernes Vederlagsfond
2016 International support OCA
2014 Project support Billedkunstnernes Vederlagsfond
2013 Exhibition grant Norwegian Arts Council
2012 Project support NoFoFo
2012 Project support Billedkunstnernes Vederlagsfond
2012 Project support Fund for Sound and Picture
2011 Project support Fund for Sound and Picture
2010 Film support Norwegian Film Institute
2009 GI -Arts Council Norway
2010 Norwegian Film Institute Oslo Norway
2009 Support for scriptwriting Found for Sound and Picture Norway
2007 Project support Arts Council Norway
2006 Arts Council Norway, Working grant 3 year Norway
2006 Exhibition grant Norwegian Cultural Counsel Norway
2006 Project support Billedkunstnernes Vederlagsfond
2004 Project support Billedkunstnernes Vederlagsfond
2004 Material support Norwegian Artist Society Norway
2003 Norwegian Artist Society (legato) Norway
2002 Project support Billedkunstnernes Vederlagsfond
2002 Exhibition grant Arts Council Norway
2001 Working grant 2 year Artist Committee Sweden
2001 Project support Billedkunstnernes Vederlagsfond
2000 Project support Billedkunstnernes Vederlagsfond
1999 Project support Artist Committee, Sweden
1998 Working grant 3 year Arts Council Norway
1997 BKH (Academy graduation award) Norway
Collections
Museum of Contemporary Art, NO / Arts Council Norway
Other professional experience
2013 Head of dep. for time based art Trondheim Academy of Fine Art Norway (associated professor)
2012/2011/10/09/04/02/01 Guest teaching (associated professor) Trondheim Academy of Fine Art Norway
2012/2011/2010/09 Video Workshop Nordland College of Art and Film Norway
2010/09/08/07/05/04 Video Workshop School of Fine Art Rogaland Norway
2008 Guest teaching (associated professor) Bergen National Academy of the Arts Norway
2005 Guest teaching (associated professor) National Academy of the Arts Oslo Norway