Hansen, Inger Lise
Film/ video
In my film works the main focus is on impermanence, transience, and ideas of change, shifts and repositioning. Landscape and architecture that appear to be solid and permanent is experienced unstable and disorienting.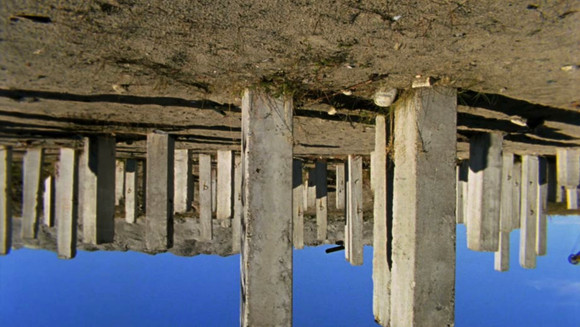 film still, Travelling Fields
CV
CURRICULUM VITAE
Inger Lise Hansen
b.1963
Bentsegata 19, 0465 Oslo
e-mail: ing.liseh@gmail.com
www.ingerlisehansen.com
EDUCATION
1994-96 San Francisco Art Institute, MFA, Fine Art Filmmaking
1990-91 Central-Saint Martin's College of Art and Design, London
Dip. Cert. Fine Art Film and Video
1986-89 University of East London, BA (Hons) Degree in Fine Art
SELECTED FILM SCREENINGS AND EXHIBITIONS
2017
Tokyo Photographic Art Museum: Yebusi Intl Festival for Art and Alternative Visions, Without Years: Travelling Fields
2016
Filmhaus Nurnberg: Film als Kunst: Inger Lise Hansen, Retrospective
Trøndelag Senter for Samtidskunst, Meta Morph, Lost in Space Exhibition
Cube Bristol, Difference Screen, film screening
Maretopia Stockholm: Landscapes of Resistance, Time and Ecology
MIRE bains argentiques, Nantes, France film labs screenings:
Elements of Nature, Devices of Cinema
2015
London Short Film Festival, Drawing from Memory- Animated Observations
Cinema de Cineastes, Paris: Le Bal/ Lightcone event "Vertiges", Travelling Fields
Centre de Cultura Contemporarnia de Barcelona and GFT Glasgow/Lux Scotland:
Abscences and (Im)possibilities
Museum of Contemporary Art Zagreb, Difference Screen
2014
Malmø Kunsthall: Nordiska konstfilmer, Proximity 22-24 sept
Photograpers' Gallery, London, film screening: Selected Animated Photography Films
Irish Museum of Modern Art Dublin, One Foot in the Real World, Here After,
collab w/ P. Jolley /R.Trost, Oct 2013- April 14
Trafo Kunsthall, Asker, Norway, Trilogy, 11-jan -23 feb
VideoGUD, Video in public spaces in Sweden: Uppsala, Gävle:
Emotional Landscapes, Travelling Fields
2013
BFI Southbank, British Film Institute: Environmental Agency, A Landscape Film Screening and Trilogy book/dvd launch, 5 March
Difference Screen Project, International Venues 2013-14:
Whitechapel Art Gallery, London, Mongolian Contemporary Art Museum, Ulaanbaatar, Artisterium, Tbilisi, Georgia, ARKO Arts Centre Seoul, South Korea.
CAST Contemporary Art Spaces Tasmania and Monash University Museum of Art, Melbourne, Australia, 971 Horses and 4 Zebras Exhibition
Anx/Atelier Nord Oslo: Documentary Strategies
Atopia, Oslo: Propeller: Retrospective Exhibition
Kunstraum T27, Berlin, Melos – Zwischen Räumen, Exhibition
2012
Tate Modern, London, 971 Horses and 4 Zebras: Artists Apply Animation, 29 Nov
Wimbledon Space, Wimbledon College of Art, 971 Horses and 4 Zebras, Exhibition
Fishmarket Gallery, Norwich UK, "April Film Trilogy" Exhibition, with Deimantas Narkevicius and Jan Svankmajer
Norwegian Short Film Festival Grimstad, Documentary Strategies, Atelier Nord
2011
Wapping Project London, Undiscovered Landscapes (solo)
Courtisane Festival, Film, Video and Media Art, Gent, Belgium
Spacex Gallery, Exeter, UK, "Landings-Reviewing the world" 15 jan-26 feb
Hå Gamle Prestegård, No, "Loss and Locality" 29 Jan- 27 Feb
2010
Beaconsfield Gallery, London UK Travelling Fields, 26 Oct-19 Nov (solo)
BFI-London Film Festival, Experimenta, "Sublime Passages"
Oberhausen Short Film Festival, Tyskland
Rotterdam International Film Festival, Tiger Award Nomination
Centre de Georges Pompidou, Paris, Sixpackfilm screening
Ann Arbor Experimental Film Festival, USA
Documenta Madrid, "original documentary "section
Oslo International Film Festival, short film programme
VIDEOEX-Festival, Zürich, Sveits, "Coming from Future"
Vienna Independent Shorts, "animation avant-garde",
Hong Kong International Film Festival, "avant-garde"
Jeonju film Festival, Seoul, Korea, "State of flux"
DocumentART, Neubrandenburg, Tyskland
2009
OK-Center for Contemporary Art, Linz, Østerriket
"Hohenrausch/Thrill of the Hights" Exhibition, May-Okt 09
Crossing Europe Film Festival, Linz, Austria, Retrospective Screening, April 09 (solo)
Gallerie d'art Foreman : Quebec, Canada "Above and Below ", July-Sept. 09
Cinemateket Bergen/USF Verftet: Retrospective Screening/Installation, May 09 (solo)
Asifakeil Gallery, Museums Quartier Vienna, Austria (solo)
2008
National Gallery, London, Film Season "Thruth or Dare"
Adrift shown with L`Aventura by Michelangelo Antonioni, Jul-Aug 08
Ram Galleri, Oslo Proximity part 2 May-June 08 (solo)
Académie Libanaise des Beaux-Arts (ALBA) Beirut, Libanon:, Film et Video de Creation
Yerba Buena Center for the Arts San Francisco, Film-screening April 08
Anthology Film Archive, New York City, Film-screening Proximity. Oct 08
Images Festival, for contemporary moving image culture, Toronto:
"Blurring the Terrain or Landscape as a Verb"
2007
Galerie nationale du Jeu de Paume, Paris:
Rencontre International "Paysage Movement"
Cine Sorbonne, Paris: "Essential Experimental Films"
Irish Museum of Modern Art, Dublin "Hearth: Concepts of Home"
Exhibition curated by homeless people from the museum's collection, Nov 06- april 07
Institute of Contemporary Art, London, Halloween Experimental Film festival,
Image Forum Film Festival, Japan,
"Construction of Nature" Uppsala Art Museum
Rom for kunst, Sentralstasjon Oslo, "Static"
2006
Channel4 TV, UK: Animate! Experimental Animation: Proximity
National Film Theatre, South Bank, London, Animate!
Gasworks Gallery, London: "Blink", artist's animation
Fact Centre, Liverpool, Artist's Animation screening
2005
London Film Festival, "Screen on Trafalgar Square", Large outdoor projection, Adrift
Prenelle Island Film festival, London, "Urban Visionaries"
Rotterdam International Film Festival
Tromsø International Film Festival
New York Underground Film Festival
Lantaren/Venster, Rotterdam, Retrospective film-screening/ installation (solo)
2004
Reykjavik Art Museum, Iceland, Nordisk Panorama
Kassler Dokumentarfilm & Video festival, Kassel, Tyskland
Seoul Net and Film Festival, South Korea, Cinema Now and Future
Images Festival, for experimental film and video art, Toronto, Canada
Rotterdam International Film Festival, Holland, "Observations"
Nicola Fornello Gallery, Firenze, Italia, "Here After" filminstallation (solo)
Temple Bar Square, Dublin outdoor screening "Here After"(solo)
Cinema Unie, Rotterdam,"Dead or Alive" Retrospective film-screening (solo)
2003
Oberhausen International Short Film Festival, Tyskland, "Re<localisations"
Oslo International Film Festival: Adrift: Short before feature "De fæm Benspænd"
(The Five Obstructions) by Lars Von Trier
Sørlandet Kunstmuseum, HUS Nattgalleriet, 1Feb-1March (solo)
2002
Bomuldsfabriken Kunsthall, Arendal, Triptych
Angel Row Gallery, Nottingham, touring exhibition UK: "Somewhere"
2001
Tate Modern, London, UK, Architecture Week: "Housing Problems"
Images Festival Toronto, Canada
Charlottenborg Fonden, Efterårsudstillingen, Copenhagen, Danmark
New Langton Arts Gallery, San Francisco, USA
Moderna Museet Stockholm and NIFCA, Helsinki, BLICK, nordisk film og video
Brussel Animation Festival, Retrospective screening, Cinema Nova (solo)
Fotogalleriet, Oslo Triptych October-Nov 2001 (solo)
2000
Centre de Georges Pompidou, Paris, 25 Sept-25 Oct:
Outdoor Projection, five artists from Lux Collection London
Museum of Contemporary Art Houston, Texas
Institute of Contemporary Art, London, UK/ Trondheim Kunstmuseum "Magnetic North",
1999
Moderna Museet, Stockholm, Sweden , BLICK, nordisk film og video
Bilbao International Festival for short films, Spain
Split International Festival of New Films, Croatia
Tampere International Short Film Festival
Spring Exhibition, Fotogalleriet, Oslo, Norway
5th Festival of European Films, Istanbul, Turkey
1998
Centre de Georges Pompidou, Paris, Light Cone Presentation
Hiroshima Animation festival, Best of the World program
Pandæmonium Festival of Moving Images, Lux Cinema, London
Edinburgh International Film Festival,"Mc Laren Animation" program
European Media Art Festival, Osnabruck, Germany, and European tour
Lux Cinema, London, "Architecture in the Image"
Mill Valley Film Festival, USA
Norwegian Short Film Festival, Grimstad, Norway
Museum Boijmans Van Beuningen, Rotterdam: City Symphonies
1997
San Francisco Cinemateque, Yuerba Buena Center for the Arts:
"Emerging Talents in the Bay Area"
Centre de Georges Pompidou, Paris Light Cone Presentation
Norwegian Short Film Festival, Grimstad
Artist Television Access, San Francisco
Anthology Film Archives, New York
1996
Museum of Cinema, Chicago, USA , "Barbarians at the Gate"
Edinburgh International Film Festival "Mc Laren Animation" Programme,
National Film Theatre, South Bank, London, "Experimental Animation"
Short Stack, Film Arts Foundation Selection, San Francisco
1995
Institute of Contemporary Art, London: "What You See is What You Get"
The Third ICA Biennial of Independent Film and Video, International Tour 95-97
Forum des Halles: Mutations de l'Image, Art Cinema/Video/Ordinateur, Paris
Hamburg Short Film Festival
Oslo International Film Festival
Pacific Film Archive, University Art Museum, Berkeley
Cardiff International Animation Festival: "Cutting Edge"
PRIZES
2010
Oberhausen Short Film Festival: Special Mention for Travelling Fields
Videoex Festival, Zurich: 1st Price ex aequo for Travelling Fields
Ann Arbor International Film Festival USA:
Peter Wilde Award for Traveling Fields
Vienna Independent Shorts: Special Mention (Animation Avant-garde) Parallax,
Vienna Independent: Elfi von Dassanowsky Prize: Parallax
2005
Ann Arbor International Film Festival USA
Peter Wilde Award for most technically innovative film, Adrift
2000
Ann Arbor International Film Festival USA
Chris Frayne Award for best Animated film, Hus
1999
Bilbao International Festival for documentary and short films
Gold prize for Animation, Hus
1995
Princess Grace Awards USA: Experimental Film Prize
Talking to a Stone
1993
Norwich Women's Film Festival, UK, Audience Prize
Talking to a Stone
COLLECTIONS/DISTRIBUTION/ARCHIVE
Kurzfilmtage Oberhausen Archive, Germany, Gassco AS, Stavanger, DnB NOR Art Collection, Oslo, Lux, collection/distríbution of Film and Video Art, London, UK, Aardman Animation Library, Bristol,UK , Lightcone, collection/distribution of Film and video Art, Paris, France, Sixpackfilm, collection/distribution of Experimental Film, Vienna, Austria, Norwegian Film Institute, Oslo, Irish Museum of Modern Art, Dublin, Ireland.
PUBLIC ART COMMISSIONS
2007
Nidarosdomen Cathedral Visitors Centre, Trondheim:
Casting the Shadows, permanent video installation,
2006
Channel 4 TV, UK: Animate! Experimental Animation: Proximity
2003
City of Dublin, Breaking Ground, Ballymun, Ireland:
Here After, collab.with Patrick Jolley
ARTIST RESIDENCIES
Platform China, Beijing, artist residency 2009 OCA, Office for Contemporary Art, Norway
OK Center for contemporary Art, Linz, Austria, Artist in Residence 2009
Svaldbard stipendet, artist residency Ny-Ålesund, Spitzbergen, juni 2000 (NBK-BKH)