Alebouyeh, Anahita
Performance, video, installasjon
Anahita Alebouyeh (born 1987) is a Oslo based artist, she has a BA from Bergen Academy of the Art and Design.
Her work revolves around performance in multiple contexts and media: live performance, performative video and staging of environment / space.
She examines and enhances emotional aspects in performative work while exploring pop-cultural phenomenons. She works with characters from pop culture – for example reality shows, pop music, slapstick- and stand-up comedy. Anahita feels comfortable in this landscape, where satirical or humorous characters are exaggerated. She tries to suggest new ways to look at and process things in our immediate surroundings while pointing at a potential poetic charge of pop-cultural phenomenons, to see what occurs when it is translated and performed in a new context. Isolated from the intended real and pop-cultural context, she hopes that her work inspire the viewer to a profound reflection on pop culture. The work examines how the viewer consider their own relationship to pop culture, as an individual as well as a part of a larger collective consciousness.
For her it is important to get the viewer to feel something. She wants to communicate, in a floating chaos, sometimes without words and logic. Oscillating between small adventures and new critical images. Anahita loves it when she perceive an immediate reaction from the audience, this closeness to other people has a great intensity that she finds inspiring.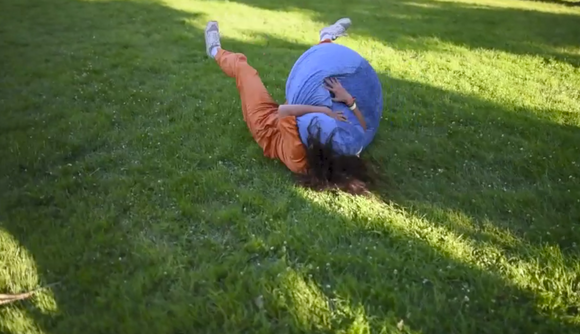 "Soundtrack of life, part fifteen"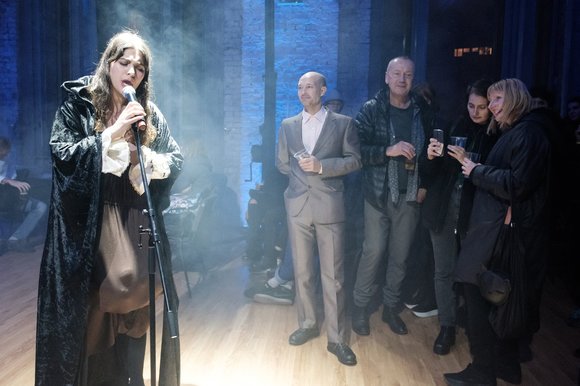 "Soundtrack of life, part sixteen"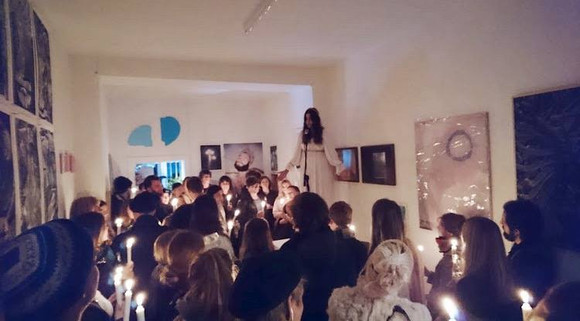 "Soundtrack of life, part thirteen"
CV
Anahita Alebouyeh
Born in Iran 1987, raised in Norway.
Lives and works in Oslo, Norway
Contact: anahihita@gmail.com / (+47) 91364576
EDUCATION
2012 – 2015 BA i Arts, Bergen National Academy of the Arts, Norway
2011 – 2012 Prosjektskolen, Oslo
EXHIBITIONS
2016 "Untitled" – performance at event- Chanting all clamoring, chirping (Chiroptera), blaring elevator stops. Dings – connection with the "Munch + Jorn"- exhibition, Munch Museum, Oslo,Norway
2016 "Soundtrack of life, part sixteen" – performance at festival- The Artists, Zacheta National Gallery of Art, Warsawa, Polen
2016 "Univers-Hita" – video at event – VIVID-festival, Kristiansand, Norway
2016 "Soundtrack of a life part fifteen" (performance) – Q25, Kristiansand, Norway
2016 "Soundtrack of a life part fourteen"- performance at event, INGENSTEDS, Oslo, Norway
2015 "Elevator" (video) and "Soundtrack of a life part thirteen" (performance) – KVIT Galleri, Copenhagen
2015 "Soundtrack of a life part twelve" – performance and installation at HATCH, Agder Kunstsenter, Kristiansand, Norway
2015 "Soundtrack of a life part elleven" – performance and installation at 1+1=11, Agder Kunstsenter, Kristiansand
2015 "Soundtrack of a life part five – ten" – performance at event, Bachelorutstilling i Kunst 2015, Bergen, Norway
2015 "Soundtrack of a life part four" – performance at event, Prøverommet, Bergen, Norway
2015 "Soundtrack of a life part three" – performance at event, Don't they know it's feminism? , Bergen Kunsthall / Landmark, Bergen
2015 "Soundtrack of a life part two" – performance, Auditorium, KhiB, Bergen, Norway
2014 "Soundtrack of a life part one" – performance at event, Periferien presents Klumpete saus#2, Klubb Kok, Bergen, Norway
2014 "Taxidriver" – performance as part of a workshop, SHAME, Knipsu, Bergen
2014 "The Magical Mystery Trope", Galleri Fisk, Bergen
2013 "Untitled" (Cooking 4 life) – performance at event "Dinnerparty", After
School Special, Bergen Kunsthall / Landmark, Bergen, Norway
2013 "The Bedroom Sessions: I'M 2 SAD 2 TELL U 2", Galleri Bokboden, Bergen, Norway
2013 "The Womanpark" – performance at event "Ginnungagap", INGENSTEDS, Oslo, Norway
2013 "Untitled" (Sisyphus) – performance as part of workshop, Konteksty 2013, Poland
2013 "Andra Könet", Andre Siden, Bergen, Norway
2012 "Battle 11: Mom & Jerry vs That Purple Stuff with guest star EVERBABE", Pink Cube,
Oslo, Norway
2012 "Untitled" – performance at event "Pipshow", Steenstrupgate Galleri, KhiO, Oslo, Norway
2012 "The Bedroom Sessions" – performance at event "Powernap 2", Bergen Kunsthall / Landmark, Bergen, Norway
2012 "SEXY TIMES" – Last days of EVERBABE, Podium, Oslo, Norway
2012 "Kan vi ikke bare møtes hos deg, så slipper jeg å gå så langt?", Dortmund Bodega, Oslo, Norway
CURATORIAL WORK
2015 Kunsthall Anahita, C.sundtsgate 53, KhiB, Norway
2014 After School Special, Landmark, Bergen Kunsthall, Norway
WORKSHOPS
2013 Konteksty – Performance Art Workshop and Festival of Ephemeral Art, Poland
COMMISSION AND GRANTS
2016 Miscellaneous grant for recently graduated artists from the Arts Council Norway
OTHER
2013 Prosject attendant, Bergen Assembly, Norway
2015 Prosject attendant, Gold by Synsmaskin, Norway
2015 Assistent, for Benedicte Clementsen