Grude, Kalle
Installasjon, tegning, foto, osv
Har jobbet med installasjoner i ulike teknikker siden seint 80-tall. Med tegning siden tidlig 80-tall. Installasjonene har ofte dreid seg om tegning som mekanisk prosess. De har tatt opp temaer som tilfeldighet og grenser. F.eks hvordan hvite mus kan generere logiske utsagn(AbA-Logic), hvordan mekaniske hunder kan penetrere et fredet hus like naturlig som motorvegen dit penetrerer naturen (No Problem), hvordan et roterende objekt, via videokameraer, kan tolke et gallerirom (In Camera). Eller hvordan et object å bo i kan diskutere samtidig byggeri (Shelter for en stein, ett tre, to mennesker og fire fugler).
I motsetning til installasjonene som tar i bruk den teknikken og de medier som ideen krever, har jeg hele tiden vært tro mot små, håndlagde tegninger. De er utført uten plan. Uten konsept, bortsett fra at de alle er utført i en tilstand av distraksjon. Jeg har altså tegnet, ikke tenkt, i et forsøk på å se nye tanker. Denne billedstrømmen har jeg knapt nok vist. Å finne måter å presentere den på, som en motpol til det konseptuelt/mekaniske, er det jeg, for tiden, strever med.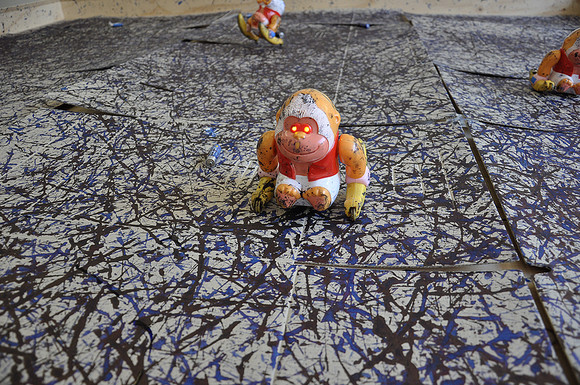 Blue.Blue.Black #1. Kalle Grude. Mekanisk tegneperformance. Blekk på papp. 200x200cm. 2013. Gallery Oqbo Berlin. detalj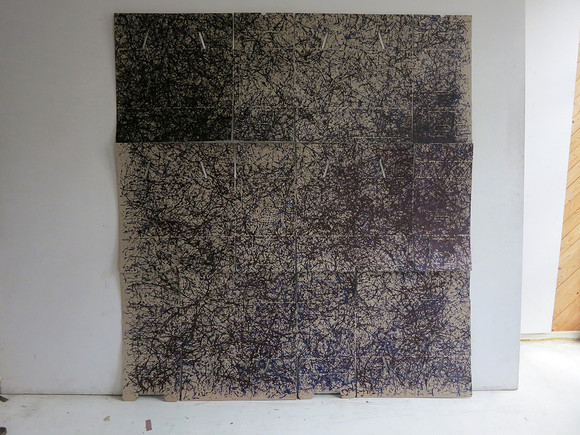 Blue.Blue.Blue #2. Blekk på utbrettete pappkasser. 200x148cm.
Blue.Blue.Black #3. Kalle Grude. Blekk på papp. Kalle Grude. 200x148cm. Plakater A3 . Vist i Tegnerforbundets 100 års jubileumsutstilling. Detalj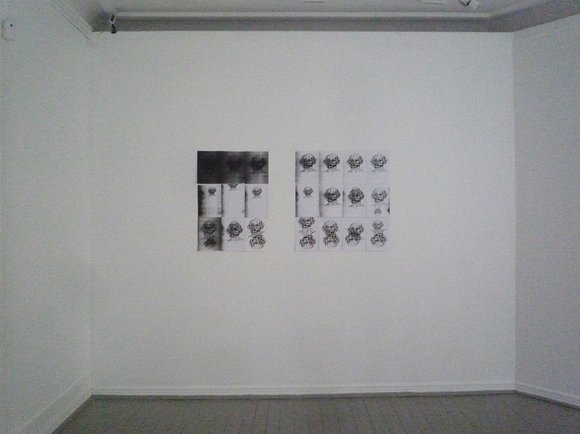 Skisser til et portrett #1 og #2. Kalle Grude. Serigrafi på papir. 9x4 formater A4. 90x63cm. og 90x84cm. 2016. Vist på TegnerBiennalen 2016.
Planlagte prosjekter og utstillinger
Neste år avslutter jeg mitt professorat i kunstfag (Bergen Arkitekthøgskole) for igjen å delta 100% på kunstscenens slagmark. Min deltakelse på de to utstillingene i år ("Tegnerforbundets 100 års utstilling" og " Tegnebiennalen 2016") var et forsøk på å fokusere både på min produksjon av installasjoner og de mere skjulte intuitive håndtegningene. Å finne måter å vise disse motsetningene som en helhet vil bli mitt prosjekt neste år. Jeg vil starte med en dokumentasjon (artist book) av den pågående tegneproduksjonen. Forhåpentligvis får jeg også gjenåpnet nettsiden. Da er jeg klar for utstillinger
CV
Kalle Grude
Education
Oslo School of Architecture, 1967-74 / Oslo National Academy of the Arts, 1980-86
Selected one man shows
2013 "Blue, Blue, Black #1" / Mechanical drawing performance / Gallery Oqbo, Berlin 2010 "AbA Logic III" / installation / AbA-project / Kunstnerforbundet, Oslo
2005 "In Camera" / kinetic object, building intervention / Drawing Center of Norway, Oslo
"Zeitgeist III" / photo, video, installation / AbA-projekt / Vigeland museum, Oslo 2004 "Zeitgeist II" / photo, installation / AbA-projekt / Vigeland museum, Oslo
1997 "No Problem.." / Digitalized toys, intervention / Momentum, Gallery F15, Moss
"Recirculated Works" / hybride works / Bomuldsfabriken Kunsthall, Arendal
1996 "Taiwan Universe" / wall drawing / Gallery Povazie, Zilina, Slovakia
1995 "Bukhule Bilder" (Gastric Pictures) / video projection, installation /           Kunstnerforbundet,Oslo 1994 "Tidsbilder" (Images of Time) / photo, video /           Hordaland Art Centre, Bergen
"Things I" / powderizing / Trondheim Art Museum,
"Things II" / powderizing / Gallery Wang, Oslo
"Secret Exhibition I" / National Museum of Contemporary Art, Oslo
1996 "Time-Out" / with Oddvar IN / Nordic Year of the Arts 95-96, Trondheim            Kunstmuseum 1992 "April 1992" / drawing machines, mirrors, text / Drawing            Center of Norway, Oslo
"Spill I" ("Game I") / concept machine / UKS, Oslo
1991 "Samtidsbilder" (Contemporary Pictures) / camera obscura, construction, text / UKS, Oslo
1990 "Prenna III" (3 of -) / liquid photo emulsion / Markovic Laboratorium, Berlin, Germany 1989 "Tegninger & projeksjoner" (Drawings & Projections) / drawing, objects/ Gallery          Heer, Oslo
Selected project
2007- "Shelter for One Stone, One Tree, Two People and Four Birds" / site specific installation / 2012 Vågøy, Bamble / Published in "Condition", 01-09 and "Design interiør", 03-12 /Arkitektur
N, 05-14 / Performed at Bergen School of Architecture, Bergen; Academy of Arts and Design, Bergen; Oslo School of Architecture; Norwegian University of Science and Technology,Trondheim; Norwegian Univ. of Life Science; Univ. of Minho, Architectural Dept., Portugal.
Selected group shows (from 1989)
2016 "Blue. Blue. Black #2" / mech. drawing, posters / 100 Year Exh. / Drawing Centre of           Norway, Oslo "Sketch for a Portrait #1-2" / blow up drawings / Drawing Biennale 2016 / LNM. Oslo
2012 "Prisme" (Prism) / National Museum of Contemporary Art, Oslo
2008 "Installasjoner" (Installations) / National Museum of Contemporary Art, Oslo
2006 "AbA logic II" / installation / AbA-projekt / prod. by Atelier Nord / Henie Onstad Art           Center, Oslo 2004 "Spor av strek" (Traces of Lines) / drawing machine, touring           North of Norway / prod. by SKINN
2003 "Choice by Heart" / video, photo, object / Up River Loft Gallery, Kunming, China
         "Zeitgeist I" / object, photo / AbA-project / Norwegian Sculpture Biennal / Vigeland           Museum, Oslo
2002 "Collectors Item / Privat eie" / text, object / AbA-project / Gallery F15, Moss, Norway
2001 "Münsterland Sculpture Biennal" / Emsdetten, Germany
         "Norwegian Drawings" / Reykjavik Art Museum, The Harbour House / Iceland
         "Mine" / german-norwegian symposium and exhibition / performance, video, sound /           Folldal, Norway
2000 "Box Project" / text / Angel Row Gallery, Nottingham / Turnpike Gallery, Manchester          / Museum of Installation, London.
         " Less Esthetic. More Ethic" / powder-archive / Arch. Biennal of Venice / Arsenale,           Italy ( with arch.office 3RW)
         "Status Oslo: 1000-2000" / obj., photo, sound / Oslo Kunstforening "Drawing 2000" /           Haugar, Vestfold Art Museum, Tønsberg
1999 "Esker / boxes" / Text, photo / Rogaland Contemporary Art Center, Stavanger /           Haugesund Museum of Fine Art / Gallery III, Oslo
         "The National Annual Exhibition of the Visual Arts" / text, installation, artist book /           Kunstnernes Hus, Oslo
         "Commissioned Art for National Theater Railway Station" / objects, sound / Gallery           RAM, Oslo
1998 "Norwegian Art Production in the 90 ́s" / kinetik tree, sound / Kunstnernes hus, Oslo
1997 "0-1" / inter-active CD-rom / prod. by Atelier Nord, Oslo
         "The National Annual Exhibition of the Visual Arts" / inter-active CD-rom /           Kunstnernes Hus, Oslo
1996 "Norwegian Cultural Festival in Sarajevo" / machine drawing, obj. / Gallery MAK,           Bosnia Hercegovina
1995 "Secret Exhibition II" / Ministry of Cultural Affairs, Oslo
1994 "PIG" (project in old part of town) / first aid showcase for visual reading / Gamlebyen           skole, Oslo "Oktett" / light, sound, electric fans / Buskerud Art Center, Drammen
         "Enkeltrom" (Singel Room) / political machine, text, sound / Buskerud Art Center,           Drammen
         "Einzelzimmer" (Singel Room) / political machine, text, sound / Kunstamt           Kreutzberg, Bethanien, Berlin
1992 "The National Annual Autumn Exhibition of the Visual Arts" / Photo, obj. /           Kunstnernes hus, Oslo
1991 "Norwegian Miniatures" / Tromsø Kunstforening
         "Anniversary Exhibition of The Drawing Center of Norway" / drawing / The Art           Museum of Northern Norway
1990 "Come on" / sound sculpture for Contemporary Music Association. / National           Museum of Contemporary Art, Oslo
1989 "Prenna II" (3 of-) / photo emulsion on wall, photo / Henie Onstad Art Center,           Høvikodden, Oslo "Nordic Drawing Triennal" / drawing, text / Skellefteå, Sweden
Works acquired by
National Museum of Contemporary Art / Trondheim Art Museum / Art Museum of Northern Norway / Oslo University Collage of Applied Science / Aalesund University Collage of Technology / Trondheim University Hospital / Museum of Installation, London / Norwegian Fishing Industry Museum, melbu
Scholarships
The National Scholarship for Visual Artists / 2013, 2001, 2000, 1996, 1992, 1991, 1989, 1987 Arts Council Norway / 2005, 1998, 1996, 1989, 1987
The National Scholarship for Visual Art Projects / 2006, 2005, 1992, 1987
The National 3 year Scholarship for Visual Artists / 1994-96
The National Permanent Scholarship for Visual Artists / 1997-2013
Ingrid Lindbæck Langgaard Scholarship / 1992
DAAD, German Scholarship for Cultural Exchange, Berlin / 1990
OCA, Organisation for Contemporary Art, Foreign Support / 2003
Dept. of Foreign Affairs, The Royal Norwegian Ambassy of Beijing / 2003
Study trips of importance
China: 1997, 2003, 2012 / Iceland: 1988, 2001 / Brazil: 1993 / New York: 1990 / Berlin: 1984, 1989 / Greece: 1986
Some related experience and activities
Commitioned art / Design of roof, Oslo Opera House, with Kristian Blystad and Jorunn Sannes, 2002-2008 / St. Olavs Hospital, Trondheim, 2005 / Ålesund University Collage of Technology, 1999 / Oslo University Collage of Technology, 1999 / Art adviser / "Infrastructure Fornebu" 2003-5 / "Snøhetta ", Oslo Opera House, 2001-2 / Folkets Hus, Oslo, 1987 / Curator of commisioned art / University of Oslo, Department of Psychology, , 2002- 06 / Science Building, Norwegian University of Science and Technology, 1995-2000 / Ringerike Prison, 1994- 1998 / Teaching / Bergen School of Architecture, 1997- , Professor DAV, 2004 – / Umeå Academy of Fine Arts, Sweden, 1993-1996 (Stand-in Professor, Graphic Dept., 1996) / Institutt for Romkunst, Oslo, 1994 / Oslo National Academy of the Arts, Oslo, 1992 / Oslo and Akershus University Collage of Applied Science, 1989-91 / Juryes / Vice Chairman of Council of Fine Art, Arts Council Norway, 2001-2004 / National Scholarship Committee, Visual Arts, 1999 / Gallery F-15, Moss, Art Council,1996-98 / Purchasing Committee, National Museum of Contemperary Art, Oslo, 1994-95 / Chairman of Jury, UKS, Oslo, 1987 /