Lyche, Josefine
Skulptur, maleri, installasjon, div.teknikk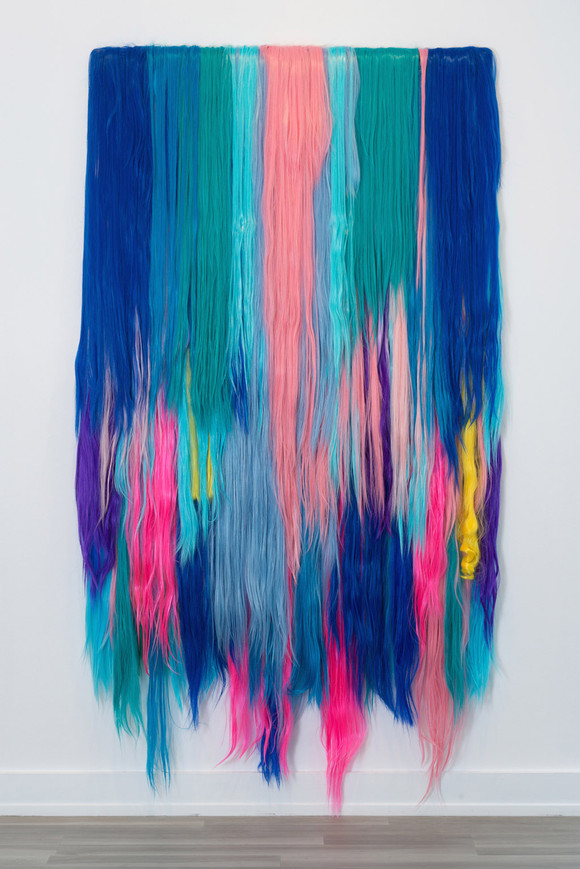 Untitled (Tropic), 2016. 135 x 230 cm. Acrylic hair on linien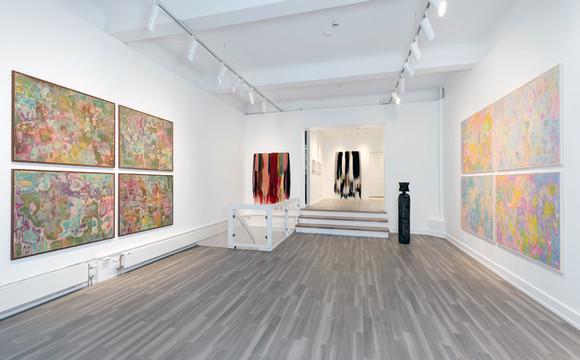 Installation view: "The World's Darkening Never Reaches to the Light of Being", QB Gallery, 2016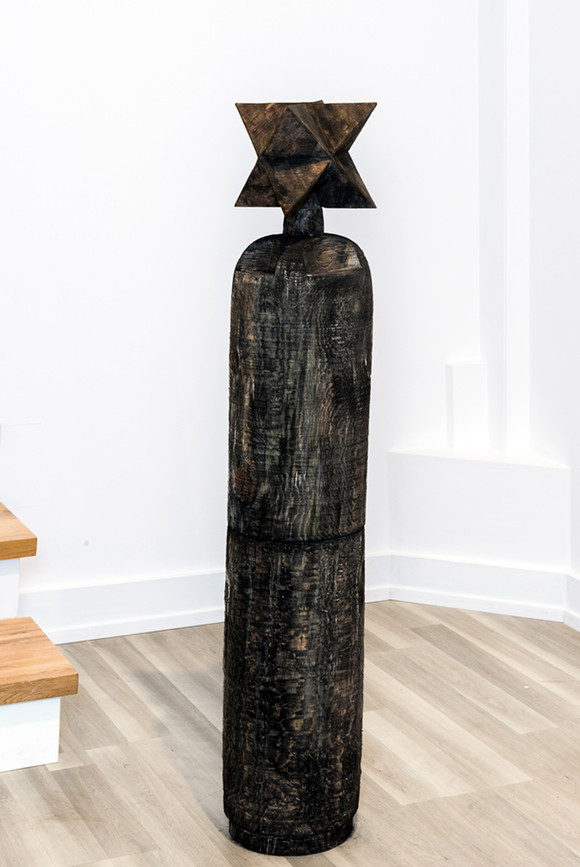 "Sternwürfel (In loving memory of Peter)", 2016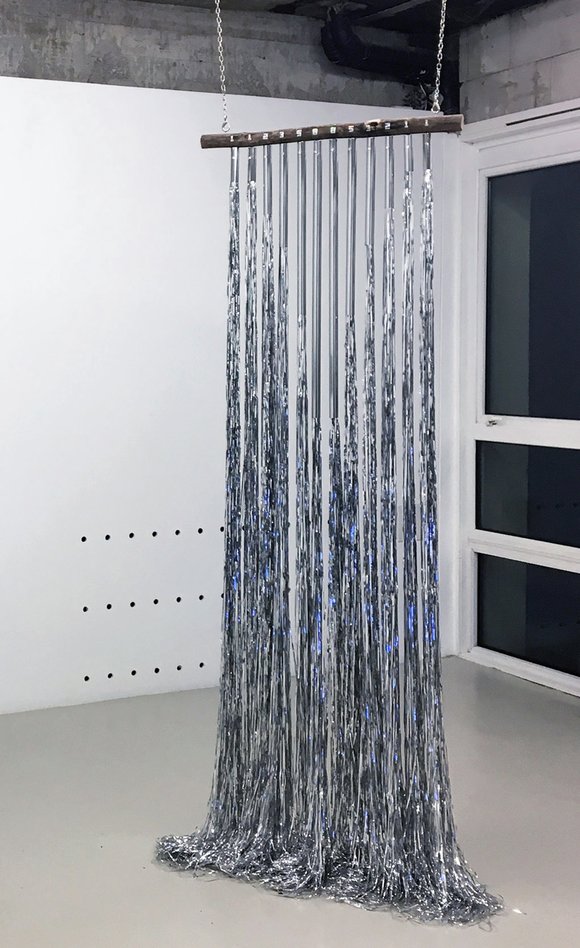 "Add, Divide, Multiply, and Understand", 2016. 70 x 230 cm. Steel-rods, woodwork, disco-drapes, vinyl. Installation view from "True Will" at KNIPSU in Bergen.
Planlagte prosjekter og utstillinger
2017 Group exhibition: PAINTING | OR | NOT, Kaviar Factory, Henningsvær, Lofoten, NO
CV
CV
JOSEFINE LYCHE
Born in Bergen. Lives and works in Oslo.
Education:
2000 – 2004 National Academy of Fine Arts, Oslo, NO
1998 – 2000 Strykejernet Art School, Oslo, NO
1995 – 1998 Philosophy, University of Bergen, NO
Selected solo exhibitions:
2016 The World`s Darkening Never Reaches to the Light of Being, QB Gallery, Oslo, NO
2015 Contact, NoPlace, Oslo, NO
2015 Absolute Alt. Vol 2, Spriten Kunsthall. Skien, NO
2015 Battle #17, w Richard Øiestad, Pink Cube, Oslo, NO
2015 Absolute Alt. Vol 1, ONO, Kunstnernes Hus. Oslo, NO
2011 WhiteOut, The Festival of the North of Norway, (w Ane-Mette Hol and Ane Graff),
Galleri Nord Norge, Harstad, NO
2010 Who Cares about Aliens Anyways…, Galleri Christian Torp, Oslo, NO
2010 Heydays, Kongsberg Kunstforening, Kongsberg, NO
2010 Undisclosed.no, curated by Sten-Are Sandbeck
2010 More than This, (with Ane Graff, Henrik Pask and Lars Brekke), Curated by Jan Christensen, Kunstnerbanken Telemark, Skien, NO
2010 Girlz get Hard, Boyz get Wet, (with Henrik Pask), Dortmund Bodega, Oslo, NO
2010 In Trance We Trust, (with Henrik Pask), PopUp, Tjuvholmen, Oslo, NO
2009 0,(0)4%, (with Henrik Pask), Volt, Bergen
2009 Dreamscapes, curated by Erlend Høyersten, Sørlandet Art Museum, Kristiansand, NO
2009 Theme and Variations, Gallery MGM, Oslo, NO
2008 Remake, (with Ane Graff), Kunstnerforbundet, Oslo, NO
2007 Cosmic Dropout, 0047 Oslo, Oslo, NO2006 Örebro Kunsthall, Örebro, SE
2006 Untitled #, Stavanger Kunstforening, Stavanger, NO
2006 Akershus Kunstnersenter, AKS, Lillestrøm, NO
2005 Random Works, Galleri MGM, Oslo, NO
Selected group exhibitions:
2017 PAINTING | OR | NOT, Kaviar Factory, Henningsvær, Lofoten, NO (upcoming)
2016 True Will, Galleri KNIPSU, Bergen, NO
2016 The making of the unrealized, curated by Kreuzberg Pavillon, Catalyst Arts, Belfast, UK
2016 Fall Apartment, curated by Rasmus Hungnes. Temporary project space, Bergen, NO
2015-16 Norsk Skulpturbiennale, 2015, curated by Anne Szefer Karlsen, Vigeland-museet, Oslo, NO
2015 Utstilling, Galleri Seilduken, KHIO, Oslo. NO
2015 Installment No.16, The Museum of Longing and Failure (MOLAF)
2015 Menneskeberget, curated by Christian-Tony Norum, Ekely. NO
2015 Tilfældet Oslo, Ringsted Galleriet, curated by Morten Jacobsen / Agnete Bertram. Ringsted, DK
2014 Summer Slumber Super Salon, Deamon`s Mouth. Oslo. NO
2013 Magic and Happiness, Bergen Reactive Movement. Kalfarlien 18, Bergen. NO
2013 Raw & Order, LYNX, Oslo. NO
2013 I de lange nætter, curators: Lars Morell & Erica Mathiesen, Eidsvoll Verk. NO
2012 Water water everywhere, curated by Joakim Borda, The Boiler Room Gallery, Oslo, NO
2012 Memoirs of a shy photographer, curated by James Hoff & Børre Sæthre, Tidens Krav, Oslo, NO
2012 Sculpture and Object XVII, Bratislava, Slovakia
2012 Maleri Nå, Porsrgrunn Kunstforening, Porsgrunn, NO
2011 Monument Valley (Jaegersborg revisited/ a homage to Johannes Wiedewelt), Curated by Andreas Schlaegel, UFO, Berlin, DE
2011 The Feast, curated by Marianne Zamecznik, European Culture Congress, Wroclaw, PL
2011 Give med Your Eyes, Kunstverein Köln Mulheim, Cologne, DE
2011 Word Perfect 1.0, NoPlace, Oslo, NO
2011 Uten Ramme, Nye Rom: Sortland Kunstforening, Sortland, Kunst og Kaos, Brønnøysund, Bodø Kunstforening, Bodø, Alta Kunstforening, Alta, Saltdal Kunstforening, Rognan, Vadsø Kunstforening, Vadsø, NO
2010 Short Notice-Stir Heart, Kunsthallen Brandts, Odense, DK
2010 Uten Ramme, Nye Rom, Galleri Nord-Norge, Harstad, Tromsø Kunstforening, Tromsø, NO
2010 Where gravity makes you float, Grimmuseum, Berlin, DE
2010 Stir Heart – Urolig hjerte, The National Museum of Art, Architecture and Design/ The
Museum of Contemporary Art, Oslo, NO
2009 Favoured Nations, MOMENTUM 2009, 5th Nordic Biennial of Contemporary Art, Moss, NO
2009 Nachspiel / Vorspiel, Curated by Kristine Jærn Pilgaard, Chosen by Per Barcley. Vestfossen Kunstlaboratorium,Vestfossen. NO
2009 Snowball Editions 2008, Lautom Contemporary, Oslo, NO
2009 Urban Stories, Gallery Kalhama & Piippo Contemporary Ltd, Helsinki, FI
2008 Up Against The Wall / Pod cian, Zacheta National Gallery of Art, Warsaw, PL
2008 40/40, Stenersenmuseet, Oslo, NO
2008 Tomorrow Always Belongs to Us, Göteborgs Konsthall, Gothenborg, SE
2008 Alone in the Dark, Kunstnerforbundet, Oslo, NO
2007 Oh My God!, Vestfossen Kunstlaboratorium, Vestfossen, NO
2007 Daydreams/Nightmares, Verker fra Tor Juul`s samling, Stenersenmuseet, Oslo, NO
2006 Norsk Skulpturbiennale,(with Lars Morell), Vigelandsmuseet, Oslo, NO
2006 Vestlandsutstillingen 2006 (touring exhibition), NO
2006 Carnegie Art Award 2006 (touring exhibition), Henie Onstad Kunstsenter, Oslo,
Konstakademien, Stockholm, Meilahti Art Museum, Helsinki, Reykjavik Art Museum, Reykjavik,Centre Int'ld'artContemporain, Château de Carros, Nice, Royal College of Art, London, Den Frie Udstilling,,Copenhagen
Selected Collections/ public Commissions:
2016 Jarfjord Grensevaktstasjon, Jarfjord/Kirkenes, NO
2015 Trandum Politiets utlendingsinternat, NO
2015 Børsa skole, Trondheim, NO
2014 Jarbakken Barnehage, Oslo, NO
2014 Bodø VGS, Bodø, NO
2013 Kunnskapssenteret, ST.Olavs Hospital, Trondheim. NO
2012 Kirkenes skole, Kirkenes. NO
2012 Kongerød ungdomsskole, Skien. NO
2011 Kvinnherad VGS, Kvinnherad. NO
2010 Kilden Kulturhus, Kristiansand. NO
2009 Bølgen Kulturhus (with Ane Graff), Larvik. NO
2008 Lawfirm Selmer DA, Head Quarter Tjuvholmen, Public installation, Oslo
2008 The National Museum of Art, Architecture and Design, Norway
2008 Quality Hotel 33, Public installation, Oslo
2008 Multiconsult, Public installation, Skøyen, Oslo
2008 Aker Kværner Head Quarter, Public installation, Oslo
2007 Oslo Nye Sentralarrest, Public installation, Oslo
2007 Independence of the Seas, Miami-Oslo
2007 Eidsberg Kommune, Liten Festsal, Mysen, NO
2007 Dnb-Nor, Oslo
2005 University of Oslo, Institute for Psychology. Public installation, Oslo
2005 Tor Juul`s collection, Oslo
2005 Gjensidige-Nor, Oslo
Grants and residencies:
2017 Natt&Dag, Osloprisen, Årets Kunst 2016
2016 BKV. Two year working grant/ 2-årig arbeidssipend.Billedkunstnernes Vederlagsfond. NO
2015 BKV, One year working grant/ Ettårig stipend. Billedkunstneres Vederlagsfond, NO
2012 BKH, Two Years working grant/ Toårig arbeidsstipend, Bildene Kunstneres Hjelpefond, NO
2012 Skien Kommunes Kulturstipend, Skien
2011 BKV, One year working Grant/ Ettårig stipend, Bildende Kunstneres Vederlagsfond, NO
2010 Grant, The Ingrid Lindbäck Langaard Foundation, Oslo
2009 Studio Residency and grant, Citè Internationale des Arts, Paris, France, The Ingrid
Lindbäck Langaard Foundation
2008 Harriet Backers Minnefond, Oslo
2008 3 Years working grant / Statens arbeidsstipend – 3 år. Statens Kunstnerstipend, Oslo
2007 Grant, Billedkunstnernes Vederlagsfond, 1 Year working grant, Oslo
2007 Grant, The Ingrid Lindbäck Langaard Foundation, Oslo
2006 Grant, Einar Granums prize for Contemporary Arts 2005, Oslo
2006 Studio Residency, Berlin Mitte, Germany, OCA (Office of Contemporary Art Norway)
2005 2 Years Working Grant / Statens arb.stipend for yngre/nyetablerte kunstnere – 2 år,
Statens Kunstnerstipend, Oslo
2005 Studio Residency, NIFCA, Nordic Air Residency to IASPIS in Stockholm, Sweden
Curated projects:
2016 LYNX: Solo exhibitions with Emma Brack, Rasmus Hungnes, Tommy Olsson/All the dead Pilots
Groupshow: ZODIAC, co curated with Rasmus Hungnes
2015 The Art Academy`s BA graduation show, Co-Curator with Kristine Jærn Pilgaard, KHIO, Oslo, NO
2015 LYNX: Solo exhibitions with: KimSu Theiler, Sturla Heggdalsvik, Anders Holen, Kristian Skylstad, Anja Carr, Hennie Ann Isdahl , Vibeke Tandberg, Fredrik Berberg, Simona Barbera og Ronny Faber Dahl, Terje Nicolaisen, Gabriel Kvendseth, Kamilla Langeland, Ellen Grieg, Per Hess, Maja Haugsgjerd,
Jørun Aase Falkenberg.
2014 LYNX: MIND & MATTER, Group exhibition with artists Knut Ivar Aaser (NO), Marius Engh (NO) /Jordan Rosenfeld (LA), Ane Graff (NO), Hennie-Ann Isdahl (NO), Carl Mannov (DK), Elise Storsveen NO), Snorre Ytterstad (NO) (co-curated w Melanie Kitti), LYNX (Oslo), NO
2014 LYNX: Solo exhibitions with: Jan-Fredrik Bjerk, Kristian Dahl, Odd Fredrik Heiberg, Emil Finnerud, Jorunn Hancke Øgstad, Hai Nguyen Dinh, Rudy Wolff, Javier Barrios / Peter Gregorio, Per Christian Brown, Alexi Wildhagen, Peter Amdam, Irene Sævik, Marianne Zamecznik, Johanne Hestvold, Leander Djønne, Anders Smebye
2013 LYNX: Solo exhibitions with: Kjell Varvin, Grevlingbanen/Ridder,
2013 LYNX: Group Exhibition: RAW & ORDER with artists: Børre Sæthre (NO), James Hoff (US), Sebastian Helling (NO), Marianne Zamecznik (NO), Matias Faldbakken (NO), Josefine Lyche (NO)
2012 GLAD, Sebastian Helling (co-curated with Henrik Pask) Skien, NO
2012 IRL, Group Exhibition (co-curated with Henrik Pask) Skien, NO
2012 AUX, Group Exhibition (co-curated with Henrik Pask) Spriten Kunsthall, Skien, NO
2004 SALONG 100, Group exhibition co-curated with Steinar H. Kristensen and Leander Djønne, Heimdalsgata 4, Oslo, NO
2004 …or vice versa?, Group exhibition co-curated with Karolin Tampere, Oslo Art Festival 2, no.9, Visningsrom for Samtidskunst, Oslo. NO
2003 Handicapped Future, Group exhibition co-curated with Lars Morell:, The Raw Space, Oslo, NO
Lectures etc:
2012 Kunstakademiet i Bergen
2011 Universietetet i Bergen, Seminar, Bergen, NO
2010 Kunstakademiet i Bergen
2009 Kunstakademiet i Bergen
2008 Kunstakademiet i Oslo, Åpent Forum, Oslo, NO
2007 Kunstakademiet i Bergen
2006 Kunstskolen i Rogaland, Stavanger
2005 Kustakademiet i Trondheim
Other Activities:
2016-2017 Jury member; The National Jury, Autumn exhibition. NO
2013-16 Founder of and running LYNX, artist-run gallery, Frognerparken, Oslo, NO
2010-12 Jury member, The Ingrid Lindbäck Langaard Foundation. NO
2006-08 Board member, UKS, Oslo, NO
2008 Editor of Boksidene, Kunstmagasinet, Oslo, NO
2003-05 Art Critic, Kunst, Oslo, NO