Berg, Patrik
tegning, tresnitt og etsning
Jeg arbeider med tegning og grafikk. Landskap med planter og dyr, det starter med tegning direkte på kobber/tre. Jeg arbeider figurativt men er opptatt av bildets abstrakte kvaliteer, noe som begynner med en intuitiv strek förandres gjenom kontemplasion og utpröving. Jeg er optatt av den potensiale som liger i ett tomt ark, og vill skape en underspråklig visuell poesi snarere än narrativ komplexitet.
Atmospheric concentration(lemmings, tulips)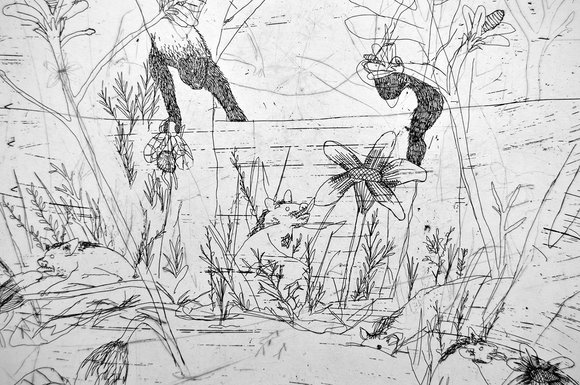 Fruitbat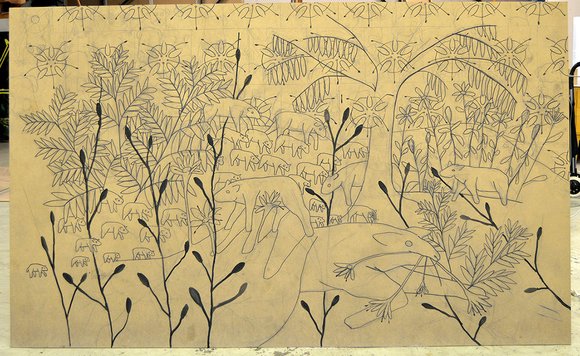 No title(work in progress)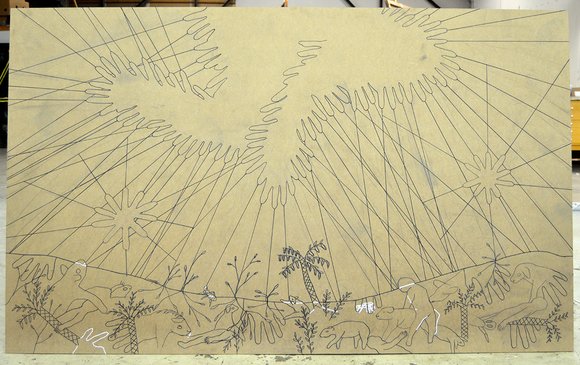 No title(work in progress)
Planlagte prosjekter og utstillinger
Jeg jobber med svaere tresnitt plater, blir veldig spennende.
jobber også med etsinger fra nermste jungel + andre etsninger
neste utstilling på BOa i November
CV
CV
Patrik Berg
http://patrikberg.carbonmade.com/
email: Krokofantmannen@hotmail.com
Patrik Berg (1982, Härnosand, Sweden) is an Oslo-based artist who works mainly with drawing and printmaking. Berg is true to the medium of print and interested in its status as a complex artistic practice rather than a method of reproduction. He combines the traditions of Albrecht Dürer and Henry Darger while addressing questions about ecology, ornament and the origin of language. Berg earned his BA from the Bergen Academy of Art and Design in 2012 and completed his MFA studies in Medium and Material-Based Art at the Oslo National academy of the Arts in 2015.
EDUCATION
2013-2015 MFA Medium and Material based Art, dept printmaking.
Oslo National Academy of the Arts, Norway
2009-2012 BA in Fine Art, dept. Printmaking, Bergen National Academy of the Arts, Norway
2007-2009 Nya Domen konstskola(Art Pre School). dept. printmaking, Gothenburg, Sweden
EXHIBITIONS
2017 Galleri Boa, upcoming, Oslo
2016 "Norwegian intaglio" Graficki kolektiv, Beograd (group)
2016 "Permanent/Soluble", Norske Grafikere, Oslo (group)
2016 "Sommerutstilling" Norske Grafikere Oslo (group)
2016 "Grafikk 2016" Lavetthuset, Hovedøya, Kunstverket Gallery, Oslo (group)
2016 "Axiomatic fox dreaming", Galleri Felt, Bergen (Solo)
2015 "Frekvens" Podium, Oslo Norway (group)
2015 "In the usual direction of travel" Mfa graduate show KHIO, Oslo Norway(Solo)
2015 "Apocalypse now" Grafik I væst, Gothenburg Sweden (Solo)
2015 «Space is the place» Seilduksgalleriet, Oslo Norway(Solo)
2014 "A little bit off" Sambiblioteket, Hærnøsand Sweden(Solo)
2014 Aristes 4 Paris art(?), Paris France
2014 "A little bit off" Galleri kit Trondheim Norway(Solo)
2014 "8mars" galleri se , Lund Sweden
2014 "A little bit off" söylegalleriet khio, Oslo Norway(Solo)
2014 "TRYCKFRIHET" Kungsbacka konsthall Sweden
2013 Konstrundan Nordingrå, Järnsta kulturförening, Nordingrå Sweden
2013 Y-salongen länsmuseet västernorrland, Härnösand Sweden
2013 Xylon 100år Grafiska sällskapet, Stockholm Sweden
2012 A Heap of trust norske grafikere , Oslo (http://www.norske-grafikere.no/khib#Patrik)
2012 A Heap of trust UWE Bristol, England
2012 Bachelor Degree Show, Gamle Bergen Kretsfengsel , Bergen Norway(Solo)
2011 12 svenske grafikere, Grafik galleriet Naestved, Denmark
2011 Tegnetank, Room 8, Bergen Norway
2010 Ab Ovo, student exhibition, Østre Skostredet, Bergen Norway
Grants: Kulturrådet diversestipend 2016, Kulturrådet diversestipend för nyutdannede 2015, Norske grafikeres stipend 2015, Otto och charlotte mannheimers fond 2009
Member of NBK, Norske Grafikere, Grafik I Væest, Xylon