Buan, Ann Iren
Sculpture / drawing
There are several introductions to my work, all of which share equal importance. The materials I use; the physical process and how my work relate to the architecture of the exhibition room. Together these emphasize my interest in the vulnerable, the ongoing decay and ultimately the connection between sculpture and the human body.
My work insists on a continuous lifespan, often just holding on to it. There are elements of recycling; old works become new. There is also a reflection on the times we are in, the unstable and unpredictable. This sensation of vulnerability, and the unease of this emotion, is very much present in my work.
Member of NBK, UKS, NBF, BONO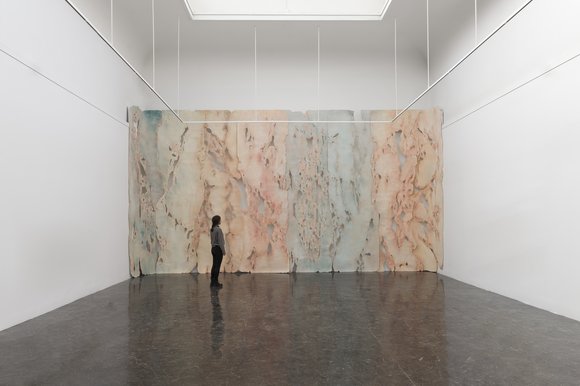 hold hold grasp grasp stay stay, 2019. Human Touch, Kunstnernes Hus. 500 x 950 cm. Softpastel on paper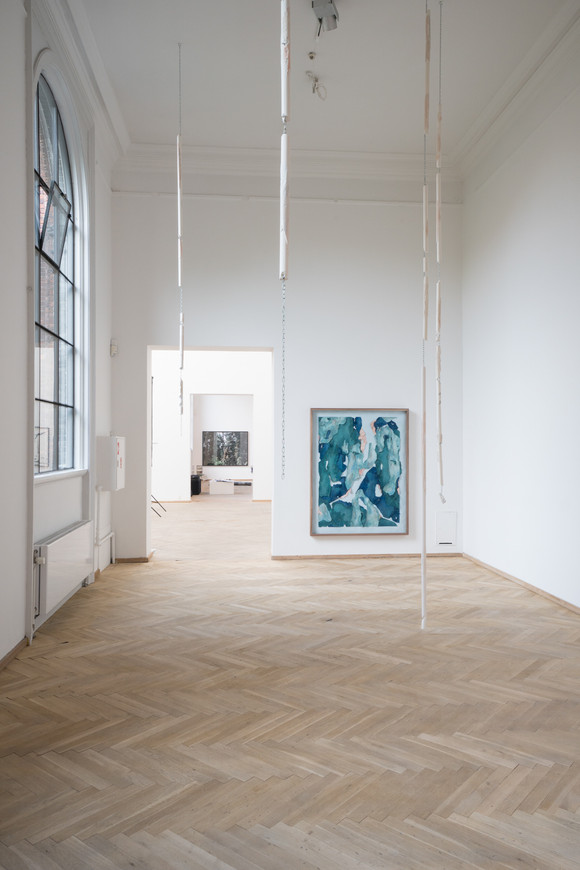 Ghost Protectors, 2019. CHART, Charlottenborg Kunsthal. Various dimension and techniques.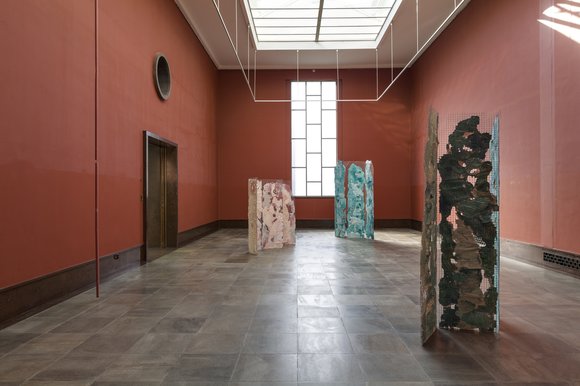 Castels (Dark Aqua, Carmine Flesh, August Green), 2018. Around Us Surround Us, The Vigeland Museum. Softpastel on paper, plaster, wire mesh. Various dimensions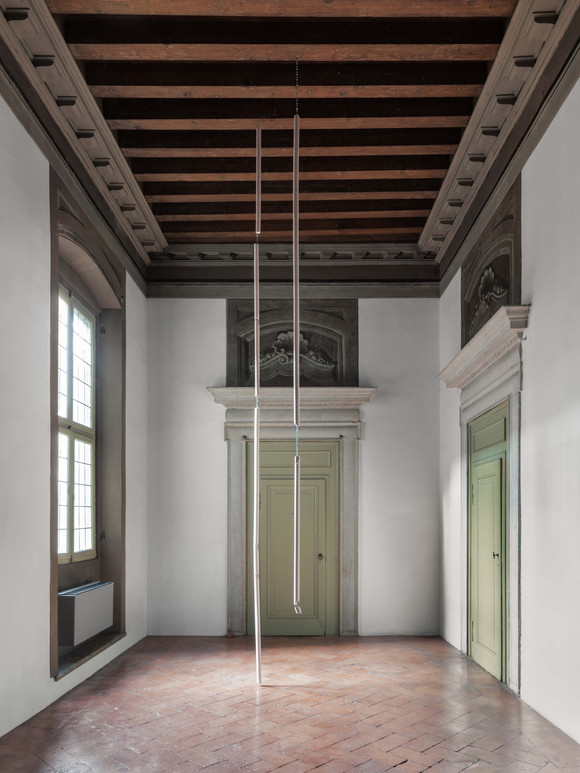 Hold, 2019. Stay, Apalazzo Gallwey. Various dimensions. Pigment, acrylic one, chain.
Planned projects and exhibitions
2020 Private Commission
Residency at Cité internationale des arts
2021 Kristiansand Kunsthall
CV
Education
2009/2011 MFA Visual Art, Oslo National Academy of the Arts, Norway 2009 BFA Exchange China Academy of Art, Hangzhou China 2008 BFA Exchange The Royal Institute of Art, Stockholm Sweden 2006/2009 BFA Visual Art, Oslo National Academy of the Arts, Norway
Solo exhibitions
2022 OSL Contemporary, Oslo Norway
2021 Kristiansand Kunsthall, Kristiansand, Norway
2019
Ghost Protectors, CHART/Charlottenborg Kunsthall, soloview OSL contemporary, Copenhagen
Stay, A Palazzo Gallery, Brescia Italy
2018
Retracing Postures, Bazament, Tirana Albania
Around Us Surround Us, The Vigeland Museum, Oslo Norway
Along the Folds, OSL Contemporary, Oslo Norway
2017
Tide Follows, Prosjektrom Normanns, Stavanger Norway
Castles, Oslo City Hall, Oslo Norway
2016 Tether, Trafo Kunsthall, Asker Norway
2015
A Pull of the Sun and Moon, Noplace, Oslo Norway
The Wait, Punkt Ø, Gallery F15 Moss
Keepers, Nord Trøndelag Art Museum, Namsos Norway Echoes, Kunstnerforbundet, Oslo, Norway
2014 Deep Sky Crashing Waves, Trøndelag Center of Contemporary Art, Trondheim, Norway
2013
Five Monologues From the Past. Walk Around Here, Look Through There, Listen Akershus Kunstsenter, Lillestrøm Norway
2012 SETTLE SOFTLY, collaboration Tone B. Størseth, One Night Only, Oslo, Norway 2011
Ann Iren Buan – Bunker 51, The Hove festival, Arendal, Norway
Follow. Through with Tone B. Størseth HOLODECK, Oslo, Norway
Cold, but wrapped in plastic, The Drawing Association, Oslo, Norway
Selected group exhibitions and projects
2019
The drawing triennale 2019 Human Touch, Kunstnernes Hus, Oslo Norway
Chart 2019, solo presentation OSL contemporary, Copenhagen, Denmark
mind moves with matter, body blends into space, Trondheim Kunsthall
2018 Believe, Curating the Astrup Fearney Artist Tree, Oslo Norway
La Febbre, Palazzo Mazzarino, Palermo Italy
2017
Works on Paper, ANNAELLE Gallery, Stockholm Sweden
Cowmoscow, with Prosjektrom Normanns, Moscow Russia
Så i Asken, Slik at Ingenting går Tapt, curated by Eivind Hofstad Evjemo, Oslo – Harpefoss – Levanger Untitled Art Fair – Monuments, with Prosjektrom Normanns, San Francisco USA
Untitled Art Fair, with Prosjektrom Normanns, San Francisco USA
2016
Artissima Torino, with A Palazzo Gallery, Torino Italy
Form Matter, Matters Forms, A Palazzo Gallery, Brescia Italy
MIART, with A Palazzo Gallery, Milano Italy
NN-A NN-A NN-A New Norwegian Abstraction, Stavanger Art Museum, Stavanger Norway
2015
Artissima Torino, with A Palazzo Gallery, Torino Italy
NN-A NN-A NN-A New Norwegian Abstraction, The Astrup Fearnley Museum of Contemporary Art, Oslo, Norway
2014 MARKEN VI STÅR PÅ, The North Norwegian Art Center, Svolvær, Norway
2013
BUAN, YSTAD, YSTAD AND LØNSETH, Nils Aas Kunstnerverksted, Inderøya, Norway
En Kollektiv Kraftanstrengelse For Tapte Saker Podium Oslo 2012 Introduction Barflyfriends, Barflyfriends Berlin, Germany
Drawing biennale 2012, Oslo, Norway
The Cold of Winter, Galleri Format Oslo, Norway
Spring Exhibition 2012, Charlottenborg Kunsthal, Copenhagen, Denmark
2011 Le Printemps de Septembre—à Toulouse, Festival of contemporary arts, Toulouse, France
(E) = Motion Galleri Van Bau, Vestfossen, Norway
The Act of Making as an Act of Making, Ann Iren Buan og Janne Kruse, RAM Galleri, Oslo, Norway The MA gradutate show 2011, Galleri Seilduken, Oslo, Norway
Residencies
2020 Cité internationale des arts
2015-2017 Oslo City Hall Residency for emerging artists
2012/2013 Circolo Scandinavo, Rome
Public Commissions
2020 Lørenskog Hus
2017 Sunnaas Hospital
Collections
2018 The Norwegian National Museum
2017 The Foreign Department, Norway
2015 Nord Trøndelag Art Museum