Knoff, Johan
Painting, assemblage, acryllic paste on canvas
Painting
I am doing a series of paintings that I have named: 20th Century – My Century. These works are large in format, cumbersome to make, and expensive to carry on. It may seem confusing that I use well-known works from art history as an arrangement for these paintings, when they are about the 20th century. But with these works I point out quite consciously the European cultural heritage, which is the Greek – Roman and Christian heritage.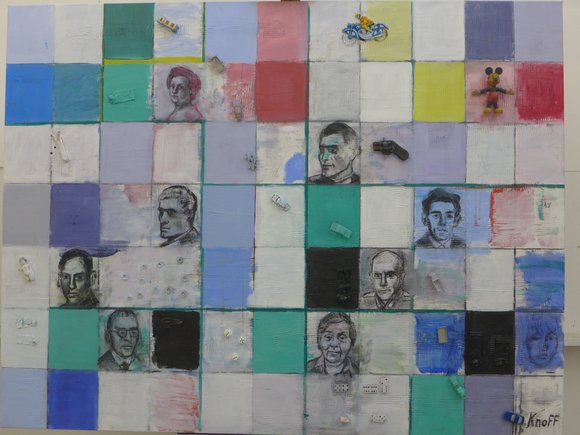 Johan Knoff. Krig og barndom (150 x 195). Maleri og assemblage, 2019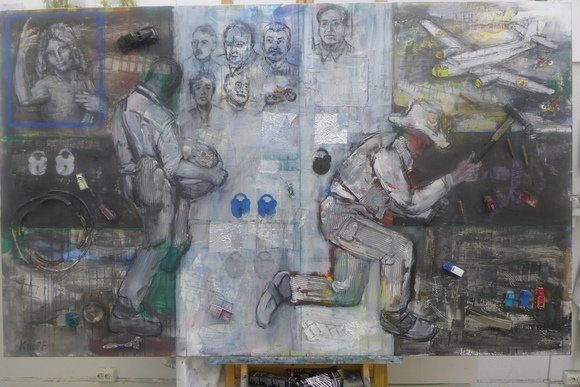 Johan Knoff. Steinhoggerne III (140 x 200). Maleri og assemblage, 2017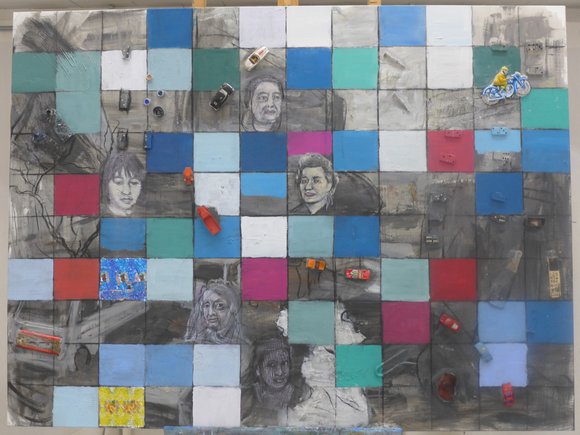 Johan Knoff. The Swan of Tuonela III (135 x 180). Maleri og assemblage, 2019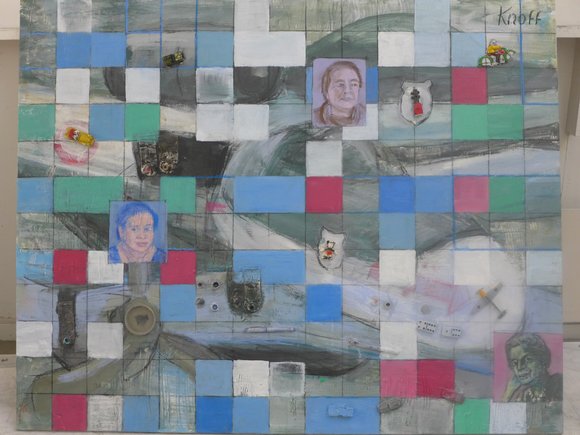 Johan Knoff. The Swan of Tuonela II (120 x 150). Maleri og assemblage, 2018
Planned projects and exhibitions
I am currently working on a series of portraits of the famous and notorious Danish poet Yahya Hassan. The reason I am concerned about him is that in my youth I studied at the Academy of Fine Arts in Copenhagen and lived in miserable conditions in Nørrebro. At the same time, like Yahya, I had major mental health problems.
CV
Johan Ulrik E. Knoff
Born on Ringsaker 1935
Education:
Art history and classical archeology at the University of Oslo
The art academies in Oslo and Copenhagen
Important Separate Exhibitions:
Artist's House, Oslo.
In Copenhagen, Stockholm, Paris, Bergen, Trondheim, etc.
Important public exhibitions:
Autumn Exhibition.
Østlands exhibition.
Charlottenborg in Kbh.
Cité International des Arts in Paris.
Art Bank in Hamar.
Norwegian POP 1965-1974, Henie-Onstad art center Høvik. 2015
Purchasing:
National Museum of Art and Architecture (National Museum and National Gallery).
Norwegian Cultural Council.
Sør-Trøndelag county.
Hedmark county.
Oppland county.
County of Akershus.
Some municipalities: Ringsaker, Hamar, Lillehammer, Nesodden, Varhaug. District College of Lilleh.
Sports College in Lilleh.
Norwegian tipping a / s.
Embellishment:
Ringsaker Opera, Brumunddal.
Nes Culture House in Ringsaker
Norwegian Road Museum, Fåberg
Culture house, Vinstra
Some recent separate exhibitions:
Well, King Swingers. November 2015.
Gallery Fjøset.
Åsnes art association. November 2015.
Fykeshuset in Hamar – under the auspices of Kunstbanken
Hamar Art Association, 2018.
Latest public exhibitions:
Norwegian pop art, 1965—1974, Henrik-Onstad art center. 2015
The Freezing Artists, BOA, October 2017.
Last separate exhibition:
Hamar Art Association, 2018
Scholarship Langaard
Stay in Paris Cité. 1993, 1996, 1998, 2003/04, 2007/08
Artists Association: Fritz Thaulow Atellier, 2010