Årikstad, Lasse
In my artistic practice I work primarily with painting, sculpture, collage, installation and drawing but in recent years has also started to work with textiles, most often in collage form and in 2018 I made my first short film which has a length of 35 min. Here I have written script, director, casting, location manager and made music for the film. Although it is a fiction film, it contains many references to visual art and especially to Munch and the landscapes in his pictures. As an artist, I work with many parallel projects and genres that stimulate each other and generate ideas for new work. As a foundation in my artistry, I am concerned about the visual and formal questions associated with color, form, texture, materiality, composition and perception. While I relate to a kind of framework within art and art history, I want to challenge given hierarchies within the visual arts. I am not interested in so-called perfection but rather seeking in the imperfect.The simple and naive, the fast, spontaneous and the aggressive but sometimes I do the opposite when the work or project demands a more thorough approach.
The use of color is one important aspect of my art. I believe in the vitality of colors and how colors are like musical harmonies that contain endless layers of shades and combinations. I also investigate how the use of color can affect the mental in positive and negative ways as a place where words become superfluous and where one is left with the subjective intuition that sets the premises for the experience of the works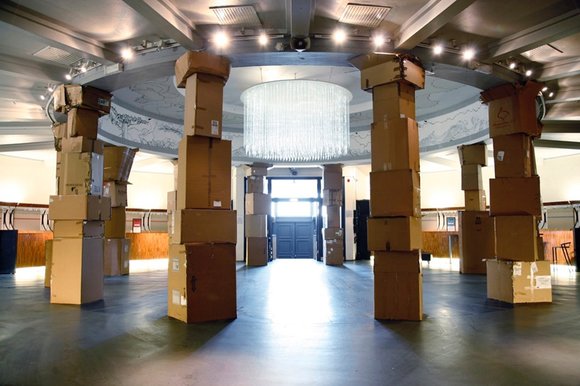 Columns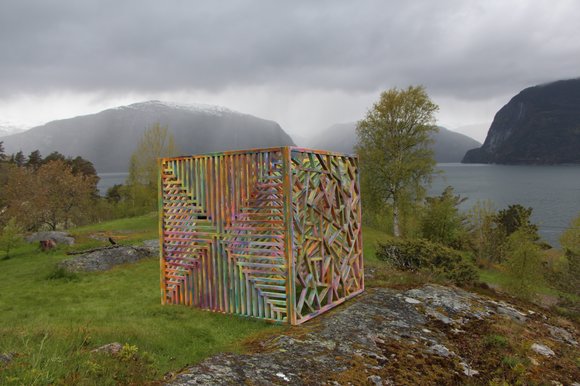 Donald Judd on a budget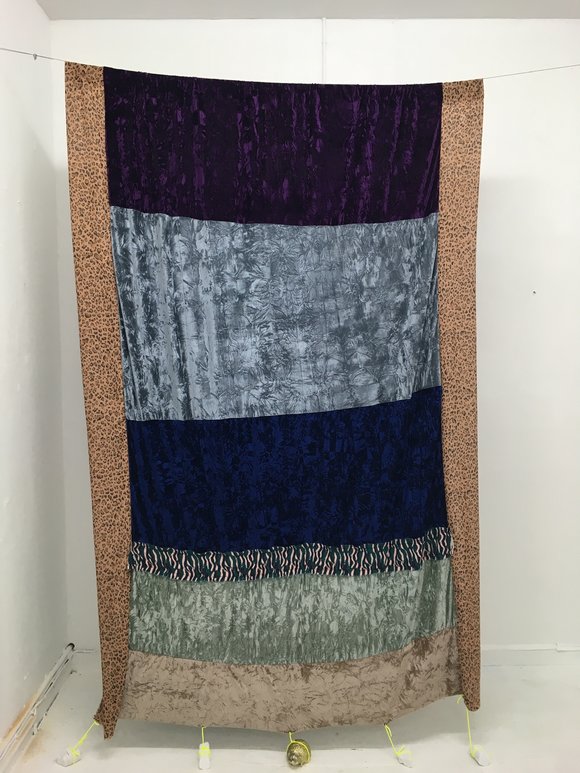 Inbetwwen the pinetrees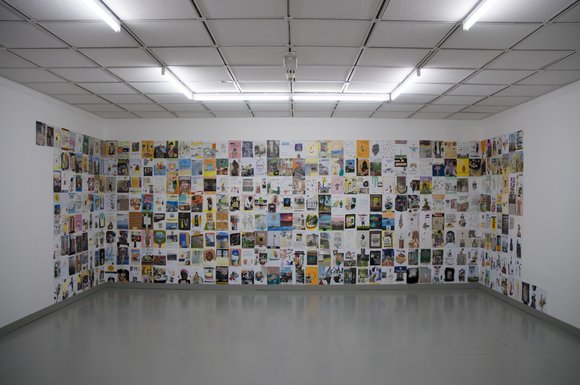 It made sense at the time. 365 collager
Planned projects and exhibitions
I am currently working on a large scale commission for a school in Norway that will be finished in September. I am also in the finishing stages of a short film with the duration of 35 min that will hopefully be shown in several filmfestivals. SUmmer of 2020 i am curating a show that takes place below sealevel in a empty resturant called Under with a gigantic window out towards the ocean that makes a incredible backdrop for the show.
CV
Lasse Årikstad
28.06.83
Dælenenggata 16B =567 Oslo
Tlf: 91141937 Lassearikstad83@gmail.com Website: Lassearikstad.com
Education
2012-2014 Kunsthøgskolen i Bergen, MFA 2009- 2012 Kunstakademiet i Trondheim , BFA 2005- 2007 Oslo Fotokunstskole
Solo Exhibitions
2019 Another green world, Galleri Kvit, København
2019 Housebroken,not yet domesticated, Vitamin Sea, Oslo
2018 Sad Poodle, Palmera, Bergen
2018 Possible cure for winter depression, Risør Kunstpark, Risør
2018 working on my novel, Buen kulturhus;Mandal
2017 The best thing about business is minding your own. Agder Kunstsenter, Kristiansand
2017 C.R.E.A.M, Kraft ,Bergen
2017 Frutas, Urquiza, Buenos Aires,Argentina
2016 My ego is my amigo, Galleri Kvit , København
2016 Permanent Vacation, Damsgård studio, Bergen
2015 It́s been a while since i saw your smile7hoẃs that coconut of yours?, Trykkeriet, senter for samtidsgrafikk
2015 (47) 91141937. Klubb Kok, periferien, Bergen
2014 Hatch, Artendal, Bomuldsfabrikken Kunsthall, Arendal
2014 Ræge. Arteriet, Kristiansand
2014 Still life with oysters etc., Hordaland Kunstsenter, Bergen
2013 It made sense at the time, Galleri Fisk; Bergen
2012 I hear a new world, Galleri Blunk ;Trondheim
2011 Whatever floats my boat Galleri KIT
2011 ISFIT festivalen Trondheim (festivalkunstner)
2010 Round and round, Alone together, Kristiansand
2010 10 days in San Francsico, Galleri Kit, Trondheim
2009 Skitzo, Sprayboks kunsthall, Kristiansand
Group exhibitions
2019 Klumpete saus #3
2019 Vivid, Arteriet
2019 Høstustillingen, Kunstnerens hus, som en del av Woodlands-installasjonen 2019, Molaf, The rooms, Canada
2018 Cold current #2 opere scelte, Torino, Italia
2018 Orientering, Entree, tag team og Palmera, Bergen 2017 got it for cheap, Hole
gallery; New York
2017 Hatch 10 Års jubileum, Agder Kunstsenter
2017 Sørlandsutstillingen, Kristiansand Kunsthall
2016 Gruppeustilling, stiftelsen 3,14 ,Bergen
2016 q25, quart festivalen.
2015 cash & carry Entree. Bergen
2015 Groupshow. Haugesund Bildegalleri
2015 opening show, KVIT, Copenhagen
2015 LOKALT 2015, Bergen kretsfengsel.
2015 1+1=11 Agder Kunstsenter, Kristiansand
2015 Jubileumsutstillingen, Sørlandets Kunstmuseum
2015 2015 Anniversary show. NOosphere, New York city. Usa
2015 OH SO,Godsbanen,Århus, Denmark
2015 Mellom Himmel og jord, Hardangerfjorden, Hardanger Folkemuseum
2014 Nå er det jul igjen. Artendal, Bomuldsfabrikken Kunsthall
2014 Ung. Lovende. Galleri F15
2014 Knock knock, Skulpturarena øst, Oslo
2014 An indifference map. Galerie Aparte, Iasi, Romania
2014 Sparebanken Sør Kunstnerpris, Sørlandets Kunstmuseum, Kristiansand
2014 Mfa Degree show, Bergen Kunsthall, Bergen
2014 When there is nothing else left to do there is always the brick, rom 8,Bergen 2014 Nrktkklbn vs Høyt Niva, Prøverommet, Knipsu, Bergen
2013 Vi tager intet ansvar#2, Carlsberg Tårnet, Copenhagen, Denmark
2013 Destroying zero presence, Total Dobzie,Riga; Latvia
2013 Klumpete saus, Kosmo, Bergen
2013 Institute of contemporary Art; Krasnodar, Russia
2013 Hole gallery; Petiyhatki; Russia
2013 Skogsus, Kristiansand
2013 BEK, Bergen senter for elektronisk kunst
2013 Stipendutstillingen, Agder Kunst senter
2013 Bontelabo, Bergen
2012 Bring your own beamer, Knipsu, Bergen
2012 HATCH, Agder Kunstsenter, Kristiansand
2012 Nachleben, BFA graduation show Trondheim
2011 step on it ,Trondheim Kunstforening
2011 diversediverse. Kristiansand Kunstforening
2011 Vitamin sea, Kristiansand
2010 Trøndelagsutstillingen, Trondheim og Namsos
2010 Sørlandsutstillingen, Skien kunstforening, Arendal kunstforening og Flekkefjord museum 2010 Høstutstillingen, Galleri KiT, Trondheim
2010 Smal i hovet- festivalen, Studentersamfundet, Trondheim
2010 Gruppeutstilling, Galleri Bi- Z, Kristiansand
2009 Skog, Sprayboks Kunsthall, Kristiansand
2007 Avgangsutstillingen OFKS, Det norske teater, Oslo 2007 Interprojekte, Berlin, Germany
2007 Guangzhou art academy,China
2006 Åreknute.com- Vitamin Sea gallery, Kristiansand