Jansen, Michiel
Sculpture / Installation
The current practice of Michiel Jansen can be divided in two parts; his site specific projects and his studio work. All the works have to do with space, boundaries, volume and materializing all of this. With references to architecture and the use of different colours, shapes, materials and construction methods, the works of Jansen have a great formalistic character.
"Every space already contains its own sculpture or installation. All I have to do is make it visual by indicate its boundaries and position by using the right materials, surfaces and construction."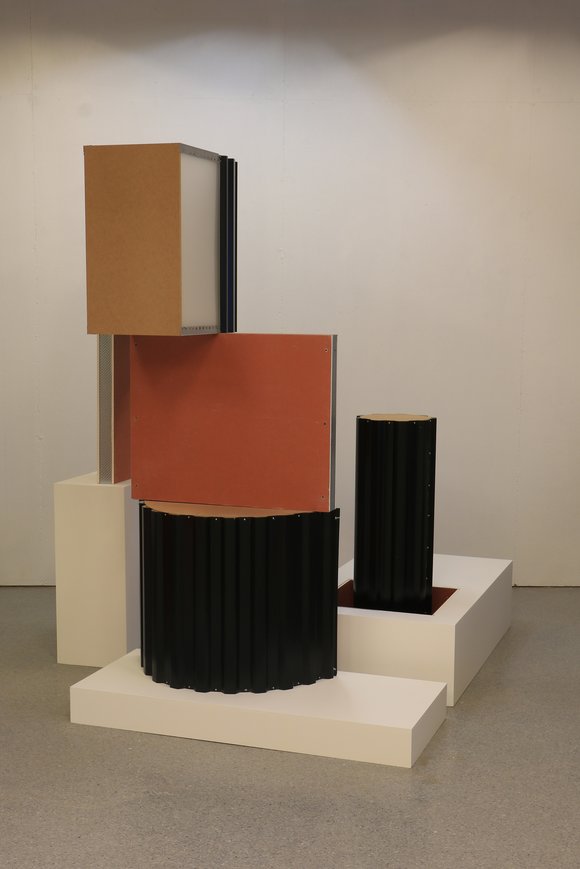 Harbour City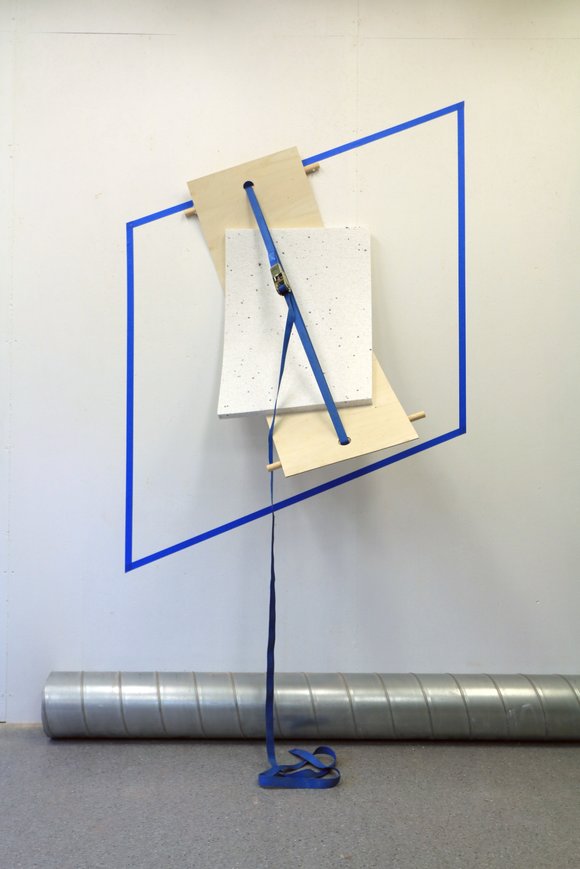 About a square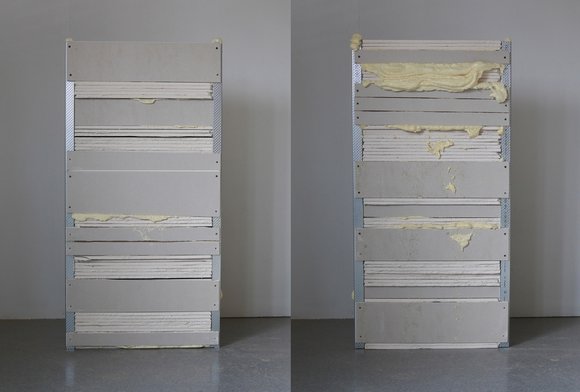 Drywall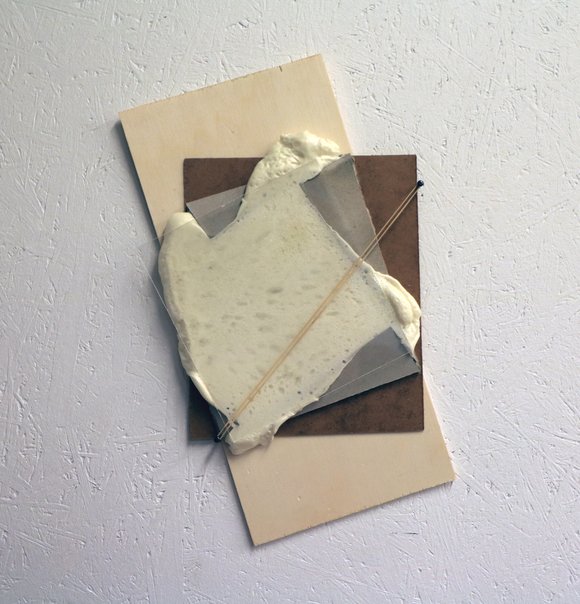 Layers
Planned projects and exhibitions
What does a site specific installation artist in his studio?
After last years presentation of my large site specific installations, I will give a new insight to my artist practice: the things I do in my studio.
I usually don't make models of my installations or studies before and mainly work and develop ideas on site. But what do is there to do in my studio?
Years ago I started with material research in my studio, making sketches and collages. Experimenting with properties of materials; colors, thickness, surface etc. This as preparation or for installations and creating an archive with material properties for myself. These studies have grown into autonomous works; mainly collages, sculptures and sometimes adjustable installations.
CV
2000 – Graduated at Academie for Arts and Design in 's-Hertogenbosch, the Netherlands
Expected
2021 – eCAL, Lausanne (CH) – Hallway
2020 – TM51, Oslo (N)
2020 – TAC, Eindhoven (NL) – GrensWerk#10
2019 – De Rotterdamse Munt, Rotterdam (NL)
Solo-exposities
2019 – Prosjectrom Norsk Billedhoggerforening, Oslo (N) – the Cave
2018 – ZQM, Berlijn (D) – The Dalhart Solid
2017 – X-Bank, Amsterdam (NL) – Polymers
2016 – het Plafond, Rotterdam (NL) – 4 elements
2016 – Galerie INKIJK, Amsterdam (NL) – Super Nova of Polymer #4
2016 – van der Vlies en Koers, Rotterdam (NL) – 1m2
2015 – de Aanschouw, Rotterdam (NL) – there are two sides to the story
2004 – de Nederlandsche Cacaofabriek, Helmond (NL) Point of View
2000 – Effenaar, Eindhoven (NL) – Recent Works
Groep-exposities
2019 – MOM artspace, Hamburg (D) – GrensWerk#10
2019 – If Paradise Is Half As Nice, Zeitz (D) – IPIHAN#9
2019 – BINZ39, Zurich (CH) – This very Book, About a Square
2019 – Oslo Open, Oslo (N) – Studio presentation
2019 – Vexer Verlag, Berlin (D) – This very Book, About a Square
2018 – Winter Solstice, Oslo (N) – Poems for Orpheus
2018 – If Paradise Is Half As Nice, Altenburg (D) – IPIHAN#8
2018 – Oslo Open, Oslo (N) – Hjem
2017 – If Paradise Is Half As Nice, Zeitz (D) – IPIHAN #7
2017 – MOOOI, Amsterdam (NL) – A Life Extraordinary
2017 – MOOOI, New York (USA) – A Life Extraordinary
2017 – Salone del Mobile, Milaan (It) – A Life Extraordinary
2017 – TENT, Rotterdam (NL) – Veiling de Aanschouw
2016 – If Paradise Is Half As Nice, Leipzig (D) – IPIHAN #6
2016 – Route du Nord, Rotterdam (NL) – Polymer #3 orbiting a Macrotubule
2015 – Ampelhaus, Oranienbaum (D) – Lost and Found
2014 – Olismoke, Rotterdam (NL) – Vitamine K.
2013 – Motel Mozaique, Rotterdam (NL) – Stagability 'het Spreekuur'
2013 – Glashouse/Arena, Berlin (D) – Moments of Inspiration
2011 – Opperclaes, Rotterdam (NL) – Stageability 4D
2011 – Invisible Cities, Schiedam (NL) – Invisible Cities
2010 – F.A.R.T. 2010, Rotterdam (NL) – Sleep-Work
2009 – SingerSweatShop, Rotterdam (NL) – Stageability
2007 – Grafisch Atelier Daglicht, Eindhoven (NL) – Zapping
2007 – van Abbe Museum, Eindhoven (NL) – Yourspace
2007 – ArtCrumbles #4, Nijmegen (NL) – Crowd
2007 – Las Palmas II, Rotterdam (NL) – 80 questions
2006 – Showroom Mama, Rotterdam (NL) – Lamball Bakra, Baschz & Friends
2005 – TAC, Eindhoven (NL) – Kennis van de Lege Ruimte
2004 – vijfde kunstvlaai, Amsterdam (NL) – Lage Actie
2004 – Peninsula-Daily, Eindhoven (NL) – Totaal 21
2003 – Conteminazzione Possitivo, Turijn (It) – Happening
2003 – de Grote Kerk, Den Haag (NL) – De Grote Verbeelding
2002 – de Fabriek, Eindhoven (NL) – Op papier een goed elftal
2002 – Boulevard Festival, Den Bosch (NL) – BodyScape
2002 – Totaal 21, Eindhoven (NL) – Uit eigen keuken 2
2002 – de Nederlandsche Cacaofabriek, Helmond (NL) – VideoCafeTwee
2002 – C.A. Zenit, Turijn (It) – Cross section
2002 – ARTOTS, 's-Hertogenbosch (NL) – Spoorlijn
2001 – Galerie S & H de Buck, Gent (B) – Interferenties
2001 – Joe Mann theater, Best (NL) – Kunst Passie 2001
2001 – Totaal 21, Eindhoven (NL) – Uit eigen keuken
2000 – 2B, Eindhoven (NL) – Double Swallow
2000 – Salon ARTOTS, Den Bosch (NL) – Lichting 2000
2000 – de Fabriek, Eindhoven (NL) – van Onderen
2000 – galerie VERTREK EN VERBLIJF, Amsterdam (NL) – 100
2000 – Eindexamententoonstelling ABK&V, Den Bosch (NL)
2000 – Vierde Kunstvlaai, Amsterdam (NL) – Z.T.
2000 – Lost & Found, Amsterdam (NL) – Learn to Swim
1999 – ABK&V, Den Bosch (NL) – Hekontwerpen voor het Paleiskwartier
1999 – ABK&V, Den Bosch (NL) – Ceramic millennium
1999 – Kruithuis, 's-Hertogenbosch (NL) – Floating Time
1999 – Nova Zembla, 's-Hertogenbosch (NL) – Lichtwerk
1998 – Museum de Wieger, Deurne (NL) – Rond de Wieger
1998 – Talkradio (NL) – de Wasserretterit i.s.m. en Willem de Ridder