Nicolaisen, Terje
All
Nicolaisen graduated from KIT-NTNU and the KHIB Academy of Fine Arts. He has a number of solo exhibitions; at the Bomuldsfabriken (Arendal), Henie Onstad Art Center (Høvik), the Artists' Association, Galleri Riis, Bergen Kunsthall, Tegnerforbundet and the Museum of Contemporary Art. Has also exhibited in Tokyo (Gallery Aoyama), Los Angeles (Cirrus Gallery), Leipzig (TK), Malmö and Helsinki.
Works media plurally, with drawing, painting, public space, artists books, performance and music. Known for dealing with urban structures, utopias, museums, the studio, artists' terms and personal problems. He is known for his involvement in the Drawing Club. He has been purchased for several private and public collections.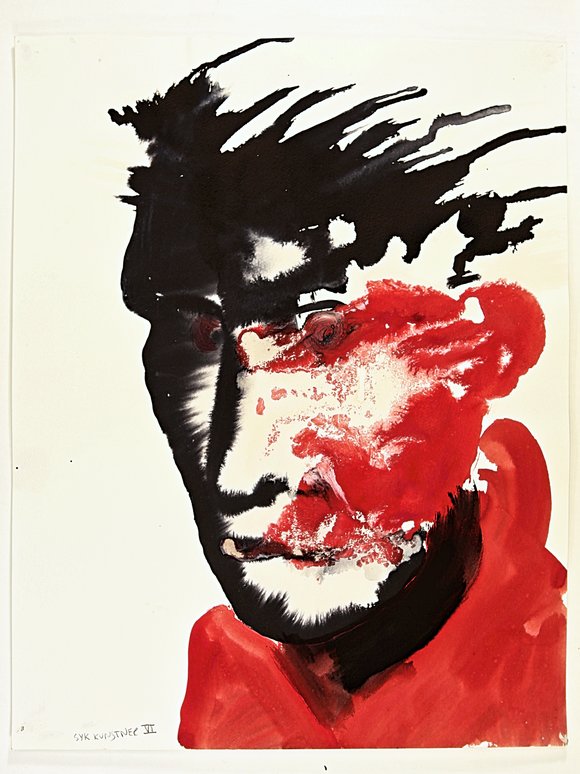 Sick Artist VI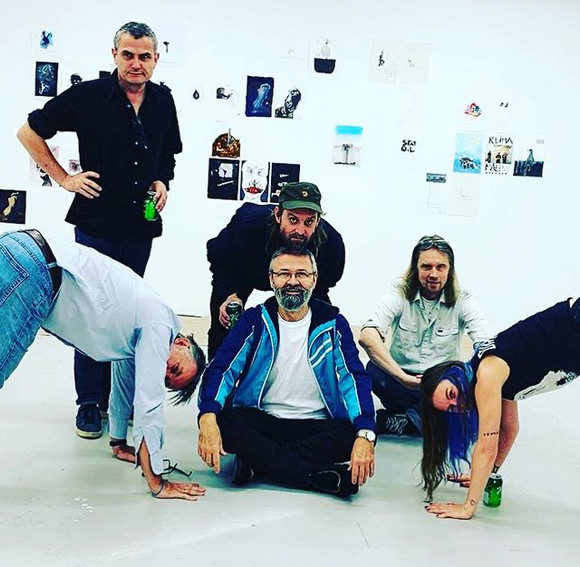 Tegneklubben
Planned projects and exhibitions
Bærum Kunsthall September 2020
Working Class Traitor, Galleri69, Oslo
"Sammen om gata» – Tegneklubben / The Drawing Association – Oslo Kommune
CV
Selected Soloshows:
2020 Bærum Kunsthall, Fornebu
2017 Bomuldsfabriken Kunsthall, Arendal
2016 Kunstnerforbundet, Oslo
2015 LYNX, Oslo
2014 Tegnerforbundet, Oslo
2012 Tidens Krav, Oslo
2011 Henie Onstad Kunstsenter, Høvik
2011 Kunstnerforbundet, Oslo
2010 Kunsthall Oslo, Oslo
2010 Tromsø Kunstforening, Tromsø
2008 Galleri Riis, Oslo
2006 Bergen Kunsthall No.5, Bergen
2006 Sound of MU, Oslo
2005 Ski Kunstforening, Ski
2005 Hilsen fra Ringnes, Skotbu
2004 IKM – International Museum, Oslo
2001 Tegnerforbundet, Oslo
2001 Bergen Kunsthall No.5, Bergen
2000 Gallery Aoyama, Tokyo, Japan
2000 By The Way Gallery, Bergen
1998 Brakstad inkl. Konsept
1998 Visningsrommet USF, Bergen
1998 Zoolounge, Oslo
1996 Galleri Otto Plonk, Bergen
1995 Galler I Box, Trondheim
Selected Groupshows ( *TK with Tegneklubben)
2020 Galleri69, Oslo
2019 Plum Trim Civil Kurage, Nesodden
2019 Hvitsten Salong, Hvitsten
2019 Prosjektrom Normanns, TK
2019 Harpefoss Hotell, Østlandsutstillingen
2019 Sørlandets Kunstmuseum, TK
2018 Trondheim Kunstmuseum Gråmølna, TK
2018 Opplandia, Harpefoss Hotel, Harpefoss
2018 Kunstgarasjen, Bergen, TK
2018 Tegnerforbundet, TK, Oslo
2018 Kvinnemuseet, Between Lines, Kongsvinger
2018 Høstutstillingen, Kunstnernes Hus, Oslo
2018 Buskerudutstillingen, Drammen
2017 Heinrich Böll Stiftung, Berlin, Germany
2017 Madchenkammer, Berlin, TK, Germany
2016 Tegnebiennalen 2016 (TK), Oslo
2016 Akershus Kunstnersenter, Lillestrøm
2016 Svends Bibliotek, København, Denmark
2016 Galleri F-15, Moss (TK)
2015 Hotel De Ville, Drawing for Freedom, Paris
2015 Harstad Kulturrådet 75 år, Harstad (TK)
2015 Spring Depot, Tenthouse, Oslo
2015 Nasjonalmuseet, Vinylens Tilbakekomst,
2015 Standard (Oslo), «Otto Plonk», Oslo
2014 Kode Samtid, Kode Kunstmuseum, Bergen
2014 Kristiansand Kunsthall, Game of Life II,
2013 KINO KINO, Sandnes (TK)
2013 Kurant Visningsrom, Grey Gorges Tromsø
2012 Nasjonalmuseet, I WishThis Was A Song,
2012 Cirrus Gallery, Pacific S, Los Angeles, USA
2012 Delikatessenhaus, Leipzig (TK), Germany
2012 Kunstnerforbundet, Kabinett, Oslo
2011 Starving Artist, Archive Books, Berlin
2011 NoPlace,18thStreet Art, Los Angeles, USA
2011 No-sphere. Norway In NYC, New York, USA
2011 Kunsthall Oslo, SQUID (Parallellaksjonen)
2011 No-sphere, New York (TK), USA
2010 Grimm Museum, Berlin (TK), Germany
2010 Haugar Vestfold Museum, Clusters Re-mix
2010 Momentum Kunsthall, Tegnebiennale 2010
2010 MOLAF – Museum of Longing and Failure
2010 Schweigaardsgate 33, Siste Produksjon, Oslo
2009 OCA, The Mind Death is Awake, Oslo
2009 Botkyrka Konsthall, Stockholm, Sweden
2009 Planka i Tromsø #1, Tromsø
2009 UKS, Young Artist Society, (TK), Oslo
2009 Podium, The Living Dead, (TK), Oslo
2009 Tegnerforbundet, The Artist Book, Oslo
2008 VOSS KUNSTLAG, Portraits, Voss
2008 PROJEKT 0047, Rykk Tilbake Til Start, Oslo
2008 Tegnerforbundet (TK), Oslo
2007 Kunstraum D21, Salon Leipzig
2007 Skaane Konstforening, Malmö (TK), Sweden
2007 Gallery 54, Göteborg (TK), Sweden
2006 Vigeland Museum, Skulpturbiennale 2006
2006 Nasjonalmuseet, New Aquisitions, Oslo
2006 Fotogalleriet, BOKAKTIG, Oslo
2006 Salo Art Museum, Finland
2006 Stenersen Museum, Tegnebiennalen 2006
2006 Scandinavian Spastic, Sjokoladefabrikken
2005 Projekt 0047 Berlin, Stilleben/Rakett, Berlin
2005 Bergen Kunsthall, The Drawing Club (TK)
2004 Momentum 3rd International Art Festival
2004 Tromsø Kunstforening, Kunst til folket
2004 Bomuldsfabrikken Kunsthall, Arendal
2004 Vækerø Skulpturhage, Oslo
2004 Vestlandske Kunstmisjon, Bergen
2004 Salong 100, Ida Ekblad init., Oslo
2004 Vestlandsutstillingen, Bergen Kunsthall
2003 Maniege Contemporary Art, St.Petersburg
2003 Kunst i Nordland, Hemnesberget
2003 Kunstnernes Hus, Kunst Til Folket, Oslo
2003 Haugar Museum, Skulpturbiennale 2003
2002 Lillehammer Kunstmuseum, Skulptur01
2002 Drammen Museum, Norsk Slackertegning
2001 Stenersen Museum, Skulptur01
2000 Galeria U Jezuitöw, Poznan, Polen
2000 HEART Environmental Art Project, Helsinki
1999 Sites Such As These, Webproject init. J Welsh
1998 Frie Kunster, Museet for Samtidkunst, Oslo
1998 Galleri S.E, Bergen
1997 G.U.N Gallery, Videoart, Oslo
1997 Scrap Art, UKS, Oslo
1997 Høstutstillingen, Kunstnernes Hus, Oslo
1996 Arendal Kunstforening, Arendal
1996 Fremtidsdepartementet, USF, Bergen
1996 ADJMelancolics, MasiaCanSerrat, Barcelona
1995 Høstutstillingen, Kunstnernes Hus, Oslo
1995 Galleri Otto Plonk, Bergen
1995 Atheneum Art Museum, Helsinki
Education
1996-97 KHIB – Academy of Fine Art, Bergen
1996 KHIB – Institute for Photography, Bergen
1993-96 NTNU KIT Trondheim – Academy of Fine Art
1988-90 Strykejernet Kunstskole, Oslo
Projects
2019 Monographie No More Jokes at KERBER Verlag
2016 Vinyl LP "1974" Safe & Sound Recordings
2016 Releasekonsert for LP 1974, Ingensteds
2014 Curator for Tegnebiennalen 2014
2014 Embassy in Roma Comission, Norsk Sokkel
2014 Performance w band Henie Onstad Kunstsenter
2012 Vinyl LP «Terje Nicolaisen" Tidens Krav, Oslo
2012 Tidens Krav, Oslo, 12.desember Live concert
2011 Norsk Sokkel Award 2001/02/05/07/11
2010 Snowball Editions Multiple of 12
2010 Dramatikkens Hus, with Kurt Johannessen
2005 Oil Companies Suck, Cathrine Evelid Artist Beer
2004- Tegneklubben Artist Collective (TK)
2004 SKA TV Art Awards (2004) UKS
2003 OCA Low Budget Discursive Furn Competion
2002 Curator for UKS exhibition
2002 Selected Proposals 1995 – 2005 Publication
2001 Something Rotten in the State of Norway ,
Guest-editor at UKS-forum for samtidskunst.
1998 Yellow Light All Over The Nation, NRK TV;
1997 Parasite at Skulptur.Projekte in Münster 1997
1994-1998 Yellow Light Projects on 14 sites
Residency
2013 KW17 – Recidency at Kunstnernes Hus (TK)
2011 18th Street Art Center Los Angeles, USA
2006 OCA – Berlin Mitte Recidency, Germany
Public Commission
2014 Embedsboligen Ambassaden i Roma,
Foreign Ministry UD 2014
2015 Smestad Gjenbruksstasjon, Oslo Kommune
2010 NSB Driftskontor Jernbanetorget (TK), NSB
2011 Store Norske Leksikon, Logo
2007 Litteraturhuset i Oslo, Fritt Ord
2002 HEART Helsinki, Ei Saa Peitta, 2002 (Temp)
2000 Radisson SAS Oslo Plaza Hotel, Radisson
2000 Kulturby Bergen 2000, (Temp)
1998 Festspillene i Bergen (Temp)
Grants
2016 Ingrid Lindbäck Langaards Stiftelse
2016 Ingerid,Synnøve & Elias Fegersten
2014 Ingrid Lindbäck Langaards Stiftelse
2012 Ingrid Lindbäck Langaards Stiftelse
2012 Ingerid,Synnøve & Elias Fegersten
2011 Statens Garantiintekt
2009 Royal Caribbean Arts Grant
2008 Statens 3-årige Arbeidsstipend
2007 Bildende Kunstneres Hjelpefond
2006 Ingerid,Synnøve & Elias Fegersten
2006 Billedkunstnernes Vederlagsfond
2005 Ambrosius Egedius og Hustrus legat
2004 Billedkunstnernes Vederlagsfond
2003 Billedkunstnernes Vederlagsfond
2002 Billedkunstnernes Vederlagsfond
2002 Ingerid,Synnøve & Elias Fegersten
2000 Sasakawa Foundation
1999 Christian Lorck Shives Legat
1998 Ingerid,Synnøve & Elias Fegersten
1998 Bergen Kommunes Etableringstipend
1997 Statens etableringsstipend
Collections:
Ellen Christensen Collection (OCG)
Munch Museum, Oslo
Norwegian Embassy in Rome – UD/KORO
Nordea Art Collection
Sara Christensens Collection OCG
Oslo Kommunes kunstsamlinger
National Museum of Art- Contemporary Art
Erling Kagge Collection
National Museum of Art- Kobberstikksamlingen
National Museum of Art- Applied Arts
Bergen Museum of Art – KODE
Drammens Museum of Art
Norsk Kulturråd – Norwegian Culture Council (TK)
KORO – Public Art Norway
Radisson SAS Oslo Plaza Hotel
Stiftelsen Fritt Ord, Litteraturhuset i Oslo
Vesta Insurance
Galleri Riis
Åsgårdstrand Artist City
Kunst på Arbeidsplassen KPA
Office:
KUF (Artistic Research and Development) Committee
at KHIO. 2014 – 2019
Expert Assessments Committees for professorship and
Ph.d applicants (KHIO and UIB/KMD) Since 2009 -
Boardmember Tegnerforbundet TF 2013 -15
Supervicing Committee Kunstnernes Hus 2012
Nomination Committee Young Artists' Society UKS
2003 – 2005
The National Jury 2002 and 2003 (Høstutstillingen)
Board Member Young Artists' Society UKS 2000 – 02
Ministry of Foreign Affairs UD Advisory Committee
on Visual Art 2000-02
Own Publications:
No More Jokes (2019) Monography. Ed: Johanne
Nordby Wernø, Edition 1000, 208 pages
KERBER Verlag, Berlin
1974 (2016) Vinyl LP with 10 songs. Safe & Sound
Recordings SSRLP041 Cover by Bjørn Bjarre.
Terje Nicolaisen (2012) Vinyl LP with 20 aborted
songs. FFDUH Tidens Krav. Cover Ulf Carlsson
Supplementary Notes 1994-2011 on
Selected Proposals 1995-2005 (2011)
Editors: Ingvild Krogvik, Tone Hansen. Henie Onstad
Kunstsenter
312 Artist Book Unicas (2009) Catalogue for Artists
Book Unicas. Galleri Riis. Edition:10
Europals – Alive in Berlin (2008) CD with 13 songs.
OCA -Berlin Mitte 2006 Edition: 100
Selected Proposals 1995-2005 (2002) 45 urealised
projects in public space. Norsk Sokkel Forlag TN
Edition: 500
Something rotten in the State of Norway (2001)
Texts on Norway, by Erik S Reinert, Siri Meyer, Anne
Britt Gran, Morten A Stroksnes, Thomas Hylland-Eriksen,
Erling Dokk Holm, Nina Witozeck Runar Doving,
Joar Tranoy and Staffan Schmidt.
edition: 3500, 136 pages
Terje Nicolaisen (2001) Texts Gardar Eide Einarsson,
Per Teljer, Jørgen Lund, Geir Tore Holm. Norsk Sokkel
TN edition: 700, 36 pages
Parallelle Projekte in der Stadt Münster 1997 (1997)
English and German Text Daniel Ferdman edition:
500, 24 pages
My Published Articles:
NUMÉR 4/2017 Motstand. About the my process.
(Ed. Lotte Konow Lund);
KUNST 2/2004 DETOX -
The Murmansk Connection (Ed. Aashild Grana);
KUNST 2/2003 MANIFESTA 4, review, Frankfurt am
Main (Ed. Aashild Grana);
BILLEDKUNST 4/2001
Minimalistenes Mesén (2002) feature Panza Di
Biumo, Varese. Review Dan Flavin og James Turell.
(Ed. Jonas Ekeberg);
BILLEDKUNST 4/2001 After the
Beginning and Before the End (2001) review of the
Gilbert and Lila Silvermans collection (Ed. Jonas Ekeberg);
UKS- Forum 2/2000 Something Rotten In
The State Of Norway – Preface(Ed.Terje Nicolaisen);
MORGENBLADET 16.04 2001 Det Vakres Verdi, review
exhibition Compasso d'Oro – Italian Design Stories
(Ed. Truls Lie);
BILLEDKUNST 5/2000 Kampen
om Oppmerksomheten review of the show In
Between at EXPO2000 (Kasper König) (Ed.Jonas
Ekeberg);
BILLEDKUNST 6/2000 Røverhistorier.
review Johannes Røeds bok Falsk. (Ed. Jonas Ekeberg);
BILLEDKUNST 1/2000 Med Orozco til Underverdenen
(2000) feature on Gabriel Orozco's project:
Wheel Of Fortune at Hannover EXPO2000;
MORGENBLADET 20.05 2000 Konstruert
liv som kunst. Feature on Eduardo Kac and Transgenetic
Art (Ed. Truls Lie);
UKS- Forum 3/1999 Nervøse
Nytelser (1999) feature on seminar at Kulturhuset
USF in Bergen (Ed. Bjørn Bjarre);
KLON 5/1996 ACCESS – visjoner for en ny sterk akademikultur i
Norge, artikkel om akademiutdanninga i Norge (Ed.
Mattias Faldbakken);
KITSCH 6/1995 Auschwitz
Block 11 review exhibition by Vegar Moen and
Helge Steen (Deathprod) (Ed. Kim Hiorthøy)