Høie, Johannes
Painting
Johannes Høie will as a part of the satelite-programme during Oslo Open present his new solo-exhibition "PARA" at Kunstplass, showing new paintings.
The exhibition will introduce a new direction in his oeuvre, both thematically and visually.
But is still a return to known territories.
This will be his first exhibition since 2003, focusing entirely on oil-paintings in the classical manner. In between working on his more established work with drawing, installation and large-scale murals, he has slowly been moving towards painting again. This process began around 2014 and has involved extensive studies and a slow search back to this medium. He has moved towards a form of contemporary painting well rooted in a classical figurative manner, but with a subject matter balanced in an ambiguous, close to abstract thematic landscape. Observation and the gaze itself becomes a part of the narrative tension, not unlike a director. His narratives tangents surrealism and carries with them the uncanny resonance associated with the surreal. In this exhibition he experiments with an approach of "dissecting" the images, through intent exploring and repetition.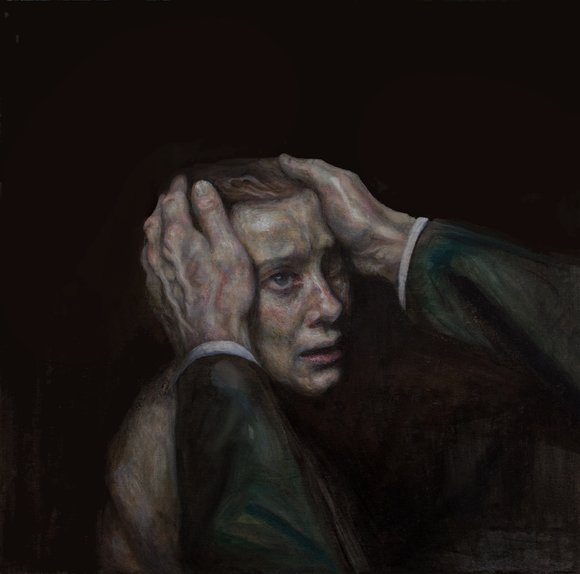 "Para" 2019. Olje på lerret.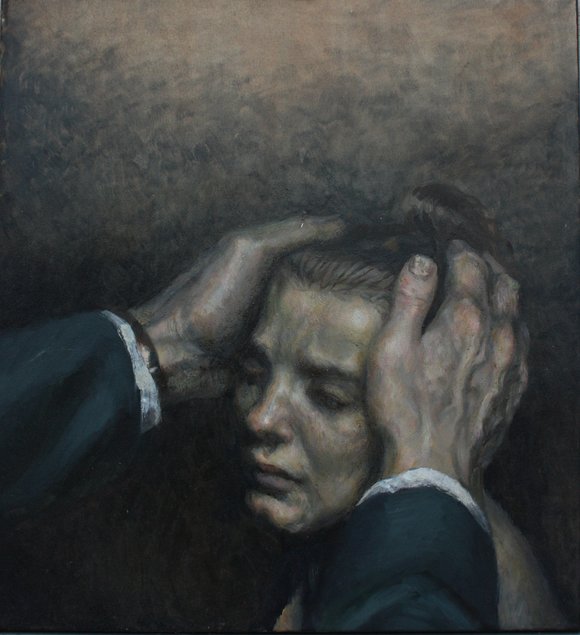 "Apostate" 2016. Olje på lerret.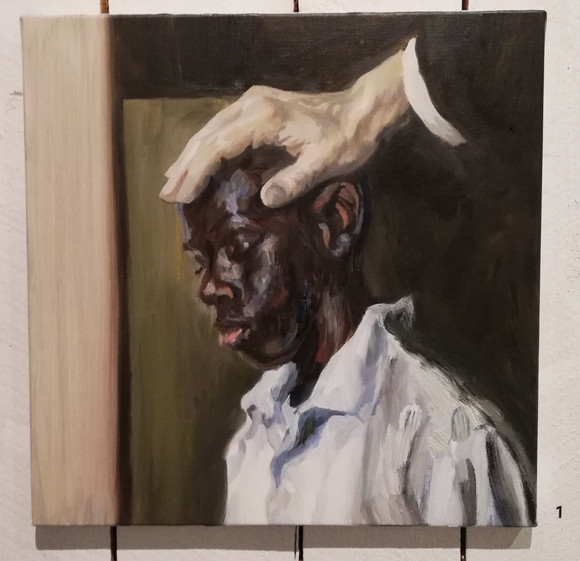 "Untitled" 2018. Olje på lerret.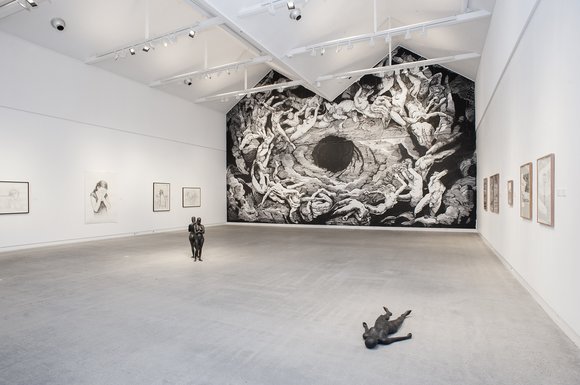 "Limbo". Temporært, frihåndstegnet veggarbeid. B 12 x H 8 meter.
Planned projects and exhibitions
"PARA". Kunstplass, Tordenskiolds gate 12. Opening 4. 4. 2019. A part of the satelite-programme during Oslo Open.
CV
Education
2006-2008 The National Academy of Fine Arts (KHIO), Oslo. Master of Fine Arts
2006-2007 Royal Academy Of Fine Arts, Stockholm. (Nordplus)
2003-2006 Bergen Academy Of Fine Arts, (KHIB). Bachelor of Fine Arts
2005-2006 Konsthochschule Berlin, Weissensee. (Erasmus)
Selected Solo-exhibitions
2019 "PARA" Kunstplass (Upcoming)
2018 'IT'S ON!', i samarbeid med Monica Winther. Galleri Autonom. Oslo
2014 'LIMBO' Kunsthall Grenland, Porsgrunn

2013 'Devouring The Sun', Galleri Maria Veie, Oslo

2009 'DISINTEGRATION', Galleri Maria Veie, Oslo

2008 'Savory Sessions' , curated by Rakett, ISCP, New York

2008 'Intermezzo', Norwegian Drawing Association, Oslo
2007 'Deludo', Galleri Mejan', Stockholm
2003 No. 9, Contemporary Art Space, Oslo
Selected Group-exhibitions
2018 ´Parabiose', Hå Gamle Prestegård, Norway
2018 'B.L.A.D. FEED ME! TAKE OUT Vol. 1, Bruket. Oslo
2018 'Ekko'. Seljord Kunstforening, Norway
2017 'Pairing Similarities', Art Port, Udine, Italy
2016 'Alluring Landscapes, Deceptive Twilight', Museum of Drawing in Laholm, Sweden
2015 'Absolute Veto', in collaboration with Shwan Dler Qaradaki, Kunstplass 10, Oslo
2013 'Drawing NOW', Spriten Kunsthall. Skien, Norway

2012 'One #5' Trykkeriet, Bergen
2012 'Heavy Trippin' , Nordic Art Centre. Dale
, Norway
2012 Bristol Bienniale, Bristol, England

2012 Drawing Bienniale, Tegnerforbundet/Kvadraturen, Oslo


2011 'Time' , Hole Art Centre. Hole. Norway

2011 'Art Futures HK 2011', Hong Kong

2010 'Casista', Nelimarkka Museo, Alajärvi, Finland
2010 'Itinerannia', Art Port Palazzolo dello Stella, Udine, Italia

2010 'If You Can Tell a Bigger Tale, I'm Afraid My Friend, You'll Have To Tell A Lie' with Ferocitas Lions, The Barber Shop, Lisbon

2009 'This Is The End Of The World As We Know It' , MOHS Exhibit, Copenhagen
2009 New Pleasures: Contemporary art from Norway and Finland', USF Verftet, Bergen

2009 'Sketches of Heaven and Hell' Galleri Trafo, Asker

2009 'H Eart(h)', Art Port, Palazzolo dello Stella, Udine, Italy

2009 'Wall to wall', LNM, Oslo

2008 'The last battle- replace solution with mystery"', Galleri F15, Moss

2008 'Life is All About Taking Things In and Putting Things Out', Salon Tudór, Santiago, Chile
2007 'Obergeschoss dritter finger rechts' Ballaus Ost, Berlin
2006 'Every story tells a picture', curated by Rakett, Sparwasser HQ, Berlin
Public Commissions
2017 Wallpaintings, Åssiden Senior High School, Drammen
2015 Wallpaintings, Thora Storm Senior High School, Trondheim
2015 Wallpaintings Equinor Main Office, Bergen
2014/15 Wallpaintings, Bjørgvin Young Offender Unit, initiated by KORO, Åsane/Bergen
2014 Wallpaintings, Nordseter Public School, Oslo.
2012 Wallpaintings, Sam Eyde Senior High School, Arendal

2012 Wallpaintings, Skagerak Energi, Main Office, Porsgrunn

2011 Wallpaintings, Valldal Public School, Nordal, Sunnmøre

2010 Wallpaintings, Patentstyret/Patent Office, Norway, initiated by KORO, Oslo
2009 Wallpaintings, Rundhallen. Trondheim Student Welfare Organisation. Initiated by Equionor/Statoil Art Programme
Grants
2018 Bildende Kunstneres Hjelpefond (BKH), 3 year work grant
2017 Oslo Municipality Art & Culture Grant
2016 National Work Grant For Artists, 2 years
2014 Billedkunstnernes Vederlagsfond, work grant 1 year
2013 Jomfrulandstipendet, The Jomfruland Recidency grant.

2012 Billedkunstnernes Vederlagsfond, work grant 2 year
2012 National Drawing Association, travel grant

2009 National Grant for younger artists. 3 years work grant
2008 Ingrid Lindbäck Langaards Foundation, work grant
Collections
Equinor
National Museum, Norway
Nelimarkka Museo
Oslo Municipality
Kragerø Municipality
Ferd