Torp, Nina
Installation, photography, sculpture, research projects
By researching, analyzing and interpreting historical material, I investigate how we create culture and collective memory. My projects consists of several sub-projects that build on each other, where I work interdisciplinary with architecture, cultural history and archaeology and with researchers within these areas.
For the last three years I have collaborated with archaeologists and scientists at the Museum of Cultural History in Oslo where I have followed the work of several archaeological excavations of Mesolithic and Neolithic settlements in Norway.
In the collaborative project SITUATIONS I have experienced how archaeologists work and what methods they use in excavation and archiving work. By studying the archaeological work closely, I investigate how our collective history is made. This is relevant to our self-understanding as human beings.
My practice encompasses both sculpture and photographic installations and video. Several of my projects are site-specific, based on the architecture of places like the Museum of Cultural History in Oslo (2018 and 2016), archaeological excavation sites in Arendal (2016), Karl-Marx-Allee in Berlin (2015) and Carl Berner's underground station in Oslo (2012). I have published four Artist books that document the projects.
Member of NBK, FFF, NBF, UKS, BONO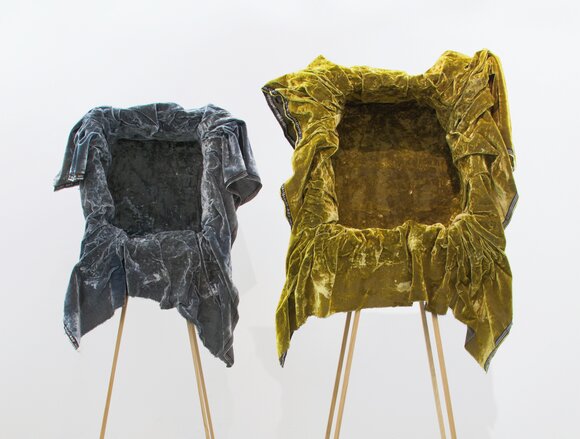 SITUASJONER/SITUATIONS. Detail. Sculptures of testpits. Imprint in velvet (with soil) and base in oak. 70x50x180 cm. Museum of Cultural History, Oslo 2018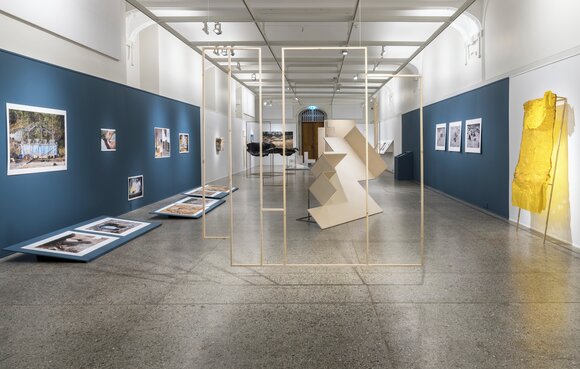 SITUASJONER/SITUATIONS. Installation view. Museum of Cultural History, Oslo 2018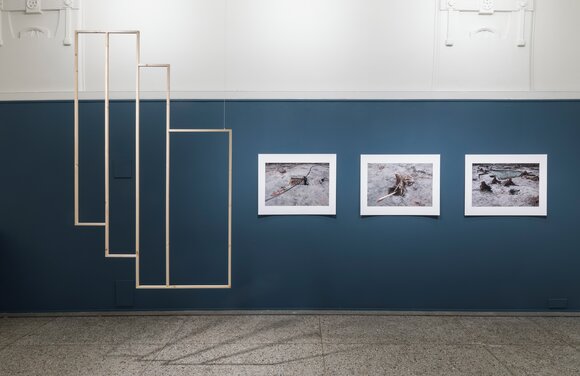 SITUASJONER/SITUATIONS. Sculpture in pine of an excavation of a Mesolithic settlement. 125x200 cm. Series of three photographs of excavation work. Digital C-print. 75x50 cm each. Museum of Cultural History, Oslo 2018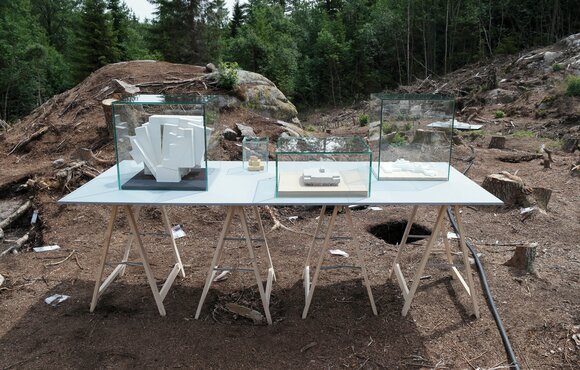 SITUASJONER/SITUATIONS. Installation view of outdoor exhibition. Models and sculptures of the cavities after archaeological excavations of Stone Age settlements in different materials and sizes. Museum of Cultural History, Oslo 2016
CV
EDUCATION
1996 – 1997 Royal College of Art (RCA), London, UK, Printmaking
1992 – 1995 Kent Institute of Art & Design (KIAD), Maidstone, UK, BA (Hons) 1st
1994 École des Beaux-Arts de Toulouse, France, Exchange
1991 – 1992 Egen Art Tegne og Male skole, Oslo, Foundation Course
RESIDENCIES
2015-2018 The Museum of Cultural History, Oslo. An interdisciplinary collaborative project with archaeologists and staff at the museum where I have followed prehistoric archaeological excavations in Norway and subsequent work in the museum and archive
2017 Fotogalleriet / PRAKSIS, Oslo. A Global State of Pareidolia, Residency led by Lindsay Seers
2014 Universität der Künste Berlin (Udk). International Summer School
2010 Teatro Olimpico, Italy. Workperiod, videofootages for project For we are where we are not
2010 SIM, Iceland. Residency
2006 .ekwc, Den Bosch, The Netherlands. Residency and grant
1998-1999 Oslo Fotokunstskole, Norway. One-year photography course
______________________________________________________________________
SOLO SHOWS
2018 The Historical Museum, Oslo. SITUATIONS. The archaeological space, part 2
2016 The Museum of Cultural History, Oslo. SITUATIONS. The archaeological space, part 1, Interventions at two archaeological excavations in Arendal
2016 The Historical Museum, Oslo. UR-FORM, Interventions in the Ethnographic Library and the Antiquity Collection
2015 Galerie im Turm, Kunstraum Kreuzberg/Bethanien, Berlin, Germany. In Between Images. Curator Naomi Hennig
2013 The North Norwegian Art Center (NNKS), Lofoten, Norway. For we are where we are not, version II
2013 Tenthaus Oslo, Norway. For we are where we are no, version I
2012 Sculpture Arena East, The Association of Norwegian Sculptors, Oslo, Norway. Outside everything is immeasurable, part II
2011 Sculpture Arena East, The Association of Norwegian Sculptors, Oslo, Norway. Outside everything is immeasurable, part I
2010 TENDERPIXEL, London, UK. One-Act Play
2009 Gallery LNM, The Association of Norwegian Fine Art Painters, Oslo, Norway. Memoirs of A Tourist
2009 Gallery 69, Grünerløkka Lufthavn, Oslo, Norway. An Agreeable Kind of Horror. Curated by Lita Ellingsen
2008 Sandnes Art Society, Rogaland, Norway. Dissolving Paintings
GROUP SHOWS – IN SELECTION
2019 Fotogalleriet, Oslo A Global State of Pareidolia – Lindsay Seers. Video contribution
2017 PRAKSIS, Oslo. Oslo Culturenight
2015 Galleri Rom, Oslo. Flettverk
2015 Der Strich, Berlin. StrassenStrichContemporary Schwartze Nächte
2015 Galleri 69 Grünerløkka lufthavn, Oslo. Jubilé
2013 The Vigeland Museum, Oslo, Norway. The Norwegian Sculpture Biennale 2013. Curated by Helga Marie Nordby
2011 Rogaland Contemporary Art Centre, Stavanger, Norway. Arcadia. Curated by Gunhild Moe
2011 Gallery LNM, The Association of Norwegian Fine Art Painters, Oslo, Norway.
alt skulle gå bra
2011 SIM Gallery, Berlin, Germany. Opening Event
2011 DogA, The Norwegian Centre for Design and Architecture, Oslo. Tokyo Graphic Passport, Tokyo, Japan
2010 SIM House / Korpúlfsstaðir, Reykjavik, Iceland. TAKK FOR REAL
2010 Vitrine in beweging, The Hague, The Netherlands. out of berlin
2008 Stavanger 2008, European Capital of Culture 2008, Norway. A World of Folk
2007 The National Museum of Art, Architecture and Design, Norway. Grimmerhus Museum, Denmark. Triennale 07
2006 .ekwc, Den Bosch, The Netherlands.
2005 Goethe Institute, Kieler Volksbank eG, Germany. New and Norwegian
2005 Vestfold Art Centre and Akershus Art Centre, Norway. Østlandsutstillingen 2005
SELECTION PRESS / PUBLICATIONS
Kjetil Røed, Nina Torp. SITUATIONS. The archaeological space, Vårt land, 28.04.2018
G. Reitan & L. Sundström (red), The Stone Age Coastal Settlement in Aust-Agder, Southeast Norway. Cappelen Damm. Text and photographs of the project SITUATIONS, scientific publication, 2019
Peter Bjerregaard, The distant view: about archaeology, art and knowledge, SITUATIONS. The archaeological space (red. Elliott, Bjerregaard & Torp), text in catalogue, The Museum of Cultural History, Oslo 2018.
Gaute Reitan, The E18 Tvedestrand-Arendal Project: The Stone Age from A to Z, SITUATIONS. The archaeological space (red. Elliott, Bjerregaard & Torp), text in catalogue, The Museum of Cultural History, Oslo, 2018.
Lars Sundström, Studying others in order to understand ourselves, SITUATIONS. The archaeological space (red. Elliott, Bjerregaard & Torp), text in catalogue, The Museum of Cultural History, Oslo, 2018. (red. Elliott, Bjerregaard og Torp)
Naomi Hennig, The Exhibition "In Between Images" at Galerie im Turm, text in catalogue, 2015
Clara Pacquet, Berlin 31.03.2015, text in catalogue, 2015
Galleriårbok 2013, Nordnorsk kunstnersenter, 2014
Lotte Sandberg, Magisk utstilling, Aftenposten, 16.09.2013
Norwegian Sculpture Biennale 2013, Guri Skuggen (red. H M Nordby),
Over bekken etter vann, text in catalogue, 2013
Kjetil Røed, Mellom opprør og bevaring, Kunstkritikk.no, 17.04.2013
KUNSTforum, Nina Torp, For we are where we are not part II, Nr 2, 2013
Helge Jordheim, Envisioning time, For we are where we are not, essay, 2013
Nina Denney Ness, On the origins of copies, For we are where we are not, essay, 2013
Agnès Poitevin-Navarre, Introduction, For we are where we are not, text in catalogue, 2013
Eivind Slettemeås, Nina Torp, For we are where we are not, essay, 2013
Bruno Laeng, As above so below: Nina Torp's space-time windows,
Outside everything is immeasurable, essay, 2013
Gro Lauvland, The Carl Berner underground station revitalized,
Outside everything is immeasurable, essay, 2013
Trond Borgen, Et trangere rom, Stavanger Aftenblad, 31.12.2011
The Assn. of Norwegian Sculptors, Outside everything is immeasurable, text in catalogue, 25.11.2011
Trond Borgen, Spillet om Arkadia, Stavanger Aftenblad, 12.09.2011
Gunhild Moe, Arcadia, text in catalogue, Rogaland Contemporary Art Centre, 25.08.2011
Eli Næsheim, Fire kunstnere på Rogaland Kunstsenter, Stavanger Aftenblad, 24.08.2011
Hans Christian Skovholt, Arcadia, Natt og dag, September 2011
Ole S. Nerheim, "Arcadia" på plass, Rogaland Avis, 24.08.2011
Tommy Olsson, Olsson anbefaler, alt skulle gå bra…,Morgenbladet 10. June 2011.
Lisa Slominski, NINA TORP, feature, MAAG magazine, issue II 2010
AWARDS & GRANTS
2018 – 2020 The Norwegian Cultural State Fund. 3-years work grant
2017 Norwegian Visual Artists Remuneration Fund. 1-year work grant
2016 Norsk Fotografisk Fond. Project grant
2015 Arts Council Norway. Project grant.
2015 OCA. International support
2015 The Norwegian Ministry of Foreign Affairs.
2015 Norwegian Visual Artists Remuneration Fund. 1-year work grant
2013 – 2014 The Norwegian Cultural State Fund. 1,5 year work grant
COLLECTIONS
2006- Private collections in Germany, Netherlands, UK and Norway
2015 The National Library, Oslo. In Between Images – Artist book
2013 The National Science Library, Oslo, UIT The Arctic University Library, Tromsø, The National Library, Oslo, The University Library, Bergen. For we are where we are not / Outside everything is immeasurable – Artist books
ARTIST TALKS
2018 The Historical Museum, Oslo
2018 Does art have a place in the Museum of Cultural History? Participant on panel, seminar at Historical Museum in Oslo. With: Alexandra Schüssler, Schule für Gestaltung, Basel, Bente Vinge Pedersen, Medisinsk Museion, København, Michael Fehr, Museum der Dinge, Berlin, Brita Brenna, University of Oslo, Peter Bjerregaard, The Museum of Cultural History.
2016 The Historical Museum, Oslo
2016 The Historical Museum, Oslo. Artist and scientist talk: with anthropologist Peter Bjerregaard
2015 Galerie im Turm, Berlin.
2013 Tenthaus Oslo. Book launch with Art Historian Nina Denney Ness
2013 Nordnorsk Kunstnersenter, Lofoten
2011 Norsk Billedhoggerforening (NBF)
2010 SIM, Island
2009 Landsforeningen Norske Malere (LNM)
2006 .ekwc, Nederland