Baadsvig Ørmen, Lene
Sculpture
Lene Baadsvig Ørmen's  (b. 1984) sculptural practice resonates with anthropological research: ideas and imagery of archaeology, pre-historical cultures and modern science all feed her work. She is also interested in people's urges to understand and influence each other and the ways people shape the environment they are part of. Lene's works often oscillate between being two-dimensional reliefs and three-dimensional sculptures. With no direct reference to any defined point in time or concrete systems of meaning, they could be fragments from fictitious civilisations; they insist on existing within circular timelines and foster spaces between or beyond the past, the present and possible futures. In recent years, Lene has been working with materials such as clay, concrete, aluminium, and bronze.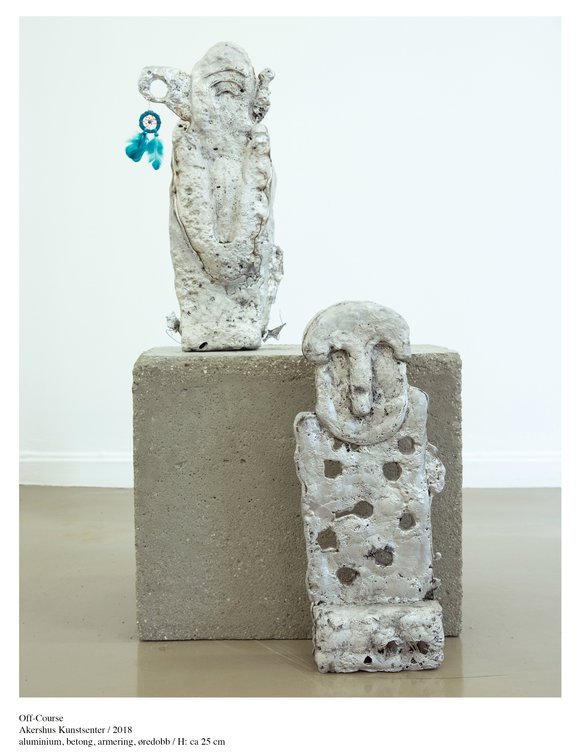 Off-Course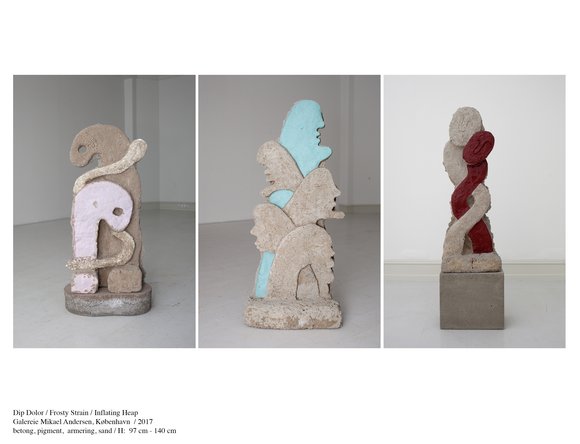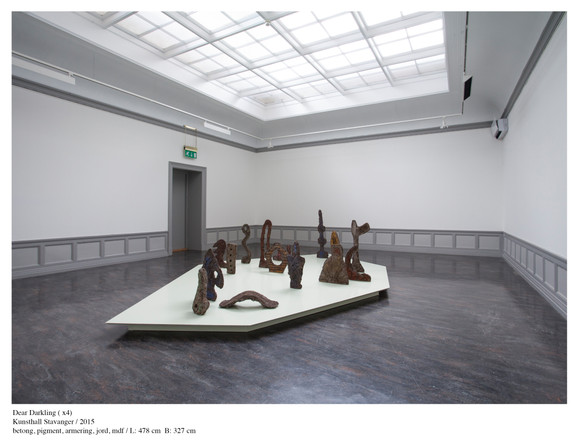 Dear Darkling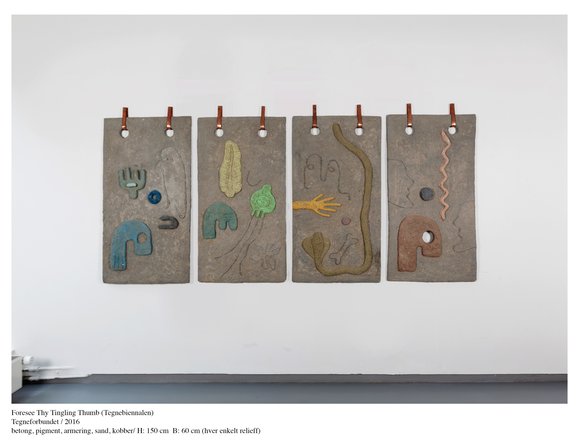 Forsee Thy Tingling Thumb
Planned projects and exhibitions
2019 Duo-exhibition at Billedhuggerforeningen, Oslo
2019 Fiskars Village Art & Design Biennale, Finland
CV
UTDANNING:
2011-2013 Statens Kunstakademi i Oslo (MFA)
2005-2008 Kunsthøgskolen i Bergen (BFA)
2007 Estonian Academy of the Arts (Erasmus)
2004-2005 Mølla Kunstskole i Moss
SEPARAT UTSTILLINGER:
2016 "Soliloquy" / Gallery Augusta- HIAP, i Helsinki
2016 "Fret Not Upon Thy Blue Funk" / Kunstnerforbundet, i Oslo
2015 "X4" (Dear Darkling) / Stavanger Kunsthall
* kuratert av Hanne Mugaas
2015 "Dear Darkling" / UKS, i Oslo
* kuratert av Johanne Norby Wernø
2014 "TURBID" / Another Space, i København
2012 "Visse Ting Lærer Man Bare Å Kjenne i En Tilstand av Ruiner"/
Galleri Storck, i Oslo
UTVALG GRUPPE UTSTILLINGER:
2018 "Klorofyll og Kapital", Akershus Kunstsenter, Oslo
2018 "Nouveau Naive", RAM galleri, Oslo
2017 Viborg Kunsthall, København
* kuratert av Louise Sparre
2017 "Nothing You Have To Understand", Galerie Mikael Andersen, i København
*kuratert av Kristian Touborg
2017 "Galleri Bunt", Skulpturbiennalen, i Oslo
*kuratert av Sverre Gullesen
2017 "Sculpture Club", Podium, i Oslo
*kuratert av Anna Daniell
2016 Tegnebiennalen "Skissen", i Oslo
* kuratert av Elise Storsveen
2016 "Neolithic Grafitti" ved QB Gallery, i Oslo
* kuratert av Magnus Vatvedt
2015 "Self-storage" / BETON, i København
*kuratert av Another Space
2015 "Menneskeberget" / Muchs Aterlie
*kuratert av Christian Tony Norum
2015 "Hybrid Poplar Trees" / Fat Relic, i London
*kuratert av Alvin Tran
2014 "The Eternal Quest For the Denial of Death" / PSM gallery / Berlin
*samarbeid med Thomas Chapman
2014 "One Eyed Date" / Autocenter, i Berlin
*kuratert av Andreas Schlegel
2013 "The Shoe Show" / Podium, i Oslo
*kuratert av Goutam Gosh
2013 "The Gadering", GAD, i Oslo
*kuratert av Espen Lomsdalen, Joachim Cossais & Maria Sundby
2009 "Irreverent Upstairs God" / PM Gallery, i Berlin
*kuratert av Mikhel Proulx
2009 "MUDshow#2" / (pop-up utstilling), i København
*kuratert av Birk Bjørlo
2008 "Simultanugmosia" / Fotogalleriet, i Oslo
2007 "Rom For Kunst" / Fasaden til Oslo S
2007 "Høstutstillingen" / Kunstnernes Hus, i Oslo
RESIDENCIES:
2016 HIAP (1, 5 mnd), Helsinki
2015 Residency Unlimited (3mnd), New York
* Gruppeutstilling "Seeing Through Abstraction " / kuratert av Schlomit Dror
2015 Gamle Ormelet (2uker), Tjøme
* Gruppeutstilling "Island Fever" / kuratert av Gunnhild Torgersen & Karen Gimle
KURATERTE PROSJEKT:
2015 "Lopsided Upthrust" / Galleri BOA, i Oslo
* med Linda Lerseth, Anders Holen, Mikael Lo Priesti, Helena Lund Ek og meg.
2009 "Erasing Darkness" / Freies Museum, i Berlin
i regi av KØNST : med Tyra Tingleff, Alvaro Urbano, Julie Sparsø Damkjær,
Louise Rosendal, Sara Sølberg og meg.
MUNTLIGE PRESENTAJONER:
2016 Kunstnerforbundet
2015 Plot Stavanger, Stavanger Kunsthall
2015 School of Visual Art (SVA), New York
2015 New york Studio residency program (AICAD), New York
PRESSE:
2018 Subjekt
2018 Vårt Land / Kjetil Røed
2016 Tegnebiennalen / D2 (Dagens næringsliv 07/10) av Kåre Bulle
2016 Tegnebiennalen / Kulturnytt Radio P2 (27/09) av Mona Pahle Bjerke
2016 Billedkunst # 5 / 2016 (intervju + plakat)
2016 Kunstforum # 1/ 2016 (intervju)
2015 Materiality In Digital Times, skrevet av Milena Høgsberg
(SWE/ICE/NOR/DEN/FIN skulptur, Hatje Cantz)
2015 Kunstkritikk, skrevet av Sara Yazdani
2015 Eyes-towards-the-dove.com, skrevet av Katy Diamond
2014 Billedkunst, skrevet av Inger Wold Lund
2011 "Måg" issue 5 (intervju på side 72)
STIPEND:
2017 Statens Kunstnerstipend (3 år)
2015 Statens Kunstnerstipend (2 år)
2014 Arbeidsstipend / BKV (1 år)
2010 Arbeidsstipend / BKV (1 år)