Fagerli, Ingvild
Maling, Ull og gummi objekt
I cultivate a crace in decomposing impressions from BBCs Planet Earth. Who are the object in this prosess, the mountain or me?
I am guided by a desire to understand beauty, grief and guilt. Experienced from the edge of the cliff in the world's richest land.
The project trys to contemplate the circular between what pushes down and bubbles up. Life spark vs. death. Empowerment is about taking back a drive after using the strongest that exists in nature and in us. A natural force that is impossible to stop.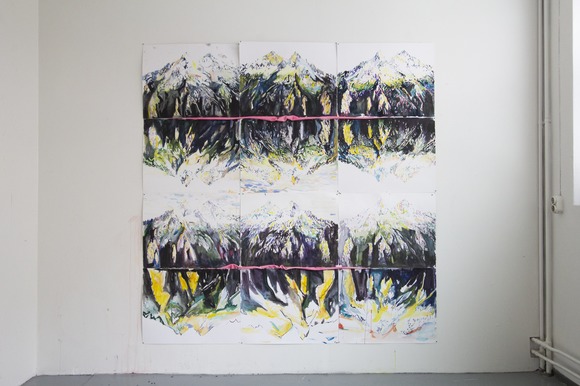 Empowerment, fjell (2019) Akvarell,tekstil ca200cmx180cm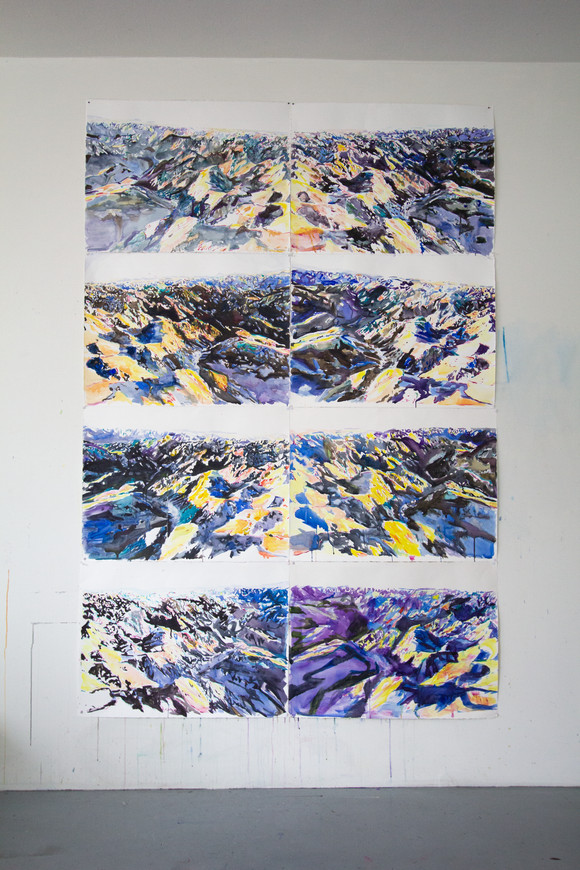 Empowerment fjell (2019) 225cmx150cm Akvarell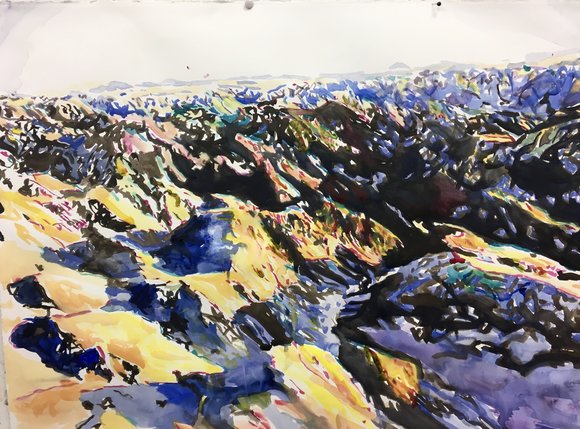 detalj Empowerment, fjell (76x56)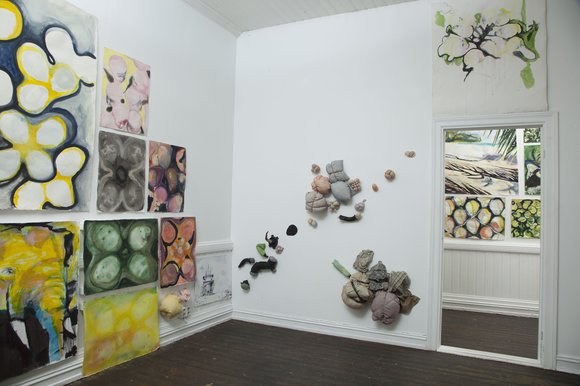 Empowerment Uts. Galleri 69 i 2018
Planned projects and exhibitions
I´m going on….
CV
Education
2000 Masters Degree, Art Academy in Oslo / Swedish National Arts and Crafts School 2010 Master of Philosophy in Psychology, University of Oslo
2018 30 credits special education, University of Oslo
exhibitions
Empowerment: Gallery 69, Oslo (February 2018)
Insoluble: Studio M, Gørvelplassen, part of the Bjørnson Festival in Molde (2017).
Oslo Open: (2014-2017).
Piece building: Varmbadet i Drøbak (2014).
MAMAISM: Group exhibitions in Vestfold Art Center, City Hall Gallery in Oslo and the Art Association in Ålesund (2008-2011).
Varied view: Group exhibitions in KunstRisten in Oslo, Konsthallen at Stenebyskolan in Sweden, Gallery Vartai in Vilnius, Lithuania (2003-2005).
International group exhibition in Gallery Vartai, Vilnius, Lithuania, and Artists acespace, Berlin (2003).
Various projects: Event artist in Space ship earth salon at Stockholm Furniture Un-fair (2009). Video documentary on artists' living conditions in Møre og Romsdal (2008).
Parenting, studio exhibition in the Margarin factory, Ålesund (2007).
Other group exhibitions: Kube, Ålesund, the Artist Center in Møre og Romsdal, Lier Art Association, the Norwegian Trikotasjemuseum and Textile Center, Sjølingstad Woolware Factory, in Telemark County Gallery (Anniversary exhibition NTK 25 years), Notodden and Hå Gamle Prestegård.
Samtegningsprosjekter
Compilation: Nyskolen i Oslo 2012, Sofienberg Ungdomskole 2013, Villa Berg in the Church City Mission 2015-2018. Various projects Drawn junior club (District 5) 2013-2018
Eye heart hand: Sinsenskole 2013, Villa Berg in the Church City Mission 2015
scholarships
Various project support from the Norwegian Arts Council and the Remuneration Fund (2007-2010, including MAMAism) 2002-2005 The state's work grant, three-year
directorships
Academic Council for the Visual Arts in the Cultural Week, Møre og Romsdal Member of the Board of the Arts Center in Møre og Romsdal
Member of the Artistic Council at the Artist Center in Møre og Romsdal Board member of the Ålesund Art School Foundation