Figenschou, Hanne Lydia Opøien
Drawing, text, video
My work explore themes of gender and identity through the mediums of drawing and text, expressing a recurrent interest in the blatant and public versus the intimate. Text is is used as prose in video works called Videoprosa, and as poetry collected in books. The texts constitute an extension of the visual works, which with this move into private spaces and reflect something further intimate and seemingly insignificant. The work also focuses on aspects of communication or absence of dialogue.
Member of NBK, NNBK, BOA, TF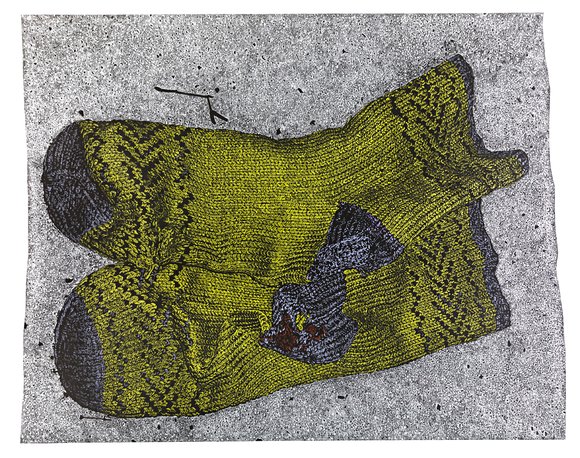 For_Kirsten, coloured pencils on black paper, H: 152 cm, W: ca. 200 cm, 2018.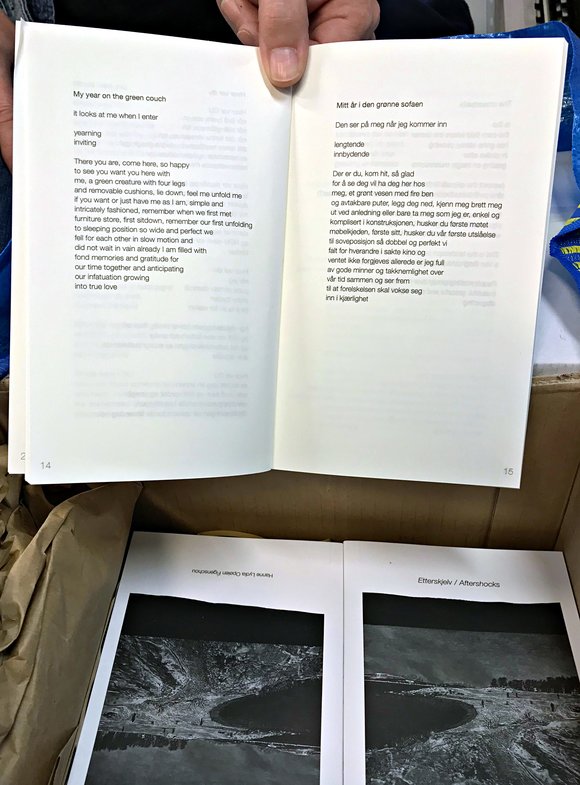 Etterskjelv / Aftershocks, 29 poems, norwegian/english, translated by Svein Svarverud, 2017.
Planned projects and exhibitions
2019 Gallery BOA, Oslo (solo)
2019 Mørketidsutstillingen, Leknes, Lofoten, curated by Kjetil Berge (group)
2020 Bodø Kunstforening, (solo)
CV
Hanne Lydia Opøien Figenschou
Born in Trondheim, lives and works in Oslo and Tromsø.
hannelydia@gmail.no
www.hannelydia.com
Education
1991 – 92 The University of Art and Crafts, Stockholm, SE
1987 – 91 Academy of Fine Art, Trondheim, NO
1986 – 87 The Art School, Kabelvåg, NO
Solo shows
2020 Bodø Kunstforening (upcoming)
2019 BOA, Oslo (upcoming)
2017 The Menopause Collection, Galleri 69, Oslo
Etterskjelv / Aftershocks, 29 poems, booklaunch
Aftershocks, Kulturbadet, Sandnessjøen
2016 Greyscale, Oppland Center of Visual Arts
2015 The_Key, Kunstplass 10, Oslo
2015 My mother was a feminist, The Drawing Center, Oslo
Beretningen om et varslet brudd / An Account of Predicted Estrangement,
27 poems, booklaunch
2014 11 July 1943, Trafo Kunsthall, Kuben, Asker
Hit the North, NNKS, Svolvær
2013 SELFIES, Bomuldsfabriken Kunsthall, Arendal, curated by Harald Solberg
labile dokumenter / volatile documents,28 poems, booklaunch
One Night Only, 14.10., Kunstnernes Hus, Oslo, curated byTito Frey *
2012 Back to nature (I can`t go on like this), Buskerud Art Center
the Other, Gallery 69, Oslo
Back to nature, Hå Gamle Prestegård, Stavanger
2011 Portraits of a young woman…, Gallery BOA, Oslo
2011 Gråmølna Museum of visual Arts, Trondheim
2009 The arcitcht`s daughter, Tromsø Cultural Center
ID, Haugesund Artcenter
Kunst1, Sandvika
2008 True Identity, Kunstverket, Oslo
2007 Citizen, The White Tube, Oslo
Take it in hand and make something of it, Tegnerforbundet, Oslo
2005 The woman who could not draw, Tromsoe Artcenter
2004 Remote control, Akershus Artcenter
Looking back in anger, Rogaland Artcenter, Stavanger
2003 Domestic violence and other boring stories, Kunstverket Gallery, Oslo
2000 Enlightenment – Illumination, Vestlandske Museum of Arts and Crafts / BOB,
Bergen
1998 Ich heiratete / I got married, Kunstvereien auf dem Prenzlauerberg, Berlin, GE
1997 The Red room, Tromsø Artcenter
1996 S – M – L – XL, The Projectroom, Gallery F15, Moss
1995 Drawings, Gallery Nebb – X, Oslo
1993 Objects, UKS, Oslo
1992 Gallery K/F, Stockholm, SE
Group shows (selected)
2017 The Fourth Silk Road International Art Exhibition, Shaanxi Provincial Museum of
Fine Arts, Xi'an, China
2016 Østlandsutstillingen, Akershus Center of Art, Lillestrøm
2015 NOoSPHERE ARTS' 4th ANNIVERSARY SHOW, New York C, US  
2015 The Annual North Norwegian Exhibition, travelling show
2014 – 15, Inexhaustible beauty, Sparebank 1, travelling show, Gallery Nordnorge,
Harstad, Mo i Rana, Alta, m.m. *
2014 In a lonely place, Kube, Museum of Art, Ålesund
2013 I am my world, NOoSPHERE, New York C, US  
2012 – 15  Higher Ground, The NorthNorwegian museum of fine Art, travelling show, *
2011  RED, .NO Gallery, New York C, US  2010 13 Drawers, Alta Center of Art
2008 REAL, Haugar, Vestfold Museum of Visual Arts, Tønsberg
Supermarket 2008, International Independent Art fair, Stockholm, SE
2007 It`s drawn well, Kunstbanken, Hedmark Center of Visual Arts
2006 The Projectroom 93 – 06, Gallery F – 15, Moss
2004 The Drawing Biennial 2004, The Stenersen Museum of visual Arts, Oslo
2001 Ad – lib, Gallery Transart, Trondheim
2000 Allmenningen, Galleriet, Bergen
Outside Home, Museum of visual Arts. Trondheim
Take care of the poets, Gallery G.U.N., Oslo
Annual shows
2015, 12, 06, 01, 94, 93 The National Annual Exhibition of the Visual Arts, Oslo
2015, 06, 89 The Annual North Norwegian Exhibition, travelling show
1992 UKS Annual Springexhibition
Grants/Awards/Recidensies
2017, 16 14, 13, 12, 11, 10, 09, 08, 03,, Exhibitiongrant, Norwegian Arts Council
2016 Circolo Scandinavo,Grant/residency
2015 10 Year Grant for Established Artists, Norwegian Arts Council
2014 10, 08, 01, 97, 93, Norwegian Visual Artists Remuneration Fund
2013, 10, Projectsupport, BKV
2012 Ingerid, Synnøve and Elias Fegerstens Grant, NO
2011 – 14 The National 3 Year Working Grant, Norwegian Arts Council, NO
2018  07, 03, Projectsupport, Norwegian Arts Council, NO
2009 The National Diversity Grant
2008, 01, 97, 93 Norwegian Visual Artists Remuneration Fund
2007 Travel Grant, Norwegian Arts Council, NO
Ingrid Lindbäck Langgaards Grant
2004 – 07 The National 3 Year Working Grant ,Norwegian Arts Council, NO
1992 UKS Working Grant, NO
The School of Art and Crafts, Stockholm, Working Grant, SE
1990 BKH Academy Grant, NO
Collections
2016 – 19 Bomuldsfabriken Collection, Arendal
2017 World Art Leauge, Xiàn, China
2015 Oslo County Council
2015 Nordland County Council
2014 Sparebank 1, North Norwegian Artfoundation
2012 North Norwegian Museum of Visual Arts
2011 Trondheim Museum of Visual Arts
Trondheim County,
South Trøndelag County Council
2009 Haugesund Billedgalleri
2007 ATV
2003 The National Museum of Arts, Architecture and Design
1997 Tromsø Center of Visual Arts
1996, 91, Norwegian Arts Council
Commissions/Prizes
2018 Kvaløya High School, Tromsø County Council
2015 The Jury Award, DNNK, 2015
2012 Charlottenlund Secondary School, Trondheim
2011 Håkon Bleken Art Award
2008 Weidemann Art Award
2008 E. C. Dahls Foundation, Chief Administrative Officer of Trondheim County
2007 1.Nordic Conference on Violence and treatment, Oslo, temporary
2006 Tronka, The State Building Commission, Trondheim
Readings/poetry
2018 Ord i vann, performance, Valbergstranda, Lofoten
2017, 16, 15 Oslo Poesisentrum
2016 TxtMoment
2016, 17 Tekstuniverset, Open Mic
2015, 17 Oslo Open