Flakk, Monica
Photo, sculpture
"The core of my work are rocks. Geological time and phenomenon are overarching theme, with underlying references to art history.
I use the photography as a tool to develop hidden layers of information and aspects of the stones. The photography manipulates scale and suggests new landscapes that have no geographical location. The photos are without human presence; it opens up a hidden world that shows us how the objects were before we arrived, objects as they are when they are for them self and that they will outlive us.
Through the reduction of the photographic fragment one can sense monumentality, suggesting an alternative understanding of geological time.
The work explores the anonymous stones, void of any intrinsic material value. The stones I pick up from the ground tell stories of their geological cycle and how it ended up there. They often have sharp lines and edges that show a rawness and detail on the surface.
Through detailed castings, the stone goes from original to copy. The copy represents the stone only through shape and surface. The outer shape and surface tells us about the stone as a witness of deep time. The stone's shape becomes clearer when reduced to surface and taken out of its original context, its geological cycle. I put the stone copies into new contexts, where attention is paid to their immediate visual information. Traces of time.
The different aspects the work contains, shall show us the extremity of the life of the rocks, from fragment to the monumental mountain ranges."
Member of NBK, UKS, NBF, BONO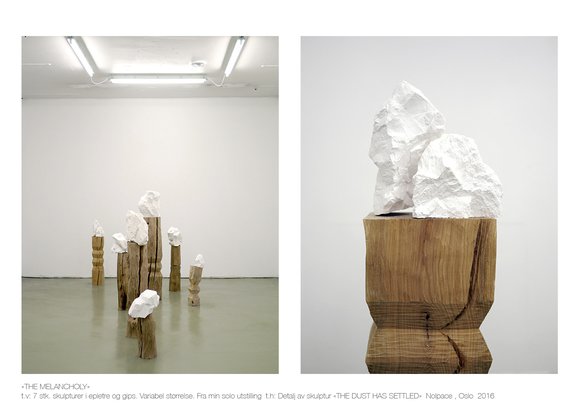 Melancholy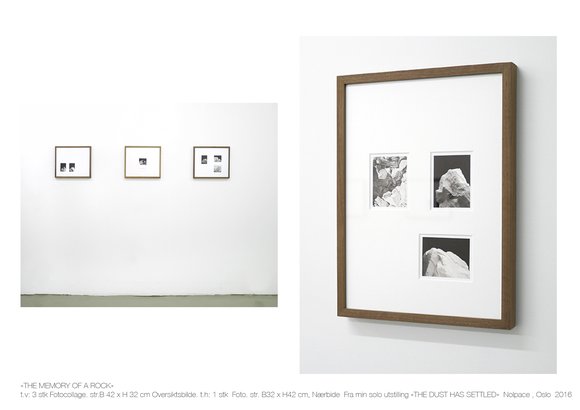 The Memory of A Rock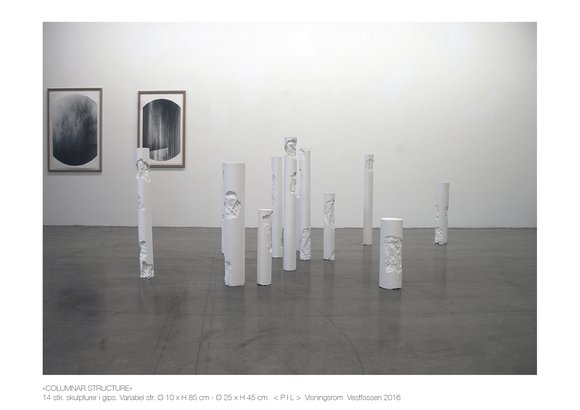 Columnar Structure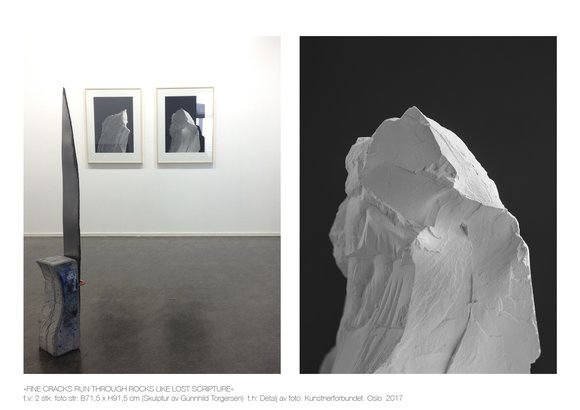 Fine cracks run through rocks like lost scripture
CV
EDUCATION
2012- 2014 Master of Arts, Oslo National Academy of the Arts, Norway
2009- 2012 Bachelor of Arts, Oslo National Academy of the Arts, Norway
2008- 2009 Strykejernet Art School As in Oslo
2007- 2008 Prosjektskolen Art School AS in Oslo
​
EXHIBITIONS
​2018 Group Exhibition, "Final Proposal" Galleri PULSAR, Antwerpen, Belgia
2017 Group Exhibition "BIRDFEEDERS" Altan, Vestfossen
​
2017 Group Exhibition "Omformulerte forekomster" Kunstnerforbundet, Oslo
​
2017 Group Exhibition "LUCIA" Blomqvist / QB Gallery, Oslo
​
2017 "Mazes, Nebulae, Sedimentations" House of Foundation, Moss
​
2016 Solo Show "The Dust Has Settled" Nopace, Oslo
2016 EKPGO (En kollektiv psykogeografisk guide til Oslo)
2016 Pushwagner Window Box, Oslo
2016 Timebag Art Show ,Medellìn, Colombia
2016 Group Exhibition, P < I > L , Vestfossen
2016 Art Collection, Imago Mundi, Italy
2016 Group Exhibition ,"MMMMMMMMMM" NoPlace , Oslo
2014 Group Exhibition, "Knock Knock", The Assosiation of Norwegian Sculptors, Oslo
2014 "Fragment" Exhibition with Maria Bjørlykke at Bakketunet, Bjørke
2014 MA Degree Show, Oslo National Academy of the Arts, Oslo
2012 BA Degree Show, Oslo National Academy of the Arts, Oslo
2011 Group Exhibition, "Do I Have to sign up before I die" , Oslo
2009 Degree Exhibition, Strykejernet Art School, Oslo
2009 Group Exhibition, "You could let it grow" Gallery Brenneriet Oslo
2008 Degree Exhibition, Prosjektskolen Art School, Oslo
2007 Group Exhibition, Summer Exhibition Ørsta Art Association Ørsta
SCHOLARSHIPS:
2014 Diversestipend, KULTURRÅDET (Arts Couincil Norway)
2015 GNIST Stipend Sparebanken Møre (The Saving Bank Møre)
2015 Billedkunstnernes Vederlagsfond, 1år/ 1 Year (Visual Artists Remuneration Fund)
2018 Billedkunstnernes Vederlagsfond, 1år/ 1 Year (Visual Artists Remuneration Fund)