Schröder, Stefan
drawing, painting, skulptur, socially engaged art
Stefan Schröder works within drawing, painting, photography, sculpture and socially engaged- and participatory art practice.
In the process of drawing he uses cardboard packaging as stencils, and a combination of coloured marker pens and pencil to create abstract compositions.
In his photo project Contributor, Schröder investigates his own working practice; through a series of self portraits shot with an analogue medium-format camera, he discloses his varied and multi-faceted work-life as carpenter, exhibition technician and artist in his atelier.
His participatory art practice includes ongoing processes where young people from non-western countries contribute with their ideas and experiences as instigators for new art projects. Schröder is one of three artists running the exhibition- and project platform and artist collective Tenthaus Oslo.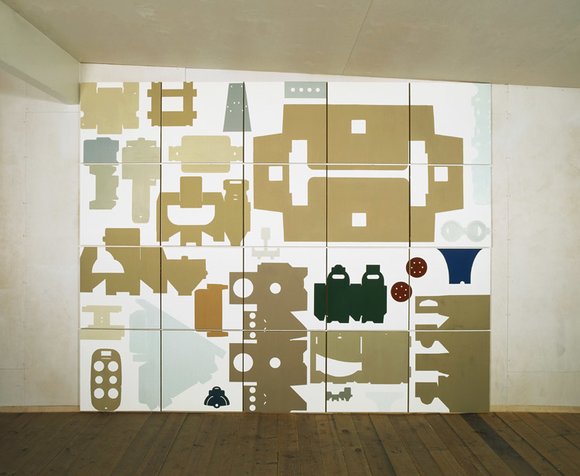 Tableau Novelle, olje på MDF, 2006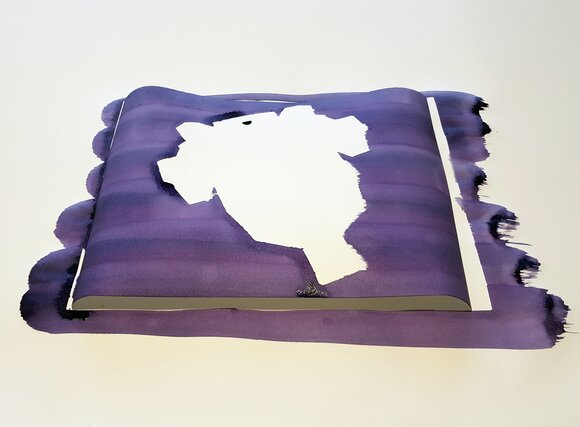 C.A. Deep Blue (work in progress)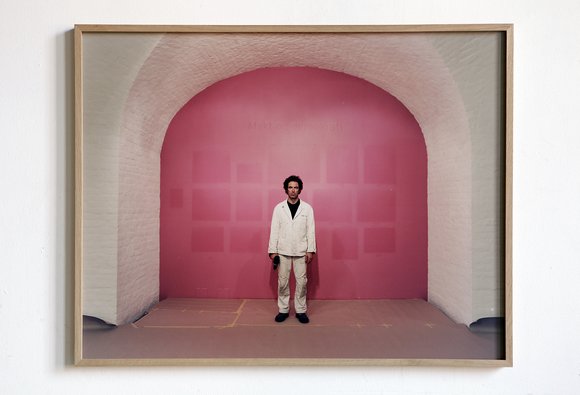 Contributor, makt og demokrati, analog c-print, 2016/18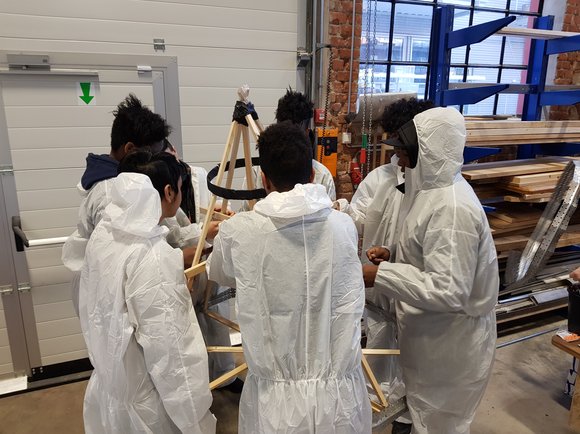 Workshop med ungdommer fra Hersleb vgs, februar 2019
CV
S T E F A N S C H R Ö D E R CV
Utdannelse / medlemskap / verv / kurator
2017-18 Khio, kurator MA2 avgangsutstilling, kunst og håndverk
2016 – påg. Styre, styreleder fra 2018, Asker kunstfagskole
2015-2019 Rådsmedlem Kunstnernes Hus, Oslo
2007-2014 Styre Tegnerforbundet (styreleder 2013-14)
2012-2013 Den Nasjonale Jury, Statens Kunstutstilling, (juryleder 2012)
2011-påg. Tenthaus Oslo, kunstnerdrevet visningsrom og formiddlingsplatform
2009-2010 Kurator 5. Tegnebiennale, Moss, (samen med Susanne Altmann)
2008-2010 Nestleder tilsynsrådet Kunstnernes Hus, Oslo
siden 2003 Medlem av Tegnerforbundet og NBK
1998-2000 Hochschule für Bildende Künste Dresden, master
1997-2000 Initiator produsent og ko-kurator Street Level – Dresden (1998) og Bergen (2000)
1991, 94-95 Academie voor Beeldende Kunsten, Breda, NL, diplom
1987-93 Hochschule für Bildende Künste Dresden, diplom
1982-85 byggfaglig yrkesutdanning, diplom
Separatutstillinger
2018 CLUB SOLO, Breda, A Moment of Trust, (med E.Moi og H. Eriksen)
2018 BOX Gallery, Göteborg (S), Winter Depot, (med E.Moi og H. Eriksen)
2015 Kunstplass 10, Oslo, The Artist is the Creator of Beautiful Things, kurator V.Hermansrud
2015 RAKE, Trondheim, Contributor-In the picture of Stefan Schröder, kurator Vigdis Haugtrøy
2014 Tenthaus Oslo, Arbeidssteder (med Ingrid Lønningdal)
2010 Galerie HZDR, Dresden, Möglichkeitsfeld, (med Gerhard Glöckner)
2008 Kurt-Kurt, Berlin, Display Exchange Moabits (med Siri Austeen)
2006 ROM Oslo, Urban Collector
2006 Tegnerforbundet Oslo
2003 Skur 51, Oslo Bjørvika, Das Feld
2002 Kunstnernes Hus Oslo, bauLab. (kurator Inghild Karlsen)
2001 Galerie Krauss Erben, Dresden, B=rotA
1996 Festspielhaus Hellerau, Dresden, Das Feld
Gruppeutstillinger
2019 Galerie Ursula Walter, Dresden, kurator Wanda Reichhardt
2019 IKM Museum (med E.Moi og H. Eriksen)
2017-19 LevArt, PARK, (med E.Moi og H. Eriksen)
2017 130. Høstutstilling (med E.Moi og H. Eriksen)
2017 Halden kunstforening, kurator Glenn Marius Skipsted
2016 Städtische Galerie Dachau, Tyskland, kurator Dr. Jutta Mannes
2016 Galerie Gebr. Lehmann, Dresden, kurator Susanne Altmann, Dresden
2016 Preus museum, Contributor, kurator Hanne H. Johnsen
2016 Tegnebiennale 2016, Skisse for et liv, tegning, kurator Elise Storsveen
2016 Galerie Gebr. Lehmann, Berlin, kurator Susanne Altmann
2015 Halden kunstforening, Possible Places, foto
2015 HfBK Dresden Contributor, kurator Susanne Greinke
2015 Øvre Fossum Gård, My Artist can't Remember, installasjon
2015 Altana Galerie, Dresden, Wunschlos Glücklich
2015 Spring Depot, Tenthaus Oslo, kurator: Rachel Dagnall
2013 Skulpturbiennale, Vigeland museet, Archivet, kurator Guri Skuggen
2012 Tenthaus Oslo, Own Words (med E. Moi, H. Eriksen)
2012 Kunsthall Oslo, Arbeiterbilder (med E. Moi, H. Eriksen)
2012 Prosjektrom Carl Berner, I want to tell you of great things, (med E. Moi, H. Eriksen)
2012 Planka 2, Tromsø, kurator: Helga-Marie Nordby
2012 Motorenhalle Dresden, Turm zu Breda
2011 X. Biennale for Samtidskunst, St. Petersburg, Contributor
2011 Villa Eschebach, Dresden, Sächsische Gegenwartskunst, Contributor
2011 Tenthaus Oslo, Packed!
2011 0047, Oslo Space station: On Enabling, Production and Design, Das Feld
2011 NOoSphere, New York, Runestone, modern language type. veggmaleri
2011 Lørenskog kunstforening, Contributor, fotografi
2010 Sächsischer Kunstfonds, Schaudepot #5, Arbeitsbilder, fotografi
2010 Schweigaardsgate 33, Siste Produksjon, Schattenwand
2009 Tempo Skien, Telemark kunstnersenter, Folkshytta
2009 Galleri BOA, Oslo, Contributor, fotografi
2008 Glommdalsmuseet, Elverum, Folkshytta
2007 Trondheim Kunstmuseum, Høstutstillingen, She Always Makes Light …
2007 120. Høstutstilling, Kunstnernes Hus, Oslo, She Always Makes Light …
2007 Bärwalder See, Uhyst, Tyskland, Über_Tage07, Handlungsspielraum
2007 33 Basement, Oslo Open, Different Works
2006 part. Sollia og Nord-Østerdal, Folkshytta, Fritidshhus for alle!
2004 Künstlerhaus Bethanien Berlin, (med Arve Rød), Norwegische Guggenheim
2004 Kunsthalle Dresden, februar. 04, Common Alphabet
2003 Street Level Simplonpass, Sveits, Schweigen und Gold
2002 The Twin Peaks Prosject, Eslöv (S), Runway
2001 Wunschdenken Dresden (D), Wunschlos Glücklich
2001 Mine Folldal (N), Days Under
2001 Galerie Chromosome Berlin, (D) Rio Classic
2001 Signal Galleri Malmö (S), Rollon, Bestens
2000 Street Level, Bergen (N), The Sense-Of-Life
2000 Berlin Pavillon, Z2000, Post-Graffiti-Mirror-Wall
2000 Bekendmaking Turnhout, (B), The Sense-Of-Life
1999 Galleri Jansen & Kooy, Contemporary Art, Twente (NL), Schön
1998 Street Level Dresden, Lagune
1998 Puschkin Villa Dresden (D), Künstliche Beatmung, Drei Installationen
1997 Kunsthaus Dresden, (D), Vitale Module, Sweet Ground
1997 Kunstverein Ludwigshafen/Rh, (D), Vitale Module, Sweet Ground
1997 Gersdorfsches Palais, (D), Bautzener Herbstsalon, Sweet Ground
Undervisning
2018-2019 Veileder MA2, Kunst i samfunnet, OSLO MET
2017-18 KhiO MA2, Kunst og håndverk
2016 Oslo Fotokunstskole
2011 KHIO, forelesning
2008 UMB + AHO, veileder avgangsutstilling
2007 UMB + AHO, veileder avgangsutstilling Edens Hage
2004 BAS, Bergen Arkitektskole
1991-1996 Universität Dresden, kroppstegning for arkitekter
Stipend
2018-23 Statens 5-årig arbeidstipend
2015-17 Statens 3-årig arbeidstipend
2014 Billedkunstnernes Verdelagsfond
2013 Billedkunstnernes Verdelagsfond
2010 Billedkunstnernes Vederlagsfond, 2-årig
2008 A.C. Houwens Legat
2006 Billedkunstnernes Vederlagsfond, 2 årig
2005 Billedkunstnernes Vederlagsfond
2005 katalog stipend fra Ostdeutsche Sparkassenstiftung, Berlin
2005 Galerie für Zeitgenössische Kunst, Leipzig
2004 Billedkunstnernes Vederlagsfond
2003 prosjektstøtte fra Norsk Kulturråde til Das Feld
2000 prosjekt stipend for Nederland fra kulturdepartmentet Dresden
1996 USA stipend fra kulturdepartmentet Dresden
1994-95 DAAD stipend for Nederland
Kunstoppdrag
2017-19 PARK. Levanger ungdomskole og LevArt, Tenthaus Oslo
2010-2011 Lista ungdomskole, Vestavinden
2009-2011 Lørenskog Hus, Lørenskog, Lørenskog Stars
2008-2011 Forschungszentrum Rossendorf, Tyskland, Möglichkeitsfeld
2007 Vålerenga Skole, Oslo, Kampversjon – Mangfold
2005 Psykologisk Institutt, Oslo (N), UIO, Resilience, though.
2003 Sächsisches Industriemuseum Chemnitz, Feldgruppe
2001 IFW Dresden, (D), Formelwand
2000 IFW Dresden, (D), Kristallwand
2000 Sächsische Staatskanzlei Dresden, Medienwand
2000 Sächsische Landesvertretung, Berlin, Weite
Konkurranser (invitert)
2015 Levanger Ungdomskole
2010 Staatliche Studienakademie, Dresden
2009 Politistasjon, Riesa Poppitz
2008 DINZ, Dresden
2008 HTW Leipzig, biblioteket
2007 Oslo Lohavn, ventilasjonstårnene
2007 Universität, München
2004-05 Hochschule Zittau, (D)
2003 Akershusstranda, Oslo
1999 Landtagsvorplatz, Dresden
1998 Ministerialgebäude am Carolaplatz, Dresden
1998 Deutscher Bundestag, Paul-Löbe Haus, Berlin,
1997 TU Chemnitz, Hörsaal
Scenografi
2012 Black Box Teater, Ship Ohoi (regi Pia Maria Roll)
2010 Black Box Teater, Over Evne III, Oslo (regi Pia Maria Roll og Marius Kolbenstved)
Kunstkonsulent
2011-16 Østensjø skole
Innkjøp
2017 Preus museum, Horten Contributor, foto
2011 Kunstsammlung der Stadt Dresden, Common Alphabt, maleri
2009 Kunstfonds des Freistaates Sachsen, Contributor, foto
1998 Kunstfonds des Freistaates Sachsen, Turm von Breda, installasjon
siden 1991 ulike private sammlinger i Tyskland og Norge
Forelesninger, artist talk, (utvalg)
2017 Nasjonalmuseet, Mellomstasjonen
2017 KHIO, masterklasse, Tenthaus Oslo
2017 Sentralen, Tenthaus Oslo
2016 Tegnerbienale, Tegnerforbundet, Skisse for et liv
2016 Preus museum, Contributor
2013 Hennie Onstad kunstnersenter, Tenthaus Oslo