Bülow, Malin
Installation, Performance, Sculpture
Inspired by inside wetness, osmosis, permeability and equilibriums, I seek to visualize the systems and connections between our bodies.
I think of emotions as insides – insides that need to blend and skins that need to melt to allow flow across barriers. Sara Ahmed speaks in terms of circulation rather than transfer. She describes emotions as the sticky essence between bodies. Emotions, not affiliated to certain inside structures but as movement in between. At the intersection of Ahmed´s stickiness and my invasiveness rests the core visual potential I am working with.
In my most recent work I have been investigating elasticity in relation to corporality and skin. I create large scale elastic sculptures activated by dancers. In so doing I aim to stretch the most natural border of our bodies – the skin. Skin as the barrier to inside and skin as interpersonal border. I seek to initiate an ambivalent sense of rigidity and flexibility.
My work resides at the intersection between performance and sculpture. The bodily presence is essential. I am working together with dancers that materialize, initiate and activate my sculptural ideas and systems. The choreography is slow, extended and repetitive, making the work appear more like living, elastic sculptures or performative still lives.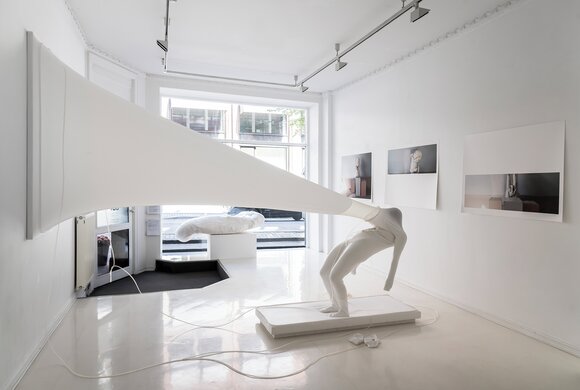 Mjuk polygon, elastisk polyeder - ett rörelseexperiment mellan konkav och konvex / SOFT galleri / Oslo (NO) 2018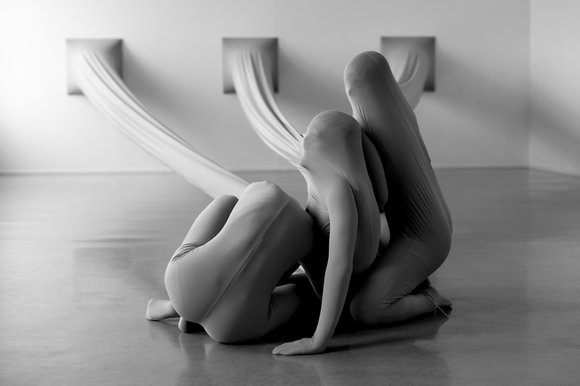 Elastic Bonding / Kunstbanken Hedmark Kunstsenter / Hamar (NO) 2017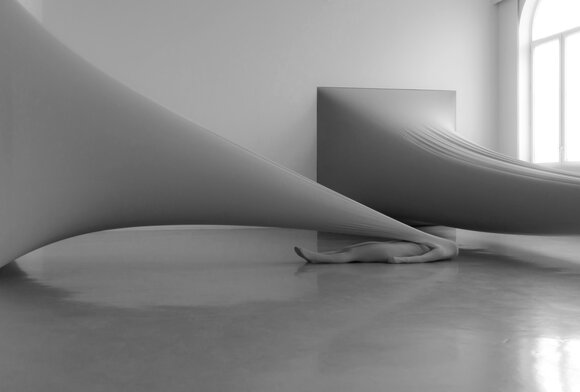 Elastic Bonding / Kunstbanken Hedmark Kunstsenter / Hamar (NO) 2017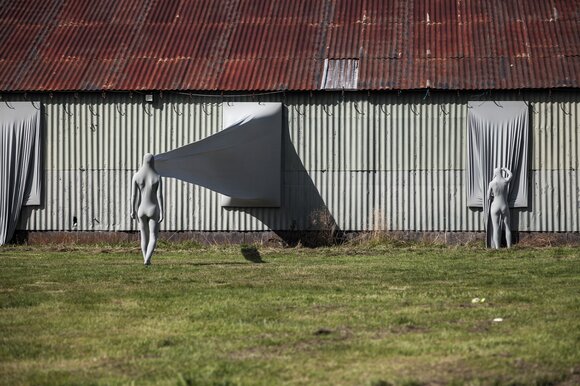 Elastic Bonding / Festivalen Sted Søker Kunst / Ski (NO) 2017
Planned projects and exhibitions
La Biennale de Lyon, curated by Vittoria Matarrese, Lyon (FR). Sep 2019 – Jan 2020
Nieuw Dakota, curated by Stephanie Schuitenmaker, Amsterdam (NL). Sep 2019
Austrian Cultural Forum Berlin – Gallery weekend Berlin, curated by Ala Glasner, Berlin (DE). Apr – Jun 2019
Art and (neuro)science, Clinical neuroscience, Karolinska instititutet, Stockholm (SE). Sep 2019
Babel visningsrom, Trondheim (NO). Solo show; Apr 2019
Multiplié dansefestival, Trondheim (NO). Apr 2019
Karnevalet, arranged by Carnival Union, Oslo (NO). Mar 2019
B OA, Oslo (NO). Solo show; Jan 2020
CV
Education
2014-2016 Oslo National Academy of the Arts, MFA, Oslo (NO)
2008-2012 Gerrit Rietveld Academy, BFA, Amsterdam (NL)
2006-2008 VU University, MSc. Neuroscience, Amsterdam (NL)
2002-2005 Lund University, BSc. Molecular Biology, Lund (SE)
2003-2004 University of Guelph. BSc. Molecular Biology, Guelph (CA)
2000-2001 Lund University, Ex.phil Theoretical Philosophy, Lund (SE)
Residency
2017 The Foundation of Vladimir Smirnov and Konstantine Sorokin, Moscow (RU)
Solo exhibitions
2020 Galleri B OA, Oslo (NO) (upcoming)
2019 Babel visningsrom, Trondheim (NO) (upcoming)
2018 SOFT galleri with Elna Hagemann, Oslo (NO)
2018 Hydrosphere with Angela Rawlings, curated by Elena Lundquist Ortíz, Laboratory for Aesthetics and Ecology, Helsingør (DK)
2018 B OA Project Space 3, Oslo (NO)
2016 RAKE visningsrom, Trondheim (NO)
2015 Galleri Seilduken, Oslo (NO)
2015 The House Project, Holmveien 185, Oslo (NO)
2015 One Night Only Gallery, Kunstnernes Hus, Oslo (NO)
2013 Het Langhuis, Zwolle (NL)
Group exhibitions
2019 La Biennale de Lyon, curated by Vittoria Matarrese, Lyon (FR) (upcoming)
2019 Nieuw Dakota, curated by Stephanie Schuitenmaker, Amsterdam (NL) (upcoming)
2019 Austrian Cultural Forum Berlin – Gallery weekend Berlin, curated by Ala Glasner, Berlin (DE) (upcoming)
2019 Art and (neuro)science with Karolina Sörman, Clinical neuroscience, Karolinska instititutet, Stockholm (SE) (upcoming)
2019 Multiplié dansefestival, Trondheim (NO) (upcoming)
2019 Karnevalet, Carnival Union, Oslo (NO) (upcoming)
2018 CHART SOCIAL, curated by Nanna Balslev Strøjer, Kunsthal Charlottenborg, Copenhagen (DK)
2018 HI GORDON, Schlossgasse, curated by Ala Glasner, Vienna (AT)
2018 Vienna technoball, curated by Ala Glasner, Vienna (AT)
2017 Kunstbanken, Hedmark Kunstsenter, Performance festival, curated by Ingrid Blekastad, Hamar (NO)
2017 Retten til Byen, Losæter, Oslo (NO)
2017 Cosmoscow International Art Fair (represented by RAKE visningsrom), Moscow (RU)
2017 Sted Søker Kunst, arranged and curated by B OA, Festival artist, Ski (NO)
2017 Nástupiste 1-12, Topolcany (SK)
2016 Identitet uten ansikt with Elna Hagemann, Røde Kors, Oslo (NO)
2016 Avgangsutstilling, curated by Elise Storsveen, Kunstnernes Hus, Oslo (NO)
2015 Séances with Materials, Hotel Pro Forma, Copenhagen (DK)
2015 Séances with Materials, Podium, Oslo (NO)
2015 Olohuonenäyttely, curated by Rebecca Hirneise and Line Arhainx, Helsinki (FI)
2014 Open Academy, Oslo National Academy of Fine Art, Oslo (NO)
2014 Oktoberutstillinga, curated by Lars Kjemphol and Sara Rönnbäck, Øvre Fossum gård, Oslo (NO)
2014 ABBA Artist Books By Artists, Soddom & Gomorra (curated by Natália Rebêlo and Mattias Eliasson), Amsterdam (NL)
2013 Pluss Pluss Special, curated by Signe Becker and Cecilie Bjørgås Jordheim, Oslo International Theatre festival, Black Box Teater, Oslo (NO)
2012 Ernstig Geschikt, curated by Hans Jungerius, Rob Groot Zevert, Marcel Kronenburg from G.A.N.G and Anya Janssen, Inge
Pollet from Plaatsmaken, Showroom Arnhem, Arnhem (NL)
2012 Graduation Show, Gerrit Rietveld Academy, Amsterdam (NL)
2012 Leerling/Meester Exposities: Finding an Elephant, curated by Marleen Haartjes, Kunstpodium T, Tilburg (NL)
2012 Rietveld in de Oude Kerk, Amsterdam (NL)
2011 Retort Art Space, Amsterdam (NL)
2011 Practicing Stalls, curated by Jennifer Tee, Straat van Sculpturen, Amsterdam (NL)
2011 Rietveld in de Oude Kerk, Amsterdam (NL)
2010 Henk at ITW hall, Amsterdam (NL)
2010 Basis Buro, curated by Jonas Ohlsson, Amsterdam (NL)
Grants
2018 Billedkunstnernes Vederlagsfond, Project support (NO)
2018 The Norwegian Embassy, Copenhagen – CHART, Copenhagen, DK (NO)
2018 Kulturenheten, Trondheim kommune (NO)
2018 OCA International Support, Project support – Hydrosphere, Helsingør, DK (NO)
2018 OCA International Support, Project support – HI GORDON, Vienna, AT (NO)
2018 Nordic Culture Point, Mobility funding (SE)
2017 Kulturrådet, Arts Council, 2 year working grant (NO)
2016 Billedkunstnernes Vederlagsfond, Project support (NO)
2016 Kulturenheten, Trondheim kommune (NO)
2016 FKDS, Project support (NO)
2016 BKH Kunststudentstipend (NO)
2014 Kulturetaten, Oslo kommune, Etableringsstipend (NO)
2013 Kulturrådet, Arts Council, Diversestipend for nyutdannede kunstnere (NO)
2011 Fredrika-Bremer-Förbundets Stipendiestiftelse (SE)
2011 Stiftelsen Petersenska Hemmet (SE)
Awards
2012 Best Fine Art Graduates of 2012, Plaatsmaken and Stichting G.A.N.G (NL)
2012 GRA Award. Nominated for best thesis, Fine Art department, Gerrit Rietveld Accademy (NL)
Bibliography/Press
2018 Rasmus Helmann, Syret og social sansesafari, Politiken 24.08.18 (DK)
2018 Tommy Olsson, Når Mumien våkner, Klassekampen 04.06.18 (NO)
2018 Pernille Hermann, Vandkunst på stranden, Helsingør Dagblad, 19.06.18 (DK)
2017 Norge i Russland, Billedkunst # 5 2017 (NO)
2017 Bjørn Sandness, Elastisk i Magasinleiren, Østlandets blad, September 2017 (NO)
2016 Simen Joachim Helsvig, Drama queens, Kunstkritikk, 17.06.16 (NO)
2016 Simen Joachim Helsvig, Så mye sensualitet, Kunstkritikk 07.06.16 (NO)
2012 Daan van Trigt, De Optimale Prikkeling, Mister Motley 11.10.12 (NL)
2012 Marina Popova, Toekomstige toppers op Arnhemse expositie, De Gelderlander 05.10.12 (NL)
2012 Dion Phalinckx, Malin Bülow, Temp Magazine nr. 12 2012 (NL)
2012 Julia Geerlings, Veel video, veel installaties, één schilder 10*Rietveld, Metropolis M 08.07.12 (NL)
2012 Irene de Craen, Eindexamententoonstelling Rietveld Academie, Mister Motley 06.07.12 (NL)
2012 Niek Hendrix, Eindexamen Expositie; Rietveld Amsterdam, Lost Painters 04.07.12 (NL)
2012 Niek Hendrix, Kunstpodium T; Leerling/Meester expo#6: Rinke Nijburg, Lost Painters 06.04.12 (NL)
2011 Thomas van Huut, and Berend Jan Bockting, De Generale, Volkskrant Magazine nr.539 29.01.11 (NL)
2011 Yvonne Teiffel, I gränsland mellan vetenskap och konst, Jönköpings-Posten 12.02.11 (SE)
Research/Text
2016 Jag i System – Kroppslig (in) fusionsestetik. Om såret och tystnaden
2012 Jag i Andra – A textual attempt to rub the surface of gendered dichotomies
2011 Emotions, the Brain and I
2008 Evidence for altruistic rewarding. Toward an extended theory of strong reciprocity
2006 Strong reciprocity and the evolution of human cooperation
2005 The Emotion Mechanisms of the Brain