Vold, Eva
Casted and formed on the wheel
I work with objects in porcelain. Cups, bowls, teapots, barrels and tiles. The items are burned to 1240 degrees in electric oven. And are insired by the life in the sea. Colors,linesand form. I am a member of BRUDD, a Galleryshop at Grünerløkka. I have exhibitions in Norway and abroad, and deliver items to various art galleries and museum shops.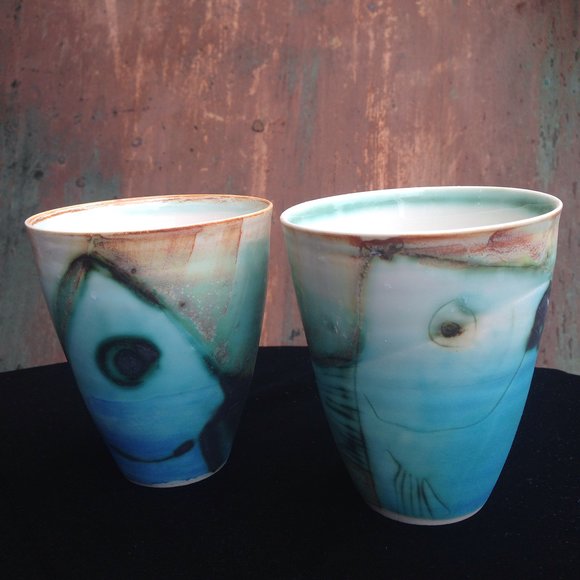 Kopper Porselen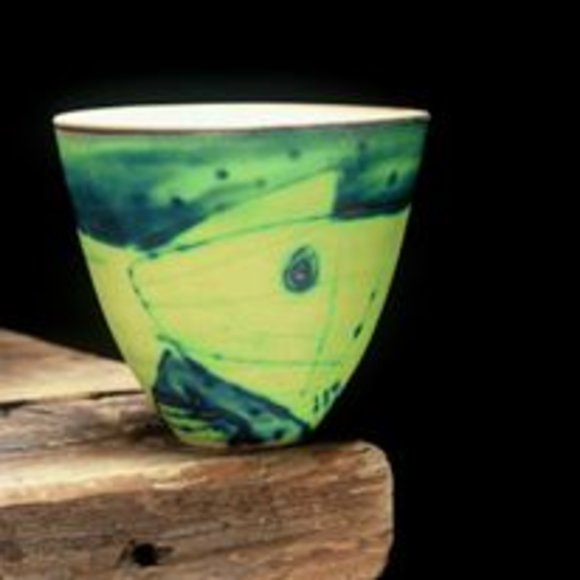 Bolle Porselen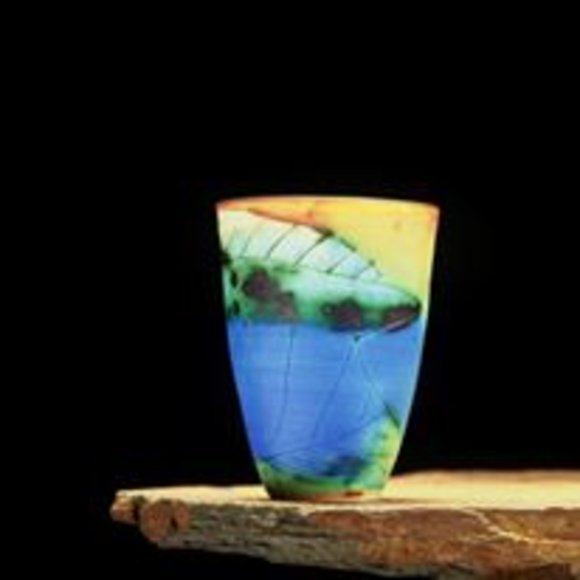 Kopp Poselen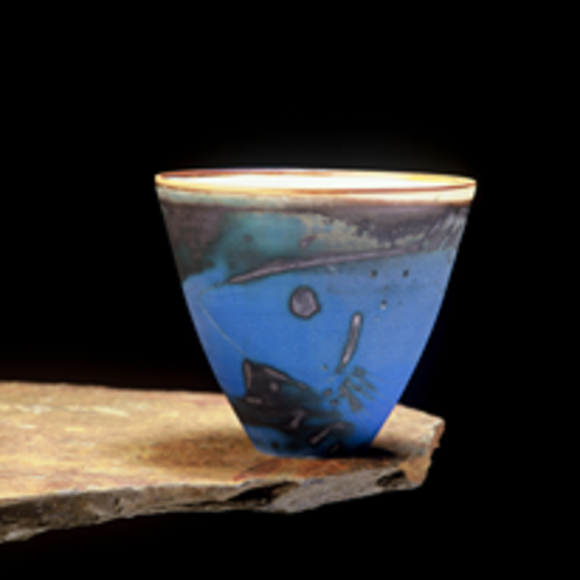 Bolle Porselen
Planned projects and exhibitions
I recently moved my workshop to Frysja Kunstnersenter, and establishes myself there.
CV
EDUCATION Main course in ceramics 1990 at the National Crafts and Art School, SHKS Oslo SEPARATE EXHIBITIONS Nordenfjeldske Kunstindustrimuseum, Trondheim -90 Peder Balke-Senteret, Østre Toten -91 Gallery Vikerødegården, Furnes -91 Stortingsgalleriet, Bærums Verk -92 Galleri Tyholmen, Arendal -94 Galleri Ås , Ås -94 Hadeland Folkemuseum -95 Toten Kunstforening –95 Tablå AS, Bergen –97 Lillehammer Kunstforening –97 Kongsvinger Kunstforening -98 Raufoss Gård –99 Gallery Vikerødegården. Furnes -02 Gallery Vikerødegården. Furnes -05 Solli Brug -05 Gallery Soon -08 Drøbak Kunstforening -09
Toten Kunstforening -11
Uthaug Art Center -14
Gallery Fenka Levanger -15
Exhibitor of the month BRUDD -16
Gjøvik Art Association 2016
Gallery Soon -17
COLLECTION EXHIBITIONS Gallery Føyner, Oslo -86 The annual exhibition, Norwegian Arts and Crafts, -88, -90, -92, 93 and 98 "Young Nordic Ceramics", hiking exhibition in the Nordic countries -88 and 89 Gallery Villvin, Risør -89 Exhibitions under Oslo International Ceramics Symposium, OICS -90 in the Artists' Union and The Norwegian Theater, Oslo. "NOR / ARAB ART EXPO", Dubai, in the United Arab Emirates -91 "CROSS POINT" County Exhibition, Høvikodden -91
"Teatime" The gallery in Fossekleiva, Svelvik -95 "Porcelain" Hedmark Kunstnersenter -99 Kilen Gallery, Hvasser -03 Gallery Soon-08
Søgne Gamle Prestegård. -08 Kilen Galleri, Hvasser -09 Presentation Artist Association -10
Galleri Kunstristen, Oslo -14
BRIDE with the Constitution, Oslo -14
BRIDGE in Arvika Konsthall, Sweden -14
Cup exhibition, The Yellow House, Asker 2016 STIPEND Debutant support -91 Establishment grant -91 Travel and study grant -92 BUY FOR COLLECTIONS North-Norwegian Art Museum, Tromsø -88 Nordenfjeldske Kunstindustrimuseum, Trondheim -90 Norwegian Cultural Council -90 and 93 Helen Drutt Gallery, New York -90 Schlesvig Holsteinishes Landes Museum, Schlesvig -92 Pilot gallery, Akershus Kunstnersenter -97
EMBELLISHMENT MISSION
The Norwegian Embassy, ​​Vilnius, Lithuania -92
SELLING POINTS Artist Association, Format, Kunstindustrimuseet -Oslo
BRUDD Arts and Crafts, Oslo
Gallery Fenka, Levanger Lillehammer Art Museum, The Artist Center in Oppland Nordenfjeldske Kunstindustrimuseum -Trondheim Hå Gamle Prestegård -Jæren Gallery Villvin -Risør
Workshop sales Frysjaveien 145, 0871 Oslo