Honeyman, Sarah
Keramikk, tegning
Sarah`s artistic work has often had its origin in an urge to express the subtle and the cunningly storylike.
With her background in illustration and graphic design she has over the years developed a unique expression in clay through a broad spectre of engaging sculptural shapes and forms.
That whitch at first seems so figurative does on reflection set the imagination into play and lead the thoughts to a storytelling experience. If the figure is observing, wondering or engaging, it can often present some surprises. One can often look at Sarah`s work in the passing, only to come back after a while to discover something a little different about the story.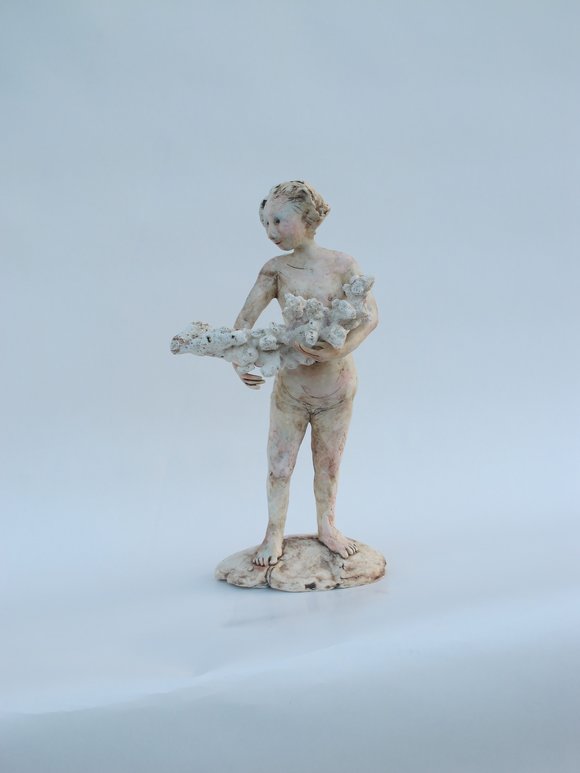 Sarah Honeyman, Coral Angel, porcelain, 18x30cm, 2017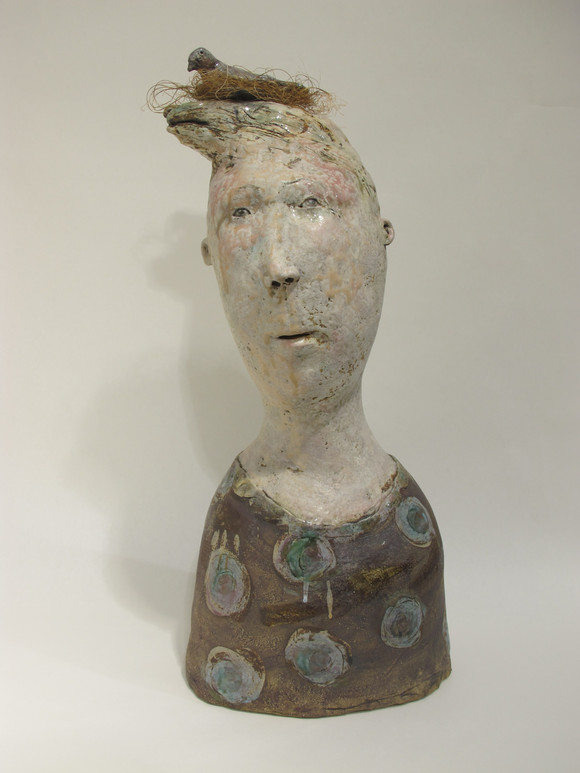 bird in the nest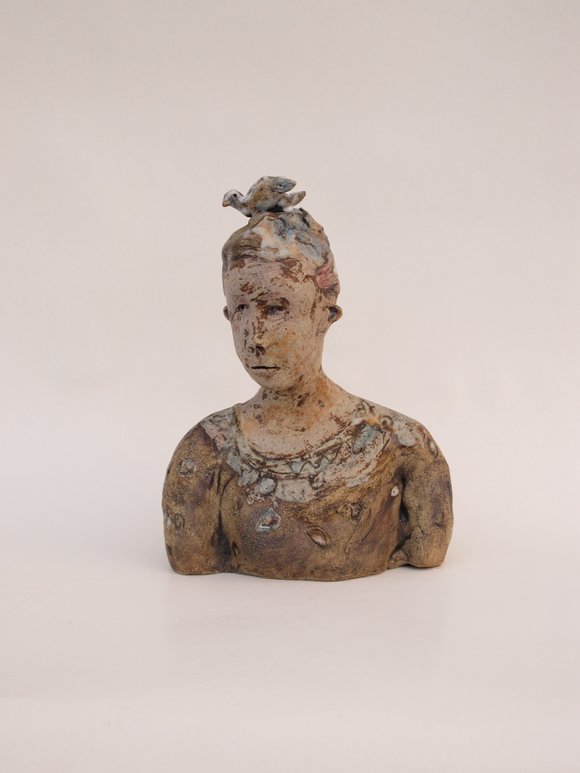 bird on the head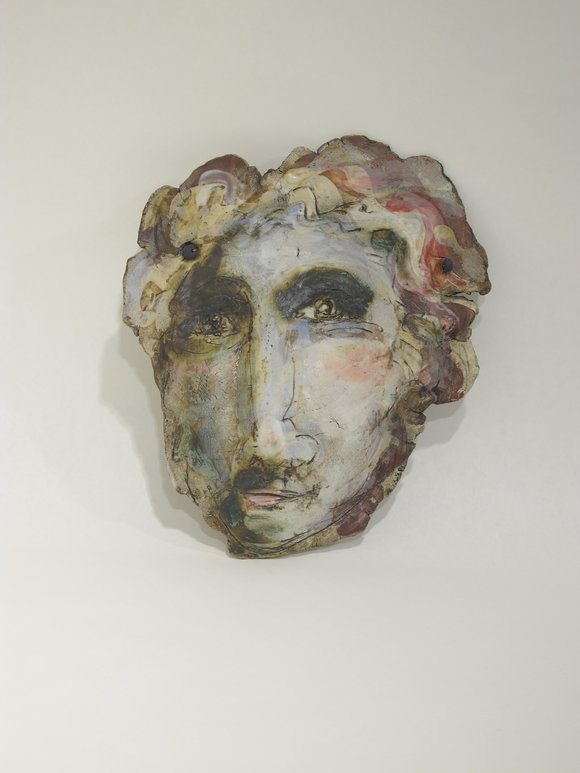 face
Planned projects and exhibitions
Villvin Gallery, Risør, May 2019, Window Utstilling
CV
CV
Sarah Honeyman,
Svingen Terrasse 11, 0756, Oslo
sarahhoneyman@gmail.com
www.sarahhoneyman.com
Utdanning
1979-1980 Post Graduate Diploma, Edinburgh College of Art, Scotland
1975-1979 Diploma, Illustration and Ceramics, Edinburgh College of Art, Scotland
Hoved Lektor stilling, Stipend
1987 Glasgow School of Art, Deltid Lector Keramiks avd.. 2-4 år BA student
1982-1983 Crafts Council of GB, 1år Etablering stipend
1980-1981 Junior Fellowship, Ceramics, South Glamogan Institute of Higher Education, Faculty of Art & Design. Deltid undervisning for BA students & førskning.
Kunstnerorganisasjonen, medlemskap & Residencies
Professionelt yrkesmessig virksomhet.
nov 2017 'Social Produce' Far East University, Tainan, Taiwan
Aug 2015 Artist residency/International Ceramics Studio Symposium, Kecskemet, Hungary
Seperatutstillinger
2017 okt Det Gule Huset, Holmen, Asker,
2016 Det Gule Huset, Asker, Nye medlem presentasjon
2014 Vindu utstillingen, Bærumkunsthåndverkere, Sandvika
2013 'Mellom venner' Bærum Kunsthåndverkere, Sandvika, Norway
2008 'Punkt' utstillingen, 'haggis pots' Bærumkunsthåndverkere
1988 Open Eye Gallery, Edinburgh, Scotland, UK
1985 St. James Gallery, Bath, England
1984 Yew Tree Gallery, Derbyshire, England
1983 Falcon House Gallery, Boxford, Suffolk, England
1982 Innate Harmony Gallery, ( Cecelia Colman) London
1981 Oriel, Welsh Arts Council Gallery, Cardiff, Wales
1981 S.G.I.H.E., Fellowship Exhibition, Cardiff
Gruppeutstillinger og Kollektive utstillinger
28 Aug2015 Museion No.1, Budapest, 'Borders' (juryert)
2012 Ål Arts Association, Norway
2008 Bærumkunsthåndverkere 30yrs Jubilee, Sandvika, Norway
1994-1996 'Elements of Change', touring exhibition, Contemporary Ceramics from Scotland (invitert )
1990 'The Chosen Few' Contemporary Scottish Ceramics and Paintings, The Open Eye Gallery, Edinburgh, Scotland (Artist's choice!)
1988 'Figurative Ceramics' The Scottish Gallery, Edinburgh, Scotland (invitert)
1987 Telt 7, Edinburgh
1986 'Decorated Pots', The Scottish Gallery, Edinburgh
1984-1985 'Clay Figures' touring exhibition, The Open Eye, Glasgow…(invitert)
1984 'Animals in Art' Cirencester Workshops, England (invitert)
1983 401 ½ & Fosseway House Workshops, Westminster Gallery, Boston, USA
1982-1983 Welsh Arts Council, touring exhibition with Alan Heaps
1982, 1985 Chelsea Crafts Fair, London
Utsmykkningsoppdrag og Innkjøp til Offentlig Samlinger
1996 Monklands & Bellshill Hospital, Scotland, Ceramic wall Mural, in waiting lounge
1994 CO-OP building, Glasgow, porcelain panel in close.
1989 Heilan' Jessie pub, Glasgow, large bust
1988 Scottish Arts Council, Crafts Collection
1986 Glasgow Art Gallery and Museum, Crafts Collection
1985 Wilson Court, Glasgow, ceramic wall panel for entrance lobby
1982 Welsh Arts Council, Crafts Collection
Publications
2000 Clay and Glazes for the Potter, Daniel Rhodes, revised, expanded 3rd edition. Edited by Robin Hopper
1988, 1986 Crafts, Scotland's Craft Magazine no.21, 12, 11
1982 The Ceramic Spectrum, Robin Hopper
1982 Mouto, Industikonstforbundet Ornamo, Finnland nr.7
1981 Craft, Welsh Arts Council quarterly, no.18, 21