Gill Johannesen, Janne
Painting
I work with series of paintings. My pictures are subjective stories. Everything is seen from my angle.
around the corner the world expands, a red breadcutter and night are mirrored in a window, light falls from the left, where the stairs go down, on the floor, in the light, I am five years old, the movement crosses the room, towards the forest, with the memory of the carpet in the palm, in the smell of forest from the garden door, the darkness rounds the corner, dad´s body dissolves and dissappears, you disappear, but you are not in this project, you still appear, in that angle, in a leaning tree trunk, in a plant that stretches its leaves towards me, where the floor straightens out and the door throws a shadow into the stripes
I´m trying to hold on to a memory, from an angle in a room. I don´t know how the picture will be before I paint it.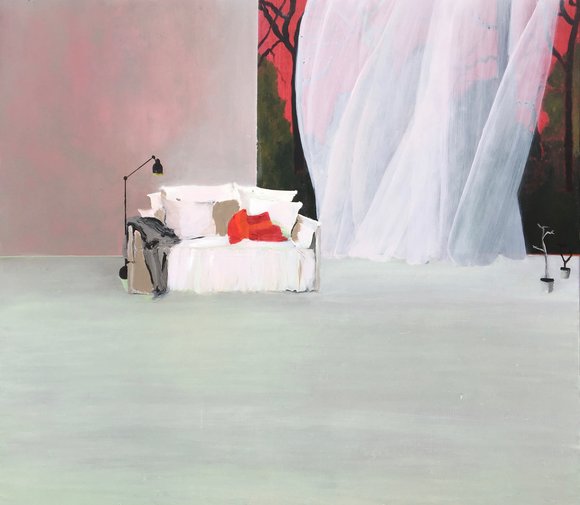 "ute står trene tett II", olje på lerret 70 cm/80cm, 2017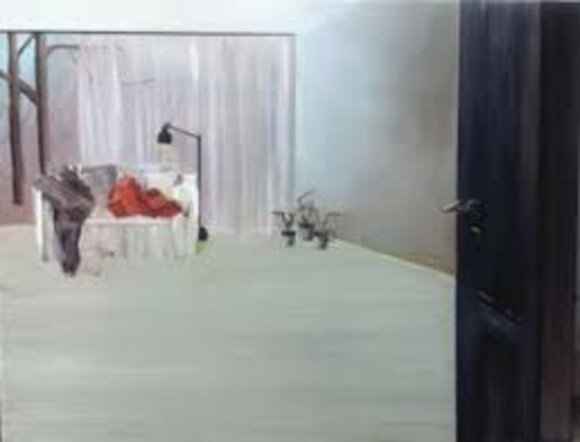 "ute står trene tett I", olje på lerret 70 cm/90cm, 2016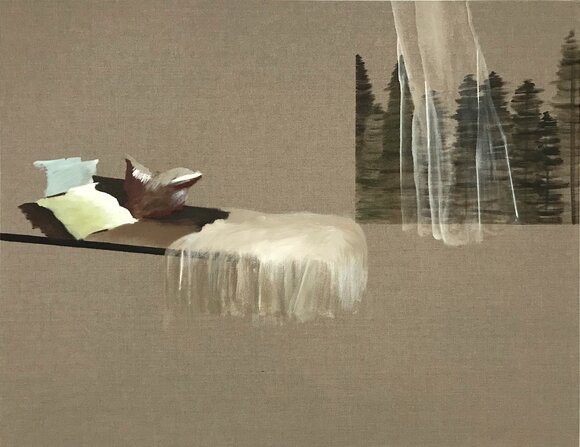 "Vender tilbake", olje på lerret 70 cm/90cm, 2018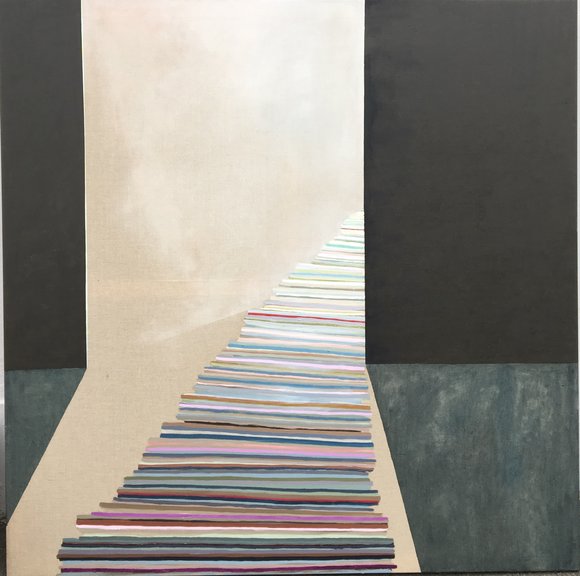 "stripesti", 150 cm/150 cm, olje på lerret, 2017
CV
CV Janne Gill Johannesen, born in Bergen 1972, lives in Oslo and has a studio in Økerntorgvei 1 membership : NBK (Norske billedkunstnere) LNM (Landsforeningen norske malere) BOA (billedkunstnerne i Oslo og Akershus) education : author study in Bø 2008 – 2009 art academy in Trondheim/Helsinki 1996 – 2000 art school in Bergen 1994 -1996 stipend : Ettårig stipend 2017 Diversestipend 2010 Chr. Lorch Schives legat 2006 Vederlagsfondets stipend 2005 Statens etableringsstipend 2004 Vederlagsfondets stipend 2001 purchased by : Viking Jupiter 2018Terra gruppen 2005 Oulo museum of art OMA (Finland) 2000 Solo exhibitions : («festspillutstillingen». Galleri EKG. Hamar. 2020)«hennes mørke gulv». Galleri EKG. Hamar. 2018«ute står trærne tett». Galler LNM. 2017 «din til venstre for min». Galleri EKG. Hamar. 2015 «sterk vind, rundt hjørnet». Det gule huset. Asker. 2014«vinkler og uoversiktlig skog». Elverum kunstgalleri. Elverum. 2013"angle". Nes kunstgalleri. 2008"light white". Galleri 69. Oslo. 2006
Group exhibitions : "Die Winterreise". Galleri LNM. Oslo. 2015 «Kontraster». Nes Kunstforening. 2009 Elverum kunstgalleri, med Ann Lundstrøm. Elverum. 2008 Elverum kunstgalleri, med Marianne Boberg. Elverum. 2007 "Tre". Med Patrik Entian og Pia Sandstrøm. Galleri KiT. Trondheim. 2000 "3 personer eller 250 kg", med P. Entian/P. Sandstrøm. Kuvataideakademia galleria. Helsinki. 1999 Autumn exhibition : Kunstnernes hus, Oslo 2004 Kunstnernes hus, Oslo, «Kunst rett vest», Kunstlabbet, Vestfossen 2013 «Kunst rett vest», Trafo, Asker 2012 "Crisis management", Momentum Moss 2000 "2 000", Edsvik konsthall, Stockholm 2000 "Avgangsutstilling", Trondheim kunstmuseum 2000 "Vårutstillingen", Galleri Steen, Oslo 1999 "In the air", Kuvataideakademia galleria, Helsinki 1998 "Faith", Galleri KiT, Trondheim 1997 "Grafikk", Norske grafikere, Oslo 1997 "Isfit", Galleri Bispen, Trondheim kunstforening, Trondheim 1997 project : (presentation at the book fair in Frankfurt 2019, in the german journal «die horen», a journal for literature, art and criticism