Lysen, Janne Maria
mixed media
Janne-Maria Lysen (JML) holds a BA and an MA from the Kunsthøyskolen i Oslo, Kunstakademiet and the Royal Art
Academy of Stockholm.
J.M Lysen is creating questions by putting things in a notable and awkward order. Asking existential questions that appears during daily life. She is taking a humoristic look at human logic and behavior, but at the same time she is showing
her non satyrical form of criticism. With an interest in handcraft and mostly raw material, that she collects from nearby
surroundings, she is reusing them to create new works. Last but not least J.M Lysen's work manifests that both written
and spoken language is a shapeable material.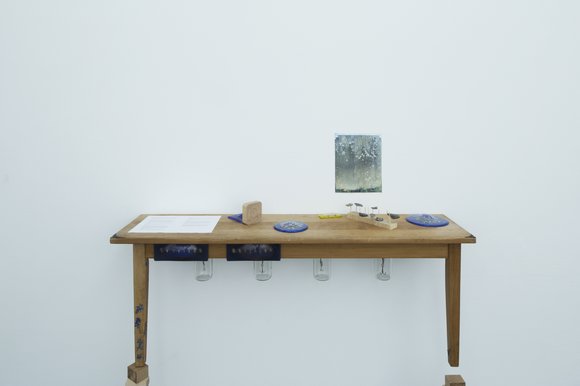 A Farmer and a Clown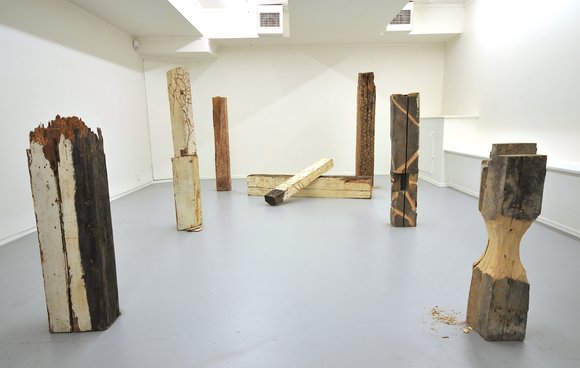 Kven bur i huset?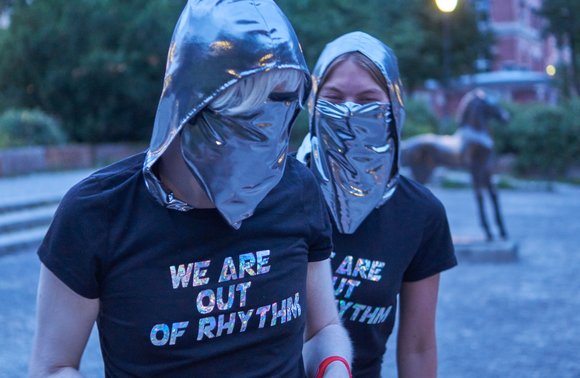 O.C.D., XXXL DANCEFLOOR
CV
CV
Janne Maria Lysen, b.1989
Based in Oslo
Education and courses:
2015/17 The Academy of Fine Art, Oslo National Academy of the Arts, Master
2016 Royal Institute of Art, Stockholm (exchange)
2012/15 The Academy of Fine Art, Oslo National Academy of the Arts, Bachelor
2010/12 Nordland Art- and Film school, Kabelvåg, Norway
2009/10 Art History, University in Bergen
2008/09 Voluntary work in Düsseldorf, Germany
2007/08 Haugaland VGS, Art College
2006/07 SCAT, Somerset College of Arts and Technology, UK
2005/06 Haugaland VGS, Art College
Exhibitions:
2016 "Massa frågor om vad som inte finns"
(Many questions about what that does not exist ), Royal Academy of Stockholm
2015 "Under bordet" ( Under the table) , Open Academy, Oslo
2014 "Sirkus utan brød, løva gjennom ringen"
(Circus with out bread, Lion through the ring), KHIO, Oslo
2014 "Smykke seg med kvardagen, kunst"
(Using the everyday to dress up, art), Valestrand Culture-church, Sveio
2014 "Jeg flytter og det er ditt problem" (I´m moving and it is your problem), KHIO
2013 "Byder" (Giving and taking), Skylight, KHIO
Group exhibitions:
2018 Inside Outside, Performance, Gallery Dzialdov, Berlin
2018 Lala wayaka current, London
2018 Lala wayaka current, Panama
2017 O.C.D (oppositional Contemporary Dancefloor) performance,
Black Box Theater,
2017 Master Degree Show 2017, The Academy of Fine Art, Kunstnernes Hus, Oslo
2017 "Drawing for freedom", Berlin
2016 "Drawing for freedom", Akershus art center
2016 "Spring exhibition", Royal Academy of Stockholm
2016 "Repair, Meld and Mend", KHIO, Oslo
2016 "Drawing as a political tool", Defenders Day, Stockholm
2016 "Oppstandelser", Kristiansand Art Center
2015 "Drawing as a political tool", Hôtel de Ville, Salons des Arcades, Paris
2015 "Drawing as a political tool", OSCE (Organization for Security and Co-operation in
Europe) konferanse, Belgrade
2015 "Ting", After School Special, Bergen Kunsthall
2015 "Opposite Jerry", Portnergalleriet, Oslo
2015 Bachelor Degree Show, The Academy of Fine Art, Kristian Augusts gate 15, Oslo
2015 "JAAT", Open Academy 2015, KHIO
2015 "CafeCafe", Akademirommet, Oslo
2015 "To Ramallah and bach, again", Akademirommet, Oslo
2014 "JAAT", Seildukgalleriet, KHIO, Oslo
2013 "Cantina", KHIO, Oslo
2012 "NOVA", traveling exhibition in North of Norway
2012 "Forfra", Nordnorsk Art Center
2012 "Srubbsår", Galleri Lilandgården, Kabelvåg
2012 "Broken screens Ill", Galleri Lilandgården, Kabelvåg
2011 "Work out III", Galleri Lilandgården og Kolflaathbrygga, Kabelvåg
2011 "Broken screens Il", Poznan Art Academy, Polen
2011 "Broken screens l", Galleri Lilandgården, Kabelvåg
Grants:
2017 Diversestipend/ Miscellaneous grant for recently graduated artists
2017 BKH (Visual Artists Help fund) Grant