Brinch, Maria
Textile, sculpture, painting
My work, with their painterly qualities connect to both classic decorative textile and our contemporary digital recordings of lived lives, are steeped out from a critical exploring of the different dimensions of meaning in a folded material, both materially and emotionally.
My process revolves on how the social aspect of doing art based in craft techniques spring from the act of reaching out, across cultures and resources. I exercise these questions in long term collaborations with artists in both Myanmar og Uganda, and our practice opens up a space for sharing political experiences and contemporary story tellings on preconditions, resources, dreams, faith and more.
I fold printed and painted textiles into tapestries, sculptures and worn objects. I produce wrought irons in collaboration with blacksmith Henning Larsen, I make wooden sculptures together with my dad Dag Brinch, and my mom Vigdis Gullaksen and I sew gym bags out of tapestry left overs.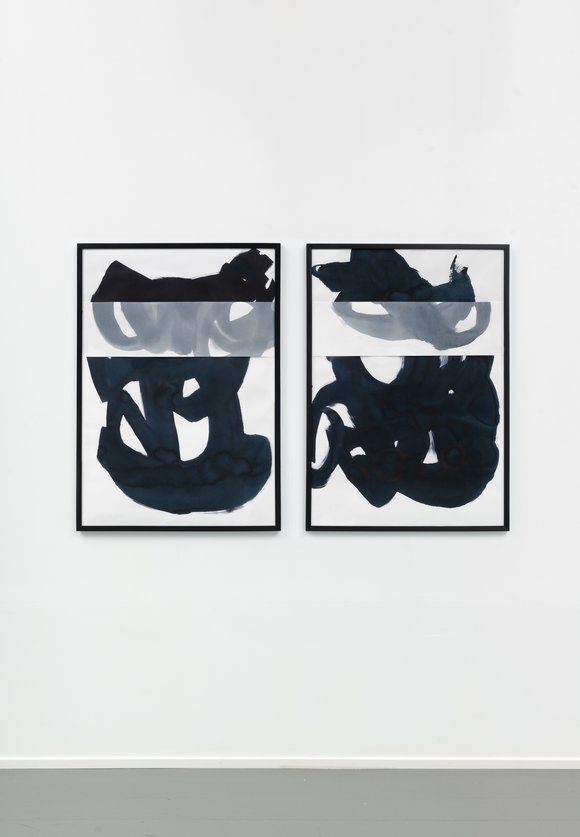 Inya Lake, 70x100 cm each, raw ink on paper framed in shiny plexiglass, double duplex painting folded, 2018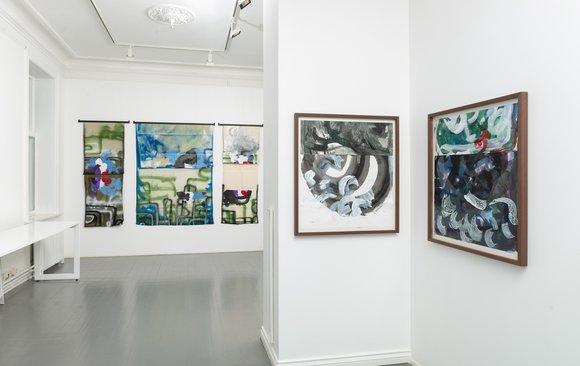 Installation view Gallery LNM, 2018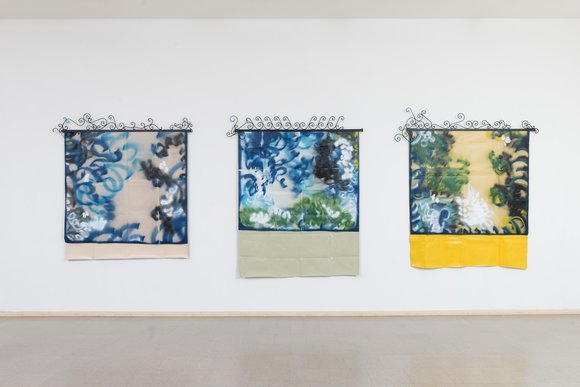 Monday Close 1-3, installation view KROKEN, painted linoleum on wrought iron, ca 175 x 165 cm each, 2017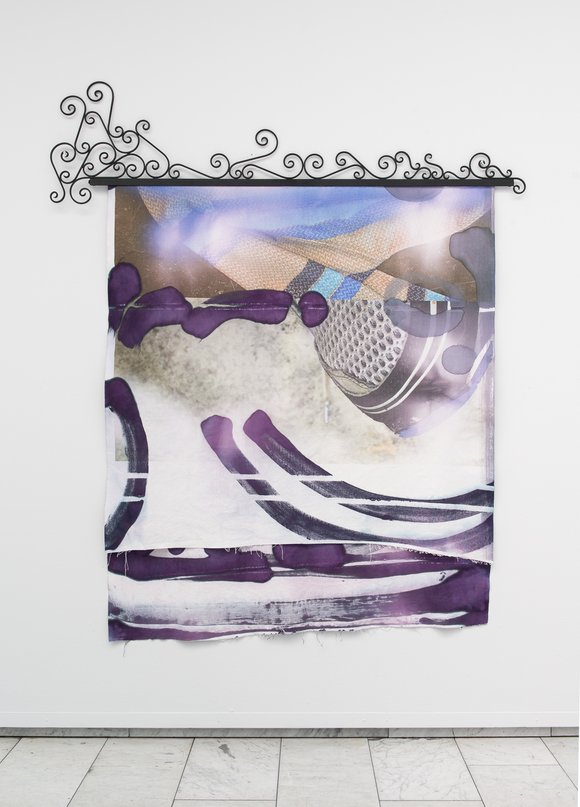 Monstera Free, printed, painted and folded canvas on wrought iron, 175 x 172 cm, 2016
Planned projects and exhibitions
21.june 2019: Solo show, Kunstnernes Hus, Oslo (curated by Entrée)
12. july: 2019 Duo exhibition Lilian Nabulime, Makerere Art Gallery, Kampala, Uganda (curated Martha Kazungu)
2020: 2 months Residency Myanm/art, Yangon, Myanmar
2020: Exhibition, Entrée, Bergen, Norway
CV
CV
MARIA BRINCH
Born 1984, Norway
EDUCATION
2012 Master degree Textile, Oslo National Academy of the Arts, NO
2008 Bachelor degree Textile, Oslo National Academy of the Arts, NO
2007 School Of Visual Arts, New York City, US
2005 Strykejernet Art School, Oslo, NO
2003 Hartvig Nissen, high school, NO
SOLO SHOWS (selected)
2019 FRUKTKJØTT, Kunstnernes Hus, Oslo
2019 Embodiment (with Lilian Nabulime), Makerere Art Gallery, Kampala, Uganda
2019 Untitled, Galleri LNM, Oslo (upcoming)
2018 Untitled, Kunsthall Oslo, Oslo (upcoming)
2018 Given Space, Myanmart Gallery, Yangon, Myanmar
2017 KROKEN, Asker Kunstforening, Asker
2017 Works, Torhovteatret, Nationaltheatret i Oslo
2016 THE BIRTHDAY PAPER III, Artist Book release, Cappelens Forslag
2015 THE BIRTHDAY PAPER II, Artist Book release, Kunstnernes Hus, Oslo
2015 'The Emerald Blue', Screening, ONO, Kunstnernes Hus, Oslo
2014 'The Midnight Lunch Break', Gallery FORMAT, Oslo
2014 'The Almost Cry Outs', Bærum Culture Center, Asker
2014 THE BIRTHDAY PAPER, Artist Book release, Revolver
2013 'This I Promise With Dreams', Kunstnerforbundet Art Association, Oslo
2012 'Too Solid For Poetry', RAM gallery, Oslo
2012 'Trying To Find You, Swimming Through Stone', Gallery Storck, Oslo
GROUP SHOWS (selected)
2020 Embodiment (with Lilian Nabulime and other Norwegian and Ugandan artists), Galleri Entrée, Bergen, Norway (kommende)
2018 Tuwaye, HOT Sculpture Garden, Kampala, Uganda
2018 Velvet Ropes, NADA Art Fair, New York, USA
2017 Got It For Cheap, Galleri Rod Bianco, Oslo
2017 Tableau Window, F5 Concept Store, Oslo
2017 Hot Dropz (with Charlie Roberts), Kristiansand Kunsthall

2016 'Christmas Show', Kunstnerforbundet, Oslo
2016 'Decorations', Tableau Paper Show, Gym Ila, Oslo
2016 'Got it for Cheap', Oslo, København, Stockolm, Berlin, Paris, NYC
2015 'Utstilling', gruppeutstilling Khio, Gallery Seilduken, Oslo
2015 'KpA-jubileet', Oslo City Hall, Oslo
2015 'Menneskeberget', Edvard Munchs studio, Ekely
2015 'Handlingens gang', Vestlandsutstillingen, Stavanger Kunsthall, NO
2014 'Talente 2014', Munich, DE
2013 'PARABOL', Gallery F15, Jeløya Moss, NO
2013 'Kunsthåndverk2013', Museum of Decorative Arts, The National Gallery, NO
2013 'The Art Award Price', Sandefjord Art Association, NO
2012 'ELIA NOW/NEU', Art Festival, Porto, Portugal
2012 'Destroy All Nouns', MA Show, Oslo National Academy of the Arts, NO
2011 'If I Could Dream', Ekornes Industry, Sunnmøre, NO
2011 'Jules Lost His Jewels', (with Marianne Hurum), Gallery Seilduken, Oslo, NO
2011 'Sweater Featuring Palooza', Black Box Gallery, Oslo, NO
2011 'A Looking In View', Søylegalleriet, Oslo, NO
2011 'Knitting in Contemporary Art', Norwegian Association of Art Societies
2010 'University Road', Snake Mountain Gallery, Oslo, NO
2009 'Braveheart', Hillhead Street Project Space, Glasgow, Scotland, EN
2008 'Material Works', Momentum Kunsthall, Moss, NO
2008 'Pillow Appetite', Gallery NB8, Oslo, NO
2008 'Arty Farty Fashion Party', The Norwegian Centre for Design and Architecture, NO
2007 'Everydaylife', Nordenfjeldske Museum of Decorative Arts&Design, Trondheim, NO
GRANTS (selected)
2013 3-year Working Grant, Kulturrådet, Government Grants for Artists
2018 Travel Grant, Norwegian Association for Arts and Crafts
2018 Travel Grant, Norwegian Crafts/STIKK/UD
2018 Utstillingsstøtte LNM, Norwegian Arts Council
2018 Travel Grant Uganda, OCA
2018 1-year Working Grant, BKV Art Society
2017 Project Supply, Oslo Arts Council
2017 Exhibition Supply, Norwegian Arts Council
2017 1-year Working Grant, NBK Art Society
2016 1-year Working Grant, NBK Art Society
2016 Project Supply, Norwegian Arts Council
2016 Project Supply VBK, NBK Art Society
2016 Exhibition Supply, OCA
2015 Exhibition Supply, Oslo State Grant
2015 Project Supply VBK, NBK Art Society
2015 Exhibition Supply, Norwegian Arts Council
2015 Project Supply, Norwegian Arts Council
2015 Travel Grant + Project Supply, Ingrid Lindbäck Langaards foundation
2015 Project Supply, Norwegian Arts Council
2014 Exhibition Supply for Young Artists, Norwegian Arts Council
2014 Project Supply, Norwegian Visual Artists Remuneration Fund
2013 3-year Working Grant, Government Grants for Artists
2013 Exhibition Supply for Young Artists, Norwegian Arts Council
2013 Art Debut Award Prize, Kunstnerforbundet, NO
2013 Project Supply, Norwegian Association for Arts and Crafts
2012 Exhibition Supply for Young Artists, Norwegian Arts Consil
2012 Grant for Art Students, The Relief Fund for Visual Artists
2012 Project Supply, Norwegian Association for Arts and Crafts
2010 Travel Grant, The Norwegian Burma Committee
REPRESENTED / COMMISSIONS
2015 International Corporate Art
2015 Oslo Cultural Agency, Ljabrubakken Caring homes
2014 KPA Art Fund, NO
2012 Oslo National Academy of the Arts, NO
RESIDENCIES
2019 Makerere Art Gallery, Kampala, Uganda
2018 Gallery Myanmart, Yangon, Myanmar
2018 House of Talent, Kampala, Uganda
2017 House of Talent, Kampala, Uganda
2017 Leveld Kunstnartun, Hallingdal, Norge
2008 / 2011 / 2012 / 2015 / 2017 / 2018 Studieopphold i Myanmar