Mellbye, Øyvind
Sculptures, machines and ghettoblaster made from wood, metal, concrete and electronics
Øyvind Mellbye(b.1985) works with audiovisual performance projects and sculptures, machines and ghettoblaster made from wood, metal, concrete and electronics.
Current endeavours include research and development of Det Elektriske Korps MkII, kinetic concrete reliefs driven by pressurized air and outdoor cooking apparatuses for black market food services. Ongoing audiovisual projects include hardware-freeform-tekno performances with Samvær Under Tilsün and Det Elektriske Korps (The Electrical Band), which consist of portable drum machines performing in public space. Both in collaboration with Einar Goksøyr Åsen as well as indivual sonic expressions with fragmented, looped and chopped and screwed audio from compact discs on soon-to-be vintage dj-equipment as Dj hür?.
Member of NBK, NBF, UKS, BOA, NAF, SUT, DEK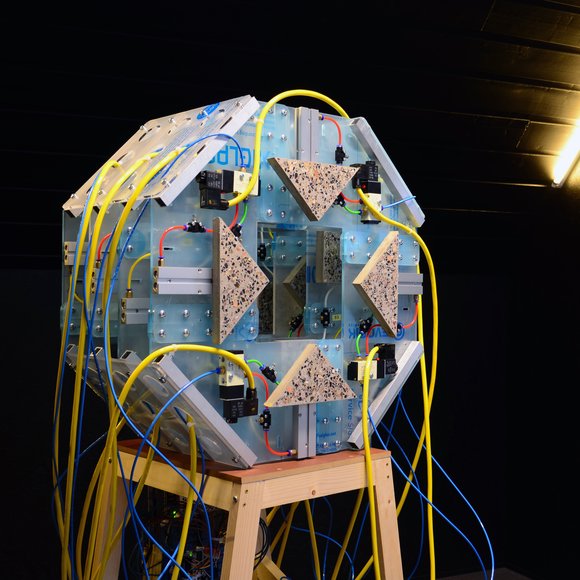 Slanger (2018) / Kompressor, laserkuttet akryl, elektronikk, mdf, tre, pneumatikk, betong 152 cm x 62 cm x 45cm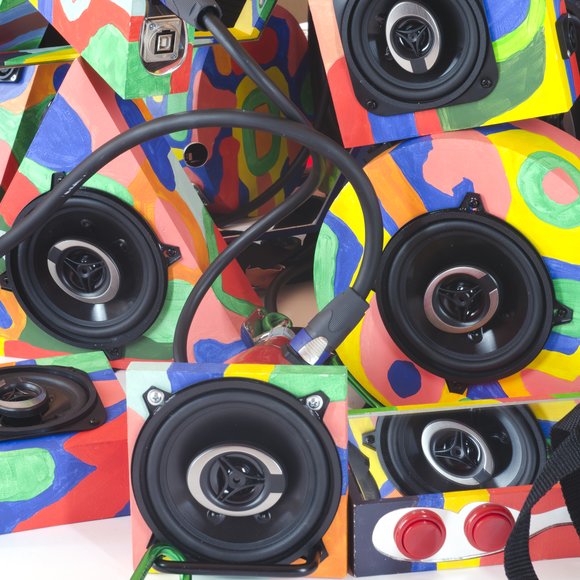 Det Elektriske Korps (2017-d.d) / (detalj) /Akryl på finér, elektronikk, høyttalere, li-ion batterier, laserskåret akryl, 3d-printet abs filament, bæreseler, metallbeslag, karabinkroker, ventilasjonsrør, kjegler Variable dimensjoner
Planned projects and exhibitions
Please join us for the inauguration of Samvær Under Tilsün`s Grei Kafe!
Hardware-freeform-tekno-performance with Samvær Under Tilsün* on the lawn outside Myntgata 2 at 15.00 Saturday 27th of april! More acts TBA – Check out WWW.TILSYN.SE for further information!
*Socializing Under Süpervision
üüüüüüüüüüüüüüüüüüüüüüüüüüüüüüüüüüüüüüüüüüüüüüüüüüüüüüüüüüüüüüüüüüüü
Det Elektriske Korps resides in Projectroom 3 at BOA from the 9th of May until 2nd of June. Please take part in our polyrhytmic actions and make the 17th of May a day you will not forget! Visit www.korps.life for more information!
:———————————————-)
CV
Education:
2007/10: Bachelor in fine art – Bergen National Academy of the Arts
2006/07: Fine Art – New media – Prosjektskolen in Oslo
2004/06: Fine Art – Agder folkehøgskole
2001/04: Upper Secondary School – Allmenfag ,Forsøksgymnaset i Oslo
Scholarships, grants and awards
2018: Statens Diversestipend
2016/17: State stipend for younger newly established artists
2015: From Dusk Till Dawn Art Prize award by Vandaler Forening and PNEK
2011/2014: Norwegian Artists Associations (NBK) remuneration fund
2009: Jacob Weidemanns scholarship for young artists
Acquisitions:
Slepebrøler – mkII (2017) Municipality of Ski
HUX D (2015) Private collection
Selected Exhibitions:
2018:
Det Elektriske Korps – performance/workshop, Spikersuppa Sound Gallery
Det Elektriske Korps – performance/workshop, Oppsal gatefest 2018
Samvær Under Tilsün, Oslo Culture Night, Do you speak tandoor?, Futurefarmers, Losæter
ArtForAll Sculpture e – groupshow – Yxhult, Sweden
V.R.U on Tour / Det Elektriske Korps – performance/workshop, Havnadagen Nevlunghavn
V.R.U on Tour / Det Elektriske Korps – performance/workshop, Glasslåven Kunstsenter og Gran Torg
Samvær Under Tilsüns Soniske Temapark 2- performance/sculpture, Oslo Open 2018 – Økern, Oslo
Slanger – Prosjektrom C4 – soloshow, Bergen
Spring Depot II – groupshow – Tenthaus, Oslo
Radia.fm – inter-european radiobroadcast v/Samvær Under Tilsün
Det Elektriske Korps – performance/sculpture, Akershus University Hospital
Samvær Under Tilsün ON ICE – performance, Spikersuppa sound gallery, Oslo
Sonic Vision Nordland – S.U.T. screening hosted by NyMusikk Nordland, Sortland City Hall, Vesterålen
2017:
Samvær Under Tilsün – performance, Winter Solstice 2017, Oslo
Det Elektriske Korps – performance/sculpture, Norwegian Museum of Science and Technology, Oslo
Høstutstillingen i Inkognitogata – groupshow, Oslo
Rural Movements – groupshow – Dalsland, Sweden
Det Elektriske Korps – performance/sculpture, Oppsal Gatefest, Oslo
Det Elektriske Korps – performance/sculpture and medalworkshop, Akershus Kunstsenter, Lillestrøm
Det Elektriske Korps – performance/sculpture, Human Scarecrows 2.0, Losæter, Oslo
The Commonument – contribution to common monument, Bergen
Samvær Under Tilsün sonic theme park – performance/sculpture, Økern, Oslo
2016:
Samvær Under Tilsyn, Winter Solstice 2016, Oslo
Dj Livsfart performance – PODIUM
Trafo 15 years – PODIUM
Samvær Under Tilsyn feat. Stein "Lasermannen" Vråle – The Balustrade at Deichmanske Library, Oslo Skaperfestival
Samvær Under Tilsyn – Emmanuel Vigelands Mausoleum, Kunstforum Releaseparty
Samvær Under Tilsyn – Revolver, Ultima Decompression Night
Samvær Under Tilsyn – Skur 40, ILAF mulitkunstfestival
Fall Apartment – groupshow, Bergen
Zodiac – groupshow, Lynx, Oslo
2015:
Ill – Winter Solstice 2015, Oslo
Anarchistic x-mas exhibition – groupshow, Akershus Art Centre
From one place to another – groupshow, Current Art Space Basztowa 4/1, Krakow, Poland
Høstutstillingen 2015 – groupshow, Kunstnernes Hus
Ill – Emmanuel Vigelands Mausoleum, Oslo
One Night Only: HUX D – soloshow, Kunstnernes Hus
2014:
Illd – Winter Solstice 2014, Oslo
Piksel 2014: be\O/art – groupshow, Lydgalleriet/Bergen Kjøtt
Soft City – Grünerhagen ballplass, Oslo
Purgatorio – groupshow, Norsk Billedhoggerforening, Oslo
2013:
Potsyd – groupshow during Bergen Assembly
Wuthering Heights II – groupshow at Norsk Billedhoggerforening (NBF), Oslo
Mal Alt! – soloshow during HFT2013 national art festival, Hammerfest