Wyller, Vera
The goal of my artistic practice is to, through architecture, drawing and writing, bring forward the phenomenology of space as the poetic foundation of being. My strategy has been to think of these three as one body whose purpose is to elaborate what it may mean to be human in a world that both 'is and is not' real. Space as a central topic allows me to draw the interrelations between any of its materialities, including the materiality of sound and of thought. Volume, surface, gesture, are subjects to interrelations across infinitely many skins. Their stories are often topics of my work, as stories told in three spatial scales: big, small and only thought of sizes. All of them are most explicitly approached through drawing.
This past year I opened a large exibition of works entitled 'In All Ways Architecture'. It consisted of drawings, including written drawings, placed into objects and into rooms that house them. Their topics were neurology and epic literature. In one series entitled 'Odysseus Ulysses' I transcribed portions of Homer's and Joyce's works with very pale coloured ink into densely packed texts, written in reverse. They were shown in a space I transformed over a period of several years, one that started as a ruinous armoury hidden in the forest north of Oslo since 1876. The house is still named Krutthuset. Together they were the exhibition.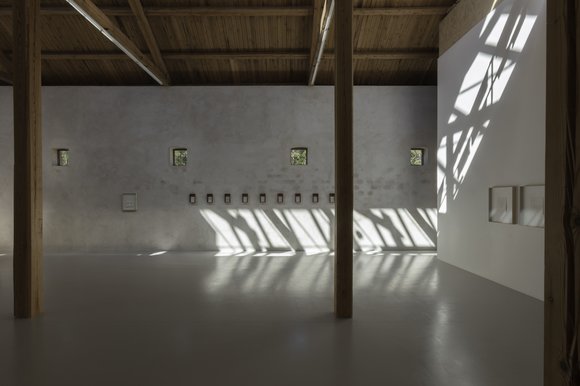 Krutthuset by Vera Wyller, In All Ways Architecture, installation view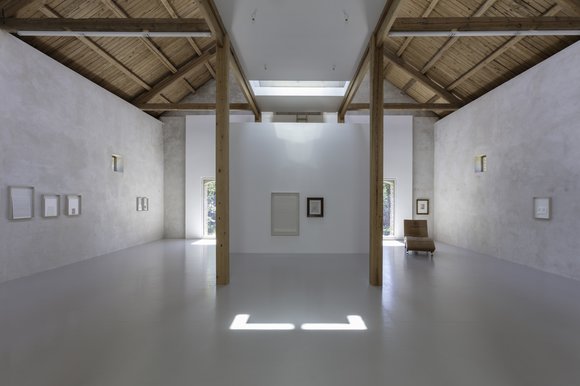 Krutthuset by Vera Wyller, In All Ways Architecture, installation view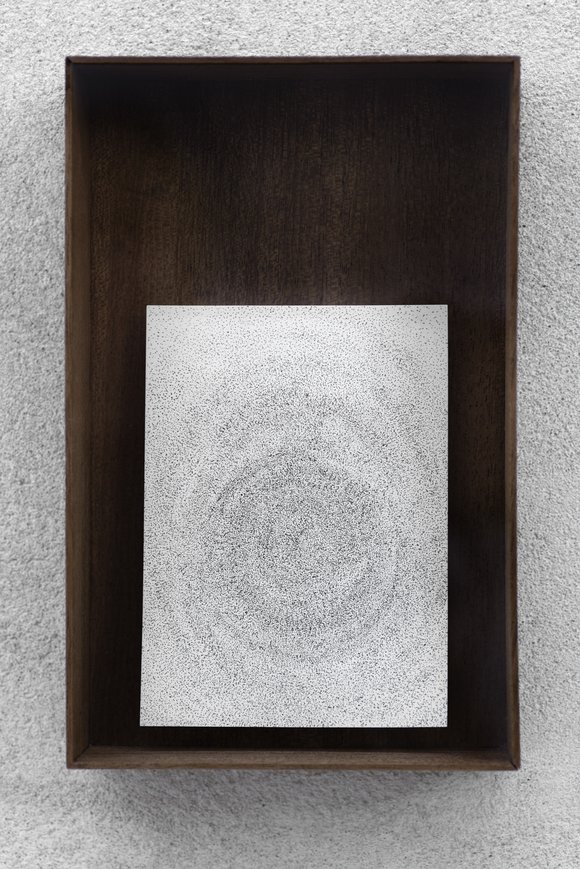 From the series Executions, proof 7, Vera Wyller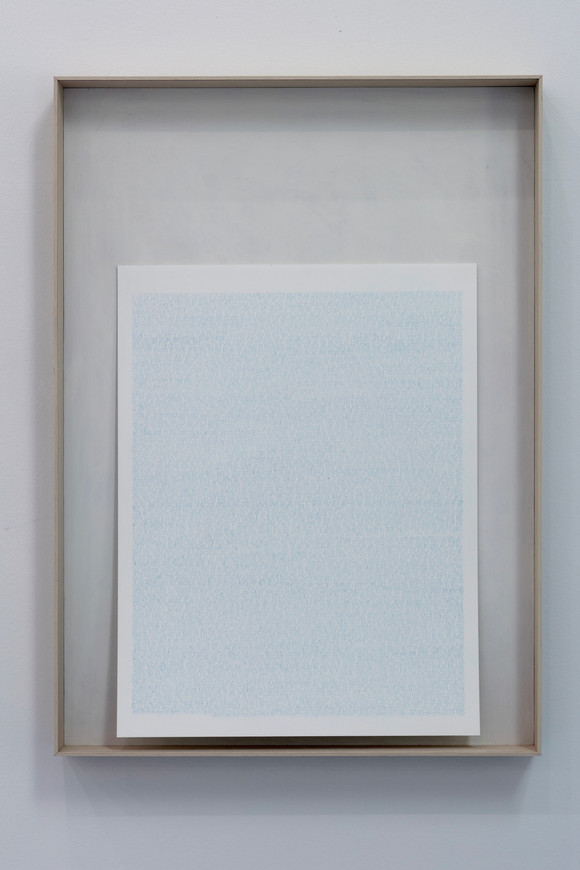 Odysseus Ulysses 5, Vera Wyller
Planned projects and exhibitions
In the coming period I will be busy with the following:
1. Drawn works, including those for the Drawing Triennial, fall 2019.
2. Sculptural/architectural elements around the canyon next to Krutthuset.
a. a canyon roof (transparent folded plate form hovering over the canyon walls).
b. a cabinet for sculpture (jute screens and wood columns spanning the canyon).
c. a 'firewood' pavilion (jute screens and wood).
d. a smoking shell (thin slow spiralling brick shell construction).
3. Continue to develop artistic collaboration through an independent platform with other artists at Krutthuset.
4. The 'Lexicon of Missing Words'.
Drawn works:
While I think through drawing continuously, my plan is to produce new drawn works during the winter months of the coming years, while working in a studio abroad. The topic for the coming series will continue to be based in neurology and literature.
Built works:
The small canyon next to Krutthuset is an already existing space made by rock formations, a given volume that is my current area of concentration. The canyon itself and the area around it is the site for the forms and spatial interventions I listed above. They will take several years to materialise.
Artistic collaboration:
Having an independent platform makes it possible to generate discourse and artistic collaboration with others, something that has been important to me and that I have been working toward. Krutthuset is both a work and a venue in this context. It is a physical and a social means of defining a course of action.
The Lexicon of Missing Words:
The Lexicon of Missing Words is an umbrella for my work with language, a place I repeatedly turn to when regarding limits of classification. It is a philosophical recourse and a nod to existential fluidity that remains outside words. I compensate for it by making new words, an often humorous practice. Apart from turning writing into drawing as I have often done, I plan to continue expanding the lexicon until it is ready to be published, as a lexicon.
CV
Vera Wyller (1957)
Education
The Cooper Union for the Advancement of Science and Art, the School of Architecture, 1978-1983
Parsons School of Design, dept. of Art, 1975-1978
Selected Projects in the US
Portland Performing Arts Center, Holocaust Musum in Washington, Christian Theological Seminary, JFK Airport Project, Koch House NY and Monte Carlo, Millbrook Master Planning Project, Steven Job's residences, projects in California and in NY
Selected Exhibitions and Projects in Norway
In All Ways Architecture
Krutthuset i Maridalen
Fritznersgata 20
Creuna AS,
Cobra AS
Nygren house
Gurholt house
C.J. Barre House,
Frontline AS
13 Mogen T. gate
B. Farmanns Gate 10
Øyehaug project
Svolders gate 9
Leiv Eriksons Gate gate 5
Birkeland project
Monna Wyller project
Trondvald project Frontline project
Fredrikson furnishings
Hvitstein House
Næess Kallevig res.
Published Projects in Noway
Krutthuset
B. Farmannsgate 10
Frontline
Øyehaug project
Published Writings in Norway
The Essential Pin, for Heidy Kennedy Skjerve
With Gloves in the Dark, for Sverre Wyller
Selected Drawing Projects
Odysseus Ulysses
Garage Works
The Oslo Book of Hours
Executions
Proofs
Drawings to Walk Into
PI T C H
Selected Writing
All Most Eden
The Collected Poems
Teaching
Cornell University School of Architecture
New York Institute of Technology, dept. of architecture
Public collections
The National Museum of Art, Oslo
Several Private Art Collections