Wyller, Sverre
painting, sculpture
Sverre Wyller works with painting and sculpture, often in large series. The series involve topics which he develops through different stages, sometimes over several years.
His topics include the state of industry and more recently the state of medicine as subject matters for art. Example of the first is the sculpture project called The Miramichi Series, (2009-11), and the example of the second is the painting project The Westend Series. (2015-18).
Sverre Wyller´s approach to painting and sculpture has a physical and persistent character, often involving repetition. He likes to develop numerous variations to similar aspects of a given topic.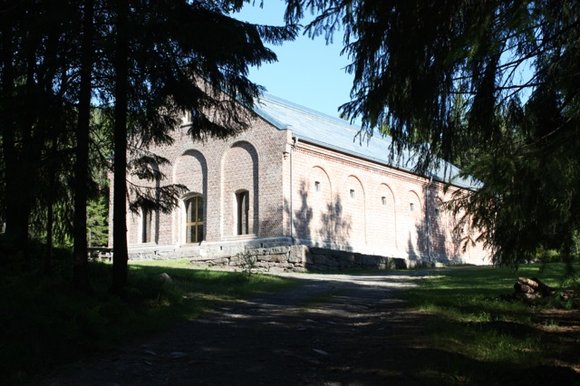 Krutthuset i Skar (Maridalen), anno 1876, KOSA project space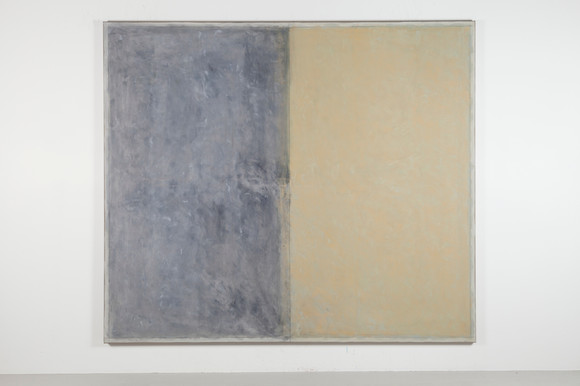 Sverre Wyller: Westend Series # 34, 2017, egg tempera/coal/canvas 190x220cm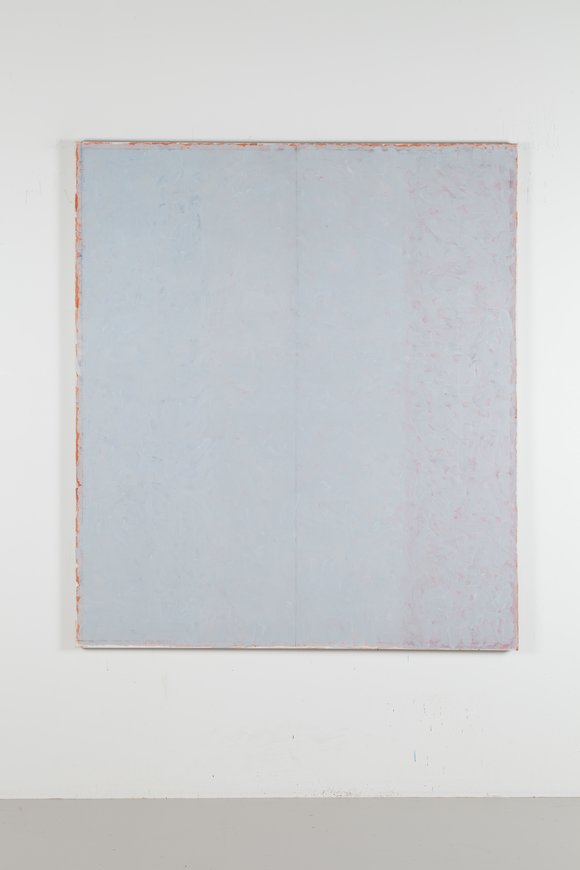 Sverre Wyller: Westend Series #17, 2017, egg tempera/coal/canvas, 160x140cm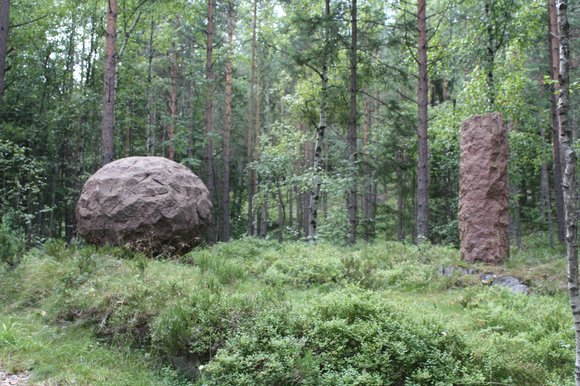 Sverre Wyller: Untitled, 1986, red granite,180cm (diam) + 230x60(diam)
Planned projects and exhibitions
Westend Krankenhaus, Berlin, June 2018–June 2019, Westend Series, paintings
KORO, sculpture commission, outside Øvre Romerike Tingrett (court house), Eidsvoll, completion 2020.
Hå Gamle Prestegård, regional cultural center, 23.03-02.06.2019, Painting and sculpture.
Dropsfabrikken Gallery, Trondheim, Aug/Sept 2020, Painting and sculpture
Gallery Riis, Oslo, fall 2020, Sculptures
Gallery Opdahl, Stavanger fall 2020, Paintings
CV
CV – selected list
SVERRE WYLLER
Born in Oslo 1953
EDUCATION
1982 – 1984 Hochschule der Künste, Berlin (West)
1979 – 1982 National Academy of Fine Arts, Oslo
1975 – 1977 The Oslo School of Architecture and Design, Oslo
SELECTED SOLO EXHIBITIONS
2019 Skulpturer og malerier, Hå Gamle Prestegård,
2018 Sculptures, NBF, (with Matthew Quinten Midskau), Norsk Billedhoggerforening, Oslo
2018 – 2019 The Westend Paintings, Westend Krankenhaus, Berlin
2018 Westend, Galleri Riis, Oslo
2017 The Kolbu series, new sculptures, Peder Balke-center, Kapp, Østre Toten
2015 Nye Malerier, Galleri Opdahl, Stavanger
2014 Oslo, Galleri Riis, Oslo
2013 Miramichi, Galleri Opdahl, Stavanger
2011 Miramichi 20, Galleri Riis, Oslo
2010 Miramichi, Galleri Riis, Oslo
2008 Punkt, Galerie Opdahl, Berlin
2007 Post, Galleri Gann, Sandnes, Norway
2006 To og tyve, Kunstnernes Hus, Oslo
2006 Tre og tyve, Galleri Riis, Oslo
2006 Potet, Galleri Opdahl, Stavanger
2006 The Paterson Project, Drammen Museum, Drammen, Norway
2005 The Paterson Project, Henie-Onstad Art Center, Høvikodden, Norway
2004 The Paterson Project, Rogaland Kunstmuseum, Stavanger
2004 St. Petersburg-serien, Kunstnerforbundet i Oslo
2003 St. Petersburg-serien, The Dostojevski-Museum, St. Petersburg
2002 Galleri Riis, Oslo
1996 Henie-Onstad Art Center, Høvikodden, Norway
1996 Astrup Fearnley Museum of Moderen Art, Oslo
1994 Galerie von der Tann, Berlin
1993 Galleri Riis, Oslo
1991 The Nordic House, Reykjavik
1991 Galeri Riis, Oslo
1988 Galerie Nordenhake, Stockholm
1986 Bergen Kunstforening, Bergen
1986 Galleri Riis, Oslo
1984 Die Quergalerie, Berlin
1983 Niemandes Schlaf, Sonne Berlin Ausstellungen, Berlin
SELECTED GROUP EXHIBITIONS
2017 25-Åringen, Innkjøp til Stavanger kunstmuseums samling 1992—2017
Stavanger Kunstmuseum
2017 Group show, Galleri Riis, Oslo
2016 Inauguration of new space, Galleri Riis, Oslo
2016 Matthias Mansen und Sverre Wyller – Modell für eine Ausstellung,
Edvard-Munch-Haus, Warnemünde, Germany
2016 Group show, Galleri Opdahl, Stavanger
2015 Siksi – revisited, Galleri F15, Moss, Norway
2015 Tredje Akt, Drammen Museum, Drammen, Norway
2014 El Reay de Icod, TEA, Tenerife
2013 Momentum Biennial, Moss, Norway
2012 Galleri Riis, Oslo
2012 All we ask is to be with art, Astrup-Fearnley Museum, Oslo
2011 Galleri Riis, Stockholm, Sweden
2011 Skulpturbiennalen 2011, Vigelandsmuseet, Oslo
2010 Blodig Alvor, Bergen Kunstmuseum, Bergen
2009 Statens Kunstakademi 100 år, Nasjonalmuseet for kunst, arkitektur og design, Oslo
2007 Clusters, Henie-Onstad Kunstsenter, Høvikodden, Norway
2005 Alle snakker om museet, Nasjonalmuseet for kunst, arkitektur og design, Oslo
2001 Skrikets ekko, Arken, Ishøj, Denmark; Munch-Museet, Oslo
1997 Norske Profiler, Museum Folkwang, Essen and Kunsthalle Rostock, Germany
1994 Borta men Hemma, Moderna Museet, Stockholm
1992 Exil, Stavanger, Norway
1990 Jacob Smith, Thomas Hestvold, Sverre Wyller, Kunstnernes Hus, Oslo
1986 Nordanad, Museé des Arts Décoratif, Paris; Malmö Konsthall, Malmö
1985 Sesjon, Kunstnernes Hus, Oslo
1983 Die Quergalerie, Neue Berliner Kunstverein, Berlin
SELECTED PUBLIC COMMISIONS
(Wyller&Wyller: conceptual collaboration with Vera Wyller)
2011 Miramichi # 19, Vigelandsmuseet, Oslo
2014 Miramichi # 20 og # 25, Statens Hus, Stavanger
2014 Allium, Peder Balke-senteret, Østre Toten, Norway
2016 Wyller&Wyller: Den blå Stasjonen, Løren T–banestasjon, Oslo
2016 Miramichi # 23, the Norwegian Embassy Residence in Berlin
2016 Miramichi # 6, Edvard-Munch-Haus, Warnemünde, Germany
2019 Wyller&Wyller: Domstol, Øvre Romerike Tingrett, Eidsvoll
PUBLIC COLLECTIONS
The National Museum of Art, Architecture and Design, Oslo
Malmö Konsthall, Schyls donation, Malmö
Henie Onstad Art Center, Høvikodden, Norway
Malmö Art Museum, Malmö
Städtisches Museum, Reütlingen, Germany
Stedelijk Museum, Amsterdam
Astrup Fearnley Museum of Modern Art, Oslo
Moderna Museet, Stockholm
Rogaland Museum, Stavanger
Bergen Kunstmuseum, Bergen
TEACHING
1996 – 2004 Professor in Painting at the National Acadamy of Fine Arts, Oslo
2014 – 2014 Professor in Painting at the National Acadamy of Fine Arts, Oslo,
(six months subtitute position)
WRITING
1998 Sengeteppet, (The Bed Cover), on Munch and Schwitters, Le musée d'Art moderne de la ville de Paris expose Le cri d'Edvard Munch
2006 Enogtyve historier, collected writings 1983 – 2006
2006 Er det synd på Sune?, Morgenbladet 08.12.06
2016 Olivetti, on the artist Bård Breivik, in the book I´d love the key to the master lock, Fagbokforlaget
CV – selected list
SVERRE WYLLER
Born in Oslo 1953
EDUCATION
1982 – 1984 Hochschule der Künste, Berlin (West)
1979 – 1982 National Academy of Fine Arts, Oslo
1975 – 1977 The Oslo School of Architecture and Design, Oslo
SELECTED SOLO EXHIBITIONS
2019 Skulpturer og malerier, Hå Gamle Prestegård,
2018 Sculptures, NBF, (with Matthew Quinten Midskau), Norsk Billedhoggerforening, Oslo
2018 – 2019 The Westend Paintings, Westend Krankenhaus, Berlin
2018 Westend, Galleri Riis, Oslo
2017 The Kolbu series, new sculptures, Peder Balke-center, Kapp, Østre Toten
2015 Nye Malerier, Galleri Opdahl, Stavanger
2014 Oslo, Galleri Riis, Oslo
2013 Miramichi, Galleri Opdahl, Stavanger
2011 Miramichi 20, Galleri Riis, Oslo
2010 Miramichi, Galleri Riis, Oslo
2008 Punkt, Galerie Opdahl, Berlin
2007 Post, Galleri Gann, Sandnes, Norway
2006 To og tyve, Kunstnernes Hus, Oslo
2006 Tre og tyve, Galleri Riis, Oslo
2006 Potet, Galleri Opdahl, Stavanger
2006 The Paterson Project, Drammen Museum, Drammen, Norway
2005 The Paterson Project, Henie-Onstad Art Center, Høvikodden, Norway
2004 The Paterson Project, Rogaland Kunstmuseum, Stavanger
2004 St. Petersburg-serien, Kunstnerforbundet i Oslo
2003 St. Petersburg-serien, The Dostojevski-Museum, St. Petersburg
2002 Galleri Riis, Oslo
1996 Henie-Onstad Art Center, Høvikodden, Norway
1996 Astrup Fearnley Museum of Moderen Art, Oslo
1994 Galerie von der Tann, Berlin
1993 Galleri Riis, Oslo
1991 The Nordic House, Reykjavik
1991 Galeri Riis, Oslo
1988 Galerie Nordenhake, Stockholm
1986 Bergen Kunstforening, Bergen
1986 Galleri Riis, Oslo
1984 Die Quergalerie, Berlin
1983 Niemandes Schlaf, Sonne Berlin Ausstellungen, Berlin
SELECTED GROUP EXHIBITIONS
2017 25-Åringen, Innkjøp til Stavanger kunstmuseums samling 1992—2017
Stavanger Kunstmuseum
2017 Group show, Galleri Riis, Oslo
2016 Inauguration of new space, Galleri Riis, Oslo
2016 Matthias Mansen und Sverre Wyller – Modell für eine Ausstellung,
Edvard-Munch-Haus, Warnemünde, Germany
2016 Group show, Galleri Opdahl, Stavanger
2015 Siksi – revisited, Galleri F15, Moss, Norway
2015 Tredje Akt, Drammen Museum, Drammen, Norway
2014 El Reay de Icod, TEA, Tenerife
2013 Momentum Biennial, Moss, Norway
2012 Galleri Riis, Oslo
2012 All we ask is to be with art, Astrup-Fearnley Museum, Oslo
2011 Galleri Riis, Stockholm, Sweden
2011 Skulpturbiennalen 2011, Vigelandsmuseet, Oslo
2010 Blodig Alvor, Bergen Kunstmuseum, Bergen
2009 Statens Kunstakademi 100 år, Nasjonalmuseet for kunst, arkitektur og design, Oslo
2007 Clusters, Henie-Onstad Kunstsenter, Høvikodden, Norway
2005 Alle snakker om museet, Nasjonalmuseet for kunst, arkitektur og design, Oslo
2001 Skrikets ekko, Arken, Ishøj, Denmark; Munch-Museet, Oslo
1997 Norske Profiler, Museum Folkwang, Essen and Kunsthalle Rostock, Germany
1994 Borta men Hemma, Moderna Museet, Stockholm
1992 Exil, Stavanger, Norway
1990 Jacob Smith, Thomas Hestvold, Sverre Wyller, Kunstnernes Hus, Oslo
1986 Nordanad, Museé des Arts Décoratif, Paris; Malmö Konsthall, Malmö
1985 Sesjon, Kunstnernes Hus, Oslo
1983 Die Quergalerie, Neue Berliner Kunstverein, Berlin
SELECTED PUBLIC COMMISIONS
(Wyller&Wyller: conceptual collaboration with Vera Wyller)
2011 Miramichi # 19, Vigelandsmuseet, Oslo
2014 Miramichi # 20 og # 25, Statens Hus, Stavanger
2014 Allium, Peder Balke-senteret, Østre Toten, Norway
2016 Wyller&Wyller: Den blå Stasjonen, Løren T–banestasjon, Oslo
2016 Miramichi # 23, the Norwegian Embassy Residence in Berlin
2016 Miramichi # 6, Edvard-Munch-Haus, Warnemünde, Germany
2019 Wyller&Wyller: Domstol, Øvre Romerike Tingrett, Eidsvoll
PUBLIC COLLECTIONS
The National Museum of Art, Architecture and Design, Oslo
Malmö Konsthall, Schyls donation, Malmö
Henie Onstad Art Center, Høvikodden, Norway
Malmö Art Museum, Malmö
Städtisches Museum, Reütlingen, Germany
Stedelijk Museum, Amsterdam
Astrup Fearnley Museum of Modern Art, Oslo
Moderna Museet, Stockholm
Rogaland Museum, Stavanger
Bergen Kunstmuseum, Bergen
TEACHING
1996 – 2004 Professor in Painting at the National Acadamy of Fine Arts, Oslo
2014 – 2014 Professor in Painting at the National Acadamy of Fine Arts, Oslo,
(six months subtitute position)
WRITING
1998 Sengeteppet, (The Bed Cover), on Munch and Schwitters, Le musée d'Art moderne de la ville de Paris expose Le cri d'Edvard Munch
2006 Enogtyve historier, collected writings 1983 – 2006
2006 Er det synd på Sune?, Morgenbladet 08.12.06
2016 Olivetti, on the artist Bård Breivik, in the book I´d love the key to the master lock, Fagbokforlaget