Lande, Kjersti
Drawings, objects, prints
For as long as I can remember I have had a need to collect and keep things that might be at the border of insignificance, on the verge of being considered as waste.
My works are all connected to a personal archive comprised of photos and objects, both found and my own. The archive is reactivated when new material is added. The components most important criterion are the connection to my identity. The archive functions as a buffer between past and future, and works as starting points for drawings and assemblages.
Selected photographs are translated into detailed drawings.
The translation from printed photo into drawings causes inconsistencies that propagates and assumes shapes that otherwise would not have occurred. I am not recreating a unified picture, rather than one that folds out and are investigated over a period of time.
Associations to new places and items appears along the way. Most of the items I collect has a close connection to the drawings. Together they form new environments.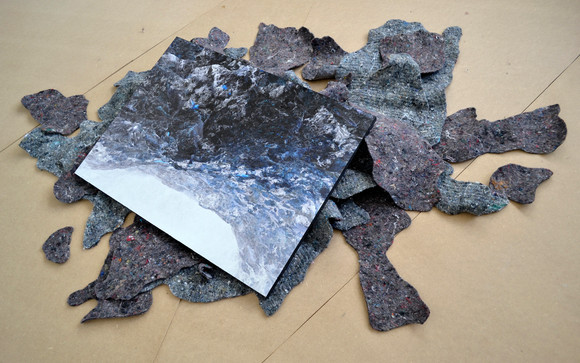 "Underneath Islands", 2018, UV-print på MDF, kotemodell-fragmenter av Stord og Kreta i flytteteppe og malerfilt
Planned projects and exhibitions
Residency, KH Messen, Ålvik, september 2019
Residency, Lademoen Kunstnerverksteder, Trondheim, oktober 2020
CV
CV
B. 1982, Kongsberg. Lives and works in Oslo.
E-mail: kjersti@kjerstilande.com
Web: www.kjerstilande.com
Exhibitions:
2018:
- "Novemberutstillingen 2018", gruppeutstilling, Drammens Museum.
- "Innan Luften Går Ur", gruppeutstilling, Dragsjöberg, Hagfors, Sverige.
- "Tenthaus Spring Depot 2018", gruppeutstilling, Tenthaus, Oslo.
2017:
- 04.11 – 29.11: Under en øy, utstilling i Galleri Elgen, Tynset Kulturhus.
- 28.07 – 30.07: Invert Grounds, gruppeutstilling, Hildelund Kunstfestival, Västra Ämtervik.
- 01.04 – 30.04: Mazes, Nebulae, Sedimentations, utstilling med Monica Flakk og Merete J. Aune på House of Foundation, Moss.
2016:
- 05.06 – 02.07: Opphold og utstilling på Leveld Kunstnartun, Ål.
- 30.09 – 06.11: Something Happens Every Day, separatutstilling i Hvelvet på KRAFT – rom for kunsthåndverk, Bergen.
- 20.11 til 06.11: Stacked Dust, See-through Teeth, separatutstilling på Oslo Prosjektrom.
- 18.11 til 04.12: EN KOLLEKTIV PSYKOGEOGRAFISK GUIDE TIL OSLO, gruppeutstilling, Landbrukets Hus, Schweigaardsgate.
2015:
- DIY Place #1 vist i utstillingen «Magic Language///Game of Whispers», kuratert av Marianne Zamecznik på Revelations 2, Paris.
- A Portable Heap, temporær installasjon i bakgården på Prinds Christian Augusts Minde under Oslo Open.
- Somewhere, There, separatutstilling på Tegnerforbundet, Oslo. Utstillingen ble støttet av Kulturrådet.
2014:
- Novemberutstillingen 2014, gruppeutstilling på Drammens Museum.
- Stacked Heaps: Module 1, v. 2 på Deichmanske bibliotek, Gamle Oslo filial, Tøyen.
- Stacked Heaps: Module 1-3 vist påAvgangsutstilling 2014, Master kunstfag: «Teksten siterer «et visst kinesisk leksikon» (…)», kuratert av Marianne Zamecznik, Galleri Seilduken, Oslo.
2013:
- Log Out, temporær vindusinstallasjon, Snake Mountain Gallery, Oslo.
- Tool Age #1 – #32, på «Cube Off #2», gruppeutstilling, Galleri KiT, Trondheim.
- It's a Girl, gruppeutstilling, Akershus Kunstsenter, Lillestrøm.
2012:
- A Heap of Trust, gruppeutstilling, Norske Grafikere, Oslo.
- Bachelorutstillingen, gruppeutstilling, Bergen Gamle Fengsel.
- The Big Heap, gruppeutstilling, Bower Ashton Campus, Bristol.
- Kunstutstilling Kvarteret, gruppeutstilling, Kvarteret, Bergen.
2011:
- Tegnetank, gruppeutstilling, Rom 8, Bergen.
2010:
- Ab Ovo, gruppeutstilling, Skostredet, Bergen.
- Siste Produksjon, gruppeutstilling, Schweigaardsgt. 33, Oslo.
2006:
The Summer Destruction Show, Seilduksfabrikken, Oslo.
2004:
Vegginstallasjon bestående av tegninger og malerier, innkjøpt av Oslo Kunstfagskole.
Grants:
2017 – 15: Utstillingsstøtte til kunstnere i etableringsfasen, Kulturrådet.
2012: Stipend basert på gjennomført kunstutdanning, Kulturrådet.
Education and praxis:
2017: Assistent for Ragna M. Grønstad på Trykkeriet – Senter for Samtidsgrafikk, Bergen
2015: Artist talk, åpent for alle, samt lukket forelesning for grafikklinjen på KhiO ifbm. separatutstilling Somewhere, There på Tegnerforbundet.
2014: Collageverksted for Tøyen Femårsklubb.
Albumcover «Black Velvet, Dead Flowers» av Conjuror, på Golden Cloud Tapes.
Skulpturverksted for barn på Deichmanske bibliotek, Gamle Oslo filial, Tøyen/Oslo.
Katalogansvarlig for Master-avgangsutstillingen, avd. Kunstfag, KhiO.
2012 – 2014: Master i kunst, avd Kunstfag, fagområde grafikk, Kunsthøgskolen i Oslo.
2013: Medvirkende i performance med KimSu Theiler (USA) på Kunstnerforbundet .
2009 – 2012: Bachelor i kunst, fagområde grafikk, Kunsthøgskolen i Bergen.
2010: Albumcover m/ Magnus A. Husum: Far from Tellus' S/T, Impeller Recordings.
2007 – 2009: Bachelorprogram i Estetikk, Universitetet i Oslo.
2005: Estetisk filosofi, Universitetet i Oslo.
2002 – 05: Oslo Kunstfagskole, Oslo.