Glomsaas, Kari
Drawing, printmaking, 3D objects
Living in Africa changed my world view fundamentally. I use paper and discarded material, and working with my hands: drawing and printmaking, handmade books and small objects, installations. Inspired by something I see and experience. The sketchbook is mostly close to hand. My favorite sport is croquis – intense concentration and rapid reaction – an attept to catch presence, strength and movement – like in rock art and Chinese calligraphy.
The larger projects call for a slow, meditating work mode, due both to the mere physical work and the time needed for studies and reflection.
Member of NBK, TF, NG, BOA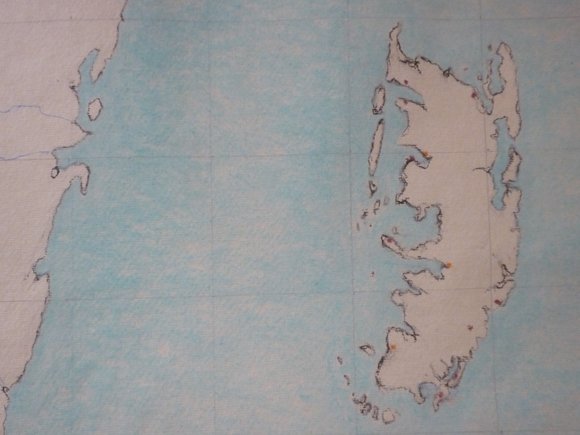 Kari Glomsaas - Kartskisse under arbeid - detalj ca 24 x 36 cm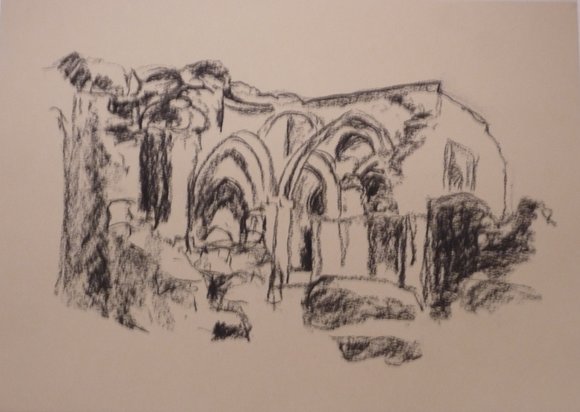 Kari Glomsaas - Ruin fra føreuropeisk tid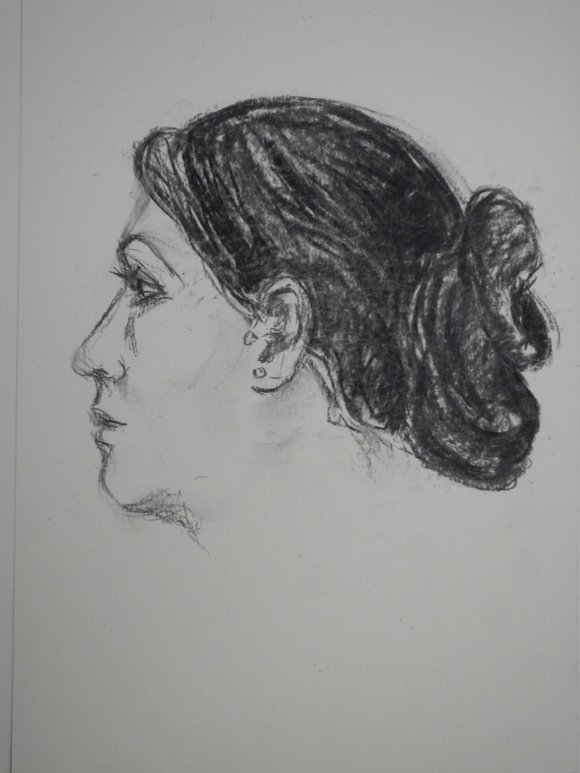 Kari Glomsaas - Zaitoon
Planned projects and exhibitions
Working on migration as a theme. People don't stand still like mountains, we move, we meet as part of our nature.
Participating in common projects with the NWA Artist group where all of us have experienced living in different – notably non-Western cultures. All members are working on solo projects as well.
CV
K A R I G L O M S A A S: C U R R I C U L U M V I T A E
Adr.: Hovseterv. 98, 0768 Oslo. Mob.: + 47 91585758, e-mail: kaglo@online.no
MEMBERSHIP: NBK, BOA (Visual Artists in Oslo and Akershus), Norwegian Printmakers and Tegnerforbundet(Drawing)
TRAINING: Visual Artist, Cand.Mag. attached to Norwegian Printmakers Studio 1992-2013.
1987-89: Art Studies at Nansenskolen, 1981 Governmental exam in Swahili, Dar es Salaam, Tanzania, 1979 Cand.mag. University of Oslo, 1962-65 extramural student Institute for Form and Colour, Department of Architecture, NTH, 1960 graduated as Professional Social Worker, The Norwegian School for Local Administration and Social Work.
SOLOSHOWS: (selected)
2013 Lørenskog Art Society
2011 "Strange Fruits hanging from the trees" – project in Badeparken, Sandefjord during Whitsun
2010 Dalype Gallery, Oslo
2010 Gallery 69, Grünerløkka Lufthavn, Oslo
2007 Sandefjord Art Society
2005 CAK ,Oslo
2003 Galleri Parken, Bergen
2000 Galleri OBK
1999 Bergen International Cultural Center
1996 Ås Art Society
1994 Sør-Odal Art Society
1994 Brakstad Konsept inkl. Galleri, Oslo
1992 CAK Oslo
GROUP OR COLLECTIVE EXHIBITIONS:(selected)
2018 NWA Group Exhibition "Migrating Identities" third version – Mela House, Oslo
2017 Grimstad ArtSociety; printmaker exhibition
2017 NWA Group Exhibition: "Polluting Purity"
2017 NWA Group Exhibition "Migrating Identities" new version, Galleri 69, Oslo
2017-14 Galleriverkstedet, Oslo: « Art of the Split-Second»
2016: Statens Høstutstilling(The National Artist-juryed Exhibition) with my work "Along the Axis in the Time of Innocense"
2016: NWA group exhibition "Migrating Identities", Lørenskog Art Society
2013 Galleri Schæffersgt. 5, Oslo: "My Voice"(100 years of Womens Right to Vote)
2012 Amateras: Paper Works, Sofia, Bulgaria
2011 Chengdu, Kina: The First Chinese Norwegian Bilateral Art Exhibition in Sichuan
2011 Vinje Exhibition (invited)
2011 Xian, Kina: "Rolling Up" Norwegian Printmakers workshop
2009, 08, 01: Romeriksutstillingen shown in Lørenskog Art Society and Ullensaker Art Society
2008 SkedsmoArt Society: Norwegian Printmakers Workshop
2008 Lørenskog Art Society: International Crossings
2007 EASTAFAB 07 (East Africa Art Biennale) Dar es Salaam, Tanzania (invited)
2007 Galleri BOA, Oslo: Norway in the World, the World in Norway
2006 Tegnerforbundets Jubilee Exhibition
2006 Galleri Voss, Voss: 20 Printmakers
2005 Galleri BOA, Oslo: Art in Time, Time in Art
2005 Matera, Italy: Six Norwegian Printmakers
2002 Norwegian Printmakers: New Members 2001
2001 Womens Museum, Kongsvinger: Camillas Laughter
2000 Galleri Oline, Vang in Hedmark: Four Printmakers
1999 Galleri OBK, Oslo: Norwegian Printmakers Workshop: Jubilee Exhibition
1999 Frölunda Culture House, Göteborg: Textile Paintings(invited)
1999,98,97,96: Romeriksutstillingen in Lørenskog Art Society
1997-96 Touring Exhibition,USA – Norwegian Printmakers Workshop
1996 Norwegian Folk Museum – Nansen Exhibition –( invited)
1993 Galleri Fjordheim, Biri: Expressions of Joy
1993 Norwegian Forestry Museum, Elverum: Norwegian Printmakers Workshop
1991 Tromsø Art Museum: Norwegian Miniatures
1989 Lillehammer City Art Museum: Nansen School Art Studies
1946 National Gallery: Prized Childrens Drawings
GRANTS / SUPPORT:
2013:Norwegian Art Societies, Akershus Art Societies, Lørenskog Municipality
2007 Department of Foreign Afairs.: participation in EASTAFAB 07(East Africa Art Biennale) Tanzania + holding Workshop
2005 EU: support for printmaking-workshop in Matera, Italy
2000 Norwegian Cultural Council: debut support
2000 Norwegian Cultural Council: material support( for group )
1978 NORAD: Press Grant for reporting from Kenya
PURCHASE:
2007 Sandefjord Art Society
1999 Bergen International Cultural Center
1996 Nordic Black Theatre, Oslo
OTHER:
Artist of the Month, Norwegian Printmakers November 2013
Illustrated causeries: "Afrikan Contemporary Art", "Meeting Art and Artists in Tanzania" for Art Societies and Artist Organisations.
Peace Corps in Tanzania 1979-81,travels and longer visits to several African countries
Illustrated lectures on "Our visual environment" based on the construction of "New Towns"(Stovner) in the 1970'ies