Poppe, Martine
Painting, photography and sculpture
My source materials instigate my work, much like a set of instructions. Sometimes I affix them behind translucent fabrics on stretchers, creating a screen I can see through and work on with paint. At other times, I tear and scrounge the source materials up, or make them permanent and solid. Rather than regarding my work as photography, painting or sculpture, I develop each piece from the fluidity between the materials.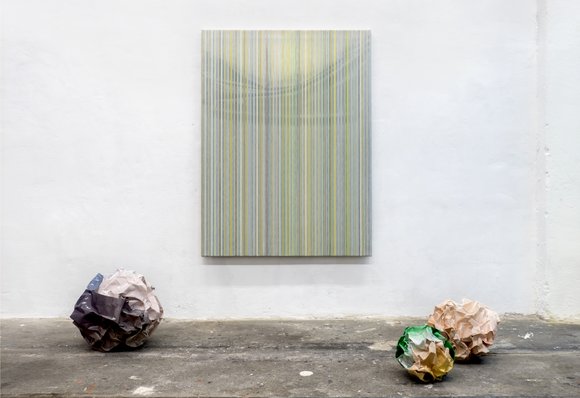 Martine Poppe, Portraits of trees, Trafo Kunsthall, 2018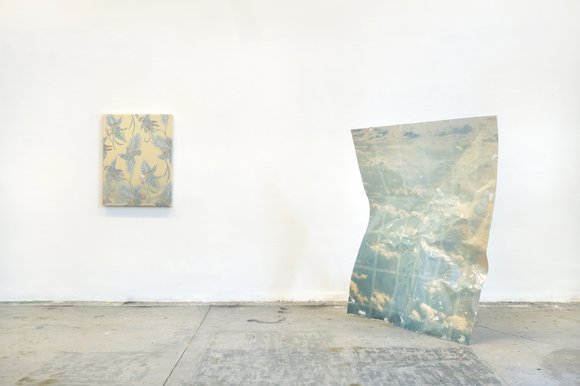 Martine Poppe, CCA Andratx, Andratx, Mallorca, Spania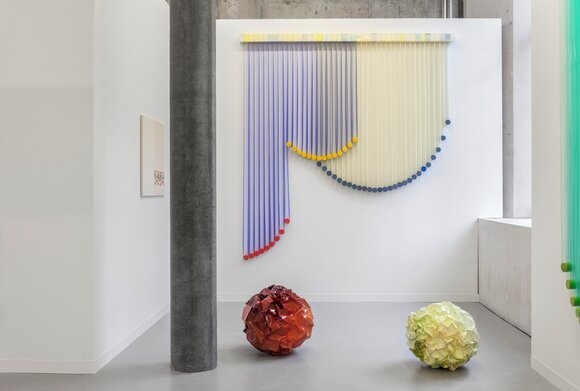 Martine Poppe (og Eva LeWitt), LISTE, VI, VII, Basel, Sveits, 2018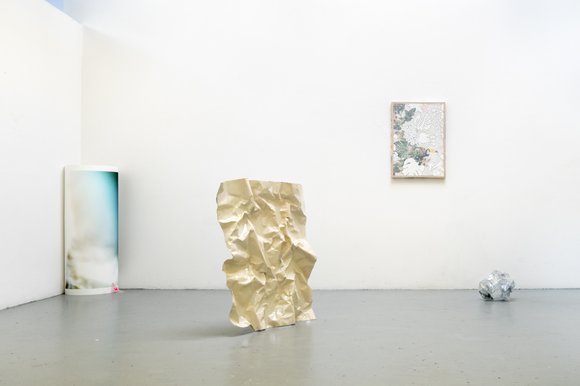 Martine Poppe, Banff residency, Banff Centre, Banff, Canada
Planned projects and exhibitions
From January to February 2019 I will be taking part in the Rigener Arte Residency, which was recently started by the The Benetton Foundation in collaboration with the region of Veneto in Italy. Thereafter, I will return London to produce my next solo show with Kristin Hjellegjerde. From May until August I will travel to Paris to take part in the artist residency at Cité internationale des arts, funded by the Ingrid Lindbäck Langaard Foundation.
CV
Name: Martine Poppe
Born: 1988, Oslo, Norway
Education
Slade School of Fine Art MFA 2011 – 2013
Slade School of Fine Art BA 2007 – 2011
Collections
KODE Art Museums
Saatchi Collection
UCL Art Collection
University of Oxford Collection
NRKs Kunstsamling
House of St. Barnabas Collection
Benetton Collection
CCA Andratx
Selected solo and two person exhibitions
2018 Portraits of trees, Trafo Kunsthall, Asker, Norway
2018 Aphrodite lowers her mirror, Kristin Hjellegjerde Berlin, Berlin, Germany
2017 Rink+Poppe, Venet-Haus Galerie, Neu Ulm, Germany
2017 Art Brussels, Kristin Hjellegjerde, Brussels, Belgium
2017 UNTITLED San Francisco, Kristin Hjellegjerde/Narrative Projects, San Francisco, CA, United States
2016 Volta 12, Kristin Hjellegjerde, Basel, Switzerland
2016 Crinkled escape routes and other somewhat flat things, Kristin Hjellegjerde, London, United Kingdom
2015 50% Grå, Trafo Kunsthall, Asker, Norway
2014 Anatidaephobia, Kristin Hjellegjerde, London, United Kingdom
Selected group exhibitions
2018 Imago Mundi, Luciano Benetton Collection, Trieste, Italy
2018 LISTE, VI, VII, Basel, Switzerland
2018 Between the lines, Kvinnemuseet/The Women's Museum, Kongsvinger, Norway
2018 Studio Spring, CCA Andratx, Majorca, Spain
2018 Art Brussels, Kristin Hjellegjerde, Brussels, Belgium
2018 Slippage: Performative utterances in painting, cur. Lucy von Goetz and Oliver Morris-Jones, Post_Institute, London, United Kingdom
2018 Collection display, House of St. Barnabas, London, United Kingdom
2018 Between the lines, Oslo National Academy of the Arts, Oslo, Norway
2017 Curated Contemporary, Sotheby's, London, United Kingdom
2017 Volta 13, Kristin Hjellegjerde, Basel, Switzerland
2017 The Other Side curated by Paul Carey-Kent, House of St. Barnabas, London, UK
2017 Los Angeles Benefit Art Auction 2017, Rema Hort Mann Foundation at Nicodim Gallery, Los Angeles, United States
2016 Nordic Light International Photography Festival, Kristiansund, Norway
2016 Contemporary Visions VI, Beers, London, United Kingdom
2016 G-Zero, London Art Fair, Kristin Hjellegjerde, London Business Centre, United Kingdom
2015 S|2 x SF, S|2, Sotheby's, San Francisco, CA, United States
2015 START, Kristin Hjellegjerde, Saatchi Gallery, London, United Kingdom
2015 Sunset©, Hooper Projects, Los Angeles, CA, United States
2015 The Presence of Absence, cur. Paul Carey-Kent, Berloni, London, United Kingdom
2014 Carousel, South Kiosk, Slate Projects, London, United Kingdom
2014 Screen Space, The Pickle Factory, Slate Projects, London, United Kingdom
2014 East London Painting Prize, Bow Arts, London, United Kingdom
2014 New Order: British Art Today II, Saatchi Gallery, London, United Kingdom
2014 Arcana, Kristin Hjellegjerde, London, United Kingdom
Residencies
2019 Cité internationale des arts, Ingrid Lindbäck Langaards Stiftelse, Paris, France
2019 RigenerArte Residency, Benetton Foundation, Veneto, Italy
2018 The Banff Centre, Banff, Alberta, Canada
2017 CCA Andratx, Majorca, Spain
2015 Hooper Projects, Los Angeles, United States
2013 Slade School of Fine Art, London, United Kingdom
Stipends and awards
2017 Arbeidsstipend for yngre/nyetablerte kunstnere, The Norwegian Arts Council
2016 Arbeidsstipend for yngre/nyetablerte kunstnere, The Norwegian Arts Council
2015 Prosjekstøtte, The Norwegian Arts Council
2015 Contemporary Visions VI, Beers, London, United Kingdom
2014 Diversestipend for nyutdannede kunstere, The Norwegian Arts Council
2014 East London Painting Prize, Bow Arts, Shortlist, London, United Kingdom
2013 Contemporary Visions IV, Beers, Shortlist, London, United Kingdom
2013 Threadneedle Prize 2013, Mall Galleries, London, United Kingdom
2011 Stipend, Ingrid Lindbäck Langaards Stiftelse, Norway
2011 Juvenarte Prize, Norway
2011 Denys Holland Prize, University College London, United Kingdom
2010 Juvenarte Prize, Norway
2010 Northern Lights Prize, NorskArt, Norway/United Kingdom