Bunes Widing, Sonja
Drawing, collage and painting.
The Studio is my sanctuary. It is where I'm trying to figure out life, and myself.
My images are like visual recordings of the communication taking place within me, between the one who remembers everything, and the one living in the now.
Often there is a classical order holding everything together. The grammar of the conversation so to speek.
Then there is the feeling. It mixes into the material.
It roars, it whispers, it shouts, it sings and it is quiet.
The tools in my hands face resistance, and they are playful.
The work is physical.
Geometric shapes and proportions withstand the emotional energy.
Can they mirror the fusion of oposites in existence?
The images must be open to the viewers own interpretation and experience of both the subtle and the brutal of the expression.
The sizes of my work vary from 20×30 cm to 100×120 cm.
The intimate sizes encourage proximity. Up close you may feel the breath of coats and colors. From a distance you may catch the meeting between light and darkness.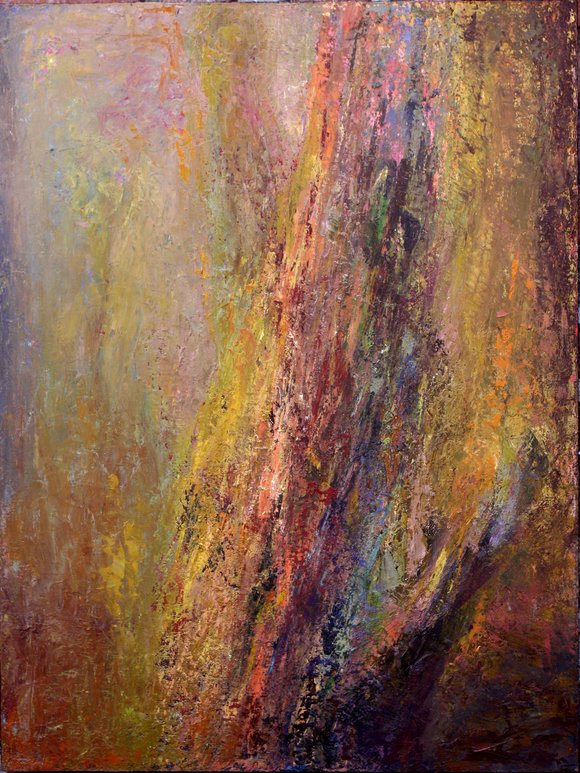 Ganske Barka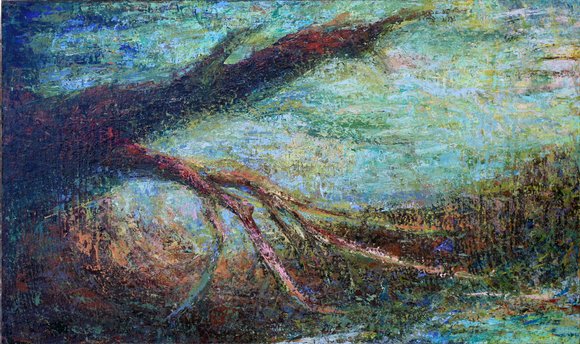 Grove Grener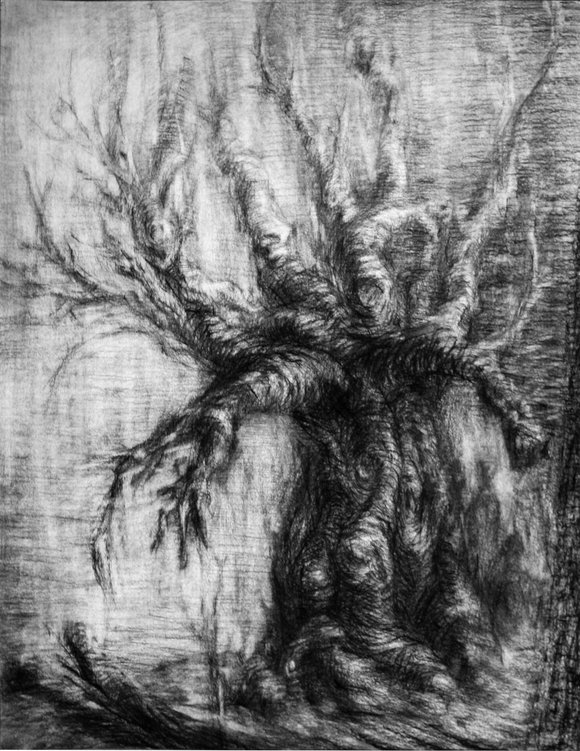 UrGammel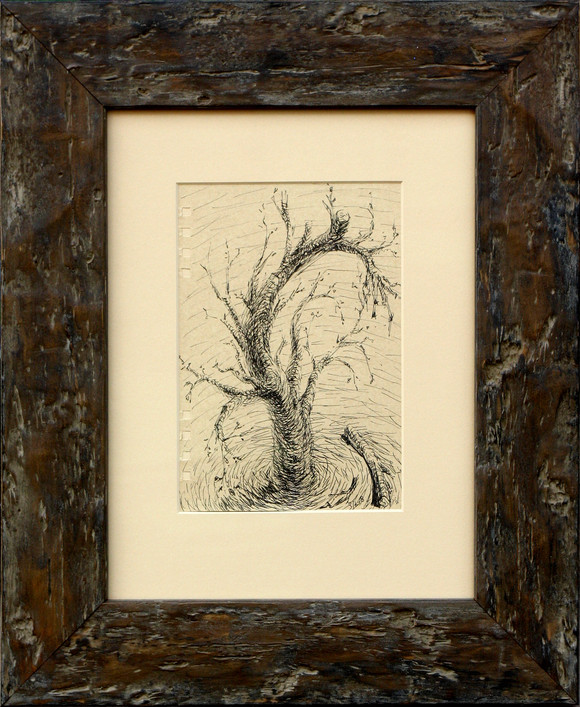 Posttraumatisk Vekst
Planned projects and exhibitions
Immersion: Recycling old drawings into new collages.
CV
2016 – Opprettet Prikk, Strek & Bue . / & )
1991 – Selvstendig billedkunstner
Undervisningsoppdrag:
2018 SMISO, Oslo. Tegning, farge, maleri, og uttrykk. / 2017 Oslo Kunstakademi. Tegning og maleri for nybegynnere og viderekomne. / 2007-16 Christiania Kunstakademi (Christiania friAkademi). Tegning.
Separatutstillinger:
2018 Galleriverkstedet H12, Hegdehaugsveien 12, Oslo. / 2017 Borøy Rammeri og Mikrogalleri, Tvedestrand. / 2007 Zen Bok & Musikk. / 2000 Galleri Passagen, Årjängs Folkbibliotek, Sverige. Arr.: /Kulturnämnden. / 2000 Utsmykning. EveryBase AB, Årjäng, Sverige. / 1996 Galleri Greenwich Village, Oslo
Utstillinger:
1989-2010 Galleri CUBEN, Oslo. / Pastilllen ORK. Remembrance. Billedkunstnere for Haiti. / BOA/Billedkunstnerne i Oslo og Akershus. Herre i eget hus? / OsloOpen. / Zen Bok & Musikk. / Huset på Strand, Årjäng. / Ateljé Fridhem, Årjäng, Sverige. / Galleri Passagen, Årjängs Folkbibliotek, med Nordmarkens Konstförening / Kyrkerud Folkhögskola, Årjäng. / Galleri Passagen, Årjängs Folkbibliotek, Sverige. / Konsthallen i Arvika, Sverige. / EveryBase AB, Årjäng, Sverige. Utsmykning av lokaler. / Gallery Alpha, West Vancouver, B.C, Canada. / Universal Eating Society Art Gallery, Vancouver, B.C., Canada. / Concourse Gallery, Vancouver, B.C., Canada. / Kunstnerforbundet i Oslo. / Galleri Bakkehavn Gård, Oslo.
Publisering:
2011 Ut Med Det, av Toril Brekke. Diverse illustrasjoner. / 2011 Ikke Stikka, SMI. Diverse illustrasjoner. / 2005 The China Institute, New York. "Mongolian bow", publisert i boken. «From Silk to oil: Cross-Cultural Connections Along the Silk Road.»
Etterutdanning for kunstnere, med stipend fra Kunsthøyskolen i Oslo:
2003+4 Farge, overflate, lys – persepsjon og produksjon, v/KHiB., Flash MX i kunstprosjekter for nybegynnerer, og viderekomne, Atelier Nord, Oslo, og Film og narrativitet, v/KHiO.
Utdanning:
2007-10 Christiania friAkademi, Oslo. / 1998-91 Emily Carr College of Art & Design, Vancouver, B.C., Canada. / Diploma of Fine Art, Studio Major: drawing, painting and printmaking.