Haugland, Elin Glærum
Painting - Experimental Film
The past four years I have traveled to islands in Polynesia and the Amazon jungle of Peru and Brazil to paint using natural color pigments. The paintings are designed to fit in my backpack and the colors are linked to the places I visit and the cultures I meet. I'm learning about different ways of being in the world, and viewing life, from people living close to nature. I study the use of natural color pigments in body painting, tattoo and decoration of everyday objects.
Using my sensitivity, I translate the impressions I receive into a painted language. For me, the painting is alive. Through the encounter with the minerals, nature and my own and other cultures, I am looking for soul and power to give to my paintings.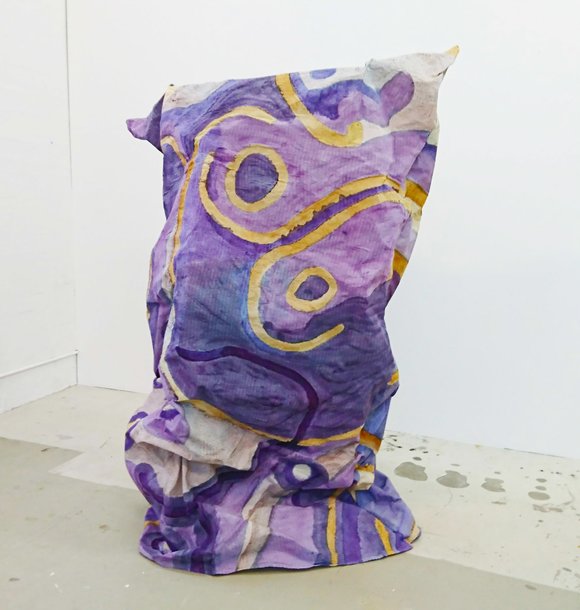 make make, Rapa Nui God of Creation, dimentions: 1 x 1 x 1,60 meters, various berries and mineral pigments on cotton + wood structure, 2017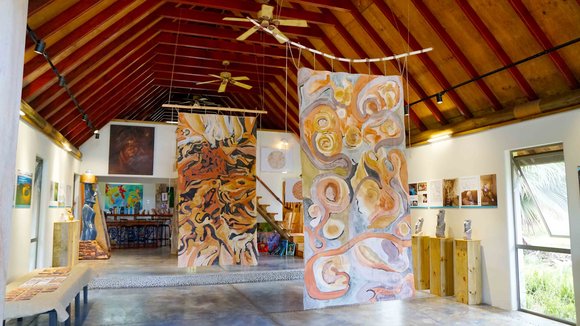 Exhibition in Mana Gallery, Easter Island, 2019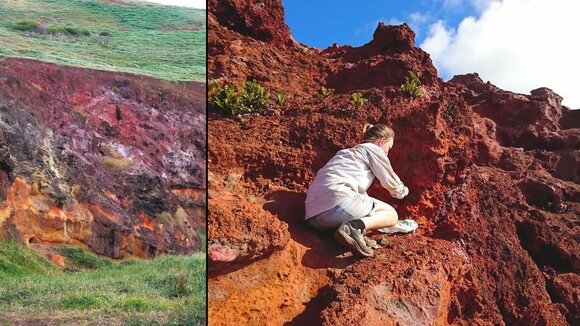 Collecting color pigments in Easter Island, 2017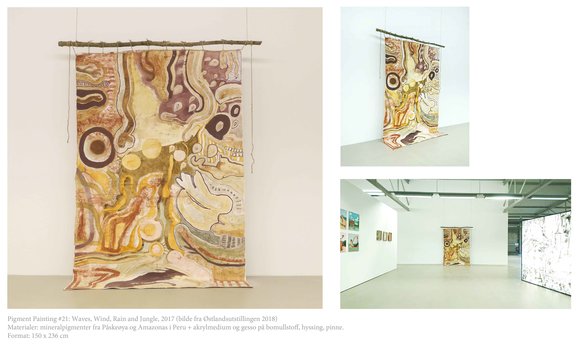 Waves, Wind, Rain and Jungle, as exhibited in 2018
Planned projects and exhibitions
Returning from Easter Island mid January
Coverart for the singles Iron Sky & Out of the Woods by Kari Harneshaug (release in February or later)
Interview in english about my fieldwork, ENLIVEN Stockholm (February)
Presentation at KUNST+forsking&miljø (ART+science&environment), Kunstnernes Hus Oslo (February)
Fieldwork and painting process in Norwegian nature in Spring, Summer and Autumn, you can follow the process on Instagram.
CV
Education:
Autumn 2015 Introduction to Social Anthropology, University of Oslo
2011 – 2014 Trondheim Academy of Fine Art, BA
2010 – 2011 Kunstskolen i Bergen, 2nd year
2009 – 2010 Bergen Academy of Art and Design, Photography
2008 – 2009 Kunstskolen i Bergen, 1st year (pre school in art)
Fieldwork Trips:
2018-19 Field work and research in Easter Island (2,5 months)
2017 Amazonas, Brasil (1,5 months)
2017 Easter Island & Amazon jungle, Peru (3 months)
2015 –16 Amazon jungle (Peru), Easter Island, Tahiti, Samoa, New Zealand (5 m's)
2014 – 16 Short research journeys to England, USA, France, Czech Republic, Iceland
2013 Galapagos/Ecuador & Peru (3 weeks)
Residencies:
2017 LabVerde Art Immersion Program in the Amazon, Brazil
2017 Sachaqa Centro de Arte, Peru
2016 Vestfossen Kunstlaboratorium, guest studio, NO
2016 Tiapapata Art Centre, Samoa
2015 & 2016 Sachaqa Centro de Arte, Peru
Publications:
2019 about my fieldwork in ENLIVEN, Stockholm
2018 Interview, webpage of Østlandsutstillingen
2018 Portrait interview: framtida.no, online magazine for youth
2018 Indie Shaman, Issue 35, UK
2017 LabVerde Art Immersion Program, Catalog
2017 Eventyrklubben, D2 no. 24, Dagens Næringsliv
2017 Postkortmalerier fra Påskeøya, NATURSAVN
2016 PIGMENTER, Replikk #42, University of Bergen
Grants:
2018 Diversestipend, Arts Council Norway
2017 Project Support, Vederlagsfondet, NBK
2015 Grant, Arts Council, Norway
2008 – 2009 Project- and exhibition support, Trafo (cultural youth org.)
Other art related activity:
2016 - Part of the eco art initiative Mose together with Erika Stöckel, Peter Dean
and Sunniva Sunde Krogseth. Arranging happenings & published a fanzine
www.mosemose.com
2011 – 2012 co-running Blunk Gallery, Trondheim, NO
Presentasjoner:
2019 KUNST+Forskning&miljø – Labverde, Kunstnernes hus, Oslo
2019 Om feltarbeidet på Påskeøya, for medlemmene av Explorers Club Norge,
Holmenkollen Park Hotell
2018 På leting etter naturlige fargepigmenter – Pecha Kucha night 45, DOGA,
Oslo
2018 Kunstnerpresentasjon og workshop, Radar ungdomscafé, Asker Kulturhus:
Å male med natur
2017 Studiopresentasjon om prosjektreisene i 2017, Oslo
Memberships:
UKS & NBK
Member of Explorer's Club Norway and New York
Oslo Geology Association