Bjordam, Tone
Video, photography, animation film, painting, drawing, performance and sculpture installations
The drive behind my artistic practice is to create a space for reflection around processes in nature and to achieve an in-depth understanding and a sense of feeling connected with nature around us. My art ranges from abstract to more naturalistic work, where I explore my surroundings, often at micro levels. The techniques I use range from video, animation films, nature photography, abstract and nature-inspired paintings, intricate, detailed drawings, performance and sculpture installations. I have a Masters Degree in Fine Arts from Oslo National Academy of the Arts and my work has been on display in numerous countries around the world. I am particularly interested in finding ways to communicate science through art, especially the wonder that drives science.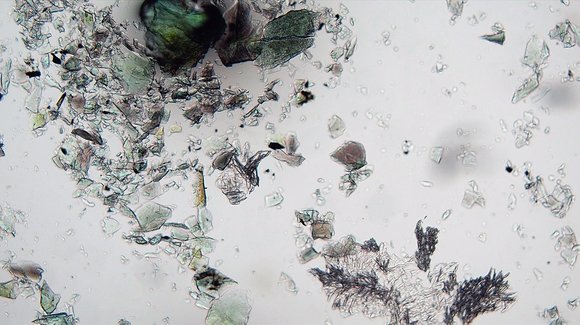 Moving Matter
Planned projects and exhibitions
"Wunderkammer", at Esbjerg Art Museum, Denmark, October 5, 2018 – March 17, 2019.
This art and science exhibition is a collaboration between Esbjerg Art Museum and Tomas Bohr, Professor at the Department of Physics and Center for Fluid Dynamics, DTU. Bjordam's video "Liquid Landscape" from 2005 and some of her photographs, will be shown alongside works by other artists and scientists that makes projects related to physics and fluid dynamics.
​
"Moving Matter", K4 Galleri, Oslo, solo exhibition, opening on December 7, 2018
"Video Video", The Nordic House, Faroe Island, solo exhibition, 5 videos from 2005-2018, January 7-20, 2019
I also exhibit at Nikolaj Kunsthal in Copenhagen during the same period.
____
Update April 2019:
I am invited to be one of the keynote speakers and have a live performance at the ECCA (European Climate Change Adaption) Conference 2019. I will also be exhibiting paintings and video at the conference, which will be held in Lisbon in Portugal from 28 to 31 May 2019. I have done similar things previously at knowledge conferences in Uruguay, Singapore, Norway, Sweden and Germany.
I exhibit at the group exhibition Bevidst Under Bevidst at Esbjerg Art Museum in Denmark April 12 – September 1, 2019
CV
CV / Biography
Visual Artist
Tone Kristin Bjordam
Born 1975, Bamble, Telemark, Norway
Lives and works in Oslo, Norway
EDUCATION
2005-07: Masters Degree in Fine Arts, National Academy of Fine Arts, KHIO, Oslo
2001-05: Diploma, National Academy of Fine Arts, KHIO, Oslo
1999-00: Oslo Drawing and Painting School
1996-98: Oslo Drawing and Painting School
1994-95: Fana FHS, Art and Literature, Bergen
1991-94: Visual Communication, Kragerø VGS
SELECTED SOLO EXHIBITIONS
2019 Video Video, The Nordic House, Faroe Islands
2018 Moving Matter, K4 Galleri, Oslo
2018 Nutheim Gjestegiveri, Flatdal, Telemark, Norway
2017 Crystallizations, Kikutstua, Nordmarka, in the forest outside Oslo
2013 Critical Transitions, public installation at Oslo Central Station in July and August 2013, curated by
Rom for Kunst and Oslo Screen Festival
2012 Critical Transitions, Galleri BOA, Oslo, Norway
2012 Video and paintings, Konsthallen i Luleå, Sweden
2008 NIGHT SKY VIEW, Trafo, Asker
2008 Kragerø kunstforening
2006 Liquid Landscape, Hå Gamle Prestegard, Stavanger
2003 Micromacro, Galleri 21:25, Oslo
SELECTED GROUP EXHIBITIONS
2018-2019 Wunderkammer, Esbjerg Kunstmuseum, Denmark
2018 The Ability to PUSH, Brusfabrikken, Kragerø, Norway
2018 Trosterudvillaen, Art, Music and Litteratur Festival, Oslo
2018 The 25-Year Old, purchases for the Collection of Stavanger Art Museum 1992 – 2017, Stavanger Kunstmuseum, Norway
2018 KåK, Kunstnernes åpne Klimamikk, exhibition at the main library in Oslo, Deichmanske Hovedbibliotek, CAN, Oslo
2017 Always Now, Brusfabrikken, Kragerø
2017 artArctica Festival, Helsinki, Finland
​2016 350 Mysteries, Brusfabrikken, Kragerø
2016 artArctica Festival, Helsinki, Finland
2015 Chromophilia, Stavanger Kunstmuseum
2015 Life Art Worldwide Showcase, Brisbane, Australia
2015 The Worst Artshow Ever! Øvre Fossum gård, Oslo, Norway
2013 Life Art Worldwide Showcase, Sunshine Coast, Australia
2013 Jomfrulandsutstillingen 2013, Kragerø, Norway
2012 Exotic, an international video and installation exhibition, Tallinn Art Hall, Estonia
2012 Fjällnäs Hotell, Tänndalen, Sweden
2012 Vestlandsutstillingen 2012: Kunstmuseet KUBE, Ålesund
Kunsthuset Kabuso, Øystese
Haugesund Kunstforening, Haugesund
Sunnfjord Kunstlag, Førde
2011 Tou Camp, Tou Works 3, Stavanger, Norway
2010 In Your Face, Galleri 7011, Trondheim, Norway
2010 Waterworks, Randers Kunstmuseum, Denmark
2010 Salong 2010, Oslo, Norway
2010 Kunstbasseng, Tipi, Oslo
2010 Carnegie Art Award, Kunstnernes Hus, Oslo
2010 Carnegie Art Award, Listasafn Islands / National Gallery of Iceland, Reykjavik
2010 Carnegie Art Award, The Royal Academy of Fine Arts, Stockholm, Sweden
2009 Carnegie Art Award 2010, Kunsthal Charlottenborg, Copenhagen, Denmark
2007 Videoshow nr.1, Galleri Schouberger, Asker
2007 Final Year Exhibition, 2007, Master of Fine Art, Stenersenmuseet, Oslo
2007 Oslo-Malmö, Galleri 21:25, Oslo
2006 Oslo-Malmö, Pip, Malmö, Sweden
2006 Imagine The Universe Burst into Song, Momentum, Moss
2006 Up2Date, Electron, Breda, The Netherlands
2006 Bak Fronten, UKS, Oslo
2006 Pip show, National Academy of Fine Arts, Oslo
2006 Video festival, Flaggfabrikken, Bergen Kunsthall
2006 John skis or Sally swims, UKS, Oslo
2005 Final Year Show, Diploma, Stenersenmuseet, Oslo
2003 Pip show, Seilduksfabrikken, Oslo
ART AND SCIENCE PROJECTS, WORKSHOPS, CONFERENCES
2019: Bjordam will show her art and have a live performance together with Professor in Ecology and Mathematical Biology, Marten Scheffer at ECCA (European Climate Change Adaption) Conference 2019 in Lisbon, Portugal in May 2019
2017: Tone Bjordam presented her art and exhibited video art, during the conference "Climate Action and Human Wellbeing at a Crossroads: Historical Transformation or Backlash?", in Bonn in November 2017. She also had a video and live music performance with scientist Marten Scheffer. The conference was arranged back to back with COP 23 in Bonn, where the Paris agreement (COP 21) was further developed.
2017: Tone Bjordam showed a sculpture installation and was one of the keynote speakers at the Resilience Conference 2017, hosted by Stockholm Resilience Centre, at Waterfront Conference Centre in Stockholm, August 2017
2016: Art presentation and talk entitled: The Nature of Change at Science Conference Silent Transformations at the Nanyang Technological University (NTU) in Singapore
2013, 2014: Conferences and workshops Education for Uncertainty 2013 and Imagining resilience: Art-science collaboration for sustainability 2014 hosted by SARAS (South American Institute for Resilience and Sustainability Studies) in Maldonado, Uruguay
2013: Presented Art Perspective on Transformation at the international conference Transformation in a Changing Climate in Oslo, June 2013.
The conference was organized by the University of Oslo together with CICERO, Stockholm Resilience Centre, the International Social Science Council and the UN Climate Panel (IPCC)
VIDEO SCREENINGS
2015 Critical Transitions has been a part of dance performances: The Bond You Hold for
Impression project at Weld in Stockholm, Sweden, and at a climate conference in Lisbon,
Portugal
2012 Critical Transitions premiere screening, 6th of August 2012, at ESA Conference 2012 (Ecological
Society of America) in Portland, Oregon, USA
2012 Paradiso Concert Hall, Club and Cultural, Amsterdam, The Netherlands
2012 Politecnico di Milano, Italy
GRANTS AND RESIDENCIES
2014 BKV 1 year artist working grant
2013 BKV 1 year artist working grant
2010 Statens kunstnerstipend, diversestipend
2008 Schive og Hustrus Legat
2007 Schive og Hustrus Legat
2007 Bildende kunstneres hjelpefond
2007 Jomfrulandstipendet and residency by the lighthouse on the Jomfruland island
COLLECTIONS AND COMMISSIONS
2017 ICArt, International Corporate Art, public installation on a ship
2016 Public installation, INSPIRIA Science Center, Grålum
2014 ICArt, International Corporate Art
2012 SparcS, Wageningen University, The Netherlands
2010 Stavanger Kunstmuseum Art Collection
2009 Royal Art Caribbean, permanent public video installation on Equinox, Royal
Caribbean Cruiseline, Celebrity Art Collection
2008 Kragerø Kommune Art Collection
2006 University of Stavanger, Norway, permanent public video installation
Member of NBK, UKS, LNM and BONO
SELECTED BIBLIOGRAPHY
Maria Lokna: Kunsten å forstå klima, Klassekampen, 14 August 2017
Megan Rowling: ​Scientists jam with musicians, artists to stir public passion for nature. Collaboration between the arts and science can help change the way we look at the environment – and spark debate on how to protect it, published at Thomson Reuters Fondation News and Zilient, September 2017
The painting "Flow" is printed in the book "Environmental Reality: Rethinking the Options" in connection with Karen O'Briens tekst: "Transforations to Sustainability", published in August 2017
Rosa Rada: The Transformative Role of Art, article about Tone Bjordams work, published at cCHANGE, November 2016