Nygård, Randi
Collage, drawing, installation
My art works often depart from facts or scientific hypothesis that show how the physical and natural world is part of our society. Or they try to visualize relations that are hard to imagine. Examples might be that teeth are closely connected to memory, that our ways of living lead to plants and animals going extinct in other parts of the world, that a volcano eruption was one of the reasons for the French revolution and that time does not constantly go by, but that it is something that only arises between things. It is also central to bring forth a power or strength in both the images and the materials.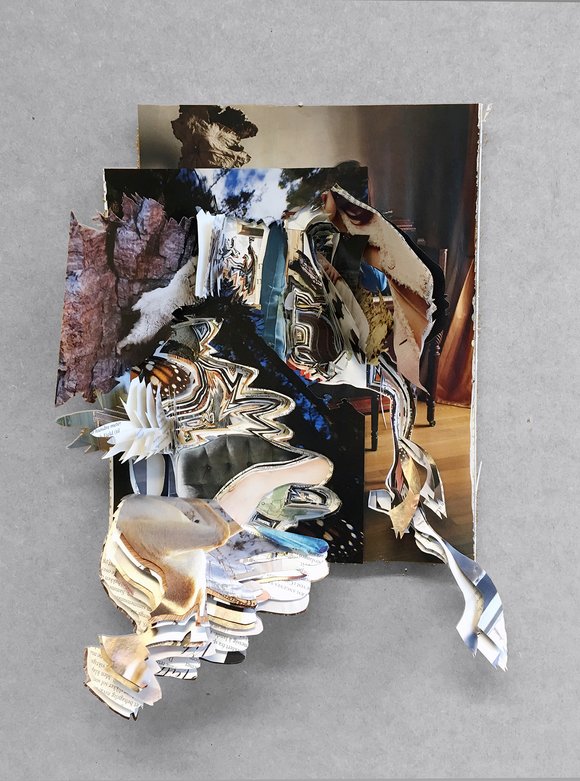 Så mykje som ein ber, riksdekkande jordoverflata og forholda der (Costume og National Geographic) 1, Randi Nygård 2018, 28*23 cm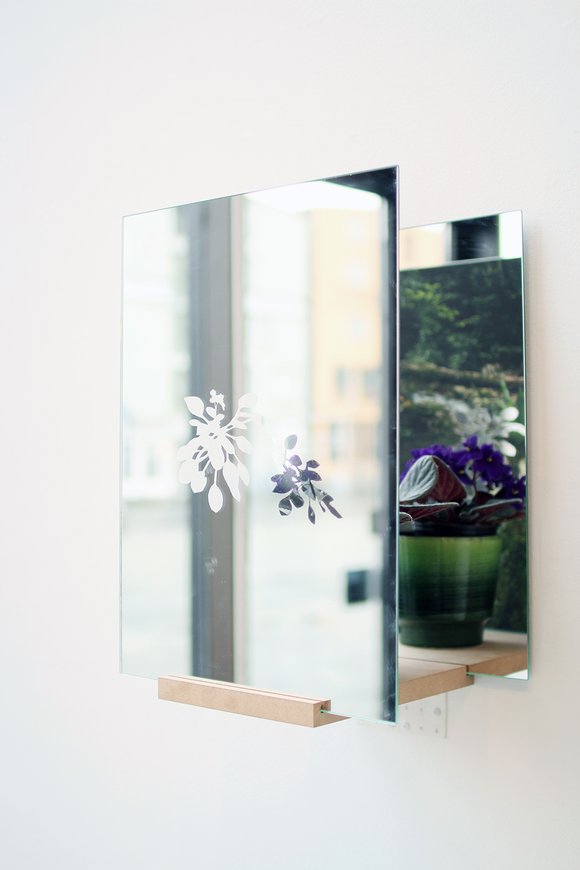 Tomrom etter saintpaulia (In The Absence of African Violet), Installation 2017, 47x35x30 cm, mirros, photo, plant and wood,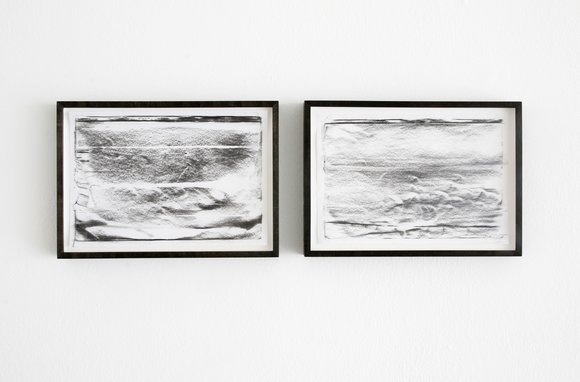 The Denial of Nature: Environmental Philosophy in the Era of Global Capitalism 2017, charcoal on paper, 15 cm x 21 cm, and Living in Denial: Climate Change, Emotions and Everyday Life 2015, charcoal on paper, 15 cm x 21 cm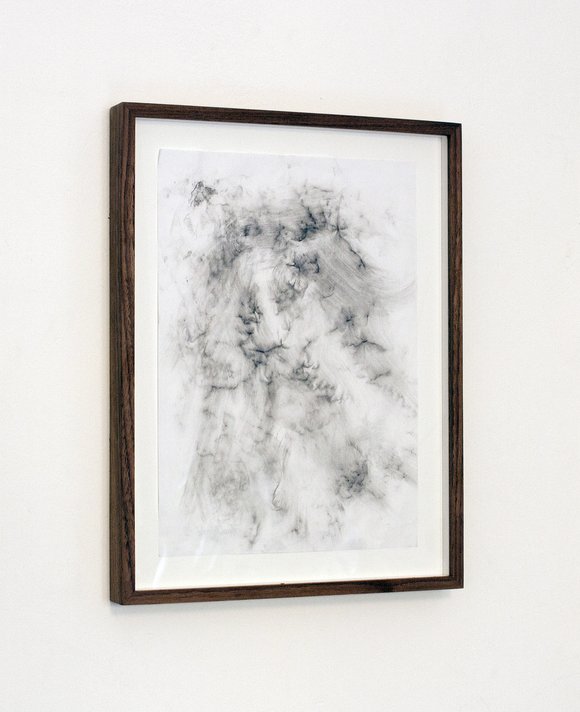 Black Carbon Creates Clouds, Drifts in the Wind and Falls to the Ground (Iceberg, Ny-Ålesund), Randi Nygård 2015, frottage over iceberg
Planned projects and exhibitions
Solo shows at:
TOKONOMA at Melk (Oslo)
Kunstverein Springhornhof (Tyskland), 2019
Group shows at:
Tegnetriennalen 2019, Kunstnernes hus (Oslo)
The Edge of the Sea, Kunstmuseet KUBE (Ålesund)
CV
CV
Education:
2004 BFA, Fine Art, Kunstakademiet i Trondheim, Norway
2005 Kunsthøgskolan i Malmø, Sweden
2006 MFA, Kunstakademiet i Trondheim, NTNU, Norway
Selected solo shows:
2017 Trøndelag Senter for Samtidskunst, Trondheim
2015 Høyttenkeren, No Place, Oslo
2014 A Thought within Nature`s Language, Tag Team Studio, Bergen
2014 Careful Management and Study of Relations, YYZ Artist Outlet, Toronto,Canada
2013 If You Imagine Cutting the Universe into Pieces, the Different Parts Can Serve as Clocks for the Others, Tre, Akershus Kunstsenter, Lillestrøm
2012 In Some Fundamental Way, When I Look at You, Your Face Becomes Mine, W17, Kunstnernes Hus, Oslo
Group shows in selection:
2017
Maerchenkammer, Berlin
Research archive at Lofoten International Art Festival (LIAF), Henningsvær, (with The Wild Living Marine Resources Belong to Society as a Whole, a forthcoming book with Ensayo#4, together with Karolin Tampere)
The Autumn Exhibition, Kunstnernes Hus, Oslo
2016
Bokkunst, Bomuldsfabriken Kunsthall, Arendal
En kollektiv psykogeografisk guide til Oslo, Tegnebiennalen
Dei viltlevande marine ressursane ligg til felleskapet
Kurant, Tromsø
INNBUNDET / UBUNDET, Norske Grafikere, Oslo
2015
Ensayos, Trials on an Archipelago: Artistic and Curatorial Research at the World's End
BRUCE HIGH QUALITY FOUNDATION, New York
Cash+Carry, Entrèe, Bergen
Walk like a Giant, QB galleri, Oslo
Vårutstillingen, Fotogalleriet, Oslo
RE/ACT
The Art of breaking and building
Prinz Georg, Raum fur Kunst, Berlin
2014
Floral Edition 003, Collectif Blanc, Montreal, Canada
Flag, Stavanger Kunsthall and Tromsø Kunstforening
Trøndelagsutstillingen, De inviterte, Trondhjems Kunstforening, Trøndelag Senter for Samtidskunst, Kunstmuseet Nord-Trøndelag Namsos, Galleri Hans, Ørlandet kulturhus, Norway
2013
Flag New York City, Performa 13, New York
I de lange nætter, Galleri Festiviteten, MEV, Eidsvoll, Norway
Verstand und Gefühl Landschaft und die Zeitgenössische Romantik, Kunstverein Springhornhof, Germany
KUNSTOMATEN, IOMAKA, Oppland Fylke
URRA, Galeria del Infinito Arte, Buenos Aires, Argentina
2012
Time being-being time, The Neuro Beauro, Spinnerei, Leipzig, Germany
Material matters, Prinz George, Raum fuer Kunst, Berlin
Reason and Emotions, Landscape and The Contemporary Romantic, Baroniet
Rosendal, Norway
New Horizons, Romantics in Contemporary Art, Neukoellner Kunstverein, Kunstraum
T27, Berlin
When I look at you, your face becomes mine, W17, Kunstnernes Hus, Oslo
Nordic focus, Dortmund Bodega, The Armory Show, New York
2011
Høstutstillingen, The Annual National Exhibition the Visual Arts 2011, Kunstnernes
Hus, Oslo, Norway
PolArt, Tromsø Kunstforening, Norway
Projekt 0, Nordens Hus, Reykjavik, Iceland
Neu-wegen, Galerie im Körnerpark, Berlin
Rom for stein og hjort, Vestlandsutstillingen 2011, Kabuso, Stavanger Kunstforening,
Haugesund billedgalleri, Norway
2010
Endless boogie, Galerie im regierungviertel, Forgotten Bar Project, Berlin
Schnell und Schmutzig, Markthalle Eisenbahnstrasse, Berlin
The Annual National Exhibition the Visual Arts 2010, Kunstnerens hus, Oslo, Norway
Vårutstillingen, Fotogalleriet, Oslo, Norway
Vestlandsutstillingen, Haugesund Billedgalleri, Norway
Munan Øvrelid og Randi Nygård presenterer…, Dortmund Bodega, Oslo
Remix, The Forgotten Bar Project, Berlin.
2009
No Borders (just News), Espacio Grupo Forja, Valencia, Spain
og Facultad de Bellas Artes/ UCLM, Spain.
Art Recipe Oslo-Kabul!, Center For Contemporary Arts, Afghanistan.
Galleri Podium, Oslo,
Transplant, Dale,
Rom 8, Meteorfestivalen, Bergen, Norway
Anonymous drawings / Archive selection 2009
Fruehsorge, Galerie fûr Zeichnung, Berlin, Liste Basel, Switzerland og Alt_Chp 09,
København, Denmark
2008
No Borders (just News), European center for contemporary art, Brussel, Belgium.
CACT, Center for contemporary art in Tessaloniki, Greece.
Rykk tilbake til start, Projekt 0047, Oslo.
Sconfinamenti. Arti, popoli, generazioni a confronto, Baltico/mediterraneo,
Museo Nazionale di Castel S. Angelo, Rome, Italy.
Lavafeld, Nationalmuseum, Berlin, Germany.
Grants:
5-year working grant, Statens Kunstnerstipend, Norway, 2014-2019
Project grant, Ingrid Lindback Langaards Stiftelse 2018
Vederlagsfondet 2018
Norwegian Art Council, publication support 2017
Project Grant, Arts Council Norway, 2016
Vederlagsfondet 2016
BKH Production Grant 2016
Grant from Ingrid Lindback Langaards Stiftelse 2015
Prosjektstøtte, Vederlagsfondet, høst 2015
Project Grant, Arts Council Norway, 2015
Prosjektstøtte, Vederlagsfondet, vår 2015
Project Grant, Arts Council Norway, 2014
Prosjektstøtte, Vederlagsfondet, 2014
International support, YYZ, OCA, 2014
Hordaland Fylkeskommunes Kunstnarstipend 2013
International support, URRA project, OCA, 2013
Publication support, The Norwegian Embassy, Berlin 2013
1-year grant Billedkunstnernes Vederlagsfond 2013
International support, Kunstverein Springhornhof, OCA, 2013
Project support, Arts Council Norway, 2012
Project grant, Billedkunstnernes Vederlagsfond, Autumn 2012
Project grant, Billedkunstnernes Vederlagsfond, Spring 2012
International support, Kunstraum T27, Berlin, OCA, 2012
Project grant, Vederlagsfondet, 2011
2-years working grant, Statens Kunstnerstipend, Norway, 2011-2012
Residencies:
Ensayos #4, Tierra del Fuego, Chile, New York 2015-2017
Ny-Ålesund, Svalbard 2015
Outreach 2014, UiT
Art Residency in Buenos Aires (edition 4), URRA Project, 2013
W17, BKH, Kunstnernes Hus, Norway 2011/2012, http://www.kunstnerneshus.no
Nordic artist center, Dalsåsen, Norway 2011, http://www.nkdale.no/
PolArt, Tromsø/Svalbard, Norway, polar expedition 2010/2011
Skandinavisk forening, Rome 2010
Skandinavisk forening, Rome, 2008
Commissions/Collections:
Kvinnherad Kommune, Norway 2008
Privat collection, Grenoble, France 2009
Ringkøbing Kommune, Denmark 2009 and 2010
Private collection, Duisburg, Germany, 2011
Stockholms Laen Kunstsamling, Sweden 2012
Stockholms Laen Kunstsamling, Sweden 2013
Competition for a public commission at Veterniærinstituttet, Campus Ås, KORO 2015
The collection of Trondhjem kommune 2017
The collection of Oslo kommune 2017