Silenti, Anna-Liisa
Textile
I am educated as textile artist in National College of Art and Design I Oslo. My artistic career has included various national and international exhibitions, commissions and consulting in public buildings. I have also received several scholarships given by the Norwegian government.
My work intends to find out about things we don´t see directly, things that are hiding somewhere underneath, things that are mysterious and mythic, things based on my personal experiences and memories.
For the time being I use recirculated materials as wastepaper from publishers, newspapers, kitchen towels, worn sheets and so on. This has resulted among others to papersculptures pretending a hibernating larva waiting for the transformation.
Member of NBK, NTK, NK, BOA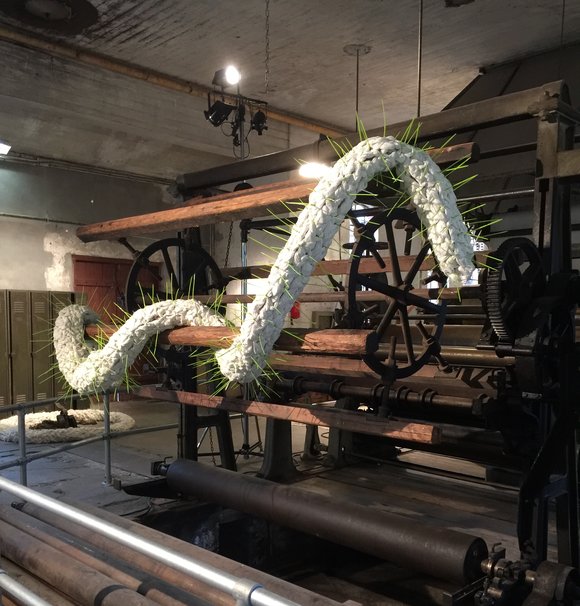 I dvale / Hibernate, tørkepapir/papertowels, strips, Klevfos industrimuseum2018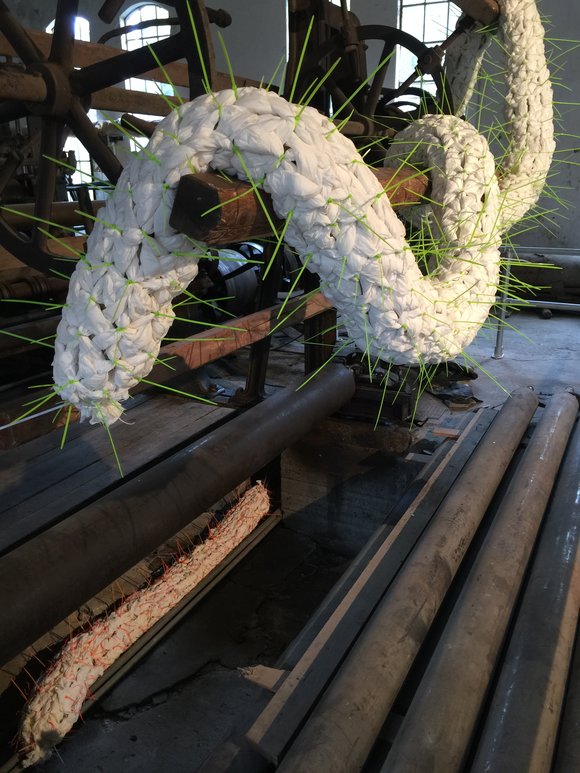 I dvale / Hibernate, tørkepapir/papertowels, strips, Klevfos industrimuseum2018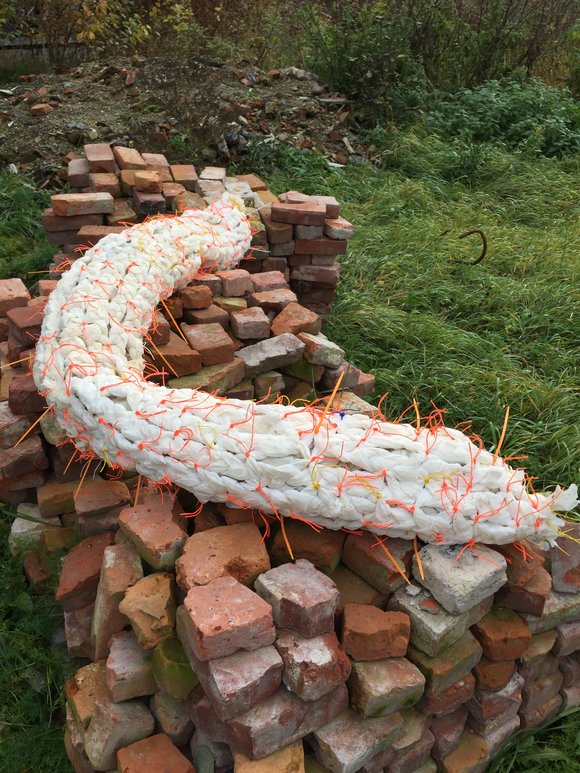 Neste sommer / Next summer, tørkepapir/papertowels, strips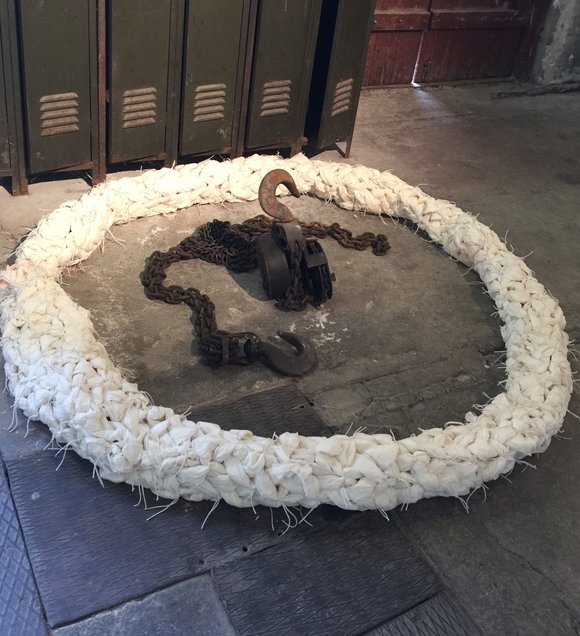 Ouroboros, tørkepapir / papertowels , strips Klevfos industrimuseum2017
Planned projects and exhibitions
Guestartist in Gallery Kunsthåndverkerne i Kongensgate Oslo, september 2019
CV
CURRICULUM VITAE
Anna-Liisa Silenti
Adress: Hans Nordahls gate 46, 0481 Oslo, Norway Tel: +47-915 57780
Studio: www.frysja.no
E-mai: annaliisasilenti@icloud.com
Education: National College of Art and Design, Oslo, Norway, Diploma 1977
Solo exhibitions: (in selection) Klevfos Industrial Museum Norsk Skogmuseum
Galleri Cuben Oslo
Nedre Fossum gård Oslo Sagbladfabrikken Hamar
Asker Kunstforening
Kunstbanken, Hedmark art centre, Hamar Oslo Kunstforening
Galleria Bau, Helsinki (with Ilona Silenti) Vanhan galleria, Helsinki (with Ilona Silenti) Kunstnerforbundet, Oslo
Group exhibitions: (in selection) Vevringutstillinga Norway
Hommage til Jytte, Bornholm Denmark Voipaala art center, Finland "Incontro", Tolfa (Roma)
"Woven together" Oslo-Geneve
"Norwegian Highlights" Galeri de Compagnie, Holland
"White light district" Finnish-Norwegian centre for culture, Oslo "Celler" 14 female artists, international centre for culture, Oslo "Østlandsutstillingen" Annual exhibition of art, Norway
Annual exhibition of Art Crafts, Norway, several times "Krysspunkt", Henie-Onstad Art Center, Oslo
Nordic Textile printing American Craft Museum, N.Y.
The Oslo Museum of Applied art
"Norge i Göteborg", Röhsska Museum, Sweden "Suomi haavailee", Taidehalli, Helsinki
Nordic Design, Gallery Bloomingdale N.Y.
The Oslo Museum of Applied Art
Scholarships:
The National Scholarship for artists, Travel and Study The National Guaranteed Income for Artists
The National 3-Year Scholarship for Artists
The National Scholarship for Young Artists
Public Collections: (in selection)
The Oslo Museum of Applied Art
The West Norway Museum of Applied Art, Bergen The Trondheim Museum of Applied Art Riksgalleriet
Arts Counsil Norway
Commissions: (in selection)
Rasta barnehage, Solheim barnehage Norway
2018 2013-14 2012 2011 2010 2007 2005 2003 1999 1991 1986
2009 2009 2006 2005 2004 2003 2002 2002 2000 1992-80 1991 1988 1988 1987 1986 1985 1985
2005, 1982 1988-2010 1985
1980
2009
Kjelsås skole Oslo 2007 Nordberg skole, Oslo 2005 Nesbru videregående skole 2003 Follo trafikkstasjon, Drøbak 2000 Elverum House of Culture 1996 Østfold Sentralsykehus, Fredrikstad 1994 Fredrikstad Politikammer 1993 Sogndal House of Culture 1992 Statens Datasentral, Oslo 1990 Sola House of Culture Stavanger 1988 Oseberg A-platform 1987 NRK- Marienlyst, Oslo 1985 Oslo Lufthavn, Fornebu 1983
Related experiences and activities: (in selection)
City of Oslo, member of Comity for public art 2013-14 Leader of The National Scholarship committee Norway 2006 Board leader, Textile artists in Norway 2003-02
Membership:
NBK (Norwegian artists ́ Union)
NK (Norwegian Association for Arts & Crafts) NTK (Norwegian Textile Artists)
Study trips:
Poland, Czechoslovakia, Guatemala, Honduras, El Salvador, Thailand, Cambodia, Vietnam, Malaysia, Borneo
Bibliography:
Jan Lauritz Opstad: En ny bevissthet Fredrik Wildhagen: Norge i form