Gulbransen, Wenche
All
I work in different medias, sculpture, watercolour or drawing, depending on my ideas and needs. I often start my work, not knowing what I want to do. At times, the material or process define the direction of a piece of work. The material has great importance for me, like the tactile quality of paper or the fibers of wood.
Intuition and experience are also important parts of my process.
Constructivism and minimalism are important references in my work, as well as Japanese modernism, represented by for example the Gutai group and also Japanese architects like Tadao Ando, Toyo Ito and others.
Conceptual art and on the other hand crafts have a long time been considered as representatives of «high» and «low» art. This is, interestingly changing. The concept of «high» and «low» is blurred. In my work, I consider the given material just as important as the concept and the process. They have an important impact on each other.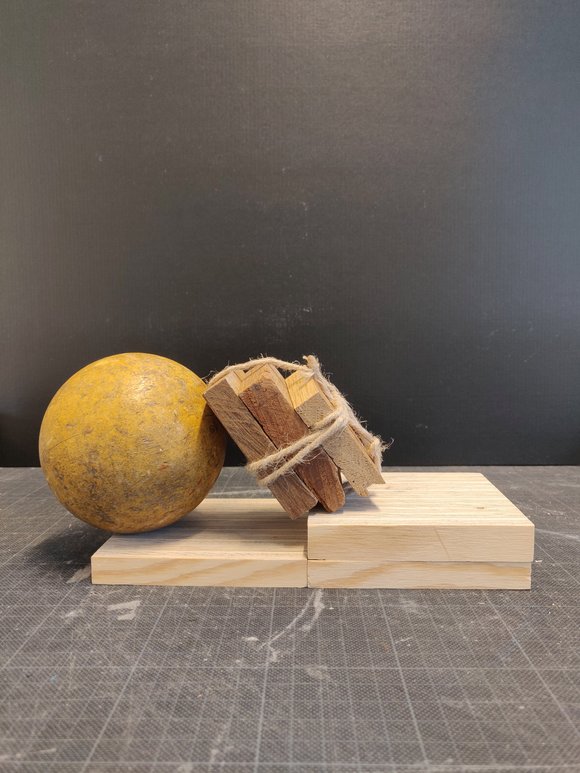 Number 3, 2019. Study for a bigger work.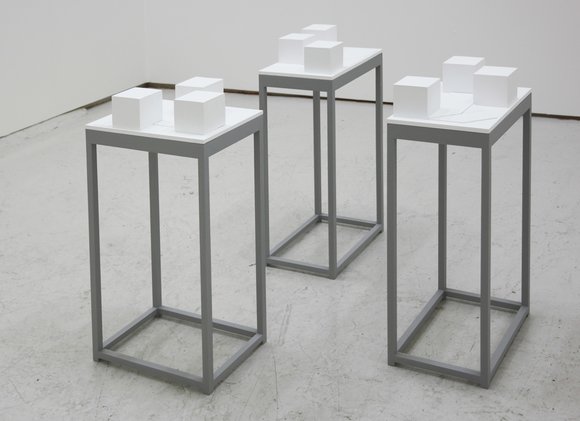 Tre skulpturer i bronse og tre. 2016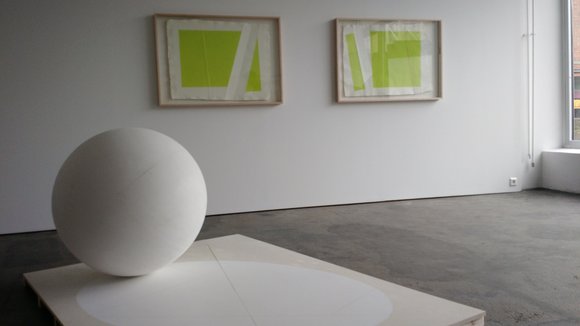 Sfære med skygge. To papirarbeider, 2017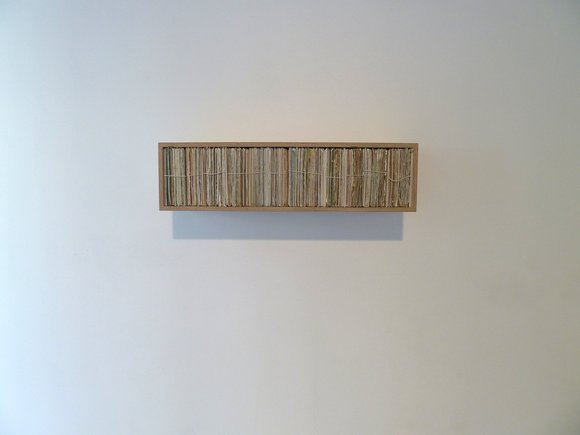 A Year: 5x365=1825 drawings. 2016
Planned projects and exhibitions
I am working on a new show.
CV
See my homepage
https://wenchegulbransen.no
CV
Art theory, Oslo National Academy of the Arts, 2012- 2013
German literature, University of Oslo, 2008 – 2009
The Oslo School of Architecture and Design, 1985 – 1986
The Hungarian University of Fine Arts, 1970 – 1975
Akademie der bildenden Künste Wien, 1970
Oslo National Academy of the Arts, 1967 – 1970
Group exhibitions
2016 «A collective psycho-geographic guide for Oslo»
2016 «Rivers and waters» Nesodden kunstforening
2016 «The sketch», The Drawing Biennale», The Norwegian Drawing Association
2016 «Fragments- and Whole», Bærum Kunsthall
2014 «In the Collection», Trondheim Art Museum
2014 «New Works», Stavanger Art Museum
2013 «She´s a Girl», Akershus Artcenter
2012 «The Drawing Biennale», The Norwegian Drawing Association
2012 Kunstnerforbundet, Oslo
2012 «Prism», Museum of Contemporary Art, Oslo
2010 «Automn Exhibition», Kunstnernes Hus, Oslo
2010 «Ruter damer» Oslo Kunstforening, OK
2010 «Godesses», Museum of Contemporary Art, Oslo
2009 «The Artist Book», The Norwegian Drawing Association
2008 «Norwegian Pictures», Galleri Brandstrup, Oslo
2008 «Our Exhibition», The Norwegian Drawing Exhibition
2007 Kunstnerforbundet Gallery, Oslo
2007 «Our Exhibition», The Norwegian Drawing Association, Oslo
2007 «Art, no 4» Museum of Contemporary Art, Oslo
2007 «Oslo Open»
2006 «5» DTK Gallery, Bærum
2006 «Like a Book» Photogallery, Oslo
2005 «Open House» Tøyen Trafo
2005 «Automn Exhibition», Kunstnernes Hus, Oslo
2004 «Illustrations», The Norwegian Drawing Association, Oslo
2004 2005 «SKINN»
2004 «Urban Space in Bjørvika», Oslo
2002 «Collection of Hungarian Writers», Kassák Museum, Budapest
2001 «Automn Exhibition», invited
2000 «Drawings», Rheine, Germany
1996 «Drawings», The Norwegian Drawing Association
1996 Bomuldsfabriken, Arendal
1995 «Drawing in Urban Space», The Norwegian Drawing Association
1994 «Ultima Thule», England, France, Finland, Sweden, Hungary
1988 «Nordic Meeting» Kunstnernes Hus
1987 «Norway in Gothenburg, Sweden»
1987 «Traces/ Spor», Kristiansand Kunstforening
1987 «Traces/ Spor» Bergen Kunstforening
1987 «Traces/ Spor» Tronheim Kunstforening
1986 «Between Generations», London
1986 «Scultura Norwegese», Castello Sforsesco, Milano
1985 «Norwegische Bildhauer in Lindau», outdoor exhibition. Germany
1983 «The Sculptural Project» Haugesund Kunstforening
1982 «Profiles», Kunstnerforbundet, Oslo
1980 – 81 «Skulptur underveis», Kunstnernes Hus
1975 «Automn exhibition» Kunstnernes Hus
Solo exhibitions
2017 «Part and Whole», works on paper, sculpture, Oslo Kunsthandel
2015 Kunsthall Trondheim
2014 "Possible Solutions. Mulige løsninger." The Norwegian Drawing Association
2010 "Art 1" Sandvika
2009 "New Works" Kunstbanken, Hamar
2007 "Works on Paper", Nord- Trøndelag Fylkesgalleri
2003 "Svømmerens arm", book and exhibition, Vigeland- museum, Oslo
2002 "Sampling", Stavanger Kunstforening
2001 "Two Rooms", Oslo Kunstforening
1997 "Wittgensteins Shadow", Kunstnerforbundet
1994 "Sculptures and Drawings", AHO, Oslo
1994 "Bilanx", sculpture, drawings, book, Tegnerforbundet, Oslo
1993 "Skulpturen", Künstlerhaus Bethanien, Berlin
1993 "Botsgang", Haus Ungarn, Berlin
1987 "Objects and Space", Kunstnerforbundet
1983 Gallery BKFR, Stavanger
1977 Kunstnerforbundet, Oslo
1974 Gallery 12 B, Fredrikstad
Public Works
2016 "Self Portrait", acryl on paper. Teglverket school, Oslo.
2015 Print on glass, wall in Son church
2007 Wall Painting, painting on acrylic glass, Spydeberg Sparebank
2004-2006 Skien Handelstorv. Wall, fountain and floor.
2005 «Sculpture in four parts», Høyskolesenteret, Bodø
2002 Salten crematorium: «Wall with Stained Glass»
2000 Brynsalleen 4-6, Fountain in stone
2000 Two steel sculptures with own shadow, Brynsalleen
1999 Tretten: Park with 24 trees, two stone sculptures
1997 Christiania torg, fountain «Christian 4.s Glove»
1993 Universitetet, Dragvoll, wall with drawings, cast in bronze, Spinoza-quote in floor
1989 Fountain "Postmodern quote", Aker brygge, Oslo
1988 Sentralstasjonen, Oslo; fountain "Geometry and Poetry"
1987 Coal and pastel drawing, column in bronse, Rykkin
1986 "Sculpture in 3 parts", Stovner, Oslo
1980 Text related (Rolf Jacobsen) wall-work, LO- skolen Sørmarka
Artist Books, publications, catalogues
"Licencia poetica" 1968 calligraphed, illustrated book, 1 ex
"Våren er en kjøttetende plante" drawings, calligraphy, 1 ex 1968-69
"Botsgang", handmade book, drawing/ acryl in black and white. Translation from Hungarian. 3 ex in format A3. Printed version, 500 ex in A4- format, Berlin 1993
"Svømmerens arm", sampled text, offset print in 400 ex, signed and numbered, 2003
"Forøvrig vil jeg gjerne ha sagt og jeg" 50 ex, print-on-demand, 2005
"The Lady with the Little Dog",sampling Tsjekov/ Gulbransen 2005/ 2006 4 ex
"VANITAS VANITATUM.." Artist- book/ text Andreas Gryphius, essay of the artist: "Alles ist eitel…" 2005, 1 ex
Arbeidsbok, A5. Photo and drawings 2008 TROPE forlag
"A Warrior´s Book of Words" 2008, TROPE forlag
"En herlig dag", illustrations/ photo
"Du må ikke sove!" illustrations/ photo
"Arisk katedral" illustrations/ photo
"Jeg traff aldri Ellsworth Kelly" 2013. Catalogue/ artist book
Collections
National Museum of Art, Architecture and Design
Trondheim Museum of Art
Oslo kommunes Kunstsamling
Stavanger Museum of Art
Petöfi Museum of Literature, Budapest
University of Oslo
Stortinget/ Parliament, Oslo
Nord-Trøndelag Fylkesgalleri
Awards
Rune Brynestad award