Kinnerød, Diana
Visual arts, murals/ public art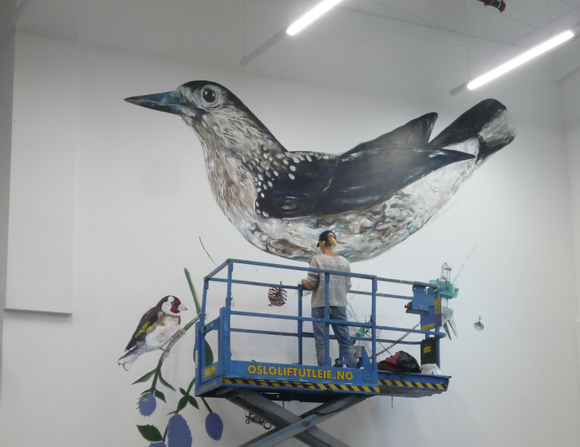 D.K. Nest, mural. 10*8m. Biblioteksentralen/Oslo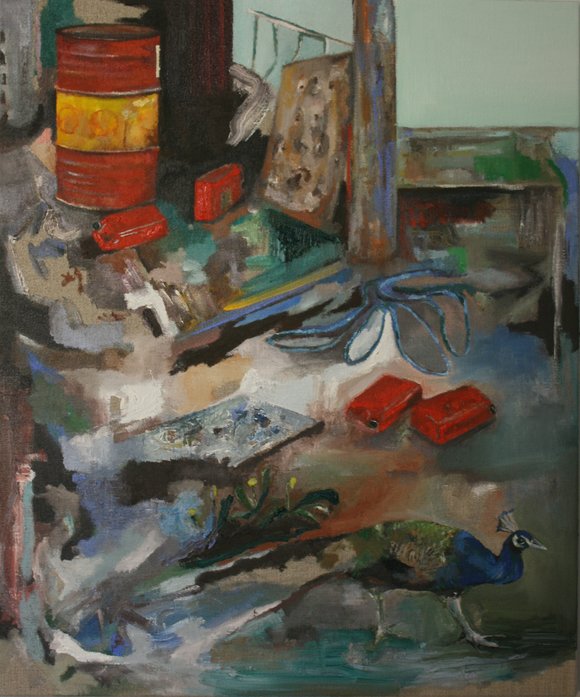 65*50, oil on canvas. 2018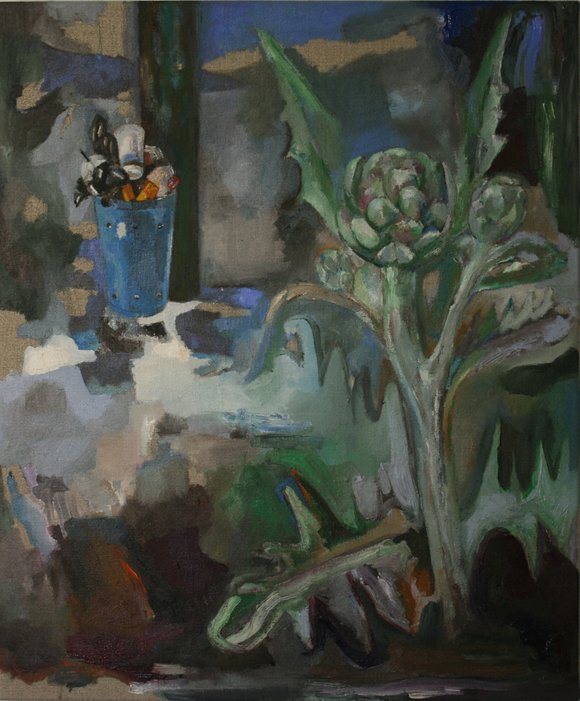 65*50, oil on canvas. 2018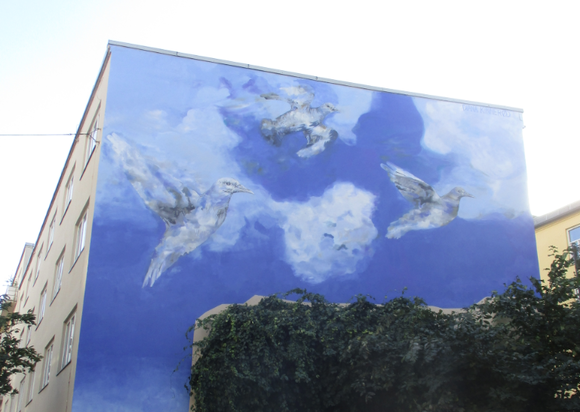 D.K. Mural, "carrier pigeons" large scale. 2016
Planned projects and exhibitions
Public art, Malvik, Trønderlag.
CV
Diana Kinnerød
Member of NBK and UKS
Education
2002-2006 Oslo National Academy of the arts
1999-2002 OTM, private art school.
1995-1998 Upper secondary school, arts.
Selected exhibitions
2018 Oslo prosjektrom-Oslo spa, (curated by Espen Sørli)
2018 Kunstpassasjen, graffiti junction, jernbanetorget (c. Eric Næss Christiansen)
2018 Galleri rdr, soloshow
2017 Oslo prosjektrom-Oslo spa, (cur. E.Sørli)
2016 Chruztmaz Szhutstillinge, Dortmund bodega, (c. K.A.Hagen)
2016 Tegnebiennalen, EKPGO
2016 Chanting all clamouring chirping (chiroptera) blaring elevators stops. Munchmuseum. (c. C.T.Norum)
2016 Group show and film release), Majorstua yard
2016 Galleri verboden (c. K.A. Hagen)
2016 Schitsnack 3, urban spree, Berlin.
2015 Hvitsten salong urkunsten (c. Jon Lundell)
2015 Kunstnerforbundet, woodcut
2015 Det norske hus, Phsyckedeliastube
2015 Ekely, soloshow
2015 Menneskeberget, Ekely (c. C.T. Norum)
2014 Psyckedeliastube
2013 Psyckedeliastube
2013 Galleri map (c. Guttorm Nordø)
2013 Dortmund bodega
2012 What a mess! Hydrogenfabrikken
2012 Galleri 19 soloshow
2011 Kunsthall oslo
2011 Podium, Isolation art
2010 Podium, svarteste natta i manns minne
2010 Dortmund bodega, soloshow
2010 Woodland, Galleri maria Veie (c. Lars Kjemphol)
2008 Rykk tilbake til start, 0047 (c. Jan Christensen)
2006 The summer destruction show
2003 Galleri Blomqvist
Co-founder of the art project Galleri 19, 2012-2013.
Public commissions
2018 Østmarkaporten
2018 Jordal amfi
2017 Biblioteksentralen
2017 The divingtower, Farsund
2016 There carrier pigeons, Gruegt.
2016 fra stasjon til stasjon, Bøler subway station, Kulturetaten/ sporveien
2014 Citybirds
2013 Nordbygt
2013 Birdscollective, Urtegt 50, Gartnerløkka
2013 Sørligt.
2012 Dyvekesbro
2012 Skullerud skole
2012 Brenneri vn
2012 Henrik Vergelands house
2011 Kunsthall Oslo
Selected Bibliography/publications
Oslo kommunes Kunstordning 2016, Kulturetaten
Graffiti Junction
Norwegian Graffiti
Nrk og diverse medier 2016
En bok om stygt som pent (Jo Brochmann).
Osloby- Bygalleriet 16 okt 2014
Klassekampen- fredag- livet 12 juli 2013, Marianne Melgård
Isolation book of art
Grevlingbanen
Scandinavian sleeping sells
Galleri 19/nødåpning, prosjektstøtte